Search results for tag '
bwu

'

Showing results 101 - 125 of 157 matches
It's the one with the Raid fixes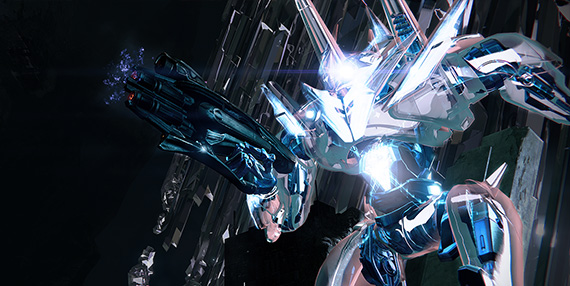 It's Thursday - that's Bungie Weekly Update Day! What's in store for you if you read it? Raid fixes, Strike fixes, quitter fixes, heads-up info for Playstation users, and some great user-submitted videos. Go read it! It's local if you need it, and there's a thread on our forum if you'd like to discuss.

Bungie Weekly Update - Vault Space, Animation, and more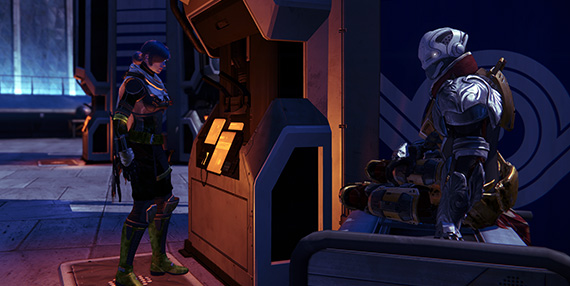 The Bungie Weekly Update went live yesterday, as it does most Thursdays, and it's worth a read. There are concrete details on the increases to Vault Space coming in the next update (including an explanation of why it's as hard to edit as it seems to be), a very cool GDC talk from Senior Artist David Helsby, a heads-up about a Playstation change coming that will need some extra time for implementation, and more. Check it out! (It's local, too, of course.)
Bungie Weekly Update - the ramp-up to 1.1.2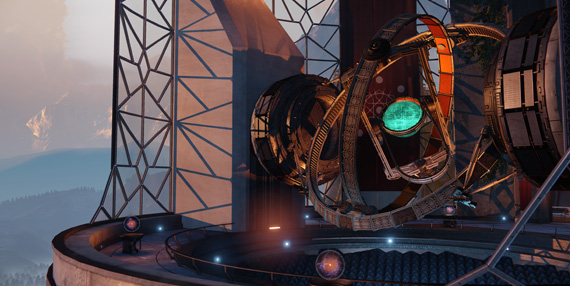 The Bungie Weekly Update dropped, as usual, given that this is a Thursday afternoon in BungieTown... and it's full of things you can look forward to in the next update. Sound options, help for color-blind players, and more - stay tuned over the coming weeks for continuing details! There are also changes to Bungie.net which you should check out, to make sure you can access the info you want, and the normal goodies (new mentors, movies of the week, and so on). Go read! Go discuss on our forum! It's local, too, if you need it.

Bungie Weekly Update: 1.1.2 Info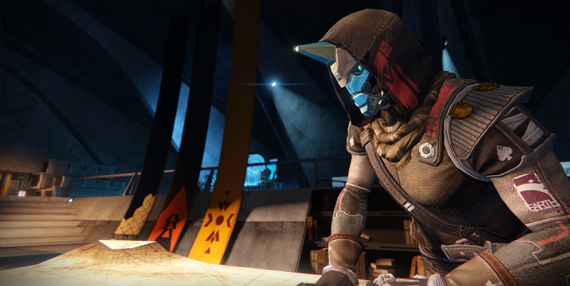 Deej has posted the latest Bungie Weekly Update. This week they discuss the tentative plans for the next Update. Some exciting stuff mentioned, including the much requested increased Vault space! They also go over some long discussed bugs that they are currently looking into. Go read and see if one of your requested updates is mentioned. (Local, too.)
Crop Dusting on Steroids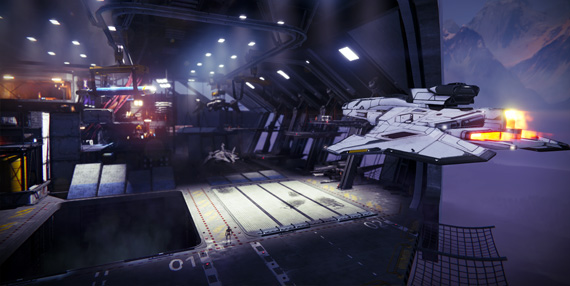 This week at Bungie, they began to look ahead to the next set of tweaks - read about it in today's Bungie Weekly Update! (There's also information about the latest Ride-Along, which will happen tomorrow, and the punch list for the 1.1.1 patch that was released last week.) There's a thread on the forum if you'd like to comment, and there's a local version if you need it.
Bungie Weekly Update - the Vault Edition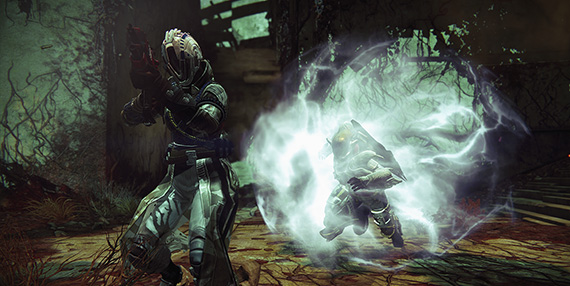 The Bungie Weekly Update is live on B.net (and here, in our BWU Archive) - and you should read it. It explains the newly-minted Mobile Vault, a much easier way to handle transfers between your characters (or just between your equipped gear and your stored gear). It also describes Inferno, a new game mode debuting next week. And it shows off a couple of cool fan-generated videos. All I need now is some bacon...
Bungie Weekly Update - the buildup to 1.1.1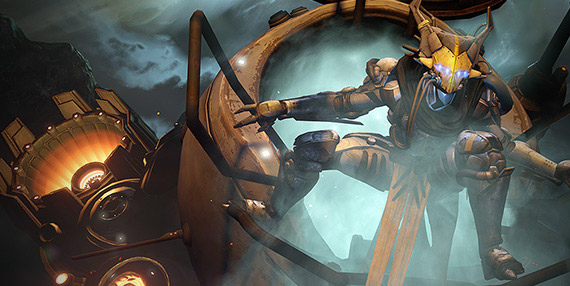 It's Thursday - and time for another Bungie Weekly Update. This one focuses on the changes coming soon in the next game update - bug fixes and weapons tweaks we already know about, plus stuff we don't. The Heroic Weekly Strike is headed for Matchmaking... and its designer will explain why. And there are some extra bug fixes that will decrease stress levels all over the Destiny landscape. Look for it soon. There's also community news (new mentors, cool/funny submissions from fans, and more), and a cautionary tale. Go read! (It's local, too.)

A Thursdate with Deej - 2/12/2015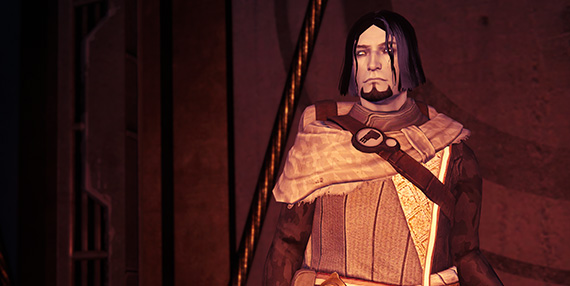 The new Weekly Update brings you some nice tasty treats this time around. Doubles Skirmish is the playlist of the Valentine weekend, and there's fun player-created videos... But most importantly there's a taste of what's coming in the next game update - a tweak to the UI that allows players to view their reputations with the various factions of the game at any point they can access the menu. Awesome!
(Korny mentioned it first on the forums, and we have a local copy here as well.)
Weekly Update - 2/5/2015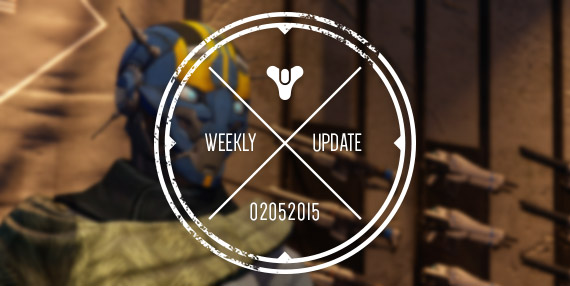 This week's update dropped some hints on upcoming patches, the notable weapon tweaks already mentioned, the House of Wolves DLC... and something this fall? Hmmm... You'll also find some fun fan videos as well as a word on the recently departed Monty Oum of Red vs Blue and other talented creations. (Thanks Korny.)
You can also read it here at DBO.
Bungie Weekly Update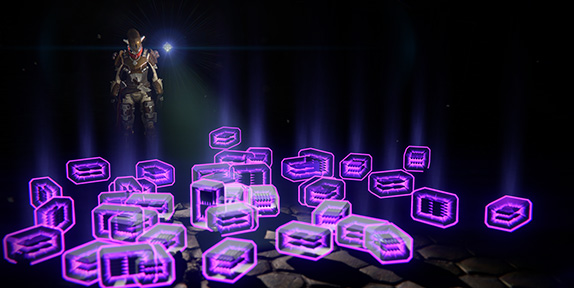 It's Thursday, which means it's time for a new Bungie Weekly Update. The big news this week is that a fix for the Heavy Ammo bug is on the way, which is great news for a lot of Guardians! The Bungie.net landing page also got a fresh coat of paint and you can now see the Daily missions and Weekly Strikes on the front page. Get on over to the Update to check out the rest! (Thanks to Pfhor in the forum for the heads-up.) If for any reason you need it, there's a local version, as well.
Bungie Weekly Update 01/22/2015
The Bungie Weekly Update went up last night wherein Deej discusses the Crota's End Hard Mode launch and the world's first champions of it! The new Doubles Skirmish playlist and a short What's Up DOC is also brought to your attention. Read it local here. (Thanks Korny.)
Bungie Weekly Update - 01/15/2015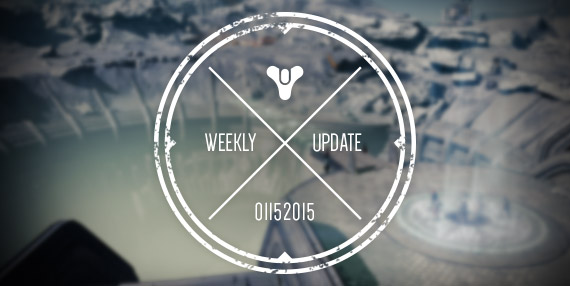 A little behind, but the latest BWU tackles Crota's upcoming Hard Mode (which opens next Wednesday) as well as a sample of the rewards (which are quite tantalizing). The update also contains a preview of the Bungie Pentathlon and the usual "What's Up DOC?" section.
Bungie Weekly Update: Crota Fixes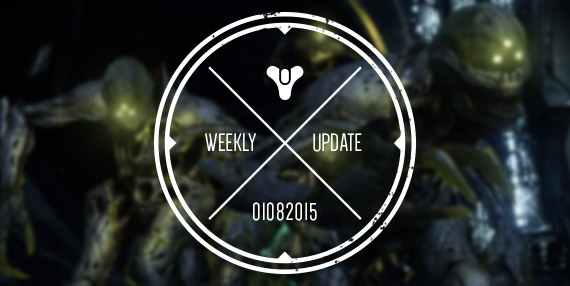 The first Bungie Weekly Update of 2015 is
posted for your reading pleasure
over on Bungie.net. Lots of good stuff in there, including some news about significant Crota's End bug-fixes and loot redistribution, as well as a fun look at the weapons of choice for Guardians over the holiday fortnight. (Thanks,
breitzen
)
Bungie Weekly Update - Farewell to 2014!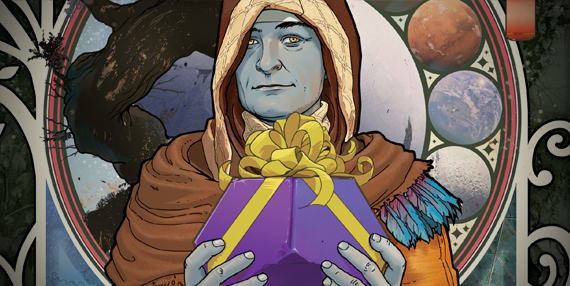 The last update of the year is a reminiscence of sorts, with various team members remarking on some of their community highlights and what the players have brought to the game so far. There's also some fun statistics, a prophecy of some goodies to be delivered, and an update in January! [Local, too.]
Bungie Weekly Update 12/12/2014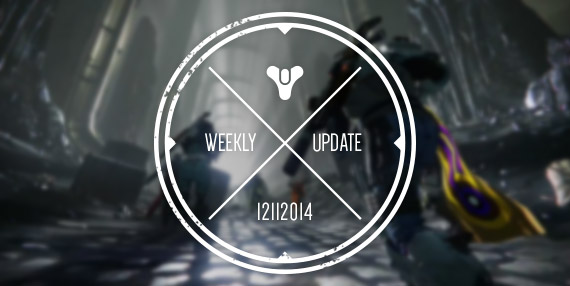 ...Wherein Deej talks about (and to) the first conquerors of the new Dark Below Raid, Crota's End, and has a fun little interview with Morla Gorrondona, voice of Eris Morn!
Bungie Weekly Update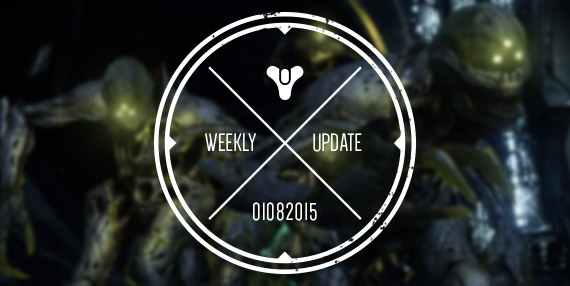 This week's
Bungie Weekly Update
is ready for your perusal. Lots of good information (and anti-misinformation) about the changes we're seeing in Destiny both this week and next, when Expansion I: The Dark Below launches. DeeJ clears up a few things, including some information about the upgrade process for Exotic gear. And the Iron Banner is making a return sooner than you'd think!
Post-Turkey Catch-Up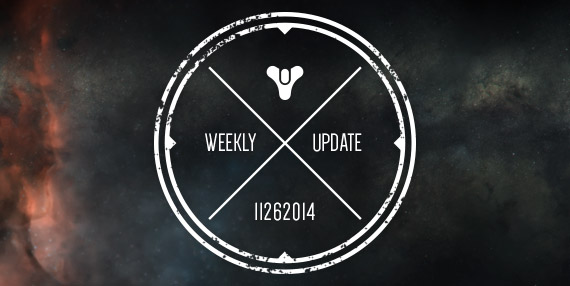 Still have yet another Thanksgiving tomorrow (not that free turkey is something to complain about), but here's some of the news we've missed:
The latest

Bungie Weekly Thursdate

was posted Wednesday (

what?

). Not too much to ignite your fire since the holiday was on approach, but hey, you're not doing anything, so go read it. The biggest thing to gleam is the Black Friday sale at the Bungie Store.

Xur is in town (our illustrated Xur post will return next weekend after the ham disappears). Go read ChaosSociety's

post

to see a few things he's willing to trade - I need to go get a Plan C, personally!




CruelLEGACEY

dropped off

some fanart he made - go look!



Bungie Weekly Update, Nov. 20, 2014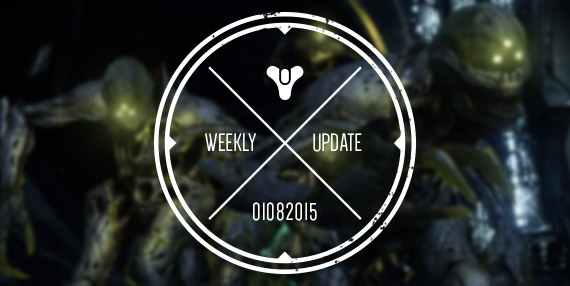 True to last week's promise, the Bungie Weekly Thupdate landed today. I'm still getting used to this schedule… Here's the DeeJ's breakdown:
Update 1.0.3. was the biggest yet

If you need help with the 1.0.3, see Bungie Help

Thorn was accidentally nerfed by 1.0.3




The Last Word was not, contrary to Internet hysteria




Exotics will be tuned prior to the Dark Below




Strikes changed to fix a bug that blocked incentives to team up




Iron Banner math explained in line graphs




Cheaters have been unbanned (for now)




They guy who made the Tumbler is awesome



Be sure to check it out (while you're not doing tricks on your SV-30 Tumbler, that is)!
Bungie Weekly Thupdate err... Thursdate?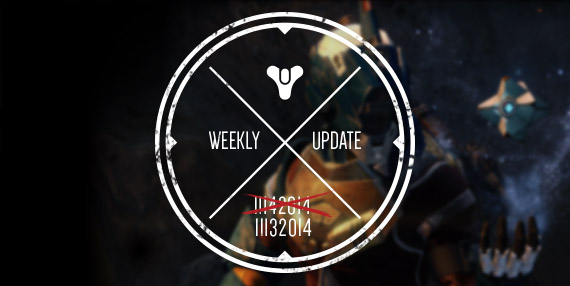 You aren't going crazy, the Bungie Weekly Thursdate Update came out on a Thursday this week! Expect the Update Thupdate every Thursday from here on out! Curious about Bungie's future plans for Iron Banner? Wondering how voice chat will work in matchmaking? Well you're in luck! Go read and find out more! (And wonder at the surprise coming next week).
Bungie Weekly Update - 11/7/14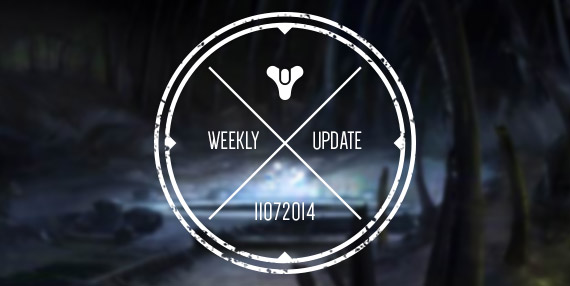 Sorry for the delay, I think I was playing Destiny Friday night when this was posted! If you haven't already read, this update laid out a lot of the upcoming changes to be made/added to Destiny like Fireteam chat channels, new shaders, and a lot more. There's also some shots of areas to be found in the coming DLC. Looking pretty! (Also in our database.)
Bungie Spookly Update - October 31, 2014
The Halloween edition of the Bungie Weekly Update has been
posted
, and DeeJ covers some questions I'm sure a lot of us had about the Dark Below (like the fact that we'll all get 5 additional Bounty slots, even if we don't buy the expansion). And of course an update from the DOC covering the Monkey errors popping up after the recent update. Happy Halloween! (
Here
, too.)
Your Weekly Dose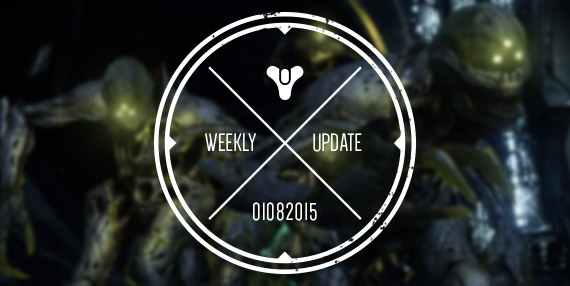 This week's Bungie Weekly Update is now available for our consumption. Lots of information about changes we can expect for the next Iron Banner event (some pretty hefty alterations in there!), as well as our now-usual DOC report and Legend of the Week. Go check it out! UPDATE: Local copy here now too!
Bungie Weekly Update - 10/17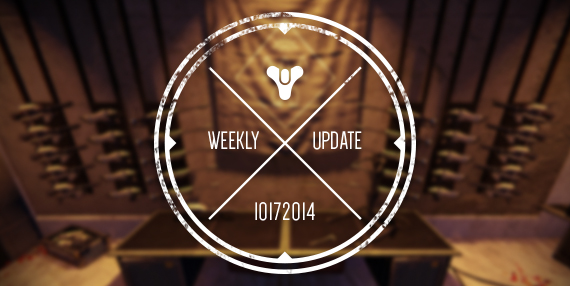 The Weekly Update is out and about over at Bungie.Net and localized here at DBO as well. More coverage on the weapon balancing that happened last week and what will be happening in the future with tweaks to the Raid. There's also a bit on connection issues, another Legend of the Week, and a farewell to the Mailsack.
Bungie Weekly Update - 10/10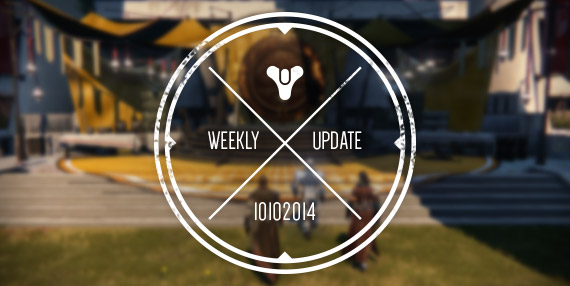 Head on over to Bungie.Net for the latest Deej has to offer the community. If you thought some of the competition was strange in the Iron Banner, it sounds like Bungie has noticed it too. Deej sits down with Designer Derek Carroll and talks about what exactly is balanced versus leveled in the event. It sounds like next time the Iron Banner unfurls, it will play out differently. The other biggie in the update is the status on added voice features: we'll get the details on those potential additions next week.
You can also read it on DBO here.
Weekly Update 10/3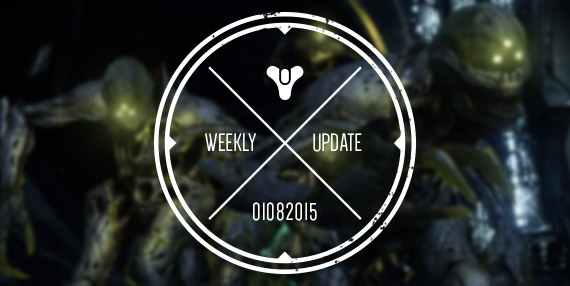 This week's Bungie Weekly Update is now live over on
Bungie.net
. Topics cover the Cryptarch's tune-up, a new "Legend of the Week" feature, a Bungie Store update, and our regularly-scheduled Mail Sack. Go give it a read! (There's
a local copy
, too.)