Search results for tag '
vault-of-farce

'

Showing results 1 - 25 of 89 matches
Howlers All Round
Stuntmutt has noticed some... unhappiness in the Destiny universe this week.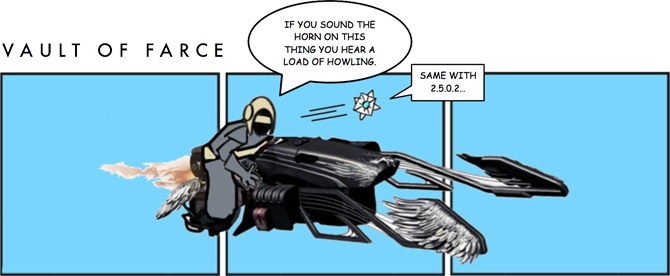 A Longshot (Until Tuesday)
Stuntmutt's back, with a fond farewell look at a Crucible favorite. Shotpun, indeed.
Coining It In
Stuntmutt sez:
So the gag I wanted to do was Xur saying "If I have 50 3oC's in my inside pocket and 125 in my outside pocket, what do I have?" To which the answer is of course, "Someone else's coat."

But they're back in stock. So...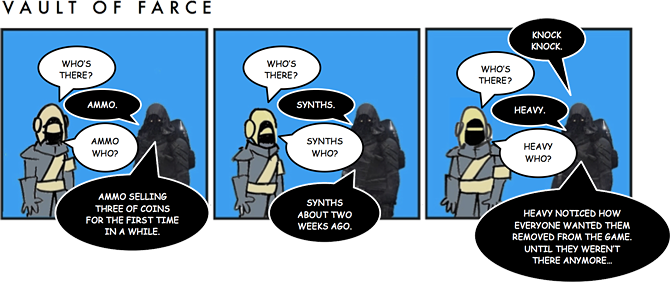 The Cracks of Dawn
Stuntmutt says:
That nice Mr Errera tagged me in a Facebook post about puns earlier this week. I took it as encouragement..."
The Division
From Stuntmutt:
I was expecting to hear about SRL.
Instead it was a race for who could complain about Rift IB first...

Bargain Basement
Stuntmutt, despite living in the UK, has managed to work a uniquely American form of insanity into his latest strip. #hattip [Update: Stuntmutt informs me that Black Friday isn't as American as I thought it was. Sorry, world.]

Unrewarding
After last week's Iron Banner, Stuntmutt has Clever Dragons and Silvered Dreads aplenty. But even so...

Throw Out A Line
We considered increasing the intellectual value of the content we bring you... but then Stuntmutt sent us the latest Vault of Farce. Yeah, we've given up.

Lost Cause
Stuntmutt is getting into the holiday spirit. It's a scream!*

*Is not in fact a scream
OP is OP
Stuntmutt is having some binary troubles these days...

Iron Lady
Stuntmutt apparently misses that super-broken overpowered Y1 sniper...
Grind of Iron
I think Stuntmutt might be suffering a little bit...
Flat Iron
Saladin's a great warrior, but he DOES have some weaknesses...

I'm in suspenders
...or is that suspense?

Breaking News
The Update that dropped yesterday, in preparation for Rise of Iron, contains issues that were unexpected - by fans, and by Bungie. Stuntmutt puts it pretty succinctly:

Iron Resolve
I think Stuntmutt might be worried about news coming out of PAX this week...

Something something butt
A conversation about special weapons drew out a strip from Stuntmutt - he claims to have been holding it back for the right moment, but mostly I think he likes poking me. Well, all of us, but me especially.

Privates Lobby
It's Friday and Stuntmutt is gearing up for Rise of Iron!

Campernology
In Stuntmutt's words:
This one arguably has a clanger of a spoiler in it...

Counting the Khvost
As usual, Stuntmutt focuses on the important aspects of any announcement...

A Flood of Errors
Stuntmutt's still in the Caribbean, but he found time to send us this week's Vault of Farce. I'm not sure if I should be thanking him or not.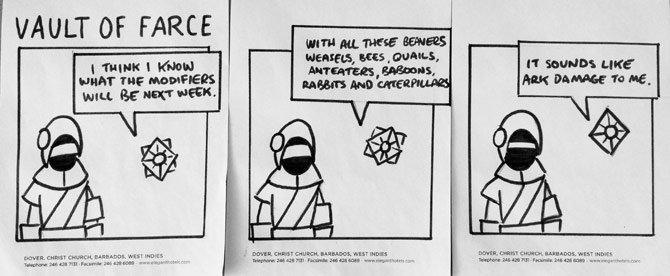 Via Plantain Internet
Stuntmutt writes:
Good news, bad news.
Good news, I'm approximately 4000 miles away from the laptop and copy of Word that I use to make VoF.
Bad news, my daughter brought a set of felt tip pens...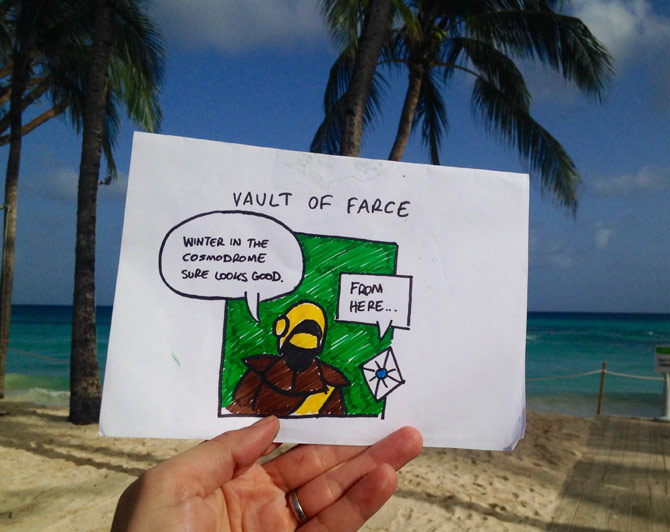 Once More, With Feeling!
Winter is Coming. Again.

To a Tee
Stuntmutt says, "I know the Pound is weak against the Dollar right now, but even so…"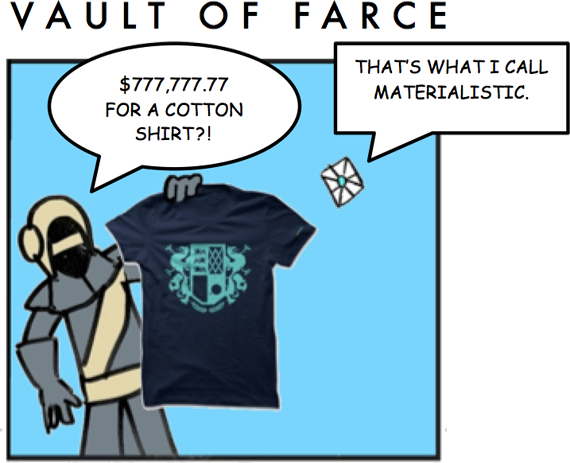 Snow and Tell
Apparently my peers were off celebrating the Fourth of July early this weekend and forgot to post the latest Vault of Farce from Stuntmutt. We shall correct this error... now!
With the Weekly Update light on content, Vault of Farce asks the big questions about the upcoming expansion.
And gets no answers.