Bungie GCX 2020 Fundraiser Results
(Destiny)
(Alt title: Cody should not click this.)
This evening was a huge Bungie Fundraiser portion for Saint Jude VIA GCX. As presented (at least) in this evenings BupDate, if the fundraiser reached a stretch goal they would show off concept art, a legendary weapon, & an exotic weapon for the upcoming "Beyond Light" expansion respectively. (The "secret" last goal was Bungie Employees getting some tats. ¯\_(ツ)_/¯)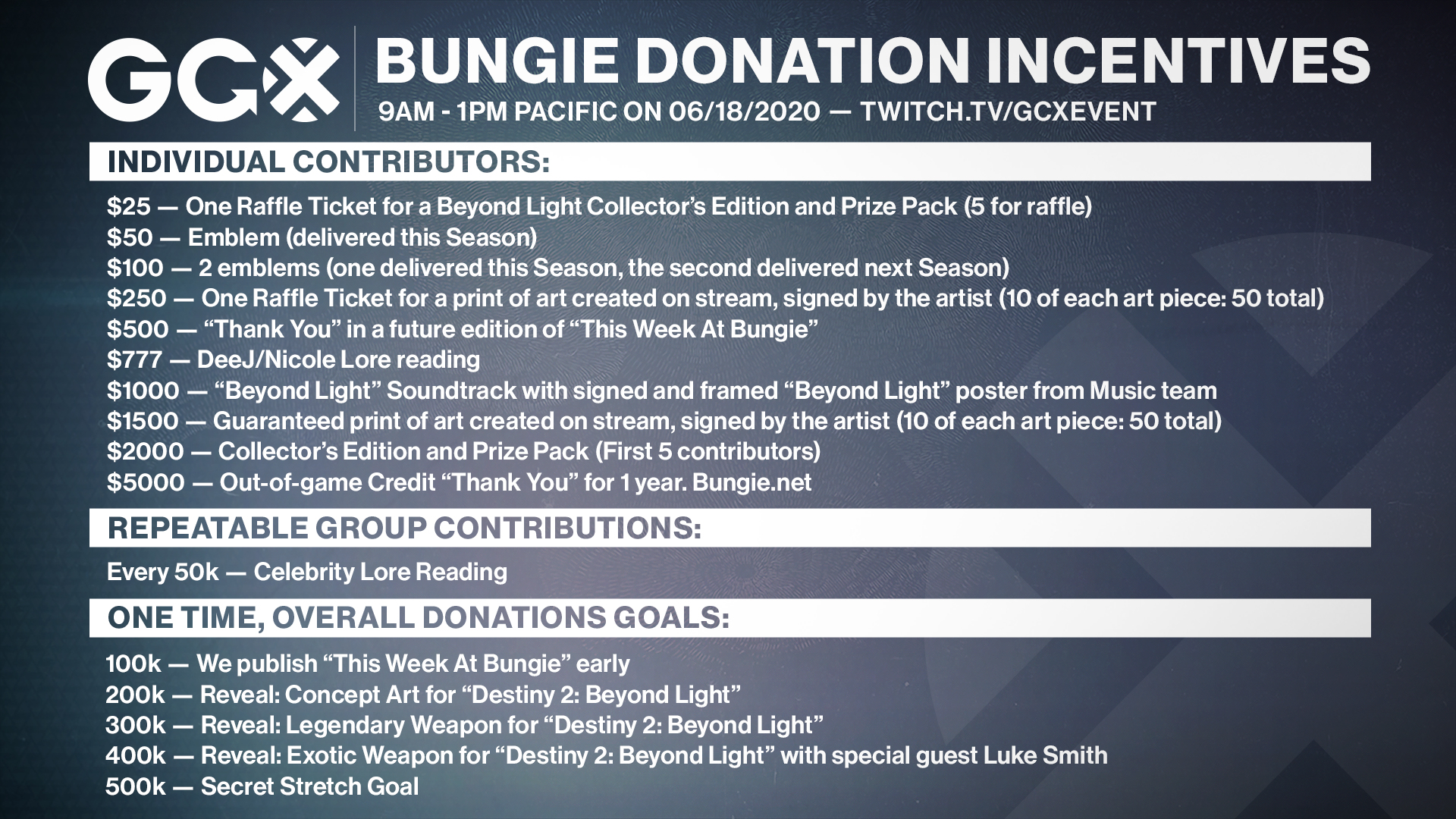 So how did it go? (As if this isn't a given already.)
With over $800,000 dollars for the kids, @Bungie finishes a legendary four hours for the kids showing that #GamingDoesGood. Thank you from the bottom of our hearts.@GameOverGreggy is here to continue the marathon and our push to 5 Million dollars! https://t.co/GokCDE8KiJ pic.twitter.com/e2Yx8OJDfk

— GCX (@GCXEvent) June 18, 2020
FREEK'N BLEW IT OUT OF THE WATER! WOO! FOR DA KIDS! YEAH!
Honestly I should stop the thread here. Fantastic! That said, here is (some of?) the less important but still cool stuff mentioned. Try as I did, I could not find where in the stream they revealed the Legendary Weapon.
And then here is the part of the Stream where Luke talks about the exotic... Hawkmoon.
"Luck in the Chamber" shall not return. Hawkmoon is being reworked, but the DBO meme shall live on.
---
Edit: While I wasn't able to find the point on stream, Reddit did (of course) have the image of the revealed legendary weapon on hand. So here it is!