Search results for tag '
Game

'

Showing results 76 - 98 of 98 matches
Bungie takes 3 Awards at Gamescom

Destiny was
the big winner at Gamescom
- it took three awards, beating out Titanfall (which took 2) for most mentions. Congrats to the Bungie team for
Best Console Game: Playstation
,
Best Action Game
, and
Best Online Multiplayer Game
. And thanks to Hypertrooper, for
bringing us the news
!
Majestic Maverick's Destiny Impressions
Majestic Maverick shared his thoughts on what was shown of Destiny at Gamescom - he seems thoroughly impressed.
Not since the original Halo have Bungie captured such a feeling, but with Destiny, it looks like they've successfully created an exciting and intriguing universe, one that could potentially be the next big industry changing title, and I really can't wait to experience it first-hand.
Consider me thoroughly excited!
Private eyes, they're watching you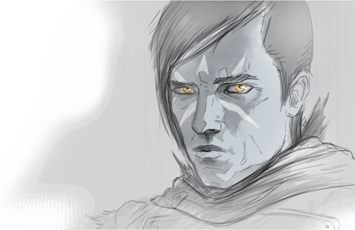 We hired a private eye to investigate the Gamescom Destiny booth. Our first choice was private investigator Gene Parmesan, but we felt a little uneasy when he kept showing up as Claude. That's when we called on our German informant, Hypertrooper, to scope things out. We see your every move!
Community Managers Never Let You Down

Looks like your friendly neighborhood community managers wasted no time at Gamescom - there are a bevy of interviews popping up around the internet covering the latest batch of Destiny reveals. Here's what we know of so far:
It's nice to know these guys would never run around and desert you!
A view from the front

TTL Bjorni was able to experience the latest Destiny goodness first-hand, at Gamescom this week - and he wrote up his experience at Tied the Leader. There are even some codes from the trading cards Bungie was distributing (though I'm not sure what you're supposed to do with them). Go live vicariously! (Then tell him what you thought on our forum.)

Urk Abroad
More news from Gamescom: Urk sat down with Shaun McInnis of Gamespot to talk about how Destiny empowers players to explore the game and create their own story. The two briefly discuss a tidbit from the new (and still unreleased) ViDoc - it sounds like players will have some sort of "super attack". Fascinating!
Screenshots from Gamescom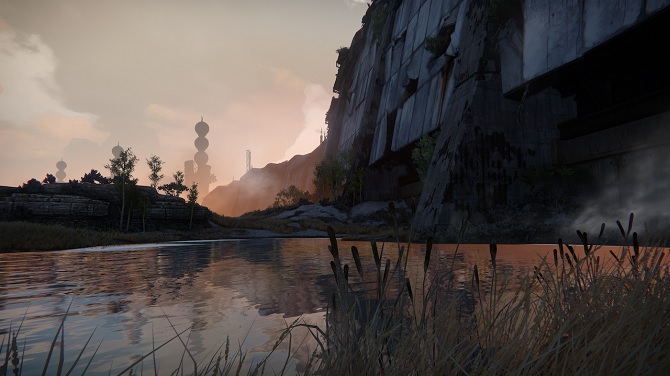 The folks over at VG24/7 got their hands on some new Destiny screenshots to share with those of us that couldn't make it to Gamescom. These images cover the same areas we saw back at E3, but each one offers a gorgeous view of this beautiful game; that water looks amazing! (The VG24/7 article also has a Destiny fact sheet, but all of the info contained within has been previously released in some form.)
Bungie at Gamescom 2013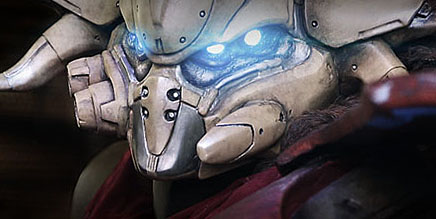 Bungie announced this morning that Destiny will be making an appearance at gamescom 2013, which opens its doors next week in Cologne, Germany. If you happen to be in the area, the show runs from August 22nd through the 25th for the general public. Destiny can be found at the Activision booth and will be on display on a 3-story-tall screen!
In addition, Bungie has put together a gorgeous life-size statue of a Fallen Captain for the event and show-goers can have a photo op with the foe-to-be. Be sure to check out the "Making of the Fallen Statue" video for an impressive look into the process of building the statue (those glowing eyes!).
Classy Covers on Game Informer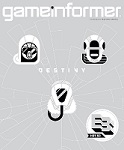 Das Kalk let us know that Destiny is featured on one of the five possible covers for Game Informer's August issue. You can see the high-res image (and those for the other four games) over at the Game Informer cover gallery. I'm not sure if there's an actual Destiny article in the issue, but the digital and print versions of the magazine should be available now!
Video Games Live(stream)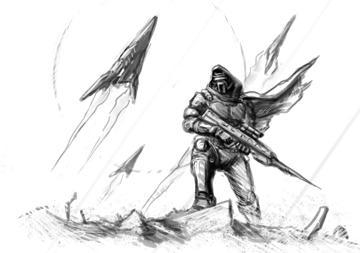 Joystiq reports that this Saturday's Video Games Live concert will be live-streamed by Twitch! According to the schedule, Destiny should be making an appearance around 7:30 PM Pacific. (Thanks, EffortlessFury!)
Official E3 Gameplay Reveal Posted
For the second day of Bungie Week festivities, Bungie has posted the Official Destiny Gameplay Reveal video to their YouTube page in all of it's HD glory. Also, be sure to check out the news post on Bungie.net.
The bumper at the end of the video also teases a "Building E3 Reveal" video, with a placeholder that says "Coming Soon". Hmm, I wonder what that's about... (Thanks, SigbiasSilva).
Nzgamer Interviews Chris Butcher
Nzgamer posted an interview with Bungie's Chris Butcher that provides a deeper look into Destiny's connected experience.
One of the things I've always loved about Bungie's games is they have a super-strong sense of community. With Bungie.net starting back in 2003, nearly ten years ago, we had a network of gamers and fans who were all part of the process. They could express what they were doing and what they were feeling. So we're ensuring we bring these community features into Destiny because before this, they were a bit separate to the game itself. We want to make it the heart of the game. Destiny will be a social community of players, all interacting with each other, experiencing things together, and this is what I'm most excited about with this game.
That's one of my favorite things about Bungie's games too
! (Thanks, Xenos.)
Brave New Online World
Eurogamer published an article that provides a detailed look into Destiny's online and social components. Harold Ryan, president of Bungie, has some interesting things to say about what makes Destiny different from an MMO and the technology and ideas powering Destiny's connected experience. This is certainly worth the read especially if you still aren't quite sure what to make of Bungie's new world.
The second technology is an intriguing concept mooted by Ryan, one which I've never heard spoken of before: "social matchmaking". This will be the glue that binds Bungie's game servers to all those locally simulated solo or co-op games running out in the wild. In the process it will turn many thousands of tiny shards into the impression of a single persistent universe - one so big it could, potentially, dwarf Eve Online's New Eden.
Gametrailers - Best of E3 2013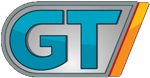 Gametrailers is running a 'Best of E3 2013' awards ceremony - Destiny was nominated in the following categories:
Unfortunately Destiny didn't win best new IP or best graphics, but the nominations are still pretty neat. Gametrailers will announce 'Best of Show' today at 4pm PST.
Nowgamer Interview with Harold Ryan
Nowgamer published an interview with Harold Ryan, president of Bungie, about next generation technology, MMOs and crafting the world of Destiny. There is a particularly interesting statement about giving players a sense of influence and impact in a shared world.
There will be a huge set of discussions to have about the activities you can engage in in Destiny. The designers have the ability to make something an activity that you play through, and they control the frequency that you can play through it, whether you play through it once or multiple times, and they control whether you play it with two or three friends or whether you play it in a public space, where you might encounter it every time you land on Venus as you go through.
Go read! (Thanks,
Xenos
.)
GameInformer Interview with Harold Ryan
The Bungie Away Team is busy this week; the latest interview to hit our screens is GameInformer talking to Harold Ryan. Note that they've edited-out the questions, so it's just Harold giving answers back-to-back. The editing sort of breaks the continuity of the demo, but the piece still offers some fresh perspective on the news that we've been hearing out of E3.
GameSpot Interview with Joe Staten
GameSpot sat down with Joe Staten today and talked to him about Destiny while running through the E3 demo. There are some great pieces of information in there, but this gem at the very beginning (when the camera is panning across the landscape) will be of particular interest to many fans,

This is all coming right out our engine. All that stuff, if you ran out there, it's all playable terrain. I mean, it's just a really powerful new engine that we've [built for Destiny].
Gamespot's Destiny Summary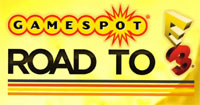 If you need a quick recap of all the info we know so far about Destiny,
Gamespot has you covered
. Jess McDonell talks you through the backstory, accompanied by official art assets and movie clips. It's just two and a half minutes long, and should bring you up to speed in time for E3!
GDC Interview at AusGamers
It's a few weeks later than others, but AusGamers.com has posted their GDC interview with Christopher Barrett and Joseph Staten today. While it touches on many elements we've already heard about in other GDC interviews, they certainly cover a few fresh angles that make it an interesting read.
Neither Snow Nor Rain...
Gamespot visited a handful of Seattle based game studios, including Bungie, to find out what makes the area so attractive to developers (it's obviously the weather.) Go find out what they have to say!
Barrett/Staten Interview at GameSpot
Xenos noted on the forum that GameSpot has an interview with Christopher Barrett and Joseph Staten discussing "world building" in the wake of their GDC presentation. It's similar to other GDC-related interviews we've already seen, but there's definitely some new perspective in there as well. Go give it a read!
Barrett/Staten Interview at Eurogamer

Eurogamer
interviewed Joe Staten and Chris Barrett
while they were in San Francisco for the Game Developers Conference last week - it's a fascinating read. Peruse it and learn the secret of Tiger Man! Thanks,
Xenos
.
GameInsider's Destiny Issue - Free

GameInsider's latest issue is now available in digital form - and amazingly, a digital subscription is free! This is good news for Destiny fans, because the cover story on this issue is... well, about Destiny. Â Go sign up and give it a read! Thanks, Cambone. (Don't let this post distract you from the GDC live stream, happening in just about 2 hours...)