Search results for tag '
Music

'

Showing results 26 - 31 of 31 matches
Wake Up Your Ears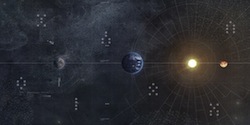 The 5th day of Bungie Week brings us
musical tidings from the Bungie Maestros
! This new piece,
Awakening
, was featured at the rotunda theater at the E3 expo a few weeks ago, but now it's available for everyone to enjoy as part of this year's extended Bungie Day celebration. Be sure to give it a listen and then
sound off
in our forums!
Beorn | Jul 6, 2013 06:15 pm |
link
---
Eight Movements from Marty, Mike, and Macca

Do the snippets of Destiny music from the E3 demos leave you hungry for more? Looks like the main course is on the way, according to Marty's tease:
Music of the Spheres: A symphonic and choral suite in eight movements composed by Martin O'Donnell, Michael Salvatori, and Paul McCartney. Coming Soon.
Marty says it'll be fifty minutes long! Once again, all together now: "Are we there yet?" (Thanks for the head-up, Ragashingo.)
ncsuDuncan | Jun 12, 2013 02:32 pm |
link
---
Tyrannosaurus Jets, Mr. Dynamite, and the Golden Ratio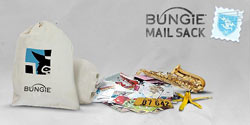 In case you haven't noticed, today is Friday, which means the Bungie Mail Sack has opened once again to answer all of your questions about personal fitness, motherly advice, and [redacted]. This week we get a special treat - Marty has released the background music from the recent trailer "The Law of the Jungle" as a standalone MP3! (Direct Link, 1.43 MB) Thanks, Marty! (And thanks for the heads-up, Xenos.)
ncsuDuncan | May 31, 2013 05:29 pm |
link
---
DBO Challenge, Week 3: Musical Concepts

ncsuDuncan wrapped-up Week 2 and kicked-off Week 3 of the DBO Challenge last night. This week's assignment: Choose a piece of Destiny concept art along with a selection of music, then write a short paragraph or poem to help combine the two. There's also a bonus raffle for two lucky participants this week! We already a number of submissions in the forum, and the deadline is next Tuesday at 6:00 pm EDT, so be sure to submit your selections!
Beorn | Mar 27, 2013 10:48 am |
link
---
Destiny OST - Be Brave Remake

nRGmusicproduction recreated the music from the Destiny PS4 reveal trailer using Reaper. MathChief11 combined the recreated music with a sideshow of official and fan-made Destiny art - very cool!

colindosaj | Mar 13, 2013 03:17 am |
link
---
Brave New World - Piano Cover
akmigone posted a piano cover of the music from the Destiny Playstation 4 announcement trailer - it's really well done and quite uplifting!
colindosaj | Feb 25, 2013 01:41 am |
link
---