Search results for tag '
le

'

Showing results 26 - 50 of 218 matches
LEGO Arcadia-class Jumpship
Paul Jeong has built a replica of the Arcadia-class jumpship entirely with LEGO bricks! It's a pretty impressive model, complete with engine details and a nice paint job. Be sure to hit the link to see more photos. I especially like the ones with the ship photoshopped into the loading scene. (Thanks to Black Six for the link!)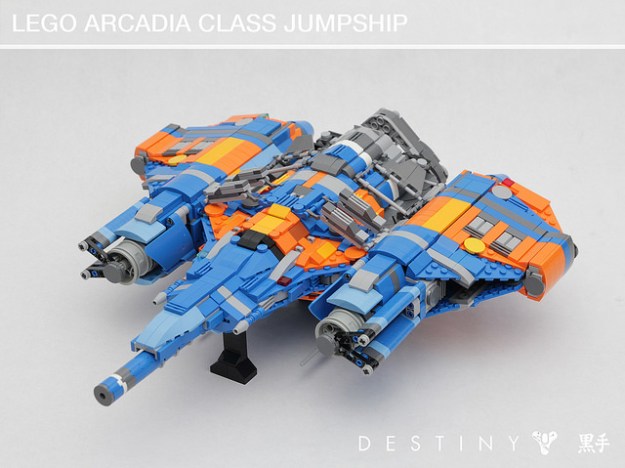 Visualizing the playtime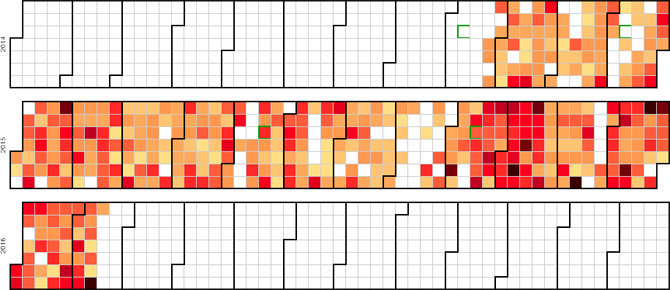 Over at reddit, chrisfried
announced a new web app
he'd created - this one will create a day-by-day heatmap showing your Destiny playtime. There are a few caveats - give it a while to render the data, and don't count on accurate representation if you've deleted characters - but overall, it's quite cool. Thanks to CyberKN for
the heads-up
! (If you like his work, and you play on Xbox One, check out his first Destiny web app -
Guardian Theater
. It'll show you all saved clips of games you've participated in, on all current characters. Pretty wild!)
LEGOed Hawkmoon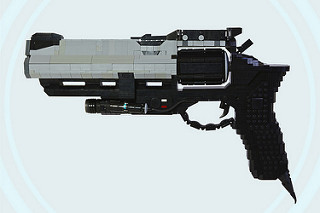 Black Six sent this in last week: a life-size replica of Hawkmoon created by
Elliott Feldman
highlighted at
the brothersbrik
. There's even a
video
showing off its working trigger and hammer!
Legal Guardian Strikes Again

Mig noticed the newest edition of Destiny Legal News, posted by reddit's Legal Guardian, ACbullman23. You can find more of these in the Destiny subreddit there. (This guy was also involved in a dustup a few months ago, between the Guardians of the Tower and Xûr - absolutely worth a read.) I needed a laugh this morning - if you do, too, go read!
The Sword of Bricks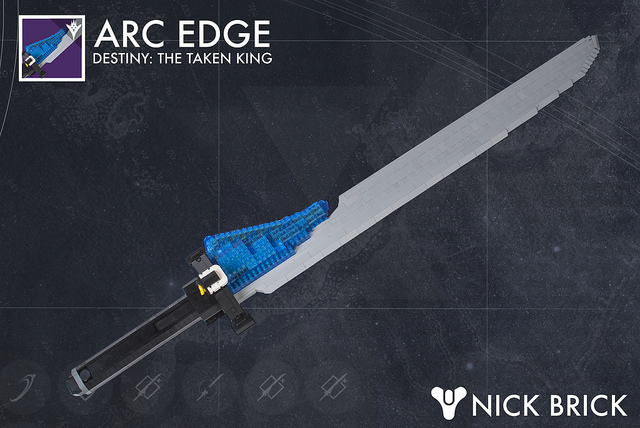 Black Six let us know about an article on The Brothers Brick featuring Nick Jenson's custom Arc Edge that he built out of LEGO pieces. Not sure if that thing would fall apart if you hit something or someone... or just hurt like heck!
Staring at the Sun.
CruelLEGACEY has started putting together some amusing Lighthouse-themed comics. He hasn't given it a name yet, but I thought the title of the first worked pretty well, "Staring at the Sun."
Here are the first four: Staring at the Sun., Knock Knock, Relaxation, and LFG. Go check 'em out!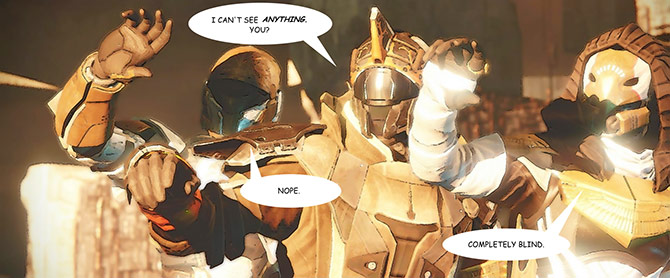 Final The Taken King Trailer: Starring YOU!

Bungie posted something fun on their official Destiny site today: The Legend of You is a system that will look up your character in Destiny and make a personalized trailer of your accomplishments. Go take a look!
Evil's Most Wanted: Live-Action Led Zeppelin!
In a similar style to the Become Legend trailer back at launch, we're gotten another live-action, rocking, ad! Take a gander below or go discuss with CougRon in our forums.
The Taken King Cinematic Trailer
I realized today that this trailer had not been officially released until yesterday, it was shown during the Twitch stream last week! So for those of you that haven't seen it (and that aren't too worried about spoilers), here's the latest story trailer for The Taken King:
Show Some Mercy!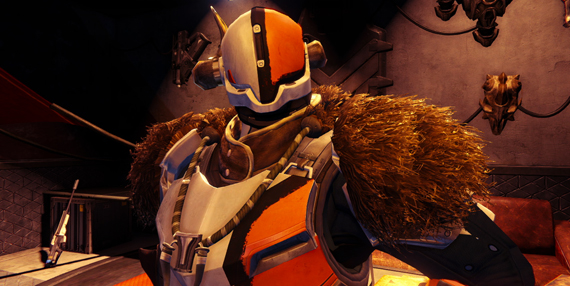 If you ever felt like No Mercy was a little too harsh in the Crucible, you're in luck! Lord Shaxx has had a partial change of heart. Blow outs should end significantly faster, and games with disproportionate scores will not be join-able through matchmaking. Go read about the new mercy rules in detail over on Bungie.net!
Taken King Launch Trailer
Last but not least, another trailer was released today for the Taken King, featuring more glimpses of cinematics, gameplay, and Led Zeppelin.
The Taken King Legendary Edition Trailer
Xbox and Playstation revealed a trailer today for the Legendary Edition of The Taken King. Nothing big shown in the trailer, but still a cool video. Watch below:
Don't Look Down

Today's Game Informer coverage comes by way of a developer walkthrough of the Crucible map Vertigo coming in The Taken King. Lots of detail and lots of commentary on their design decisions. Go take a look! (Thanks Korny for pointing it out!)
Lars Takes Us Through the New Crucible Changes
Design Lead Lars Bakken sat down and talked to Game Informer about all the major changes that The Taken King will bring to the Crucible, whether that's new modes like Rift and Mayhem, or sandbox tweaks to Thorn and Blink. Great video! Electricpirate was first on our forum.
Video Teasers of Taken King's Eight Crucible Maps

Game Informer has put up video previews of every new Crucible map (teasers that include the intro views and a couple of shots of gameplay) on one handy page. They take place in varied arenas across the system - click the link if you want to know exactly where! There's also a ship in one that looks familiar...
The Taken King Prologue Cinematic
Gamescom seems to have put Bungie in a giving mood as in addition to the two other videos they've released today, they just posted the Prologue Cinematic for The Taken King! Watch to get a taste of how the next chapter of Destiny begins:
Thanks to CougRon for giving us a heads up.
SUROS: Elegance Amidst Brutality
If you pre-order the Taken King you get access to some Suros goodies, and Bungie has given us a glimpse at what we're getting in this brief teaser:
Korny pointed it out
on the forum
for us.
We Are Guardians Trailer
Both a recap of year one of Destiny as well as a look at year two, this "We Are Guardians" trailer has the excitement dial turned up to 11. If you're wanting to stay completely unspoiled, you may want to skip for now as there are a number of shots of Taken King gameplay and a lot of glimpses of epic cinematics in the coming expansion. And when I say 'epic', it is not exaggeration!
UnrealCh13f was first in our forum.

Dinklage Is Out; Nolan Is In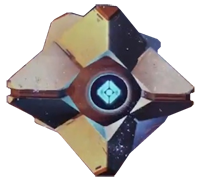 When The Taken King launches, you won't be hearing Peter Dinklage as your Ghost anymore - even if you start the game over. Nolan North (who Bungie fans will remember as Romeo from ODST) is not only recording the dialogue for your Ghost for the forseen future, but also re-recording all of the previous lines by Dinklage as well. (CougRon was first on our forum in reporting this huge news from Game Informer.)
Destiny Levels Up... Differently This Time!
Destiny's Year One is about to leave behind levels associated with your gear. Game Informer says it well:
Players earn XP by killing monsters, completing missions, and turning in bounties, as has always been the case, but that experience now feeds directly into your level progression all the way from 1 to the new level cap of 40."
The article also touches on a revision to the loot-drop system: it will now check your existing gear so you won't keep seeing repeats and more. (Thanks Speed.)
Let's Play Destiny Co-op #62 Skoriks Archon-Slayer
Narcogen let us know last week that Rampancy's Let's Play Destiny jumped into a House of Wolves mini-mission - Skoriks Archon-Slayer. Go watch!

Trials of Osiris - Flawless Victory
CruelLEGACY sent us a compilation vid he made. I'll just let him introduce it: "Week 5 features the Thieves' Den map. Being a relatively new map, a lot of players are still getting a feel for its specific ins and outs. Players looking to jump in to Trials this weekend might find this video helpful for learning their way around the map." Maybe someday I'll see that Lighthouse...
Taken King Mobile Wallpapers
If you haven't already seen them, Bungie has released some nifty mobile wallpapers featuring the new Taken King subclasses on their Facebook. Grab 'em!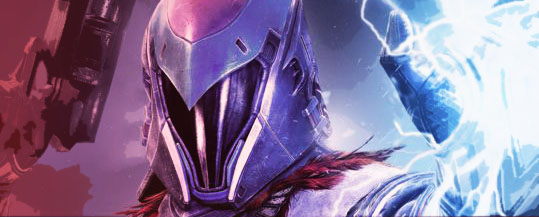 Taken King Page and Special Edition Details on Bungie.Net
Bungie tweeted about their new page dishing out some info on the freshly-announced The Taken King expansion and the Legendary Edition (think Game of the Year compilation), not to mention a special Collector's Edition including lots of physical goodies as seen below. Avateur started a thread on it in our forum.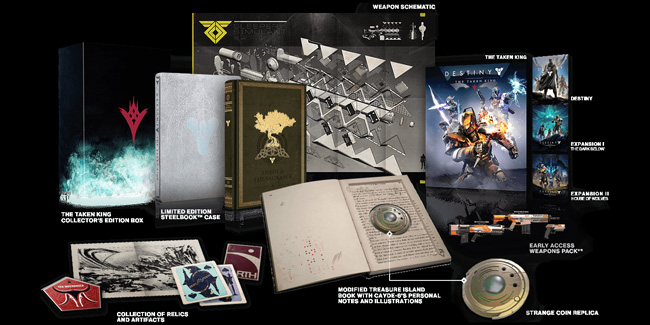 Taken King Trailer
In case you didn't realize, E3 is this week. And at Sony's press conference they showed us the Destiny Trailer. See it below to see all the new little details you can find!