Search results for tag '
of

'

Showing results 26 - 50 of 162 matches
OP is OP
Stuntmutt is having some binary troubles these days...

Iron Lady
Stuntmutt apparently misses that super-broken overpowered Y1 sniper...

Grind of Iron
I think Stuntmutt might be suffering a little bit...
Flat Iron
Saladin's a great warrior, but he DOES have some weaknesses...

Rise of Iron Soundtrack, Available Now
Been digging the new tunes when you boot up Destiny? Want to feel like an Iron Lord whenever you put on your headphones? Then prepare yourself for great news: the Rise of Iron soundtrack is
now available for purchase
! But that's not all; order now, and you'll get an exclusive in-game emblem to let others know that your love of Destiny music is serious. Want to try before you buy? Bungie has uploaded the entire soundtrack to
Youtube
for your listening pleasure.
The Bungie Store has also received a refreshed stock of loot that was available at PAX, so get while the getting's good!

I'm in suspenders
...or is that suspense?

Destiny: The Collection Exclusives Trailer
Wondering what new content is coming to a PS4 near you with the launch of Rise of Iron? Sony has released a trailer for the Playstation exclusives included in the upcoming expansion (as well as the Collection bundle). The Mercury aesthetics never get old, and Icarus sure looks... Sublime. Only three days left, Guardians!
OWL Sector ARG
Bungie appears to have launched an ARG this afternoon to get the community buzzing in preparation for Rise of Iron.
There is too much information to post all of it here, but if you want to jump down the rabbit hole with the rest of us, you'll probably want to start with owlsector.bungie.net (the official website), one of the two threads that have popped up [so far] right here on DBO, or if you're really desperate you could head over to the Destiny Subreddit Megathread.
Have fun contracting infections!!
Rise Of Iron Launch Trailer
Saladin has an axe to grind when an old foe returns. Take a break from Private Matches to check out the launch trailer for Rise of Iron, which drops in less than a week!
Breaking News
The Update that dropped yesterday, in preparation for Rise of Iron, contains issues that were unexpected - by fans, and by Bungie. Stuntmutt puts it pretty succinctly:

Iron Resolve
I think Stuntmutt might be worried about news coming out of PAX this week...

Something something butt
A conversation about special weapons drew out a strip from Stuntmutt - he claims to have been holding it back for the right moment, but mostly I think he likes poking me. Well, all of us, but me especially.

Privates Lobby
It's Friday and Stuntmutt is gearing up for Rise of Iron!

Campernology
In Stuntmutt's words:
This one arguably has a clanger of a spoiler in it...

Counting the Khvost
As usual, Stuntmutt focuses on the important aspects of any announcement...

A Flood of Errors
Stuntmutt's still in the Caribbean, but he found time to send us this week's Vault of Farce. I'm not sure if I should be thanking him or not.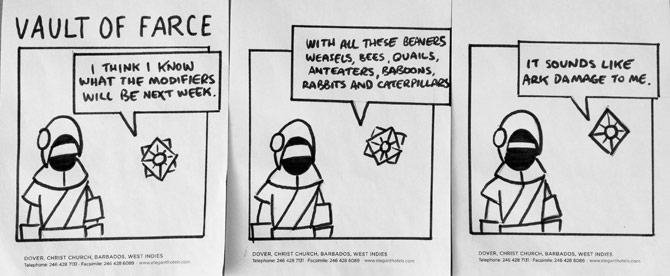 Via Plantain Internet
Stuntmutt writes:
Good news, bad news.
Good news, I'm approximately 4000 miles away from the laptop and copy of Word that I use to make VoF.
Bad news, my daughter brought a set of felt tip pens...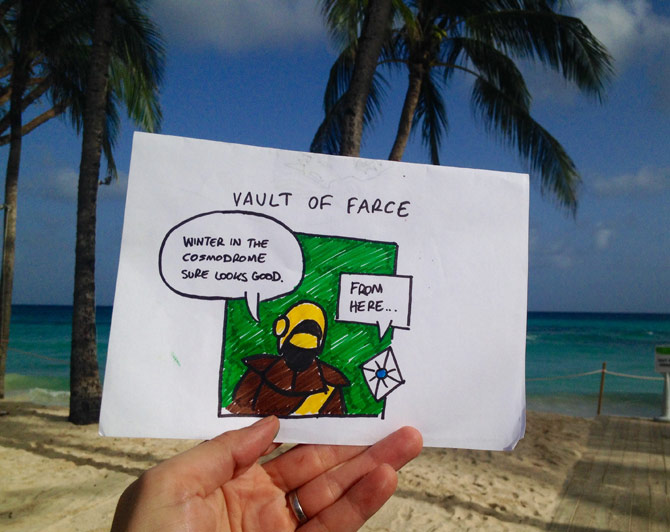 Once More, With Feeling!
Winter is Coming. Again.

To a Tee
Stuntmutt says, "I know the Pound is weak against the Dollar right now, but even so…"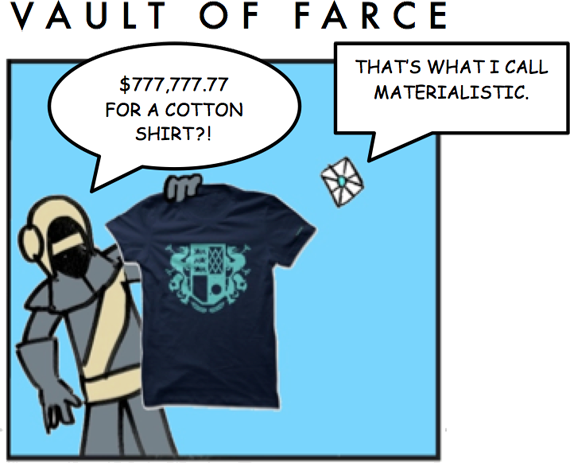 Snow and Tell
Apparently my peers were off celebrating the Fourth of July early this weekend and forgot to post the latest Vault of Farce from Stuntmutt. We shall correct this error... now!
With the Weekly Update light on content, Vault of Farce asks the big questions about the upcoming expansion.
And gets no answers.

Stuntmutt's Imbibing Vino Again
Sometimes your brain just won't let you sleep...

Agri-Culture
We forgot to get to this yesterday... but it's still relevant. (If you haven't tried out this week's Nightfall, you're missing out - mostly on Warlock bonds and powerful primary weapons. And lots and lots of bad puns.)

Geoff Keighley Interviews Chris Barrett
Despite Rise of Iron not being on the show floor at E3 this year, some Bungie folks still made the pilgrimage to Los Angeles for the week and are doing interviews. Geoff Keighley sat down with Chris Barrett and chatted a bit about the expansion:
And I'm Spent
Stuntmutt suggested the panels would be even MORE obscured, if he weren't so broke...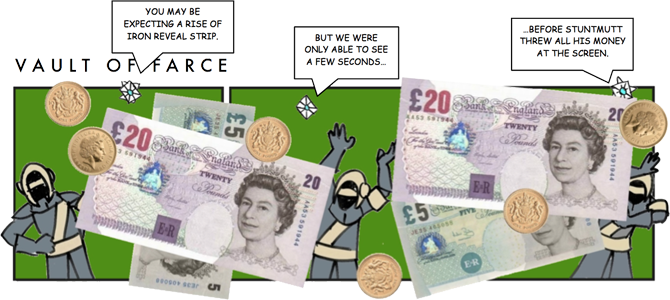 Hell Yeah
SOMEONE has been playing games other than Destiny recently... (In Stuntmutt's defense, he's noticed that playing Doom and then switching back to Destiny is like race training in high altitude... the Crucible becomes easier after the super-speed carnage against demons. Give it a try!)