Search results for tag '
stuntmutt

'

Showing results 26 - 50 of 85 matches
Stuntmutt's Imbibing Vino Again
Sometimes your brain just won't let you sleep...

Agri-Culture
We forgot to get to this yesterday... but it's still relevant. (If you haven't tried out this week's Nightfall, you're missing out - mostly on Warlock bonds and powerful primary weapons. And lots and lots of bad puns.)

And I'm Spent
Stuntmutt suggested the panels would be even MORE obscured, if he weren't so broke...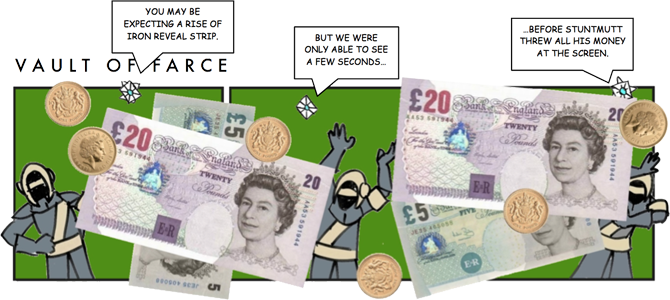 Hell Yeah
SOMEONE has been playing games other than Destiny recently... (In Stuntmutt's defense, he's noticed that playing Doom and then switching back to Destiny is like race training in high altitude... the Crucible becomes easier after the super-speed carnage against demons. Give it a try!)

Caesar? I never even met 'er.
Full credit to Stuntmutt for the headline; I couldn't NOT use it.

Booted
Stuntmutt has some issues with Destiny's RNG rewards. I suppose he has a point.

Shake Up
Stuntmutt's got a point... Variks has gotten somewhat more... enthusiastic this time around.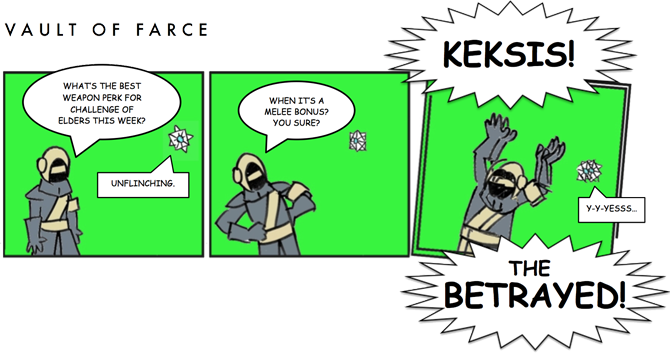 Ghost Writer
Has the Ghost gotten funnier? Stuntmutt wonders...

Off Colour
Stuntmutt realized after creating this strip that there's no green Chroma. Sometimes you have to bend reality for the sake of a joke. (This probably wasn't one of those times, but we don't pay him enough to force him to fix it.)

Could have been worse... could have been a dove...
Stuntmutt let us know he's a little nervous about the tweaking incoming next week.

On Time, Most of the Time
Wow. I posted this earlier this morning - I guess the site's joke on me was to not actually save it. Almost made the headline even more true than it is! Stuntmutt sent the image below, along with the following note:
All we have to do is get through the next 24 hours without Bungie posting - 330 Year 1 weapons? APRIL FOOOOOOOOL...
Goodness. Enjoy your farce!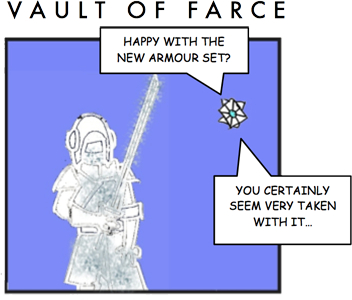 Count Down
Stuntmutt sent along a Tuesday Vault of Farce; he suggested its tardiness (it arrived this morning) might be due to an overabundance of chocolate last weekend. Either way, it's totally appropriate for this week's King's Fall Challenge Mode... and I can't even tell you how many times I've lived through it.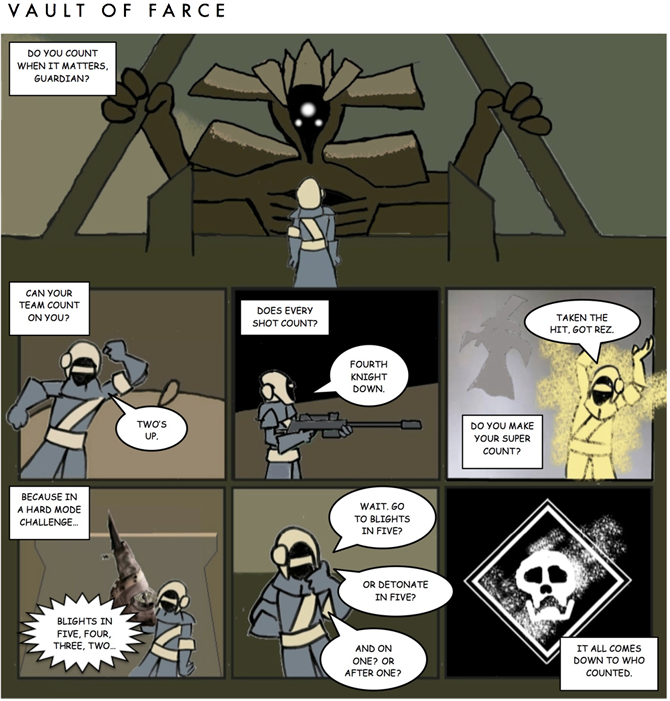 Twitchy
Stuntmutt is curious about that screenshot in yesterday's TWAB...

Lord Redbar
Are you having any timing troubles in Iron Banner? Stuntmutt feels you.

Crimson-Faced
As Stuntmutt points out, a vaunted new feature in Crimson Doubles is already present in Raids, Iron Banner, and Trials...
He's good at Iron Banana
Stuntmutt looked at the recent matchmaking changes in this week's Vault of Farce:

Putting the Pickup in Pick Up Group
Looks like Stuntmutt is gearing up for some sweet talk.

Double Down
There are two offerings from Stuntmutt this week; the first was created on Tuesday, the second today. (If you need a little context, this Tweet from Tuesday and this one from today might help.)


Oh, Stuntmutt.
Happy New Year, from Stuntmutt
And to all, a Good Nightfall
Stuntmutt posted this on our forum yesterday:
I certainly groaned.
Vault of Farce - Gifted
Stuntmutt is in a holiday mood, and if we don't get another chance to say it, DBO hopes you have a great holiday season!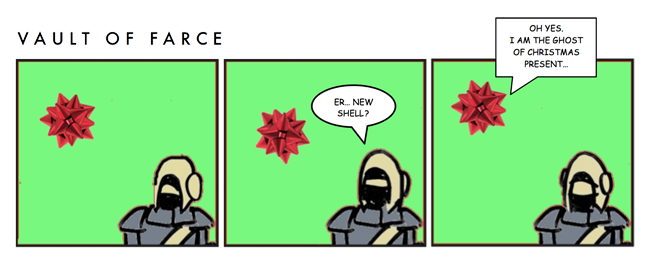 Vault of Farce - Blighters
"Who knew they had their own skill trees?"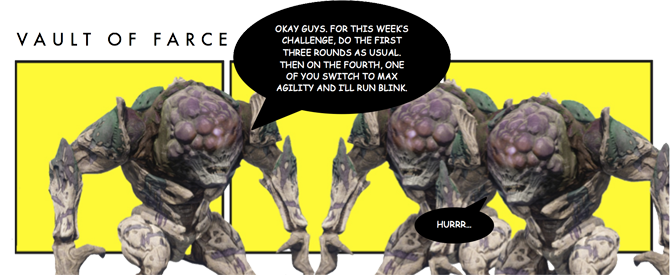 Honk
Stuntmutt sez:
Here's the usual from me, an old joke wrapped in Destiny clothing.

If you want actual humour, I'd direct you to the reddit poster who pointed out -
Bungie promised us 320 helmets from SLR.
Sure enough, I've had 200 drop so far, only another 120 to go...

Gear Up
Stuntmutt felt like it was Christmas after he finished the Warpriest Challenge. (I felt the same.)