Let's Play: Final Fantasy 7 - Part 2 (Part 2)
(Gaming)
If you visit the village, which is totally optional at this point, you can find an older couple who recognizes Claude's soldier uniform. They ask if he knows about their son Zack. If Sammy is in the party, an additional scene plays out. If Cleavage is there too, she likewise has a scene. Claude asks Cleavage if she knows Zack, which she unconvincingly denies. Sammy explains Zack was her first love. Soldier First Class, same as Claude. He went missing 5 years ago on a job, and never came back. 5 years ago you say…
If you check out the exploded reactor, you can fight a Triceratops Tank. Hoping this one gets the Hell House treatment and becomes a full boss in Remake Part 2! Scarlet helicopters in, and checks for any materia left in the reactor.
Moving on, we cross another river and enter some canyons. Too bad the buggy is a piece of shit and breaks down. Luckily, it looks like there is a settlement nearby.
Cosmo Canyon. The home of John 117, or as we learn his real name is, Nanaki. The birthplace of Planetology - the study of the planet's life energy. Bangin' musical theme. John 117 tells the gang his tribe fought to protect this land. But his dad did them dirty and peaced out like a coward and a wastrel.
Wastrel - A wasteful or good for nothing person.
+1 to Vocabulary
John 117 introduces Claude to his grandfather, Bugenhagen. He's floating on a green ball of some kind. No big deal. Also human, which puts into question the idea of direct lineage… but whatever. I'm sure it's grandfather in spirit, not genetics. He muses over the destruction of the planet, the cycle of life and death. You know, light conversation to get acquainted. When he hears you're out to SAVE the planet, he invites you into his observatory.
A 3D holoshow plays, outlining the process of life returning to the planet after death. The energy is called the 'lifestream'. This is important. It will be on the test for Part 3. Without the lifestream, the planet dies. Mako is the forceful extraction of spirit energy. So Korny was right all along. The Shinra reactors ARE sucking the lifeblood of the planet. Maybe coal wasn't that bad.
By the fire Korny recounts how a fella from Cosmo Canyon came to Midgar to start Avalanche. Recruited him and Biggs, Wedge, Jessie. Claude chats with everyone by the fire. Bugenhagen comes by and beckons John 117 to come see something. He opens a sealed door, and invites you in. But you go first, it's dangerous after all.
This is one of the most annoying dungeons in the game. You can level up really fast, but the enemies hit hard and I swear the encounter rate is jacked up. So many fucking random battles. The enemies you face are the ghosts of the Gi tribe, which once sought to conquer the land. Yup. Between this and the Train Graveyard, ghosts are 100% real. It's also totally filled with weird lookin marinara sauce. At the end of the dungeon, you fight a big spirit.
Now, in final fantasy ghosts or the undead are generally hurt by healing magic. It's opposite. And thankfully this boss has an easy cheese. If you toss a phoenix down on it to 'revive' it, then it suffers instant death instead. One item, and you're done!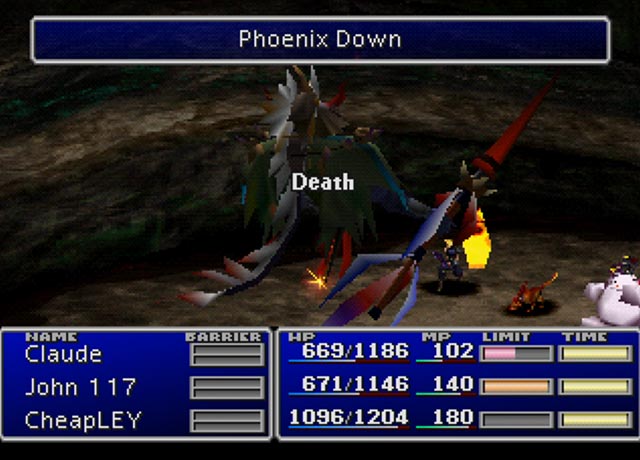 Beyond the boss, Bugenhagen reveals John 117's father, petrified stone having succumbed to the magical spears. He didn't run, but he stayed and fought valiantly. The statue cries as John 117 howls at it. It's a touching moment. But like… why was this a secret? Why did anyone think his father was a coward? Why? Makes no sense, but whatever.
Bugenhagen has your buggy fixed, and you're on your way. Your next stop is Nibelheim. Imagine everyone's shock when it is still standing, just as Cleavage and Claude remember it. Didn't Sephiroth burn it down? Why does nobody here look familiar or recognize either Cleavage or Claude? Why is it full of black cloaked figures moaning about a Reunion? Sephiroth seems to be inside the mansion. Let's get em boys and girls and figure this shit out.
You can do a little side quest first. Strewn about are clues to a safe combination. Gather them, and enter the combination in time (it is surprisingly tight), and you fight a boss. No, not the weird dude on top of some pit and the pendulum bullshit. This dude is like a goblin version of two-face. Extremely difficult at this stage in the game. Don't try this at home. But I rule so it was no problem. Your reward is John 117's level 4 limit break, and a key to the basement.
This unlocks a room with 5 coffins. All of them have skeletons except… the one that has a vampire in it. Vincent… how about we name him Vortech? Vortech joins you having past beef with Sephiroth. We don't get the deets until later in the game, but tl;dr he was sad about a girl and became an emo vampire. It's like if Edward Cullen had guns. This concludes the recruitment of the optional characters.
Moving on, we meet up with Sephiroth again. And once again he tells us where he's going and flies off, mumbling about the 'reunion' and the 'calamity from the skies'. In the library you can read the records of two escapees, one of whom was shot and killed while the other is still at large. This may or may not be a huge plot point later on hint hint wink wink.
Near the exit of the mountains, we have the Materia Keeper. This is probably one of the hardest bosses on Disc 1. Hits hard, is aggressive, and can cure itself. Fortunately, there's a chest right nearby that gives the Powersoul, a very good weapon for Cleavage. It powers up when her health is low, which is going to be often in this fight. One might say this is good game design. That's 1500 damage when everyone else is doing 400. Of course, you run the risk of DYING if her health is low, but what's a reward without some risk?
Next stop is Rocket Town. Because uh, there's a leaning rocket in the town. You have questions, but everyone tells you to talk to "The Captain" as he's in charge. You wander across a weird looking plane, the Tiny Bronco, and you just immediately ask to borrow it, because the heroes always get to take things in RPGs.
You find him in the rocket. A gruff man. Angry. A smoker. Always yelling. We'll rename Cid to… Cody. He tells the story about how he was supposed to take the rocket into space. The launch was aborted, and Shinra cut funding to the space program so his dreams were put on hold. He blames it on Shera, his assistant. Cody is NOT a nice guy in this game, just a heads up.
We head back to Shera's house to chat with her. Cody busts in and swears at her to get them tea, woman! Cody goes to tune up the bronco, and Shera tells the crew how the launch was aborted. She suspected a problem with an oxygen tank, and was taking too long to inspect it once the countdown had begun. Cody aborted to prevent her from being fried as the engines ignited. And boy was he pissed about it. The rocket engines are killed the second it starts to go up, and it lands again tilting sideways. And Cody comes back, also very pissed she still hasn't served them tea.
Shinra arrives, and Palmer comes in asking for an unusual addition to his tea. Outside, Rufus says he's commandeering the Tiny Bronco to follow Sephiroth. Cody is devastated, but Shera pulls Claude aide and is like "Hey, you still want to borrow the Bronco? wink wink". Palmer recognizes you, and fights you in front of the plane.
Palmer is kind of a slippery weasel, with high evade despite being… well fat. Beating him has him mock you, then run off only to be killed by a truck. This game haha. It would have been funny if the truck got the exp.
You all jump on and take off. Nobody can really fly it that well, and Cody runs after and makes his way on. The Shinra soldiers are able to shoot one of the engines, and so everyone crashes into the ocean. So basically, the Bronco can now float over shallow waters near the coast, enabling some further exploration of the world map. Claude says he's still going after Sephiroth, and after that Rufus. Cody joins up because screw Rufus, he tried to take my plane!
Rufus casually mentioned Sephiroth was headed for the Temple of the Ancients. That's all you have to go on. At this point, you can take a side trip to Wutai to do a substantial set of side quests with Small Arm. But, Wutai won't be in the Remake Part 2, so I guess that's being tackled in Part 3. You can find the temple if you explore a little bit using the Bronco, but it is inaccessible. Some random guy in a house nearby who makes weapons says you need a keystone to get in, but that he sold it to Dio at the Gold Saucer. And so we head back.
Welcome Welcome Welcome, to Gold Saucer Tonight. We might as well have some fun before we hit up Dio. The super dunk in the wonder square is probably the most lucrative game to earn GP (Gold Saucer money you trade for prizes). You just time your button press and shoot baskets. You can arm wrestle Mr. T. Do a 3D brawler game that is literally impossible to fully win due to a bug. Play an interactive story about a mog looking to get laid. Several other games open up in disc 2.
The roller coaster where you shoot shit to earn points is something I never got good at. 5000 points gets you an umbrella for Sammy. That she can fight with. And it's her best weapon in the game. But I can't aim for shit. Oh well. There's a cheese on the PC version and everything after it, but I'm on the original PS1 so sucks to be me.
Claude goes over to Dio and asks for the Keystone. Dio says he'll let you have it as long as you test your might in the battle arena! You can die right away, and while Dio will be disappointed, he'll still give you the stone. Another translation error. Off course we proofread this! Ok cool we got the Keystone, let's go to the temple. Whoops the tram its out, we're stuck till it's fixed. What if there's a fire? There's no stairs? I guess we're spending the night in the spooooooky hotel.
In the lobby, everyone goes over what's happened so far and mentally prepares for what's ahead. CheapLEY says Dio told him Sephiroth was looking fro the Black Materia. Why does Sephiroth tell everyone his plans again? Anyway. What's the Black Materia? Tune in to find out.
In the night there's a knock on Claude's door. Now, up to this point the game keeps track of affection points for Cleavage, Sammy, Korny, and Small Arm. Whoever you've been nicest to will come in and ask to go on a date. In this case, it happens to be Sammy. Which, canonically makes sense since that WAS the agreed payment for being her bodyguard.
The decide to go to the Event Square for the show. Surprise! They are the 100th couple. They win parts in the show. Claude is… less than thrilled but plays along. An evil dragon has kidnapped the princess! Who can save her? You can play along, totally derail the play, or something in between. I'm feeling cheeky so let's sabotage it. Sammy hams it up, and gets really pissed if Claude sandbags the play. She'll slap Claude, punch the dragon, and save herself. What happens if you play along? I'll leave that to you. Or to your youtube search.
Sammy drags Claude to the Gondola. It's a beautiful ride across the wonders of the Saucer, and she confides in Claude how weird it was that he looks just like Zack. She wants to get past that, and know the real Claude. It's actually pretty touching, and it might make me cry in the Remake so I'd better try for a Cleavage date instead.
On the way back to the hotel, they catch CheapLEY being all suspicious… He stole the Keystone! One Scooby Doo chase through the park later, CheapLEY tosses the keystone to a Shinra helicopter. Claude and Sammy confront him, and he's like hey can we just continue on? Claude's dumbfounded that's an option and says no way. Of course, CheapLEY reveals his hand. Ok, so get this. The animated stuffed cat that is controlling the robot Moggle by shouting at it with a megaphone, is actually ITSELF controlled by someone in Shinra (You don't know who yet, but find out later). Believe me when I say, nobody actually knows how it works. It's literal magic.
Anyway, he puts Marlene on the line, and says he stays with the group or Marlene gets it. Cold man. What choice do they have. Back at the hotel nobody seems to be that mad at him. You'd think Korny or Cleavage would have a fit! But… whatever. On to the temple.
The group enters to find Tseng wounded and dying. He says Sephiroth did it, and gives Claude the Keystone to enter the temple. Inside, it's an MC Escher type dungeon where you have to work out how to get from A to B. There are lots of frogs in here. Once you make it mostly through, Sammy can commune with the consciousness of the Ancients, and they show her Sephiroth. He of course tells Tseng his plan to join with the planet's energy, then cuts him down.
You make your way to the room he was in. Still there, Sephiroth explains everything. Using the black materia, he'll summon the ultimate destructive magic Meteor, severely wounding the planet. To heal, the Planet will send massive amounts of spiritual energy to the injury, and Sephiroth will be there at the center to absorb it all. Claude starts to freak out a little. More so than usual. Sephiroth leaves and you fight a big red fire dragon.
Sammy taps into the wisdom of the Ancients to confirm that the entire temple is the black materia. Solve a series of puzzles, and the temple shrinks more and more, until it's small enough to hold. Then, you've got the black materia. But you have to do it from the inside! Claude asserts that Sephiroth has countless flunkies he can sacrifice to do this, so it's up to them. Good thing we have a stuffed toy riding a robot! He can stay behind so no lives are lost.
CheapLEY stays with you until you get to the exit, but you get out you have to fight a wall. It's probably the second hardest boss fight in the game. After winning, CheapLEY reads your fortune one last time. He says Claude and Sammy are perfect for each other. A match! They exit, but CheapLEY stays behind and solves the puzzle, turning the temple into the materia crushing him.
Claude and Sammy retrieve the materia, but Sammy says it needs to be used in a place of great spiritual power. Sephiroth shows up again, and now things get weird. Claude loses control, strangely compelled to obey Sephiroth. You control a projection of child Claude, begging him not to do it. To resist. But, Claude hands Sephiroth the Black Materia. Claude freaks out, and start wailing on Sammy. Major levels of battery here. All the while CheapLEY #2 shows up. Guess they got a lot of those at Shinra. Claude passes out.
In a dream, Sammy comes to him, forgives him, and tells him she knows how to stop Sephiroth. But only she can go. As she leaves Sephiroth appears to have other ideas.
Claude awakens in Gongaga. Torn, not understanding who he is and why he gave Sephiroth the materia, he contemplates giving up. Korny gives him a big old motivational speech to continue on, with a nice callback to the train metaphor back in Migdar. They agree that with Sephiroth knowing where Sammy is going, they have to go help her. And if Claude freaks out again? Korny will slap him upside his spikey haired head.
The Sleeping Forrest is closed to non Ancients. But, if you have the Lunar Harp, you can get in. It's buried somewhere, and you play a mini game to excavate it that involves setting off bombs and triangulating the reflected waves. Once you have it, the forrest awakens and you're in.
The city of the Ancients. The music is ominous. Creepy, yet slightly hopeful. Spiral shell buildings built into the rock. You explore and find nothing. Except a big plastic fish blocking your way. Weird. After resting…
Claude feels her. Sammy. The plastic fish is gone, revealing stairs leading down. Everybody descends, deep underground. A small series of buildings surround an altar. An altar which Sammy is on.
Claude approaches… but something inside him swells. He takes out his sword. You can fight it, but you must inevitably continue to raise your sword. Then… Claude goes to strike. The cries of his friends halt the blade's descent. Claude steps back, bewildered. Sephiroth is in his mind manipulating him. And then…
Sephiroth drops out of nowhere and skewers Sammy. As he withdraws the blade, her head snaps back. Her useless Materia, now glowing, separates from her hair ribbon and bounces into the water below. Sephiroth flies off and drops another piece of Jenova to fight. Sammy's theme plays the whole time. On defeat, Jenova calls you a puppet. The moment slightly undercut by the misspelling of 'because'.
Korny hangs his head. Cleavage runs off crying. She's gone.
I'm not crying.
I'm not crying.
I'M NOT CRYING!!!!
😭😭😭😭😭😭😭
Claude lays her body into the water. She sinks and disappears into the darkness. Gone.
Claude breaks down. He doesn't understand what's inside him. But he know one thing. Sephiroth has to pay.
Insert Disc 2.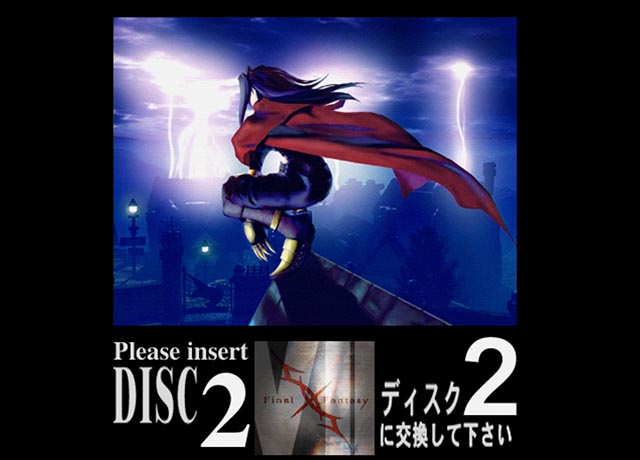 And so here will end Part 2 of the Remake. What will change now that the future is unwritten? How will the Remake deviate?
Mom, is February 29th here yet? Is it here yet? Now? Now? It is here yet?!!!!
---