Search results for tag '
vault-of-farce

'

Showing results 51 - 75 of 92 matches
Double Down
There are two offerings from Stuntmutt this week; the first was created on Tuesday, the second today. (If you need a little context, this Tweet from Tuesday and this one from today might help.)


Oh, Stuntmutt.

Happy New Year, from Stuntmutt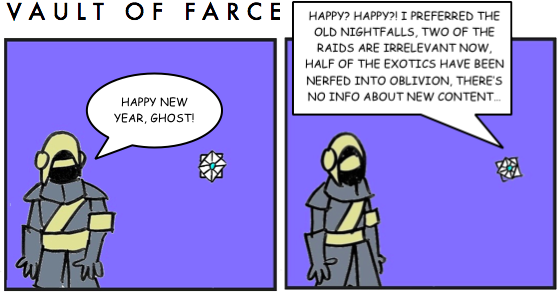 And to all, a Good Nightfall
Stuntmutt posted this on our forum yesterday:

I certainly groaned.
Vault of Farce - Gifted
Stuntmutt is in a holiday mood, and if we don't get another chance to say it, DBO hopes you have a great holiday season!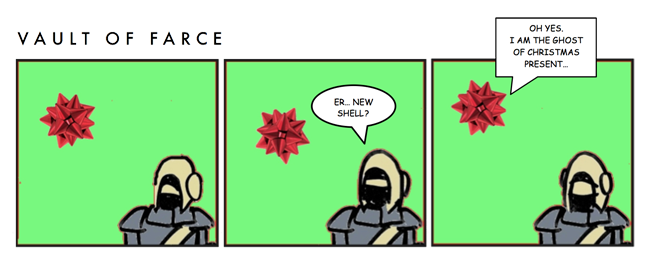 Vault of Farce - Blighters
"Who knew they had their own skill trees?"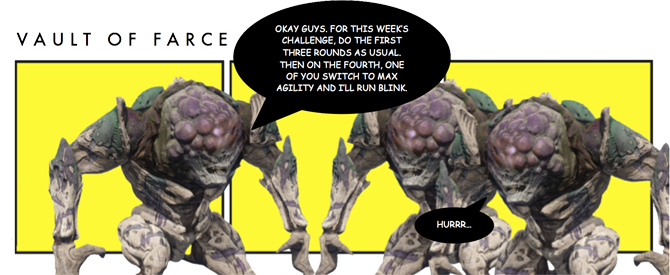 Honk
Stuntmutt sez:
Here's the usual from me, an old joke wrapped in Destiny clothing.

If you want actual humour, I'd direct you to the reddit poster who pointed out -
Bungie promised us 320 helmets from SLR.
Sure enough, I've had 200 drop so far, only another 120 to go...
Gear Up
Stuntmutt felt like it was Christmas after he finished the Warpriest Challenge. (I felt the same.)

Vault of Farce - Some Old Favorites
Stuntmutt is firing on all cylinders today - so be warned!

Incentives
Stuntmutt has an early Vault of Farce for us this week. I guess the incentives for the Refer-a-Friend program could have been… different.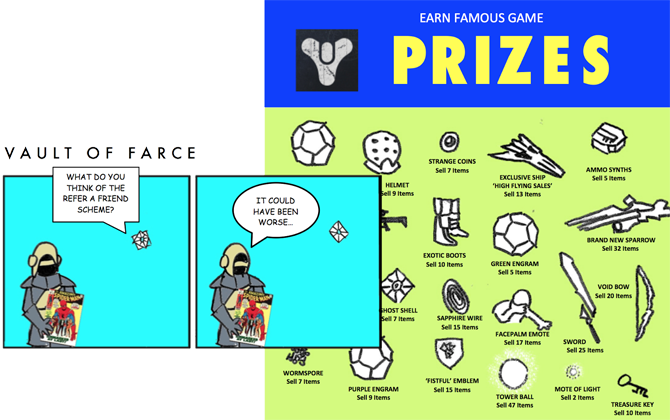 The Hell Mouth
Sounds like Stuntmutt has been LFG raiding lately...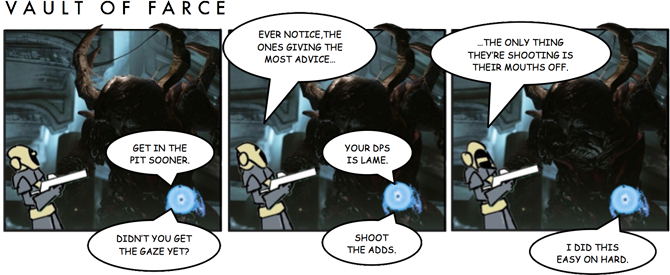 And a partridge in a pear tree.
Stuntmutt is wondering where his free time took off to...

No Drought About It
He truly is a man of parts. (Thanks, Stuntmutt.)

Vault of Farce: Festival of the Lost Edition
Stuntmutt asks, "What could be more appropriate than the sound of groaning?"

Legendary Boot
Some of us have more trouble than others in the Raid. Thanks, Stuntmutt.

Disco Inferno
What happens when new emotes drop the same time as a more-competitive multiplayer mode? Stuntmutt sent us a new Vault of Glass this morning with some ideas.

Cross My Palms With Silver
It seems like Stuntmutt is looking forward to Tess's return next week:


Vault of Farce - It's In There Somewhere...

Wait, so... there's a princess?
Stuntmutt's observations can be shocking, sometimes.
Update: I don't know why I humor the man, sometimes. Stuntmutt posted this in our forum:

Thunderlord
Is it Fryday today? (Thanks, Stuntmutt.)

Download Time's Vengeance
Stuntmutt had some of the same issues this week as you did.
Shhhhpoilers
Guarded Guardian:

Infochasm
I guess Stuntmutt was impressed with this week's reveal:

Go North, Young Man
I feel as though Stuntmutt should be allowed to explain this one himself:
When I was a kid, I loved Marvel comics. I was always drawn to the ones that said 'Special Guest Star' on the cover, like when Spiderman would turn up in the Fantastic Four, or Thor would 'guest' alongside The Hulk. But Guest Star only ever put in an appearance for a couple of panels and was utterly inconsequential to the story. So I'd generally feel quite disappointed.

I like to think I've managed to capture the true essence of that experience here.

Something About Wings
Stuntmutt distilled down the important bits from the news that came out this week: