Search results for tag '
vault-of-farce

'

Showing results 76 - 92 of 92 matches
A Dance With Dragon's Breath
Stuntmutt's crossing the streams today. Happy Friday!

Diss Mantle
Stuntmutt thinks Bungie is funnier than he is (check today's Xur offerings), but he still served up a comic for you today.

Elemental Discussion
Stuntmutt was complaining about the heat...

Seeing Red
From Stuntmutt:
Must have resulted in a ton of codes.
All of which had already been used by reddit forumgoers.

Press X To Skip Joke
This came in yesterday, but... well, here. Thanks, as always, to Stuntmutt.

Ramifications
Stuntmutt drops by with another wild and wooly Vault of Farce:

Vault of Farce: Too Hard Mode
A thread started in our forum asked an interesting question regarding Oryx's motives in The Taken King. Stuntmutt delivers the answer eloquently.

Like a Ninja
Stuntmutt dazzles with another Vault of Farce!

Sitting in Judgement
Stuntmutt's been spying on my gaming sessions again...

Putting the *sigh* in Osiris
Who's looking forward to the Trials of Osiris? Stuntmutt is!

Friday Filth
Yeah, Stuntmutt HAD to go there..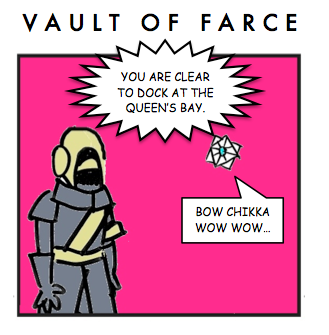 A Pack O' Laughs
Stuntmutt is looking forward to the House of Wolves:

Vault of Farce: Food For Thought

Thanks Stuntmutt!
Dungeons of the Mind
Stuntmutt turns an eye to the Cryptarch today - I'm getting flashbacks.

Vault of Farce: 100 Percent Real* Cheese
Stuntmutt has a new Vault of Farce for us this week. It's a kick in the dairy-aire:


Vault of Farce: Scare Play
I love Stuntmutt.

Vault of Farce: Unxurtainty
Another Friday, another Xûr. Stuntmutt sent this in to celebrate the occassion: