Search results for tag '
livestream

'

Showing results 1 - 3 of 3 matches
Reef Social Space Reveal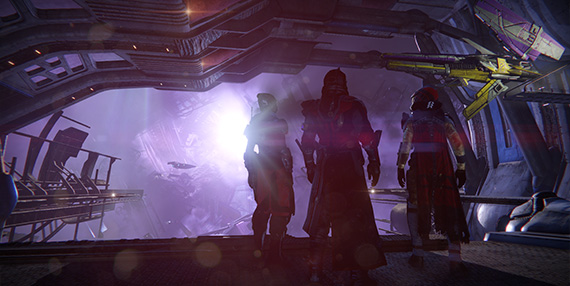 Did you miss the Twitch Stream from Bungie earlier today? Luckily our forum has you covered. Go check out the second by second summary of the stream, and then go give us your thoughts on what was shown! And make sure you check the expansion's official site to see some newly revealed images (Thanks CyberKN!). (You can also watch the recorded stream on Twitch!)
Xenos | Apr 22, 2015 12:20 pm |
link
---
Live from the Reef
The folks from Bungie are currently touring The Reef, the all new social space included in the House of Wolves expansion. Go watch!
colindosaj | Apr 22, 2015 11:15 am |
link
---
Destiny at GDC 2013

Bungie's GDC presentation, Brave New World: New Bungie IP, will be available for viewing live on Gamespot today at 4:00 p.m. Pacific. Delivered by Christopher Barrett and Joseph Staten, the hour-long presentation will give an insight into the process of designing and building the worlds of Destiny, from concept to production. While the talk is certainly focused toward game developers, many in the community will be interested to peek behind the curtain and catch some new perspectives on Destiny to tease our imaginations and fuel our collective speculation.
The livestream page currently has a countdown, but should automatically update once the session starts. And if you missed it previously, the official bulletin can be found on the GDC session page. Thanks to rliebherr for the Gamespot link reminder in the forum!
Beorn | Mar 28, 2013 09:32 am |
link
---