Search results for tag '
video

'

Showing results 1 - 25 of 26 matches
Fun With Tripmines
CruelLEGACY let us know about a new montage he's put together showing off Tripmines in recent Iron Banner and Trials of Osiris outings. Watch below or here!
The Starside Lounge, Ep. 8 (Dreadnaught Patrol)
Last night, Xenos, Beorn, and breitzen jumped into the Dreadnaught to discuss The Taken King and to explore the new destination. Here's the video archive for those who missed it:
Highlights from an Iron Lord
CruelLEGACEY dropped off a fun highlight reel of action collected from this week's Iron Banner. Makes me wish I had more free time!
He also posted some neat fanart of his Warlock.
Guardians Without Gjallarhorns
Wickedshrapnel stopped by to let us know about the support group he setup for disenfranchised Guardians who had found their lives lacking a certain regal rocket launcher... and the results were humorous. Warning: some harsh language.
Better than a Beatle?
Here's a rendition of Sir Paul McCartney's "Hope For the Future" (Destiny's credits song) covered by zircon & Jillian Aversa.
Pointed out by some random fan named Claude.
Destiny Lore In A Minute!
This rather cute video can give you the basic gist of Destiny's story setup VERY quickly. Thanks to GrimBrother IV for pointing it out. Fun!
Cassette Tapes for the Future
Helveck
edited together
this montage set to "Ain't No Mountain High Enough" in the growing excitement for the coming release. Sweet!
Destiny Updates Goes Lunatic
Destiny Updates has taken his time with The Moon trailer from earlier this month, and it paid off. I learned a few things, that's for sure.
Thanks for posting it on on our forums, Mr. Updates.
Destiny Updates Takes a Gander at the Thank You Vid
Destiny Updates continues their in-depth analysis with their microscope aimed at yesterday's Community Thank You video. Teleporting, energy knives, and more insanity. I feel like we've seen more of how Destiny really plays in yesterday's quick glimpse than ever before.
Wait, Do I Post This to HBO or DBO?
Hedgem0ny, longtime Bungie fan and amphibious storyteller, was reminded of something from Halo 3 at about 30 seconds into the video from yesterday and decided to elaborate: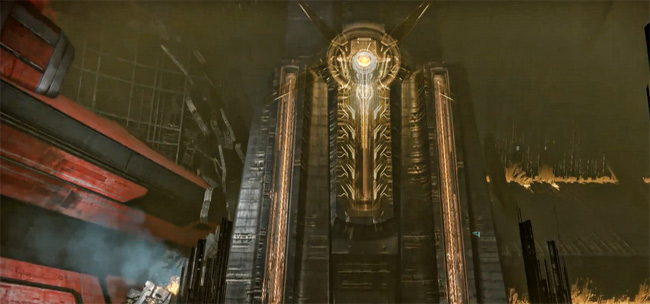 Hint: it's the memorial hologram suspended in the Halo 3 map, Epitaph. Whatever that structure is in Destiny, it's definitely beaming with the ancient civilizations and mysterious intelligences Bungie is known for... Unless it's just the Fallen's outhouse.
From Bellevue, With Love
Bungie released a thank-you video today - a two and a half minute slice of memory pie, slathered with delicious teasers of goodies to come. A look back at the last few months of community interaction with Destiny content, topped off with new (and fantastic) music... go watch!
(EDIT: You can also watch this in our video gallery - and be sure to discuss what you see in this forum thread Xenos started! -- ncsuDuncan)
Video Games Live(stream)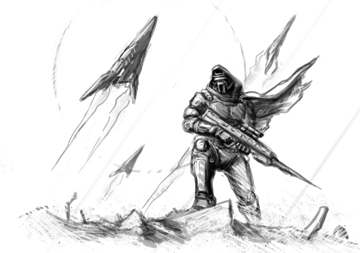 Joystiq reports that this Saturday's Video Games Live concert will be live-streamed by Twitch! According to the schedule, Destiny should be making an appearance around 7:30 PM Pacific. (Thanks, EffortlessFury!)
Official E3 Gameplay Reveal Posted
For the second day of Bungie Week festivities, Bungie has posted the Official Destiny Gameplay Reveal video to their YouTube page in all of it's HD glory. Also, be sure to check out the news post on Bungie.net.
The bumper at the end of the video also teases a "Building E3 Reveal" video, with a placeholder that says "Coming Soon". Hmm, I wonder what that's about... (Thanks, SigbiasSilva).
We Are Guardians
UncookedMoa wanted to share their fan-made Destiny trailer, "We Are Guardians", featuring "Final Hour" by X-Ray Dog. I think the result is pretty slick! Check it out!
Reminder: Never Doubt Bungie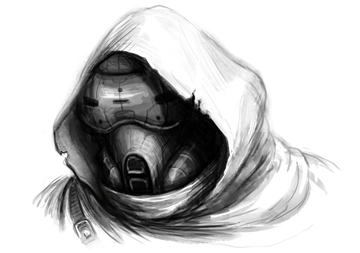 IGN's Ryan McCaffrey has posted a quick writeup of Bungie's E3 demo; he had a lot of nice things to say about the game. The article also has a short impressions video, as well as an off-screen recording from one of the Destiny booth playthroughs. Go watch!
DeeJ's Video Tricornucopia
The ever-darling DeeJ has seen fit to bestow upon our awaiting earballs and eyeholes a minor trilogy of video featurettes chronicling the early goings of E3 setup and facilitation. Take a look at Booth, Press Rooms, and Rehearsal. May the Vanguard watch over you with vigilance and mercy as you view them.
Video Animators, collect your bounty.

Our E3 preparation continues with a request for the video animators within our community. Next week's events could result in the first DBO video production, and we need your help creating a classy intro animation for our footage! If you're interested in earning a free DBO shirt, check out this thread for the details.
Destiny Updates analyzes LotJ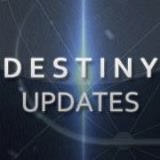 Destiny Updates walked through the Law of the Jungle video a couple of days ago, and touched on pretty much every detail he could find. Go give it a watch - you might see something you missed when you watched the trailer, or you might learn a new interpretation you hadn't considered! Solid piece of work.

The Strength of the Wolf is the Pack

We've added 'The Law of the Jungle' to our
Official Video Archive
- you can stream it, or grab a copy at a couple of sizes. Enjoy!
Audiobook by RUL
Greenskull is back with video recapping and verbalizing much of the new Destiny content that Bungie recently added to their website. Go and give it a look and listen, and see what the RUL crew thinks!
Bungie's GDC Talk - now up at GDCVault
Gamasutra has posted
their version of the Destiny talk Bungie gave at GDC this year
, in their GDCVault - for free. It's a different layout than the Gamespot vid we've all seen - it allowed me to grab a few better concept art shots for
our GDC Concept Art Gallery
, and it's never a bad thing to have multiple sources of great content. Go take a look!
The Video Collection Grows

We've added the Destiny Character Development video unveiled at GDC 2013 last week to our Official Videos collection - it's available in a million places today, but who knows about 5 years from now? Don't worry - we'll still have it then, too.

Destiny Character Development
If you missed the video segment from Bungie's GDC presentation (or want to watch it again), DeeJ has posted the video on the Bungie Blog. (You can also find it on the Bungie YouTube channel.) Press play and drool at the impressive character design!
The Fract of the Matter
Mr Daax on our own forums brought up a very cool TED Talk video regarding the nature of mathematical fractals. The talk itself focuses on the fractal integration of African designs, but there is a particular section (approximately 10:50-14:00) that Destiny fans might find particularly interesting, especially those that involved themselves in the latest Destiny ARG. If you are wondering about geomancy and geomantic symbols, this is a very cool video to check out! Might we see more patterns like this creep up in Destiny's future? We'll see!
Official Video Library Initiated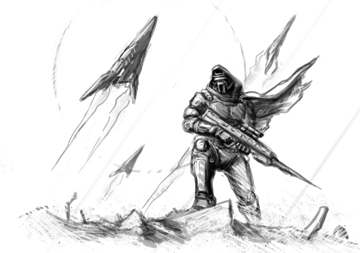 We've begun to build an 'Official Destiny Video Archive', containing media released by Bungie (and possibly Activision) related to Destiny. As of now, there are only a couple of videos - but this will grow! You can watch streaming versions, or download SD or HD versions for offline use.