Guardian Radio Episode 64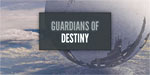 Roland let us know that the latest episode of Guardian Radio is out:
This week we share with you all our E3 plans. If you missed the announcement on Twitter this past week, Mark and Craig are two of the Destiny Mentors who have been teased by DeeJ in the past few Bungie Weekly Updates. Sitting in with the crew is Cozmo, founder of the reddit.com/r/DestinytheGame Subreddit and another member of the Bungie E3 Mentor team. He helps us break down the latest Bungie Weekly Update, the latest Destiny news, and answer your questions and comments.
Whoa, that Bungie E3 Mentor team sounds pretty cool! Rumor has it one of the unmentioned team members is astonishingly handsome, humble, and subtle. Then again, there are always a ton of ridiculous rumors before E3...
ncsuDuncan | Jun 3, 2014 10:19 pm |
link
---