Guardian Radio Episodes 77 & 78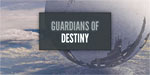 Whoops! We missed posting about Guardian Radio Episode 77 last week! I wonder what we were doing... Also roland let us know about Episode 78, and here is his description:
Destiny has been deployed and this week we officially come to you LIVE from the Tower. This week we catch you up on the latest news surrounding the game and then dive in to our first impressions of the game. With one week under our belts we have a lot to say about Bungie's shared world shooter. We share both the good and the bad but see that this is clearly a fantastic starting point for what is sure going to be one hell of a ride for the next 10 years.
Xenos | Sep 17, 2014 11:48 am |
link
---