Search results for tag '
guardiansofdestiny

'

Showing results 1 - 18 of 18 matches
Guardian Radio Episode 97
It's been a little while since we mentioned the Guardians of Destiny (it was all the way back in November, actually), but we're doing it again - and not just because they had me on as a guest. Episode 97 was recorded last night, and topics of discussion included Destiny's place in the Bungie universe, Xur's randomness, and the underappreciated glory of Destiny's Grimoire. Go listen! (Thanks to Craig for the invite!)

Guardian Radio Episode 86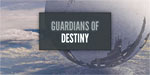 As usual, roland stopped by the forum to inform us that the latest episode of Guardian Radio has been posted on their site! This week they had Rob Adams, an Environment Artist at Bungie, visit the show. Great listen!
Guardian Radio Episodes 77 & 78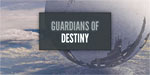 Whoops! We missed posting about Guardian Radio Episode 77 last week! I wonder what we were doing... Also roland let us know about Episode 78, and here is his description:
Destiny has been deployed and this week we officially come to you LIVE from the Tower. This week we catch you up on the latest news surrounding the game and then dive in to our first impressions of the game. With one week under our belts we have a lot to say about Bungie's shared world shooter. We share both the good and the bad but see that this is clearly a fantastic starting point for what is sure going to be one hell of a ride for the next 10 years.
Guardian Radio Episode 76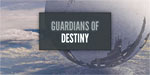 As usual roland stopped by our forums to inform us about another great episode of Guardian Radio! Since this is their last episode before the launch they cover their launch day plans, as well as covering the latest news on Destiny. Go give it a listen!
Guardian Radio Episode 73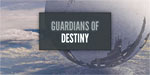 Guardian Radio marches on with episode 73 as they reminisce on their Beta characters, chat about clans, and await the final game in just a few short weeks. Listen on YouTube, iTunes, or straight from their website. Thanks, Roland.
Guardian Radio Episode 72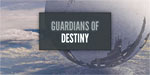 roland let us know about the latest Guardian Radio podcast - a guest host from GuardianOne.net discusses some future changes. Listen in to learn about Byf's visit to the Seattle Children's Hospital, plus a wrapup of the Beta (through the lens of Bungie's released stats). Good stuff!

Guardian Radio 67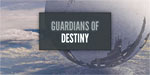 roland stopped in to announce that Guardian Radio Episode 67 is now online, in a variety of formats. They've got a new staff member, Fenix, and he was present during this 'cast. Discussion focused on the latest Bungie Weekly Update offerings, though as always there's additional fun. Go listen!

Guardian Radio 66: Post-Alpha Musings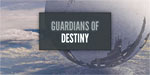 The Guardians of Destiny got together again last night, and recorded Episode 66 of their Guardian Radio podcast - swing by to hear all the discussion about the E3 reveals, the lowdown on the Playstation Exclusive content, the speculation about how it's all going to come together! (There's also a pretty funny little radio promo.) Thanks, as always, to roland, for keeping us in-the-know. (Multiple link options in his forum post.)
Guardians of Destiny: E3 Extravaganza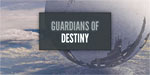 roland told us about the latest goodies from Guardian Radio - there's Episode 65 of their podcast, which is pretty interesting, all on its own... but there are also a whole passel of bonus videos, based on the crew's time at E3. (They were working the Bungie booth, helping fans and showgoers acclimate to the multiplayer content being shown off - they have some great stories to tell!) Check out the forum post for all the links.

Guardian Radio 59: DeeJ Edition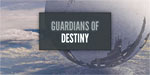 Last night's Guardian Radio had, as promised, a special guest - DeeJ sat in and shared. It's a solid two hours, so make sure you have some free time to listen to this one. Thanks, roland!

Guardian Radio Episode 58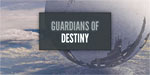 Should have posted this earlier, but hey - life's busy sometimes. roland let us know that Guardian Radio Episode 58 was released - there's a bunch of discussion about the departure of Marty O'Donnell, and what that might mean for everyone. Go listen - things are sure to heat up soon, and who knows how much time you'll have for the dulcet tones of the Guardian crew?

I'd make an ice cream joke, but nobody would get it.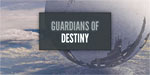 Sometimes, Wednesday bleeds into Friday. (Hey, it's been a busy week!) roland let us know that Guardian Radio Episode 55 hit the interwebs - special guest this time around is Datto, of DattoDoesDestiny. Pretty interesting 'cast! Go listen, if you haven't already.

Guardian Radio Episode 10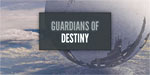 It may be a slow couple of weeks for Destiny news, but that can't stop the guys over at The Guardians of Destiny! They've released Episode 10 of the Guardian Radio podcast, clocking in at almost an hour and a half of Destiny discussion for your listening pleasure. Thanks to roland for a heads-up in the forum.
Guardian Radio Episode 8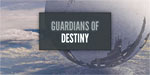 The folks over at Guardians of Destiny released their 8th podcast, like clockwork - must have been Tuesday yesterday! Topics include Joe Staten's interview with X360 magazine, last week's Mail Sack, and feedback from listeners. This one's 90 minutes - go listen! (And thanks, Cambone.)
Guardian Radio Episode 7
Guardians of Destiny have put out their 7th podcast - this one continues the speculation based on the GDC content, as well as Craig Hardgrove's discussion of shooters and their draw. It's more than 2 hours (again). Go listen! Thanks, Cambone.

Guardian Radio Episode 6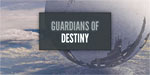 Guardians of Destiny have released their 6th podcast - Craig Hardgrove has become a permanent host on the show, which is fantastic. This episode looks closely at the GDC talk given by Chris Barrett and Joe Staten - great speculation! Thanks to Cambone for the heads-up.

Guardian Radio Episode 5

Guardian Radio Episode 5
is now out - as we
mentioned
a few days ago, the special guest is Craig Hardgrove, a member of the Mars Curiosity Rover science team whose Bungie cred runs deep...
very deep
. It's a great 'cast - go listen! Thanks,
Cambone
.
Guardian Radio Episode 3

The Guardians of Destiny released the third episode of their Guardian Radio podcast - they cover the latest mail sack, newly released concept art and discuss the idea of aiming down the sights being in Destiny. Go listen! Thanks, Cambone.