Previewin' on the Edge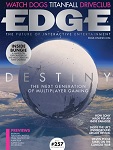 We already knew that Issue #257 of Edge magazine would have a Destiny cover story, but now we have a better idea of what to expect from the feature:
With exclusive access to the Seattle studio's next blockbuster, we have the world's first hands-on report on the openworld shooter, plus insight from Bungie creative lead Joe Staten, COO Pete Parsons, art director Chris Barrett, technical art director Ryan Ellis and technical director Chris Butcher.
As kapowaz points out, there's a quick teaser online featuring two paragraph-sized quotes from Joe Staten about what Bungie learned from ten years of making Halo games. Good news for people the like long story arcs! The Edge issue will be available for purchase starting this Thursday.
ncsuDuncan | Jul 30, 2013 07:11 pm |
link
---