Search results for tag '
magazine

'

Showing results 1 - 7 of 7 matches
Bungie Profiled in Time
Kermit let us know about a Time interview with DeeJ, covering Bungie and the launch of House of Wolves, as well as a look into the role of our illustrious Community Manager. Nothing really new for frequenters of the Destiny community, but it's nice to see Destiny getting some coverage from more traditional press.
Beorn | May 19, 2015 07:31 am |
link
---
Newsweek Special Edition
Originally sighted on Twitter, it looks like Newsweek will be putting out an "official collector's edition" magazine focused on Destiny. If it's not already at your local grocery/book store, it should be there tomorrow, August 19th (in the US, at least).
Leviathan | Aug 18, 2014 09:21 pm |
link
---
Previewin' on the Edge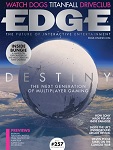 We already knew that Issue #257 of Edge magazine would have a Destiny cover story, but now we have a better idea of what to expect from the feature:
With exclusive access to the Seattle studio's next blockbuster, we have the world's first hands-on report on the openworld shooter, plus insight from Bungie creative lead Joe Staten, COO Pete Parsons, art director Chris Barrett, technical art director Ryan Ellis and technical director Chris Butcher.
As kapowaz points out, there's a quick teaser online featuring two paragraph-sized quotes from Joe Staten about what Bungie learned from ten years of making Halo games. Good news for people the like long story arcs! The Edge issue will be available for purchase starting this Thursday.
ncsuDuncan | Jul 30, 2013 07:11 pm |
link
---
Headlines utterly destroyed by X360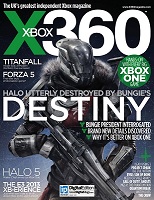 Issue 100 of the independent UK magazine "X360" prominently features Destiny on the cover - complete with an absurdly sensationalist headline! The main article within covers the usual post-E3 details (which won't be new to most DBO readers), but the interview with Harold Ryan provide some interesting quotes, at least. This issue is on sale in both print and digital forms from the X360 website. (As always, please refrain from posting scans of paid material on our forum.)
ncsuDuncan | Jul 24, 2013 11:05 pm |
link
---
Edge Teases the Traveler

Remember the minimalist teaser in Edge magazine that electricpirate and kapowaz noticed a couple weeks ago? Looks like they were right about the hints pointing to Destiny - kapowaz has spotted a (tiny) preview image of the upcoming issue's cover. Subscribers will get to read the full story on August 1st, so don't go pillaging your local newstand just yet!
ncsuDuncan | Jul 18, 2013 10:28 pm |
link
---
Staten Has the Gift of Gab

Xenos noticed yet another new interview with Joseph Staten over on x360magazine.com. Man, that guy's been busy! Some great talk about Bungie's approach to developing and defining Destiny, persistence and customization of your Guardian, storytelling, and a few other tidbits. Go give it a read, then sound-off in the forum!
Beorn | Apr 10, 2013 05:28 pm |
link
---
Game Informer Gets the Scoop
DeeJ let the Bungie.net populace know that the latest issue of Game Informer is out and contains an article on Destiny:
The contents of their write-up feature some insights on our vision for Destiny, the way we work, the music you'll hear when you play, the enemies you'll fight to reclaim our lost civilizations, as well as some never-before-seen glimpses of our brave new world.
The print version should be available on newsstands within a few days, but subscribers can already access the digital version here. (As a quick reminder, scans/screengrabs of paywalled content are NOT allowed on our forum.)
ncsuDuncan | Mar 6, 2013 03:53 pm |
link
---