Search results for tag '
free

'

Showing results 1 - 3 of 3 matches
I refuse to use Levi's headline.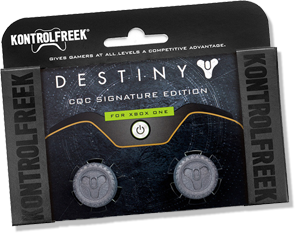 I've been a KontrolFreek fan for over half a decade (I wrote
a mini-review
of their product back in 2010), so I was thrilled when Levi
noticed
that the Bungie Store now
has Destiny-themed versions for sale
. I've just ordered some (my current pair is getting a little ratty) - if you're looking for a way to increase your control when playing Destiny (or, really, any console-based shooter), these are fantastic! Check 'em out.
Claude Errera | Jun 7, 2016 02:56 pm |
link
---
January GameInformer Article now free for everyone

If you missed GameInformer's January 2014 article because you didn't have a subscription, you're in luck - GI has released that article to everyone, for free. Awesome! (It's a really good read, and contains a boatload of info we haven't seen elsewhere. You've probably seen most of the content now via third-party sources - but here's your chance to read the actual article.)

Claude Errera | Apr 4, 2014 09:46 am |
link
---
How's free for you?

If $35 (after the Bungie Day discount) is still too steep for you for the new Destiny Banners at
the Bungie Store
, a couple of websites are giving some away. IGN UK
wants you to tweet their name
(you must be a resident of the UK to be eligible), while VG24/7
just wants to know which one you're looking for
. Okay, true, your chances aren't great... but hey, free is better than not free!
Claude Errera | Jul 6, 2013 06:02 am |
link
---