Search results for tag '
gamestop

'

Showing results 1 - 3 of 3 matches
Pre-order Crossover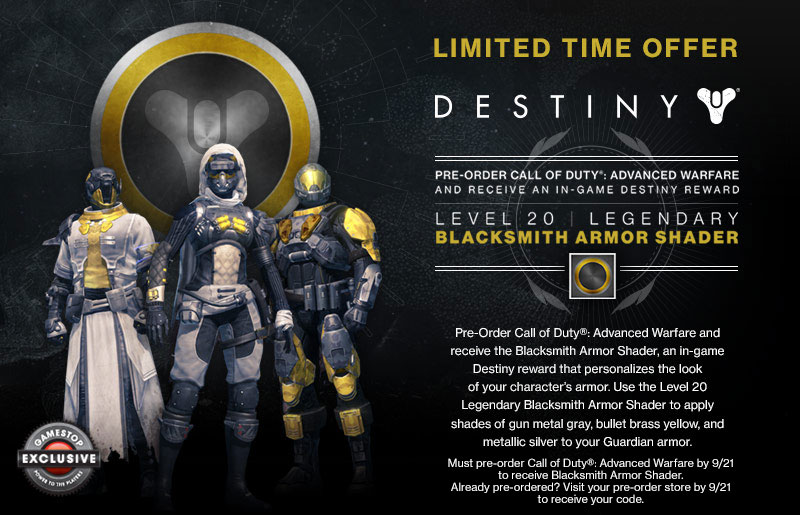 GameStop's latest incentive to drag your money towards them involves an exclusive "Blacksmith" color shader for your Guardian. Get it by pre-ordering Call of Duty: Advanced Warfare... Wait, what? Thanks, INSANEdrive.
Leviathan | Aug 29, 2014 02:05 pm |
link
---
Fallen Got Run Over By a Sparrow
Gamestop posted a video of the exclusive red Sparrow you get for pre-ordering on youtube. Not anything new really, but if your pre-ordered from Gamestop you can see in detail what your ride will look like.
Xenos | Aug 20, 2014 08:57 pm |
link
---
Gamestop 'Exclusive' Pre-Order Sparrow
Gamestop has a new Destiny pre-order "exclusive" today: a quicker, faster, more durable, specially-painted Sparrow (and apparently it's back to "Sparrow"). petetheduck found the news over on GAME.co.uk, and JDQuackers was quick to notice some important small-print in our forum stating the limits of the exclusivity. It sounds like the pre-order bonus will grant you a quickly-upgraded Sparrow that everyone else can obtain by end-of-year. You can check out the 40-second ad spot here:
Beorn | Apr 28, 2014 09:48 am |
link
---