Search results for tag '
preorder

'

Showing results 1 - 6 of 6 matches
Pre-order Crossover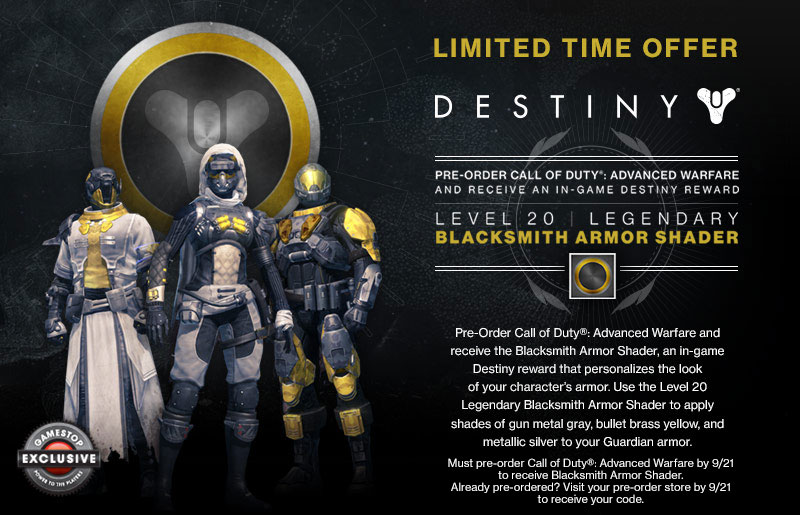 GameStop's latest incentive to drag your money towards them involves an exclusive "Blacksmith" color shader for your Guardian. Get it by pre-ordering Call of Duty: Advanced Warfare... Wait, what? Thanks, INSANEdrive.
Leviathan | Aug 29, 2014 02:05 pm |
link
---
Fallen Got Run Over By a Sparrow
Gamestop posted a video of the exclusive red Sparrow you get for pre-ordering on youtube. Not anything new really, but if your pre-ordered from Gamestop you can see in detail what your ride will look like.
Xenos | Aug 20, 2014 08:57 pm |
link
---
Preview the Pre-Order Prizes
Bungie posted a short video showing off some of the Vanguard gear available to players that pre-order Destiny. If you're not the type that pre-orders games, you might like the disclaimer shown at the bottom of the screen: access to the Vanguard Armory can also be attained through gameplay! Very cool.
ncsuDuncan | Jul 21, 2014 09:50 pm |
link
---
How big will Destiny be?

GamesBeat has word of a new report from Cowen Research - based on their analysis, they believe that Destiny could be the biggest game of 2014. (Dean Takahashi, the writer for GamesBeat, was surprised at this prediction - he was pretty unimpressed by what he saw at E3 this year.) Thanks to electricpirate for the heads-up.

Claude Errera | Jun 29, 2014 10:24 pm |
link
---
Preorder One For Yourself
Xenos let us know that Destiny preorders are now available for the upcoming Xbox One at Amazon. If that's your platform of fancy, go and plop down some spacebucks!
GrimBrother One | Jun 12, 2013 02:50 pm |
link
---
Straight from the source.
In addition to today's ViDoc, Bungie has released a wealth of new Destiny content at various official pages:
Enjoy!
ncsuDuncan | Feb 17, 2013 12:09 pm |
link
---