Search results for tag '
companion

'

Showing results 1 - 5 of 5 matches
Destiny Companion Update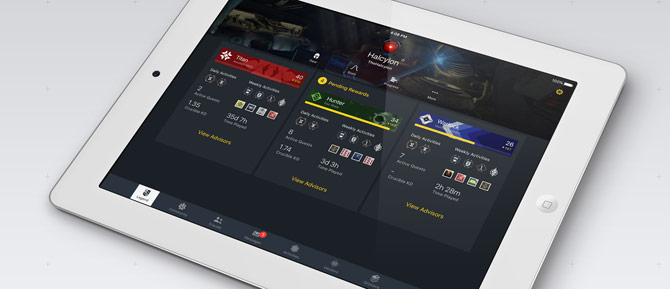 Good news for iPad owners; Bungie has updated the Destiny Companion App with a ton of new features, and lots of pretty bells and whistles. Swing by B.net for a full accounting, or just visit the iTunes store for a free download! (Works with the iPhone and the iPod Touch, as well, but it shines brightest on the iPad.)
Claude Errera | Mar 31, 2016 08:13 am |
link
---
Companion Apps Need Patch Notes Too!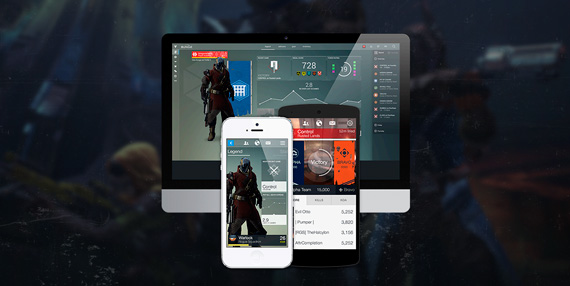 And Bungie's got them for you over at B.Net. General fixes, fewer notifications, Grimoire stat corrections, and the Gear Manager unleashed!
Leviathan | Nov 11, 2015 04:17 pm |
link
---
Companion's Little Helper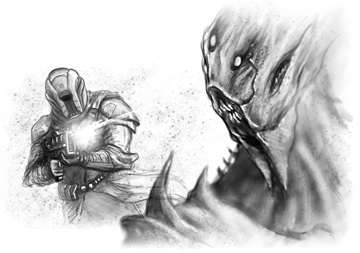 SteelGaribaldi dropped by our forums showing off a spreadsheet he created to help him manage his inventory and equip the best weapons and gear for the right character (apparently everyone doesn't just choose the coolest-sounding name like me). You can snag a copy from him and customize it for your own Guardians. His post will walk you through all the details. Neat!
Leviathan | Aug 14, 2014 07:18 pm |
link
---
IGN Walkthrough: Destiny Companion App
IGN has posted the latest video in their month-long coverage of Destiny, which gives a look at the way the Destiny Companion App will enhance your Destiny experience. You'll be able to swap gear in real time, view stats and mission progress, thumb through the Grimoire, and more. (Thanks, Grim III.)
Jim Stitzel | Jul 14, 2014 10:03 am |
link
---
Android Preview (Today Only)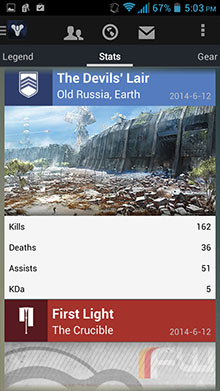 MrPadraig08
pointed out
a
tweet
that announced that if you participated in the Alpha, AND you have an Android phone, you can check out a preview of the Destiny Companion App, just for today. (Hurry!) If you are lacking in any of those three requirements (date, gameplay, phone), you can check out
some pictures of the app
, courtesy of
EffortlessFury
.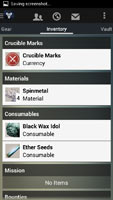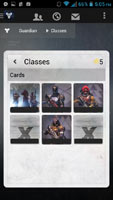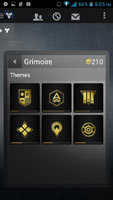 Claude Errera | Jun 16, 2014 06:42 pm |
link
---