Search results for tag '
Store

'

Showing results 1 - 7 of 7 matches
Rise of Iron Soundtrack, Available Now
Been digging the new tunes when you boot up Destiny? Want to feel like an Iron Lord whenever you put on your headphones? Then prepare yourself for great news: the Rise of Iron soundtrack is
now available for purchase
! But that's not all; order now, and you'll get an exclusive in-game emblem to let others know that your love of Destiny music is serious. Want to try before you buy? Bungie has uploaded the entire soundtrack to
Youtube
for your listening pleasure.
The Bungie Store has also received a refreshed stock of loot that was available at PAX, so get while the getting's good!

Korny | Sep 19, 2016 01:25 pm |
link
---
Upgrade Your Armor In Real Life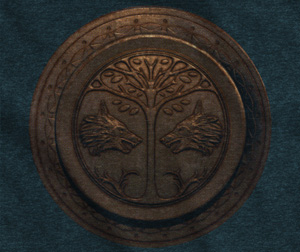 SigbiasSilva
drew our attention
to the new gear available at the
Bungie Store
. Some lovely stuff in there and plenty of excuses to get a little poorer! Now I wonder if the Bungie Store has its own Cryptarch?
Leviathan | Sep 8, 2014 08:38 pm |
link
---
Everything Must Go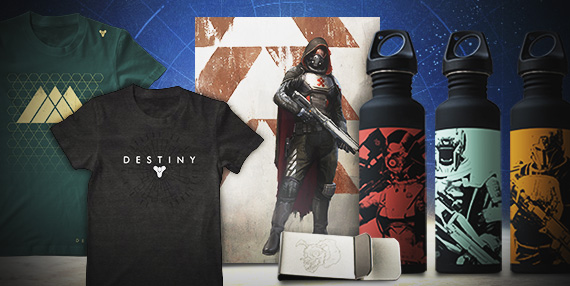 DeeJ posted a quick note to the Bungie Blog today - it seems the Bungie Store will temporarily close for renovations in order to prepare the way for a new wave of loot. If you have your eye on something from the store's current stockpile of gear, you should grab it before Midnight (PST) this Friday!
ncsuDuncan | Mar 31, 2014 07:56 pm |
link
---
Bungie Requisitions - Shepard's Favorite Store In The Tower
Bungie tweeted that their store's on sale today (20% off everything) - there should still be some time left if you're reading this post, depending on your time zone, of course. There's also a handful of recent additions to the store, especially if your Guardian's thirsty.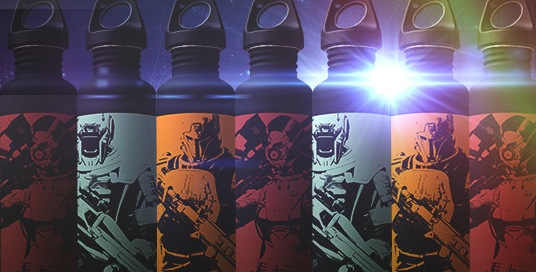 Leviathan | Dec 2, 2013 09:39 pm |
link
---
Sweet swag on sale in the store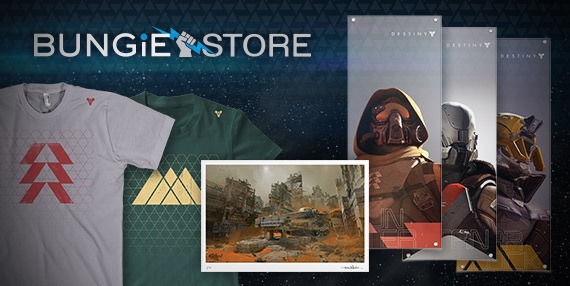 The Bungie Week festivities are spreading to the Bungie Store with a second salvo of E3 shirts in stock and available for purchase tomorrow. The stylish tees are joined by a trio of Guardian banners and a limited edition lithograph of "The Buried City". (That last item is NOT part of a private loot stream - there are only 150 of them available, but each is signed by the artist, Dorje Bellbrook, and all sales benefit the Child's Play Charity!) If you're looking to save a few credits at the Bungie Store, everything will be on sale for 20% off from July 6th to July 14th!
ncsuDuncan | Jul 5, 2013 07:18 pm |
link
---
More Destiny Goodies to Buy
The Bungie Store's Destiny Collection has grown - there's a sweet ship poster and some funky decals. Go explore! Thanks, Xenos.
Claude Errera | Feb 18, 2013 01:38 pm |
link
---
Straight from the source.
In addition to today's ViDoc, Bungie has released a wealth of new Destiny content at various official pages:
Enjoy!
ncsuDuncan | Feb 17, 2013 12:09 pm |
link
---