Search results for tag '
customization

'

Showing results 1 - 3 of 3 matches
People Want Beards!

Jonty Barnes sat down with The Sixth Axis at Gamescom to discuss how well the Destiny beta went, and how that will affect the game in the long run. A lot of good information on topics that haven't been thoroughly covered elsewhere!
Xenos | Aug 19, 2014 09:05 am |
link
---
GDC 2014: Character Customization
Scott Shepherd (Technical Art Lead for Bungie's 3D Department) presented this year at GDC. The talk, Building Customizable Characters for Bungie's Destiny, is now available on the GDC Vault. In this hour-long presentation, Scott presents a ton of information about the vision and implementation of the character appearance and customization that we will experience in Destiny. The talk itself is about 40 minutes long, with another 20 minutes of Q&A afterward. Very interesting! (Thanks to Xenos for the heads-up!)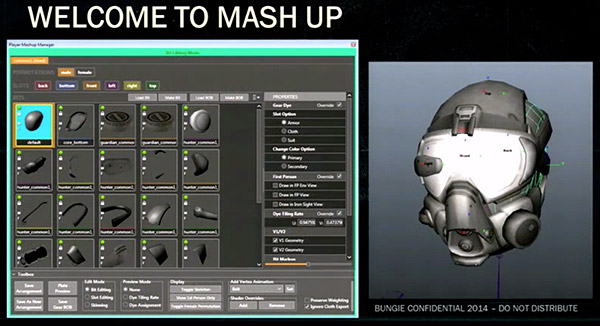 Beorn | Apr 7, 2014 02:14 pm |
link
---
Custom Built Guardians

Halodestiny.net has posted
a series of cards
showing off customization options for your guardian - I don't have a copy, but I think these come from the latest issue of GameInformer. If you'd rather view these as a slideshow, Datto has
posted them to Imgur
.
Claude Errera | Jan 6, 2014 07:12 pm |
link
---