Search results for tag '
guardian

'

Showing results 1 - 25 of 82 matches
Peaks Into The Future

The last two This Week At Bungie articles over at Bungie.net have been notably forthcoming about upcoming changes to various Destiny features and activities.
In their April 23rd update, Bungie talked about creating a more rewarding Trials of Osiris and delved relatively deeply into some of Destiny 2's current and upcoming safeguards against cheaters. Although Bungie can't share all their anti-cheat details, it was interesting to learn that they are partnering with other high profile companies like Valve to combat certain forms of cheating.
This week, Bungie first put a spotlight as to the reasons why Titans have been fairing so well in the Guardian Games. Turns out Titans are just trying harder than the other classes. Bungie then spent some time talking about their plans to keep more seasonal activities around for newer players even as the game continues to move forward. Having hand picked seasonal weapons show up in normal activities like Strikes and the Crucible seemed like a nice win.
Really, the last two weekly updates have been pretty packed with useful info beyond just the aforementioned updates. Bungie's charitable efforts to assist with the ongoing coronavirus pandemic are a nice read, for instance. You can check both updates out at the links above, or head on over to our highly searchable Bungie Weekly Updates Archive.
Titan Games
This morning, Bungie announced a new series of bounties and challenges in which Titans can compete to prove, once and for all, that they, and not so much Hunters and Warlocks, are the wall against which The Darkness breaks.
But don't worry non-Titans, all classes get access to new ships, sparrows, weapons, and cool class themed Ghosts. The Titan Games kick off April 21st and runs through May 11th after which Titan banners will, surely, decorate The Tower for the rest of the year. Oh, and there's a cool looking physical reward for players to earn, as well!


For more info, check out Bungie's Titan Games page, or watch the announcement video below.

Guardian Radio Tackles HoW Lore

Over on the
Guardian Radio Podcast
, Byf has kicked off a fascinating series of segments focused on the House of Wolves lore, as laid out in the Grimoire cards and in the game. If you've found the cards hard to dig into... this is for you. (If you love the cards, this is for you, too.) Go listen! Thanks to Vortech for
pointing this out
(and linking to the exact start of the segment in the recent 'cast).
Guardian Radio Episode 97
It's been a little while since we mentioned the Guardians of Destiny (it was all the way back in November, actually), but we're doing it again - and not just because they had me on as a guest. Episode 97 was recorded last night, and topics of discussion included Destiny's place in the Bungie universe, Xur's randomness, and the underappreciated glory of Destiny's Grimoire. Go listen! (Thanks to Craig for the invite!)

Guardian Radio Episode 88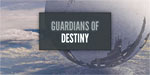 Roland let us know that Bungie Environment Artist, Jason Sussman, swung by their podcast to talk about his work on Mars. Stream, download, or use iTunes to listen in.
Guardian Radio Episode 86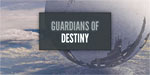 As usual, roland stopped by the forum to inform us that the latest episode of Guardian Radio has been posted on their site! This week they had Rob Adams, an Environment Artist at Bungie, visit the show. Great listen!
Guardian Radio Ep.83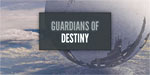 Roland clued us in to the latest Guardian Radio episode as usual - this week they're discussing, among other topics, the Raid tweaks that are inbound. Check out their site, or head to iTunes or YouTube to take a listen.
Guardian Radio Episode 82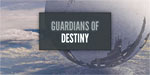 Roland let us know that Guardian Radio Episode 82 is up and that it's pretty special. Deej dropped by to talk with them and discuss the state of Destiny and community concerns. Go give it a listen!
Guardian Radio Ep. 79, 80, and 81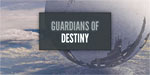 Roland has kept us in the loop, but avalanches of work, stress, and telekinetic Psions has kept us from posting about the new Guardian Radio episodes. Hope your ears didn't have anything planned for a while!

Episode 79 - Episode 80 - Episode 81
Guardian Radio Episodes 77 & 78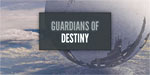 Whoops! We missed posting about Guardian Radio Episode 77 last week! I wonder what we were doing... Also roland let us know about Episode 78, and here is his description:
Destiny has been deployed and this week we officially come to you LIVE from the Tower. This week we catch you up on the latest news surrounding the game and then dive in to our first impressions of the game. With one week under our belts we have a lot to say about Bungie's shared world shooter. We share both the good and the bad but see that this is clearly a fantastic starting point for what is sure going to be one hell of a ride for the next 10 years.
Guardian Radio Episode 76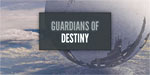 As usual roland stopped by our forums to inform us about another great episode of Guardian Radio! Since this is their last episode before the launch they cover their launch day plans, as well as covering the latest news on Destiny. Go give it a listen!
Guardian Radio Episode 74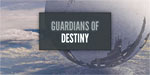 roland stopped by the forum to let us know that Guardian Radio #74 has been posted online. This week they went through the newly released trailers for Destiny with Datto. Great show as usual, go give it a listen!
Guardian Radio Episode 73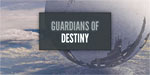 Guardian Radio marches on with episode 73 as they reminisce on their Beta characters, chat about clans, and await the final game in just a few short weeks. Listen on YouTube, iTunes, or straight from their website. Thanks, Roland.
Guardian Radio Episode 72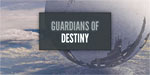 roland let us know about the latest Guardian Radio podcast - a guest host from GuardianOne.net discusses some future changes. Listen in to learn about Byf's visit to the Seattle Children's Hospital, plus a wrapup of the Beta (through the lens of Bungie's released stats). Good stuff!

From Whence She Came
2. "The wall is not safe. Full of Devils. But I've carved out a refuge in an underground tunnel. The Fallen have not followed me down here. Either they don't consider me a threat... Or there's something else down here with me. But there is moving water down here. Hope it leads somewhere...
"Strange voices in the night. But 'voices' may not be the right word. A song of a thousand speakers in discord. Their words are varied and conflicting, but the singers are many and of the same tone. The more I try to listen, the harder the lyrics are to decipher.
"I must get out. But I do not know if I should push farther into the dark and those horrible hymns or retread back through the enemy embattled above.
"...I should have looked ahead. She wrote of this cosmodrome. Warnings. If only I had her rifle with me now! But I believe this is where her Ghost was overcome, leaving her to die out there with the last wounds she would ever bear. My own Ghost... He must be alive out there, somewhere."
Guardian Radio 67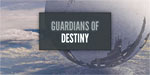 roland stopped in to announce that Guardian Radio Episode 67 is now online, in a variety of formats. They've got a new staff member, Fenix, and he was present during this 'cast. Discussion focused on the latest Bungie Weekly Update offerings, though as always there's additional fun. Go listen!

Guardian Radio 66: Post-Alpha Musings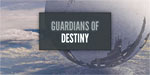 The Guardians of Destiny got together again last night, and recorded Episode 66 of their Guardian Radio podcast - swing by to hear all the discussion about the E3 reveals, the lowdown on the Playstation Exclusive content, the speculation about how it's all going to come together! (There's also a pretty funny little radio promo.) Thanks, as always, to roland, for keeping us in-the-know. (Multiple link options in his forum post.)
Guardians of Destiny: E3 Extravaganza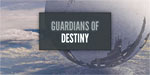 roland told us about the latest goodies from Guardian Radio - there's Episode 65 of their podcast, which is pretty interesting, all on its own... but there are also a whole passel of bonus videos, based on the crew's time at E3. (They were working the Bungie booth, helping fans and showgoers acclimate to the multiplayer content being shown off - they have some great stories to tell!) Check out the forum post for all the links.

Guardian Radio Episode 64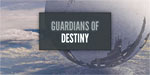 Roland let us know that the latest episode of Guardian Radio is out:
This week we share with you all our E3 plans. If you missed the announcement on Twitter this past week, Mark and Craig are two of the Destiny Mentors who have been teased by DeeJ in the past few Bungie Weekly Updates. Sitting in with the crew is Cozmo, founder of the reddit.com/r/DestinytheGame Subreddit and another member of the Bungie E3 Mentor team. He helps us break down the latest Bungie Weekly Update, the latest Destiny news, and answer your questions and comments.
Whoa, that Bungie E3 Mentor team sounds pretty cool! Rumor has it one of the unmentioned team members is astonishingly handsome, humble, and subtle. Then again, there are always a ton of ridiculous rumors before E3...
Guardian Radio Episode 63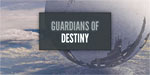 In the latest episode of Guardian Radio, the crew is joined by "Master of Blood" from StarSide Echoes (a Playstation clan) to discuss Friday's Bungie Weekly Update and the recent rumblings of the employee-only Destiny Alpha. Go listen! (Thanks, roland.)
Guardian Radio Episode 61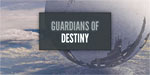 Purebred rock hound roland let us know that the latest episode of Guardian Radio is now available; this week the guys are joined by community member Rex Smaals of PrimeGuard/PrimeCast to discuss the usual slate of Destiny news and BWU breakdowns. Give it a listen!
Guardian Radio Episode 60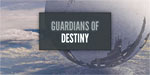 The latest episode of Guardian radio has been deployed. In this episode Byf presents his theories on the origin of The Fallen, which leads to some pretty interesting discussion. Go listen! Thanks, petetheduck.
Guardian Radio 59: DeeJ Edition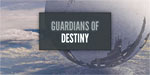 Last night's Guardian Radio had, as promised, a special guest - DeeJ sat in and shared. It's a solid two hours, so make sure you have some free time to listen to this one. Thanks, roland!

Guardian Radio Episode 58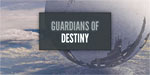 Should have posted this earlier, but hey - life's busy sometimes. roland let us know that Guardian Radio Episode 58 was released - there's a bunch of discussion about the departure of Marty O'Donnell, and what that might mean for everyone. Go listen - things are sure to heat up soon, and who knows how much time you'll have for the dulcet tones of the Guardian crew?

Guardian Radio Episode 56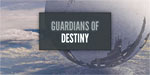 This week's recording of Guardian Radio was exceptionally awesome - I should know, because I was there! You can download the episode at the Guardians of Destiny website, or watch a video version (with chat) over on Youtube. Be sure to leave a nice comment applauding the show's sudden rise in quality of guest appearances!