Search results for tag '
bwu

'

Showing results 76 - 100 of 157 matches
Bungie Weekly Update - 10/1/2015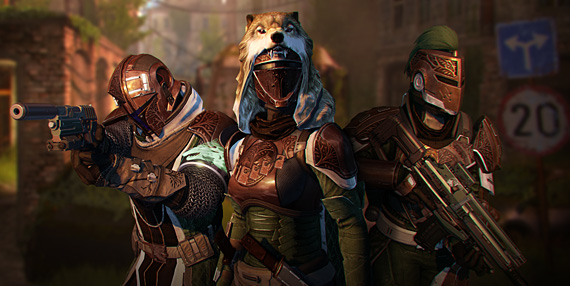 Deej comes bearing news of Lord Saladin's return! October 13th will see the return of the Iron Banner with some tweaks and modifications. And on October 16th, Trials of Osiris will return with some similar tweaks as well. Gear up, be prepared, and be sure to read about the changes in the coming events on the official site or on our local mirror here.
Weekly Update and Destiny Update 2.0.0.4
We forgot to post about it yesterday, but the Weekly Update arrived with a review of King's Fall raid top-ten and a blub from Senior Designer Andrew Weldon about the new Zone Control game type that we can find in the Weekly playlist. The weekly update was accompanied by patch notes for Destiny Update 2.0.0.4 which includes bug fixes and mitigation for Three of Coins farming rituals.
Bungie Weekly Update: Last One Before We're Taken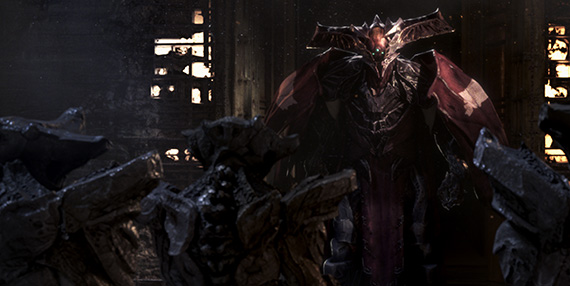 DeeJ has posted the last
Bungie Weekly Update
before the launch of The Taken King, which is also the first update of Destiny Year 2! There is some good information in there too! Announcement of a soundtrack for The Taken King (and the previous expansions), new products from the Bungie Store shown off, and some information on issues people may have experienced so far with Destiny 2.0. Go read it!
BWU 9/03/15 - Change Is Coming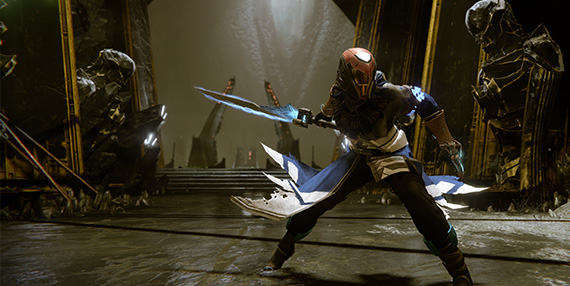 Yesterday's update recaps the recent reveals and shows off a new Crucible trailer letting us know that all Guardians, whether or not you bought The Taken King, will have access to the new Crucible maps for a limited time as a preview. There's also some patch notes on more of the changes coming in 2.0, news that the Moments of Triumph deadline has been slightly extended, and some tips in there on how to prepare for Taken King. Local copy is here and you can always discuss/debate the news in our forums here!
Catching Up!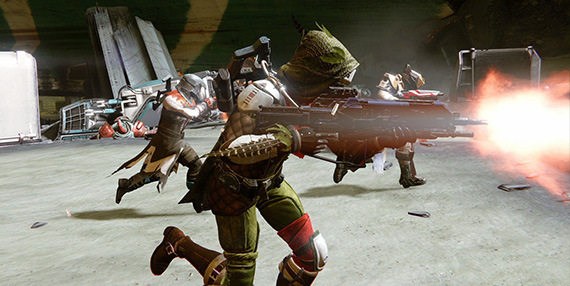 So we missed posting the Bungie Weekly Update last week. It's actually been sitting in our BWU archive but we didn't tell you about it. I'm going to blame all of our admin that was having fun at PAX this weekend and not me, sitting at home not really doing anything but crying.
The update reiterates on the Dreadnaught Strike reveal from earlier last week, the upcoming Edge magazine's cover story, and most importantly (and divisively) reveals changes to Nighfall and Heroic Strikes coming in 2.0.
Bungie Weekly Update: Year 2 Is Coming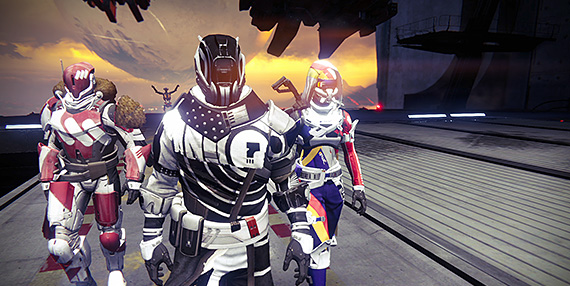 The latest
Weekly Update
is up and this week they cover some commonly asked questions asked after their stream yesterday. They also show off the rewards Year 1 players will get, and posted the Youtube archive of the Twitch stream (which you can see below). Less than 4 weeks until Year 2! (
See? Told you he hated me. Did he mention the local version? NO.
)
Bungie Weekly Update: More Info to Come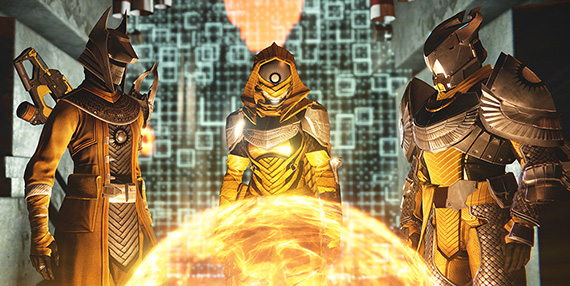 DeeJ has posted the Bungie Weekly Update, and this week they are light on details, but full of promises for more info in the coming weeks. DeeJ lays out the schedule for Twitch streams where they will cover the changes and content that are coming in The Taken King. In addition the Security Response team covers the process for issuing restrictions and bans to players. And of course stick around to the end to see what Community Creations Cozmo has picked out! (It's local, too, but for once it's not Xenos' fault that that fact wasn't mentioned here.)
For those not in Germany...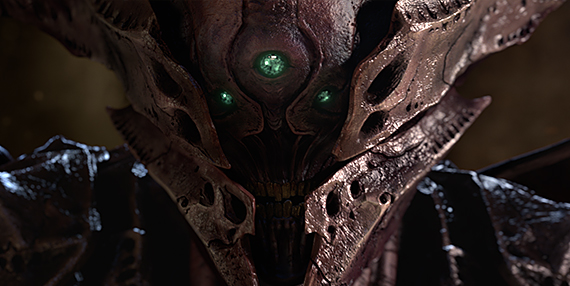 Yesterday's Bungie Weekly Update was Cozmo's first (well, first completely by himself) - and if you missed any of the flood of information pouring out of the media about The Taken King, this has a nice summary. It also has some great pics from Cologne, where the rest of the Bungie Community Crew seems to be. And of course, it's loaded with community creations. (The Hopscotch Pilgrim review is required watching.) As usual, it's local too (and you're reminded of this specifically because Xenos isn't posting this announcement). Go read it, make Cozmo feel useful.
Bungie Weekly Update: The Dreadnaught Awaits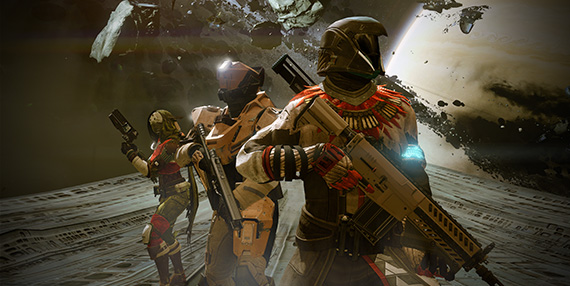 The
Bungie Weekly Update
is up, and this week it focuses on the Hive Dreadnaught and hints at some of the mysteries we'll uncover within. As is Bungie's style, nothing TOO specific, but there is awesome art, and quite a few good quotes on what they intend to do with this new, enigmatic location. In addition they cover the big winners for Destiny Year One Art Contest, and take a little time to cover the losers who are now suffering from the dreaded Banhammer. [
Xenos hates me, but it's local, too. -ce
]
It's a shooter.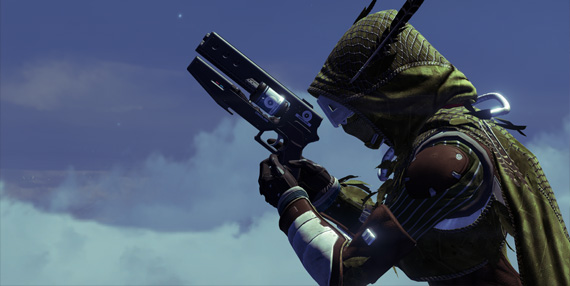 It went live yesterday, but you know... we were off doing Guardian things. Important Guardian things. Definitely important Guardian things. The Bungie Weekly Update this week focuses on guns... lots of guns. (What else would you need, besides a miracle?) Check out offerings from Häkke, Omolon, and Suros, all available in The Taken King (and some available at Gamestop!)... and maybe drool a little. You'll also find heat maps from ALL currently-used Trials of Osiris maps, because this weekend, the map choice will be random. And you'll find a plea for your email address, for upcoming... somethings. There's a hot fix coming in the next month - details are in the update for you. And the community creations in this week's roundup are a harbinger of things to come. All in all, a solid update - go read it! (If you like, you can even read it in our Weekly Update Archive.)
BWU - The One About Guns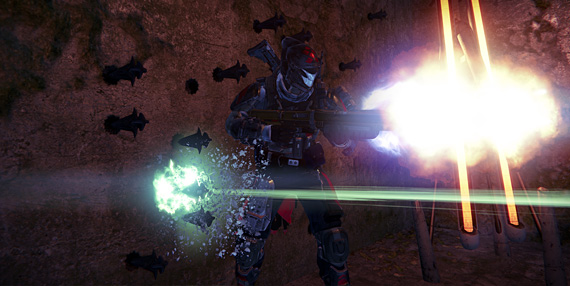 The latest Bungie Weekly Update has been posted, and this one is a doozy! In addition to the regular post, they have the weapon balance details that will be coming in update 2.0.0 (The Taken King update). The main concerns appear to be addressed (Exotic Hand Cannons, Auto Rifles, etc.) and quite a few surprise balance decisions are revealed as well. Go see what you think! (Local, too.)
Bungie Weekly Update: The Quest to Steamline
The latest Bungie Weekly Update is up! (A day late, but for once DeeJ's fault instead of ours!) Now that The Taken King has been announced it looks like Bungie is ready to drop some juicy details! Take a look at the update to UI revolving around quests and see what Luke has to say about what they're doing! (Local, too.)
Bungie Weekly Update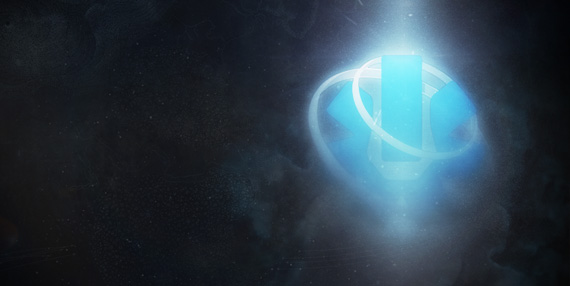 As CyberKN pointed out in our forum, the latest Weekly Update has dropped. In it you'll find a nice summary of all the content included in The Taken King as well as a hint at what's to come on Bungie Day next week! Also available in our local low-impact update archive.

Bungie Weekly Update, Part Two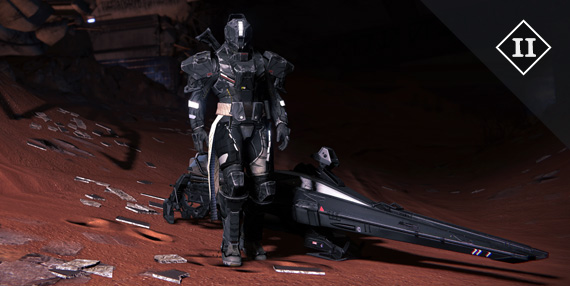 The second half of the Bungie Weekly Update went up yesterday - and reading it will give you insights into new Bungie.net features, extra support resources, and a fan video supporting a fallen guardian. Shouldn't take too long to read, but lots of good bits. Local, too, if you need it.

Bungie's Mea Culpa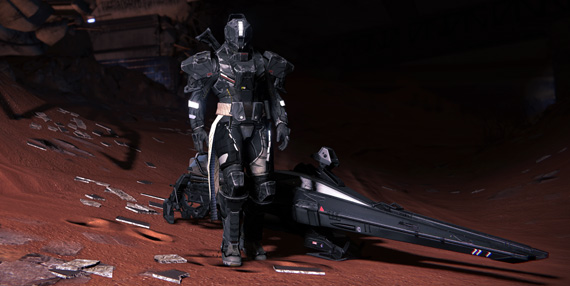 The Bungie Weekly Update (Part 1 of 2 - stay tuned for the second half tomorrow!) is online now... and it might surprise you. Luke Smith apologizes for the interview that set off a firestorm of criticism this week, and Bungie offers to make amends by allowing you to buy the digital goodies that come with the Collector's Edition, without having to buy the Collector's Edition. Boom. (Our forum is discussing it, as you may have guessed.) You can find a local copy in our Weekly Update Archive, should you need or want it.
Bungie Weekly Update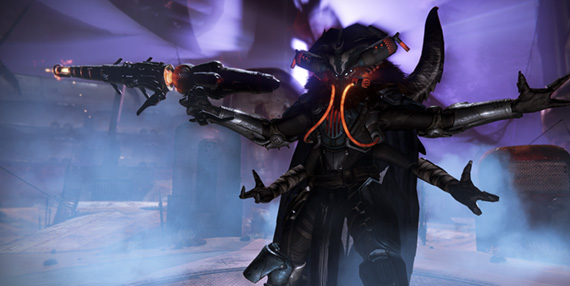 Today's Bungie Weekly Update has news for you on a bunch of subjects: goodies coming during E3, Heat maps of last week's Prison of Elders top prison, an interview explaining how the level 35 PoE encounter is going to be changed, information about how the Connection Recovery code is working, and some great Nova Bomb vids. As always, it's local, too. Go read!

Bungie Weekly Update - June 4
This week's Bungie Weekly Update contains some good stuff - details on the money Bungie fans have helped give in aid to Nepal, heatmaps of Pantheon showing where you died last week, warnings about cheating (and playing fair in general), notes about things fixed recently, and some great videos. (Well, I really wanna see the first one, but it looks like it's been blocked on copyright grounds.) It's local, too, if you need it searchable.
Bungie Weekly Update - a day late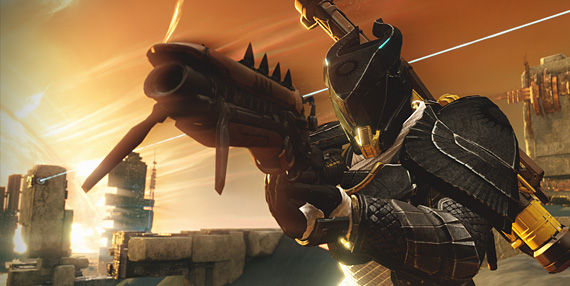 The Bungie Weekly Update dropped yesterday - it's a fun read. Stats on the first week of Trials of Osiris gameplay (including heat maps - oh how I miss thee), teases about the next round, warnings to cheaters... plus the next round of Iron Banner, info on bugfixes, and a couple of great (silent) vids. Go read! (It's local, too, if you need it.)
It's the one about the Wolves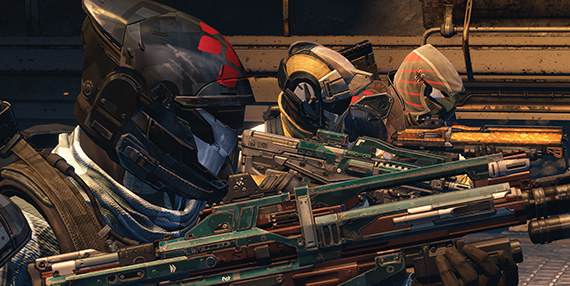 The Bungie Weekly Update is now live on Bungie.net (and in our BWU Archive) - go check it out, it has some interesting info. First-day (well, first-three-days) stats on Skolas - I'm astounded by the number of folks who've finished the Level 35 PoE event at this point! There's also info on the Trials of Osiris, including a Challenge event coming soon. There are new goodies in the Bungie Store, details on new Help articles on B.net, and a movie which we pointed out recently but which is ABSOLUTELY worth watching again. Go see!
Bungie Weekly Update - Full Recovery!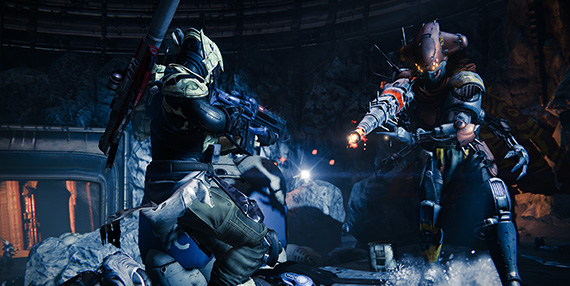 DeeJ has posted this week's Bungie Weekly Update and you can tell we're getting close to the House of Wolves launch as the details are getting a little more scarce, but still exciting! The big Destiny news this week is that Trials of Osiris will be the testing bed for a Connection Recovery system in case you get disconnected due to networking problems. Go read it for full details and to see when update 1.2.0 will (hopefully) launch! (Local, too.)
More bullets, less talk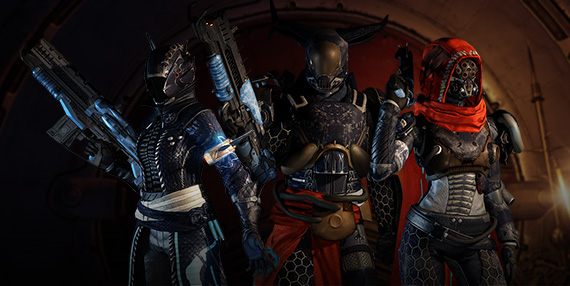 The Bungie Weekly Update is live - and along with the fully-expected self-deprecation about the live-streamed Prison of Elders reveal, there's also information about the awesome power of the Bungie community to do good while getting goodies, a summary of the updates expected over the next couple of weeks, and a bunch of housekeeping. Worth a read - go check it out! (Don't forget the local copy.)
Bungie Weekly Update 4.30.15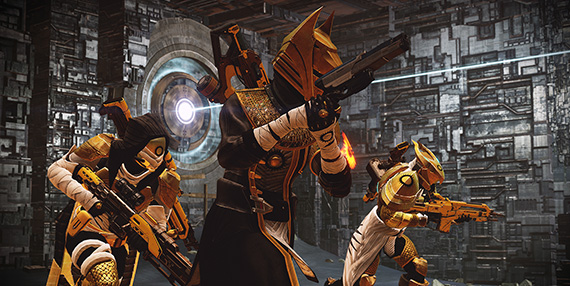 The Bungie Weekly Update recaps the Trials of Osiris reveal and highlights some of the Crucible tweaks and changes players can expect after downloading the 1.2.0 update on May 19th. Players who did not purchase The Dark Below will have access to all three PVP maps - neat! Also, be sure to check out how you provide aid to the people of Nepal though the Bungie Foundation. Next stop, The Prison of Elders! Thanks, CyberKN. (It's local, too)
Bungie Weekly Update - Reef Madness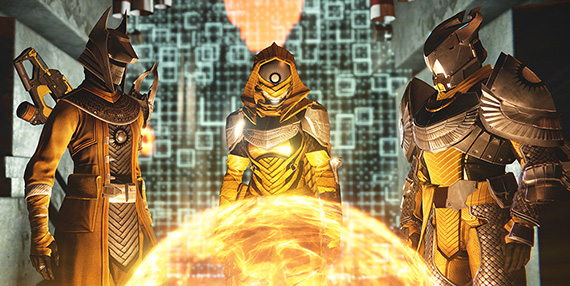 The Bungie Weekly Update is live and is chock full of House of Wolves information. There's a concise summary of what Bungie presented during the live-stream of the Reef (the stream is also archived). There's also an update on the changes being made to commendations with the release of HoW - woo! The next Iron Banner will start with the weekly reset and DeeJ has the scoop on what gear you'll be working towards. Be sure to also check out the latest Destiny support update! Lastly, don't forget to tune in on April 29th at 11am PST for a first look at the Trials of Osiris. (For those who need it, it's local, too.)
The Week in Review, before it's over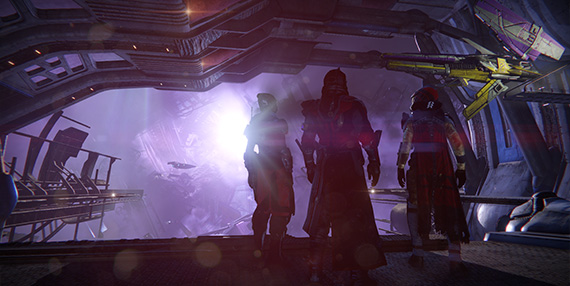 The Bungie Weekly Update, not surprisingly, focuses on the upcoming House of Wolves expansion - but there's plenty of other stuff in there if you're not excited about the Reef. The purple ball changes are detailed (and praised), the Player Support team is there with stuff you might have overlooked, and there are a couple of fun fan vids. (We already noted one of them, but it's worth a second look.) As usual, it's local, as well. Go discuss on our forum!
You Look Fabulous.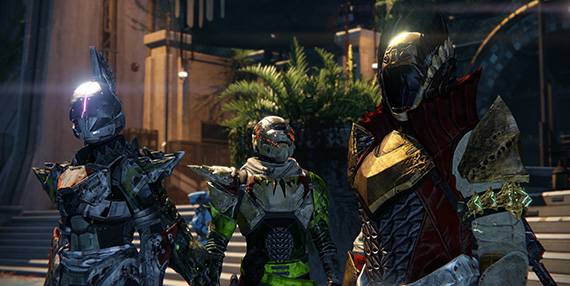 The Bungie Weekly Update is full of interesting tidbits - changes are coming in how both Special Ammo and Heavy Ammo will be handled in the Crucible, and it behooves you to read this stuff sooner than later. Also, Locks for your special gear, helmets in the Tower, Bungie men in kilts, and competition for charity. And cool movies. Go read! (It's local, too.) There's a substantial thread if you wanna talk.