Search results for tag '
dbo

'

Showing results 1 - 25 of 44 matches
Destiny 2 Beta - DBO Community Montage
Breitzen put together clips from DBO community members, collected during last week's Destiny 2 Beta, and came out with a fun-to-watch showcase of domination! Check it out. And let him know what you think, on our forum!

Starside Lounge Episode 12 (E3 2017 Edition)
It's hard to believe, but we actually recorded another podcast already! We pore over everything we could scrounge up about Destiny 2 from E3 and discuss Destiny lore with guest Ragashingo. Go listen to it in the archive or on YouTube below:
Starside Lounge Episode 11
It's been about a month (and a year) since our last episode, but we figured with the big news dump last week we should probably get around to discussing it! Listen to the latest episode of the Starside Lounge below or go listen in the Starside Lounge archive!
The Starside Stream (Time Change!)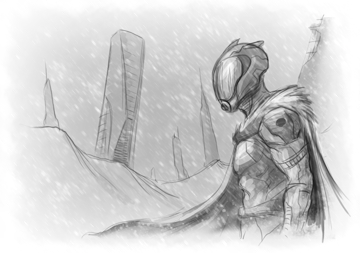 This Sunday, join Beorn, Xenos, and breitzen on stream as we jump into the Dreadnaught to play some The Taken King content. We'll discuss the new expansion and enjoy some of the new features live! We'll start streaming at 7:30PM EDT/4:30PM PDT over at DBO's Twitch page. See you then!
We had previously scheduled this event for Saturday, but had a scheduling conflict. The new times above are correct.
Going to PAX? Let Your DBO Colors Show!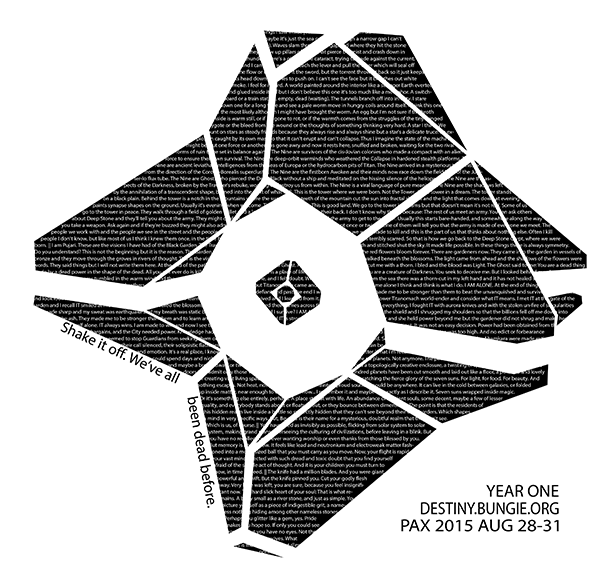 Planning on going to DBO this year? Or just want an awesome shirt? Kanbo has designed a shirt for you to show where your allegiance lies! The shirt comes in two different qualities along with several color combinations to choose from! Go read his post for all the details!
DBO Does the Vault of Glass This Saturday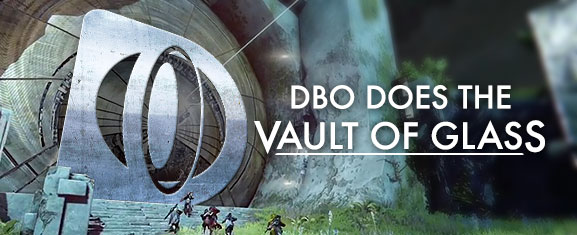 We're scheduling a DBO Vault of Glass run this upcoming Saturday, October 4th on Xbox One/360. This will be an all-day event and we're looking to fill the roster by mid-week. More details are in the form post if you're interested!
Get ready to ignite
We've probably posted too many Dancing Guardians in the Alpha videos... but hey, here's one more with a dance pyramid! Thanks, Paddy.

dboTV - Episode 16: What if the phones... rang?
The latest episode of dboTV featured guests from Guardian Radio and Destiny Dispatch, as Craig Hardgrove and DestinyAuthor joined me to discuss theories on how Destiny's story could fit into its shared world. Also included was the usual buffet of Destiny news tidbits, Community highlights, and Bungie trivia questions. (By now you're well aware of our dboTV archive, right? RIGHT?!)

dboTV - Episode 15: An Activity for Every Mood
If you missed Tuesday's live episode of dboTV, you can catch up over on YouTube or right here on our Archive page. This week, I was joined by Datto and the disembodied soul of Malagate to discuss the game modes and activities Destiny might bring to the table. Stick around after the credits to see Malagate's cheery face!
Friendly? More like Fiendly!
Duncan's being shy, or something, but if you missed last night's dboTV episode, you should go watch it (it's linked from our archive, or just stream it below). Heckfu and Greenskull joined him to discuss friendly fire (and other stuff) - absolutely worth your time!

Friendly Guests Talk Friendly Fire (Plus a Wallet-Friendly Prize)

A new episode of dboTV approaches! Tune in to the DBO Twitch stream at 7:00 pm PST on Tuesday night (or tonight, depending on when you read this) and watch as guests Greenskull and Heckfu join me to discuss the possibility of Friendly Fire in Destiny. We'll also give away $20 in Microsoft Points during this week's edition of "Beat the Chat", so be ready to answer Bungie trivia questions! Get the full details on the episode (as well as a super-serious FAQ) in this forum thread.
dboTV - Episode 13: Xenos versus the Chat
After weeks of silence, dboTV returns with a bang - possibly followed by a whimper. Listen to me (ncsuDuncan) ramble on about Destiny (the Bungie game), before pitting Xenos (my guest) against the viewers (on Twitch) in a rousing game of "Beat the Chat" (Bungie trivia delivered via high-latency streaming wizardry). As always, you can find this episode and more in the handy dboTV archive page that Claude set up. Enjoy!
dboTV - Episode 12: Grim Tidings
In this week's episode of dboTV, GrimBrotherOne visits to talk about his Bungie fandom, the Arcus Regime, and more. (Don't forget, you can always find every episode of dboTV on our archive page.) Enjoy!

dboTV - Episode 9: Byf-ish Invasion
Catch up on the latest episode of dboTV, where Byf (from Inside Destiny and Guardian Radio) stopped by to talk about Bungie's community meetup in London and the latest BWU. Enjoy!
dboTV - Episode 10: Gallerbjorn
Beorn returns to the show to talk about the Ghosts in the Machine art gallery and the latest Bungie podcast in this week's episode of dboTV. Enjoy!

dboTV - Episode 9: Moonbase Padraig
What's happening with the Moon? Guest co-host MrPadraig08 helps us uncover the secrets of Destiny's Moonbase in the latest episode of dboTV. Enjoy!
dboTV - Episode 8: Beorn and the BWU
This week's episode of dboTV is now available on our YouTube channel. Beorn joins me for a quick run-through of the latest Destiny news, from the Conduit F3 fusion rifle to the recent BWU. Check it out, then leave some feedback on our forum!
dboTV - Episode 7: Moon Over Beta
Tonight's episode of dboTV is now available for those of you that missed the live broadcast - it's a quick run through the last Mail Sack, Destiny's box art, the Moon, the Destiny Beta, and more. You can watch this episode on YouTube, or browse through the archive of older episodes here on our local dboTV page. Enjoy!
dboTV - Episode 6: Guns, Guns, Guns
Continuing the theme of embarrassing catch-up, I failed to mention that the latest episode of dboTV is now available for those of you that missed the live broadcast.
Claude even set up a fantastic new dboTV page (destiny.bungie.org/dbotv) where you can browse through the entire archive of previous episodes. Click to expand the purple bar just below the dboTV logo and you'll be able to access the Twitch stream and chat right here on our site! (Thanks, Claude.)
dboTV - Episode 5 - Guardian Transit Authority
Well, that was fast. If you missed tonight's broadcast of dboTV, you can now watch the archive on our YouTube channel. (Be sure to leave feedback on the forum!)
dboTV - Episode 4
Claude Errera (yes, THE Claude Errera) joined me via hologram for the latest episode of dboTV. After running through some news from the Bungie Blog, we recount recent PAX adventures and our illuminating tour of Bungie headquarters.
dboTV Returns Tonight at 10pm EDT

After missing a week due to PAX, dboTV returns TONIGHT with a new episode at 10:00pm EDT (7:00pm PDT). Tune in at twitch.tv/DestinyBungieOrg and hear me blather on about MailSacks, PAX, and what it's like to visit the upper floor of Bungie's studio!
dboTV - Episode 3: Skypetacular
Miss this week's live stream of dboTV? It's okay, I understand. Just watch the YouTube archive and we'll pretend you were there all along. This week's esteemed guests: YouTube enthusiast MoreConsole and Guardian Radio host Mark Turcotte!
dboTV - Episode 3 Live Now!

dboTV is going live in just a minute - head over to twitch.tv/DestinyBungieOrg to watch! Tonight's episode will have two special guests: YouTube sensation MoreConsole and Guardian Radio's Mark Turcotte. Tune in! EDIT: Today's show is over! If you missed it, be sure to keep an eye out for the Twitch.tv and YouTube archives...
dboTV - Episode 2 Archive
If you missed tonight's edition of dboTV, you can catch the archive on YouTube or Twitch.tv. This episode covered Red Death, the making of the Fallen statue, and the decoding of the Fallen alphabet. Be sure to pay attention for details on how to win an E3 Destiny shirt!