Search results for tag '
raid

'

Showing results 1 - 25 of 31 matches
Oryx, Did You Know?
They're not Pentatonix, they're not Peter Hollens... but they have something nobody else has: a version of "Mary, Did You Know" that focuses on your favorite Light-Eater this holiday season. Husky Raid, the Destiny clan known for its in-game dance extravaganzas (check out this article for some fun backstory), has released a beautiful rendition of a modern Christmas classic. Go listen. (Thanks, Schedonnardus.)

Weekly Update: King's Fall and Xur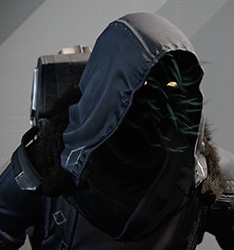 The first Bungie Weekly Update of The Taken King era is
now online over at Bungie.net
! There you can find the new King's Fall Raid trailer, as well as some good information about Xûr's new bag-o-tricks for year two. We'll have a local copy up soon (well,
now
). (Thanks,
Schedonnardus
!)
Deeply Flawed Raiders T-Shirt Contest
Want to win a copy of The Taken King Collector's Edition? Here's how: Kermit is relaunching the Deeply Flawed Raiders t-shirt design contest and is looking for design entries! The winner takes home a TTK Collector's Edition for their platform of choice and runner-up gets a DFR t-shirt once they're printed. Check out the forum post for instructions and get to designing! Entries are due August 10th (that's Monday, folks).
Fireteam Chat - To Raid or not to Raid
The folks from IGN gathered to discuss the absence of a Raid in the House of Wolves expansion pack. There's some interesting discussion about why the decision was made and whether or not Bungie owe's the player base a free Raid. Go listen/watch!
Let's Play #49: Vault of Glass, Hard Mode
Rampancy returns to the original Raid to bring you more of their co-op adventures!
"ChrisTheeCrappy takes over sherpa duties and shepherds us through the Vault of Glass, this time on Hard mode, where revives are disabled in death zones."

Apparently 'sherpa' is a term now. I'm always the last to know these things...
DestinyRaider.Net Gets Cartographic
CruelLEGACY let the forums know he has updated his Raid-focused website with maps for the Vault of Glass. He's also integrated them into the walkthrough. Clean and easy to read for those who are still learning the ropes or have just been shooting Vex so much you haven't gotten a lay of the land yet.
Let's Play Destiny Co-Op #47: End of Crota Part 4
Rampancy has now reached the true embodiement of Crota and begin their attempts at taking him down.
Let's Play Destiny Co-Op #46: Ir Yût Deathsinger
Rampancy continues their campaign to finish Crota's End in part 3 of their Raid videos.
"Another witch has crossed our path-- Ir Yut, the Deathsinger. Until we defeat her, we cannot attack Crota. We have to survive her dark liturgy of ruin."
HUDless Screens of the Vault of Glass
CruelLEGACEY has taken advantage of a split-second delay that occurs after exiting the menu wherein your HUD has yet to appear to capture some screenshots of the Vault of Glass. There's some neat shots in his gallery and it's just plain refreshing to see screens without distractions. Here's to a Theater mode in Destiny 2!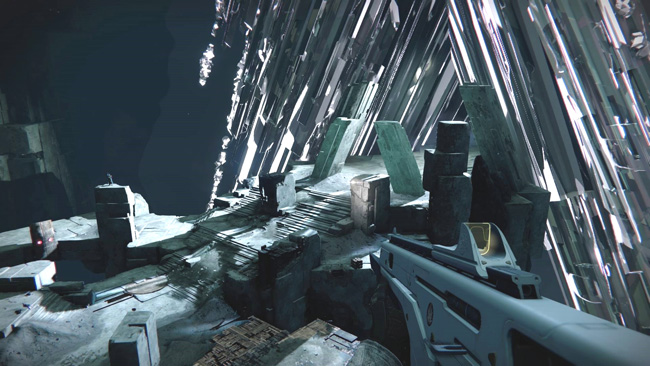 Let's Play Destiny #45: End of Crota Part 2
Narcogen and crew burn their bridges (and cross them too) in the chaos of Crota's middle sequence.
Bungie Weekly Update 01/22/2015
The Bungie Weekly Update went up last night wherein Deej discusses the Crota's End Hard Mode launch and the world's first champions of it! The new Doubles Skirmish playlist and a short What's Up DOC is also brought to your attention. Read it local here. (Thanks Korny.)
Destiny Raider - Dedicated to Improving Your Raids
Community member CruelLEGACY has been working on a website (currently in beta) dedicated to thoroughly covering every nuance of Destiny's Raids. He just let the forum know that he has finished up a multi-part walkthrough of the Vault of Glass with text and videos (images and maps are inbound later).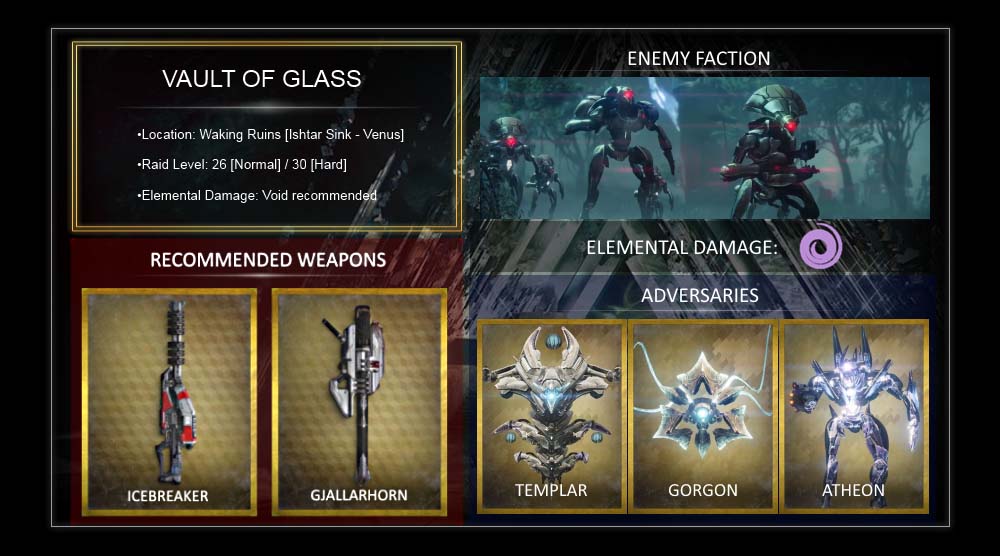 As well as feedback, he's looking for contributions. Little reference guides to specific tools found in the Raids, tips and tricks, or anything that could be of help to a newbie or experienced Raider. This site is meant to be cumulative in its ambition, so visit the submission page to help out if you have the wisdom!
Bungie Weekly Update - 01/15/2015
A little behind, but the latest BWU tackles Crota's upcoming Hard Mode (which opens next Wednesday) as well as a sample of the rewards (which are quite tantalizing). The update also contains a preview of the Bungie Pentathlon and the usual "What's Up DOC?" section.
DBO Fireteam Builder & Raidfinder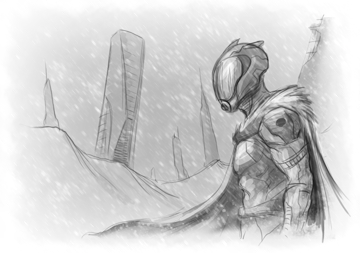 Although its creator, Beorn, dropped a hint of this new tool a few days ago, there hasn't been a proper frontpage post on it yet!
With the new Fireteam Builder, you can help schedule an event with other members of the community to take down Atheon or Crota, or tackle other challenges in Destiny. Read this post for more details.
Another good reason to join the DBO community!
Rampancy Takes Down Atheon
We've got TWO episodes of Rampancy's Let's Play series in the queue -both dealing with the final battles of Destiny's first raid. Enjoy!
In Episode #29, Narcogen and crew reach the inner chamber of the Vault of Glass and are attacked from all sides:
In Episode #30, Atheon strands the Fireteam in the past and future as it attempts to integrate the Vex into the fundament of our spacetime.
Under the Gorgon's Eye
The Rampancy Let's Play series continues!
"We head into the Gorgon's Labyrinth looking for loot, a kill, and a way out."

Would You Like Some Cheese With That Atheon?
Part 3 of Rampancy's Let's Play series featuring the Vault of Glass has arrived.
From Narcogen: "We cheese the Templar fight by grenading him off the platform." Well, at least he's honest!
Rampancy Braves the Long Dark
Continuing their Let's Play series through the Vault of Glass, Part Two sees Narcogen and crew get through the door and into battle with the Templar's minions!
TTL Party Chat With Deej & Luke Smith
Tied The Leader Gunslinger's latest podcast has the crew sitting down with Community Manager Deej and Raid Architect Luke Smith, so expect a ton of behind the scenes talk regarding Vault of Glass and Crota's End, as well as Destiny as a whole! Thanks Pete.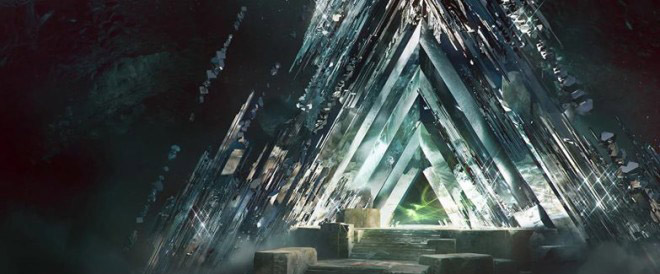 Let's Play: Epic Three-Part Raid!
Well there's one big thing left that Narcogen and his comrades have left to do and that's the Vault of Glass (well, at least for another week)!
DBO Vault of Glass (PS4, Hard Mode)
The DBO Xbox crew made some raid noise this weekend, so "Team Cody Miller" is heading up a PS4 DBO Vault of Glass "Hard Mode" run next weekend! Start time is Saturday (Oct. 11) at 9:00am PST. If you think you're up to the challenge, check Cody's forum post for requirements and signups!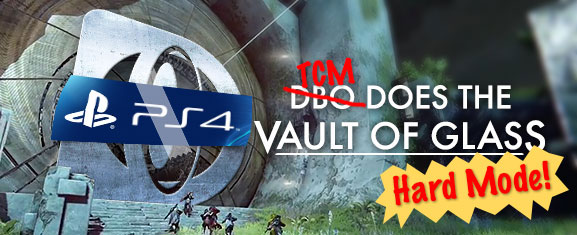 DBO Does the Vault of Glass This Saturday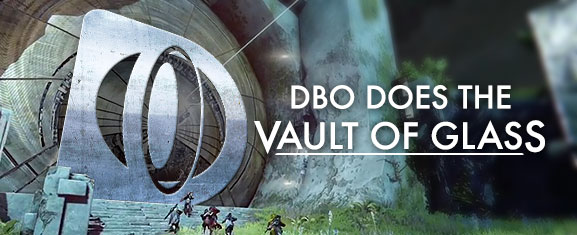 We're scheduling a DBO Vault of Glass run this upcoming Saturday, October 4th on Xbox One/360. This will be an all-day event and we're looking to fill the roster by mid-week. More details are in the form post if you're interested!
Patch 1.0.1.4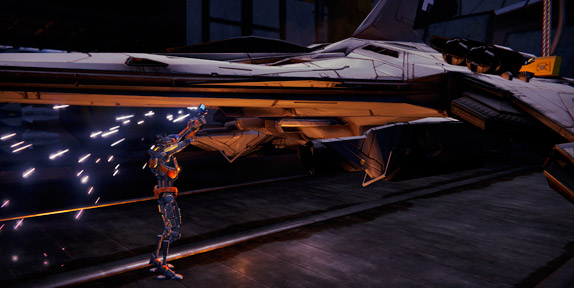 In case you missed it, Bungie's dev team listed the tweaks and fixes made to Destiny today at Bungie.Net, namely:
"Dropping the relic at the end of the raid will no longer result in a team wipe. This will prevent players being stuck at a black screen after the raid."

"You will remain dead if you were dead when the mission ended. That will be addressed by a future patch."
Working on a way to make these game updates/fixes more accessible on DBO...
Bungie Weekly Update: Stats Fun & Renders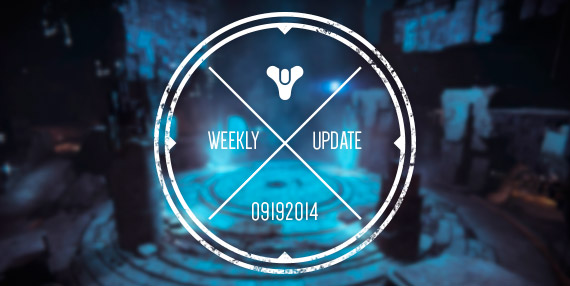 We'll eventually have a local copy of the update but for now you can head on over to Bungie.Net for some fun statistics on how many ridiculous hours players have already poured into Destiny, some even in the form of Lord of the Rings units, heh! There's also some info and interviews regarding the Raid and the first Raid victors.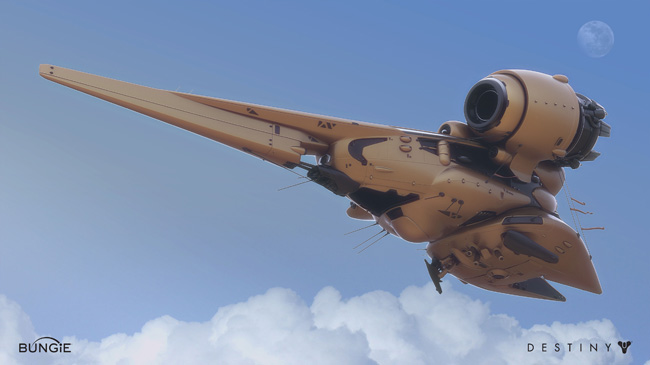 If you don't normally read the Update, it's still worth checking out simply for the link to a series of posts from Bungie artists revealing some of their work in the game, from environment art to vehicle and weapon renders. They're not only desktop-worthy, they're inspiring!
Can You Shatter the Vault of Glass?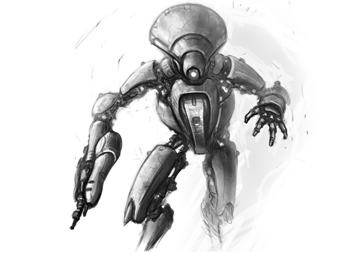 One stage of your journey may be over, but another is about to begin. The first of the new Raid levels, the ultimate gauntlet for your proven Fireteam to run, opens on Venus at 2:00 AM Pacific on Tuesday, September 16th. You'll need to be at least level 26 to attempt it. Also, the game will save your progress for a week if you keep your Fireteam leader consistent. Go read a bit more at Bungie.Net and then get back to hunting that sweet, sweet Light!