Search results for tag '
poster

'

Showing results 1 - 13 of 13 matches
ODST for XB1 Removes Destiny Easter Egg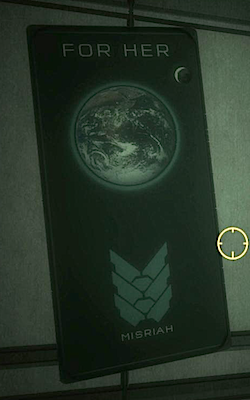 Interesting… Halo 3: ODST just shipped for Xbox One, and it looks like the famous, oracular "Destiny Awaits" in-game teaser poster has been changed for this release. The Earth and Traveler is now the Earth and Moon (although the arrangement is similar), the title text now reads, "For Her," and a Misriah Armory logo adorns the bottom. Legalities are to blame, I presume, but it's still sad to see that egg get erased from the game. (Screenshot from NeoGAF).
DBO Giveaway Reminder
Just your friendly-neighborhood DBO reminding you that you still have a little time to head over to the contest page and drop in your name for a chance at a Destiny Poster Collection or Destiny Journal from Insight Editions. Submissions end at 18:01 PM, UTC, Monday, March 16. (That's 2pm Monday afternoon, ET, 11 am Monday morning, PT, and so on.)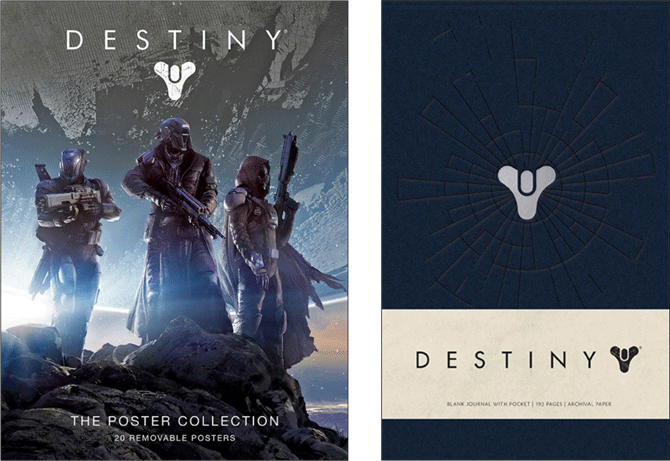 Gallery of Guardians
Speedracer513 found a collection of creative and colorful phone wallpapers/posters by Noble-6 on Destiny's SubReddit. Pretty!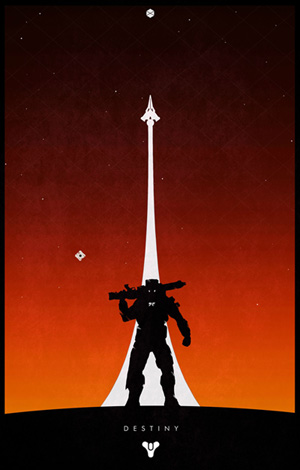 Posters with a Purpose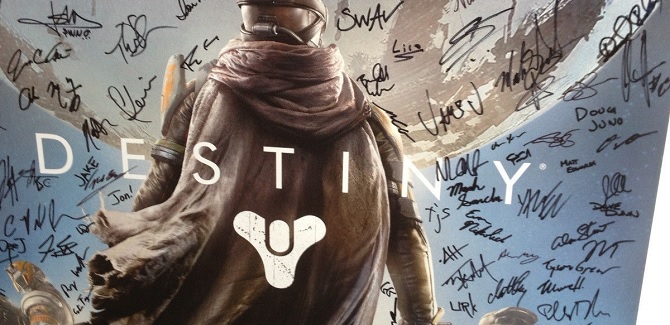 Laird stopped by to let us know that he's put up a pair of autographed Destiny posters for auction on eBay and 100% of the proceeds will go directly to the Child's Play charity. (Item #1, Item #2) The auctions end on Monday, but get your bid in now if you're interested - it's for a good cause! (Thanks for being awesome, Laird.)
Visit Your Local Infested Planetoid Today!
We got tipped that Noble--6 crafted up some neat posters - a few focusing on the locations you visit in Destiny and others highlighting the playable classes. Check out his DeviantArt Folder for all of 'em.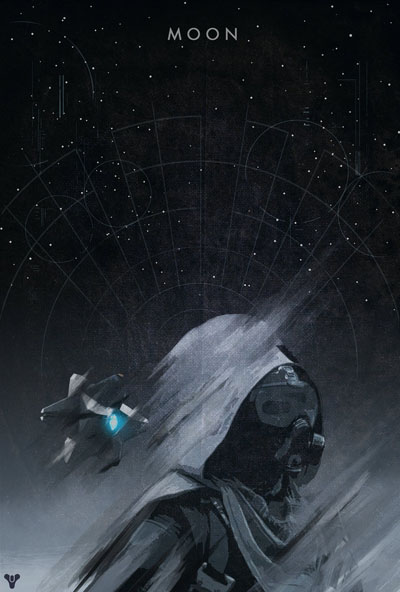 Alternate Poster Art
ShorList.com commissioned a number of Destiny posters by different artists in a variety of styles. There's some pretty neat pieces in there! (Found through The Geeky Nerfherder.)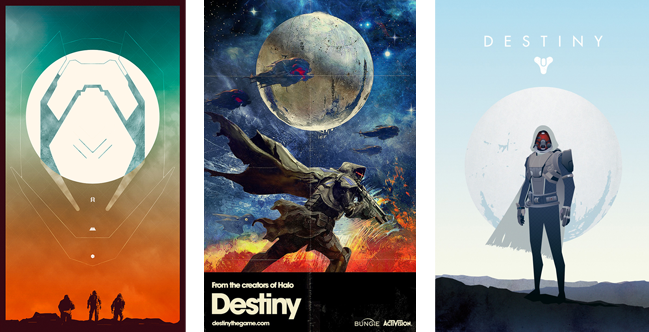 An Epic Poster of Adventure and Exploration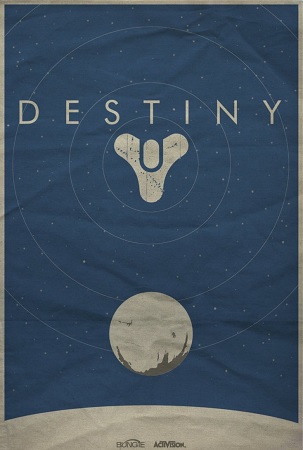 Deviant art user shrimpy99 made this stunningly simple Destiny poster that would look great printed out as alternate box art. I'd take credit for finding this, but naturally Hedge pointed it out over a week ago!
Coming Soon to a Photoshop Near You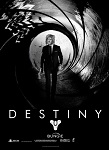 Voting has opened up for the Destiny Movie Poster contest that started with last week's mail sack. Head over to this gallery on the Bungie Facebook page and cast your vote with a "Like" on the image of your choosing. Be sure to revisit the contest thread if you'd like to see all of the entries!
Seven challenges. Seven prizes.

Bungie Day is here, heralding the midpoint of Bungie Week, and with it comes a handful of short-fuse contests on the Bungie.net forum. Time is short - the deadline for submissions is TODAY. (Presumably midnight Pacific time, though you might be able to squeak by with an overnight entry.) Submissions will be judged by DeeJ's fellow employees, and each winner will receive a Destiny poster signed by Team Bungie. There are seven contests to enter, so visit the threads below for details on how to craft something legendary for each one:
If you were hoping for more on Bungie Day Actual, keep in mind that this year the festivities have been stretched to fill an entire Bungie Week:
Though today may be Bungie Day in the traditional sense, the event will continue beyond the Se7enth. And that is the Tru7h. Our celebration continues tomorrow, and tomorrow, and tomorrow.
Comforting words from Bungie.net! (Thanks, MrPadraig08.)
More promo art than Daikatana
A week ago, we mentioned a movie poster, whipped up by Firestream, to celebrate Destiny, the Movie. Today, Bungie highlighted a new version - same movie, more badass poster!

Go check it out,
grab a copy
for yourself!
I wanna know who's in it.
Firestream whipped up a movie poster for 'Destiny' - I'm almost sold, but I need to know who's under that Fallen mask.

Deciphering before you buy
Bungie's selling a pretty nice ship poster on their store - the preview shows a bunch of writing that's far too small to make out. If you're one of those people who likes to know what they're getting, stop into this thread in our forum - Xenos received his poster yesterday, and took some pics. (There's one in the opening post, and another pair in this post.) Helpful!
Is it too late to pre-order?
Looks like a few more promotional materials have been spotted over at NeoGAF: Jarmel snapped a pic of the Destiny standee in his Gamestop, while HiredN00bs pointed out a (Europe exclusive?) Cabal variant of the pre-order poster.