Search results for tag '
fanart

'

Showing results 1 - 25 of 109 matches
Bungie's Community Focus - Kob One
Straight from Bungie's Creations page, Cozmo has singled out Kob One's artwork for this week's excellent Community Focus. Kob One comes off as a real down-to-earth Guardian who understands the Titan struggle, so check out his thoughts and artwork!
Sketchbook Contest Results
The sketchbook winner from the contest began in our last Starside Lounge has been announced in our forum along with some runner-up artwork!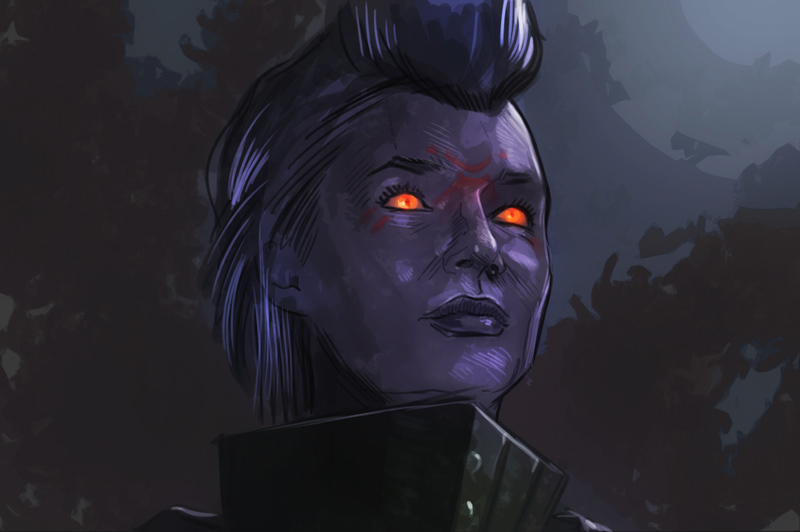 And, by the way, have a happy New Year on us!
This Just In: CraftingGeek Crafts Geekiness!
It's time to check back in on CraftingGeek (who we've mentioned numerous times here before) and see the goodies that she's been making. Her Twitter is always full of these projects, but you can also read a new blogpost on how to make your own Titan cross-stitch!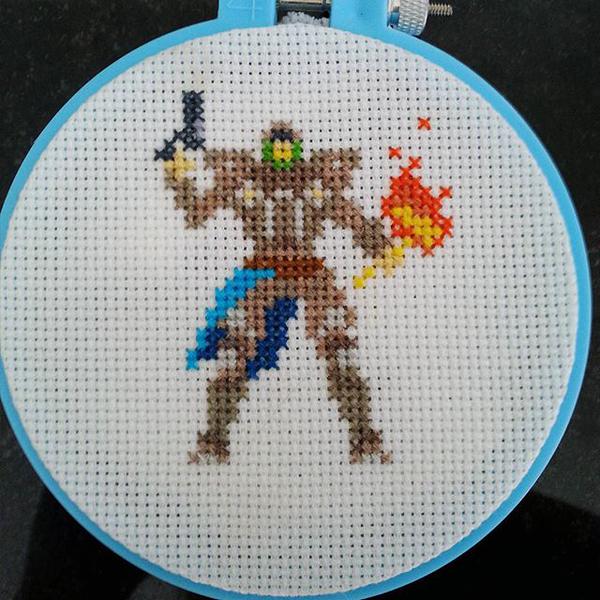 Exotic Watermelon Exo - Pages 3 and 4
We mentioned this beautifully-rendered digital comic a while back. Here's an update of the pages Jake has published since. Click the image to go to the full page. Great stuff!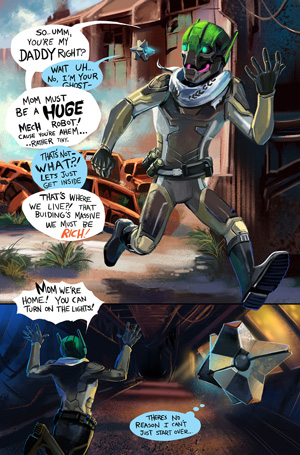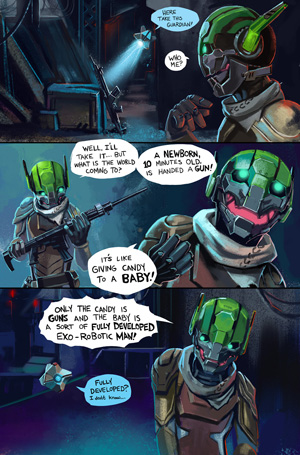 Exotic Watermelon Exo
Yes, it is just as amazing as that title suggests. Discovered through Hedge's Twitter curation, Exotic Watermelon Exo is both beautiful and hilarious, not to mention an excellent piece of fanart by artist Jake Myler (@Lazsummerstone). I hope there's many more!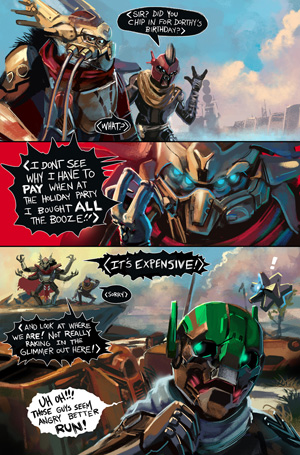 Fan Art Rocks
This picture
showed up
on reddit
a couple of weeks ago - the artist, NKOV (she goes by deealeksei on reddit) drew her boyfriend's guardian as he visited Venus. It's spectacular, and you should see it. (
Her own guardian
is also in her DeviantART gallery.) Check 'em out!
Queen and Crow
While the above is most relevant right now, Dulcamarra has other cute Destiny-related cartoons on their DeviantArt, like below. Discovered via Hedge!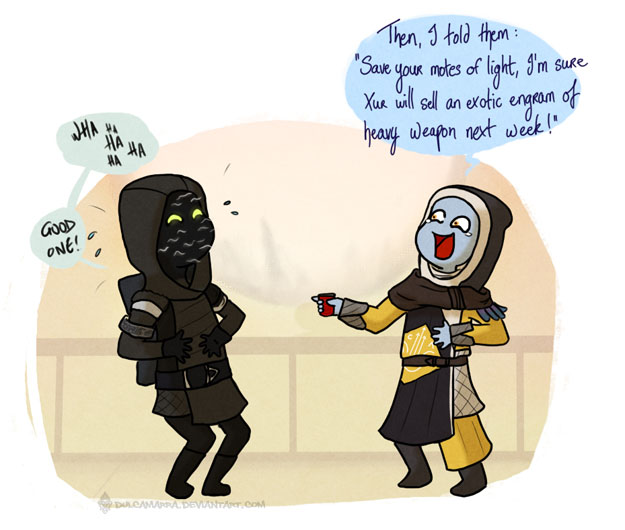 Competitive Race Mode (Fan Concept)
Badass Gaming put together a trailer for 'Competitive Race Mode' - I'm loving it. Watch the trailer!
Banshee's Dream
Korny dropped in with a fantastic idea - a new Exotic Quest, involving some interesting ideas about changes to the questing procedure, and ending up with a pretty amazing-looking weapon. Go read it - I sort of wish there were ways for fan ideas to be integrated into the future of Destiny!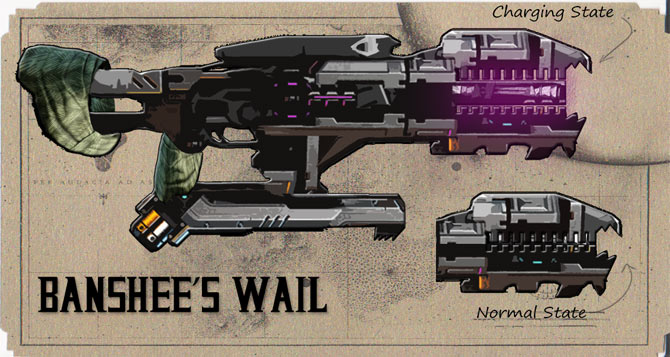 Clovis Bray Wallpaper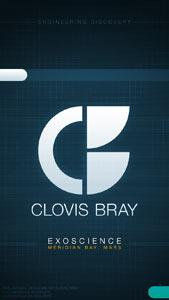 Our own Beorn
created a pretty slick wallpaper
for iPhones (5 and 6) - swing by his post to grab a copy for your own lock screen! (I'm torn; I'm still using
the fantastic b.org-specific screen
created by petetheduck a couple of years ago... but hey, I can always rotate, right?)
3D Printed Pendants
Let's catch up on a few fan creations this morning - it was a busy week last week. First up, Mid7night printed out some of his designs in metal (we mentioned them last year when he first whipped them up) - they look fantastic! Consider snagging one for yourself! (Links are in his forum post.)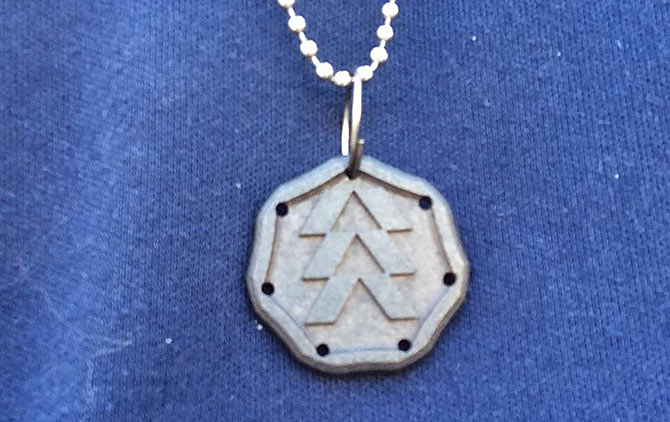 Warlocked in the Jovian Flux
DBO community member Breitzen commissioned me to draw his Warlock. I feel weird writing a newspost about my own art... but, well, there you go. You can also see a gif of the sketch transitioning to completion here.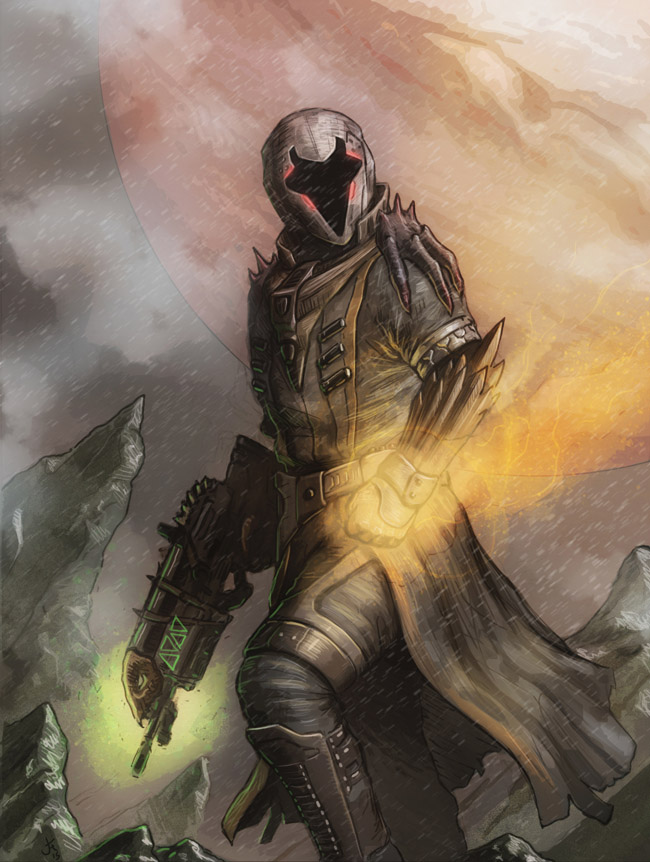 And she still married him. Awesome.
neolfex wins the 'coolest Destiny cake topper' award for 2015. I mean... geez. (Check his reddit post for more details - that beer can is pretty cool!)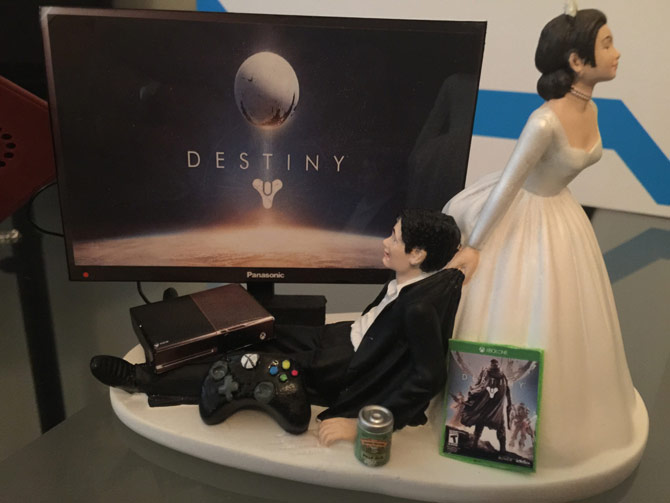 Duel Wielding Your Destiny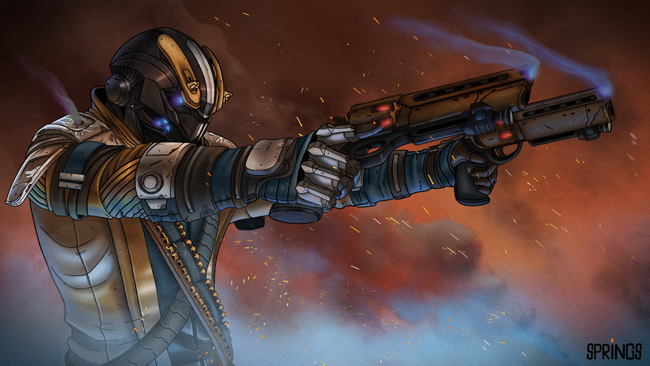 Hedge tweeted this exciting piece of fanart by Springs. Fun idea! The artist also has another Destiny piece in their gallery featuring a Titan relaxing at the Tower as well.
Gallery of Guardians
Speedracer513 found a collection of creative and colorful phone wallpapers/posters by Noble-6 on Destiny's SubReddit. Pretty!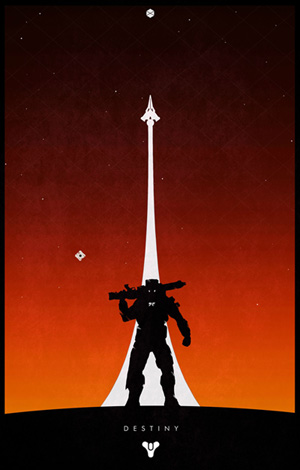 A Gallery of LEGOs
After posting the LEGO Icebreaker last week, I descended into the domain of Flickr for more constructed marvels. I returned with these, but that's just the tip of the iceberg.

Phaeton V2 by Jake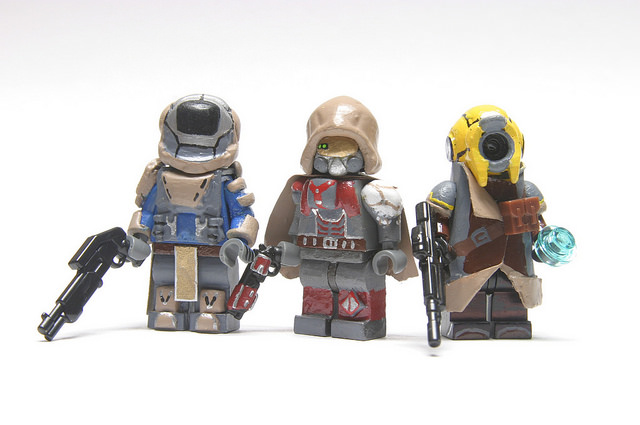 Guardians by SpartanBricks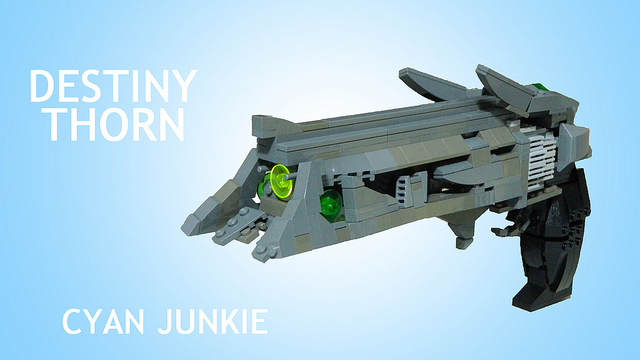 Thorn by Nick Rezler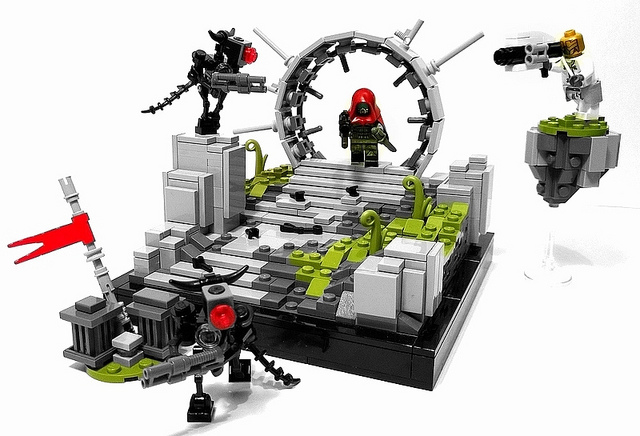 Vault of Glass by Merc4Hire
The Third Man Gets His Due

SKSProps is obviously talented if you take a look through his DeviantArt gallery. I'm not sure if this Mask of the Third Man recreation inspires me or terrifies me! He's also got another Hunter helm, a lot more shots of this Mask, and he's recently started a chest piece.
Imagining an Exotic
Community member and treasured artist, TDSpiral, took a stab at imagining an Exotic handcannon called "The Serpent" created originally by a fan on Reddit. The results were awesome, and while I picked my favorite to highlight here, he's got a wallop of variations to gaze at.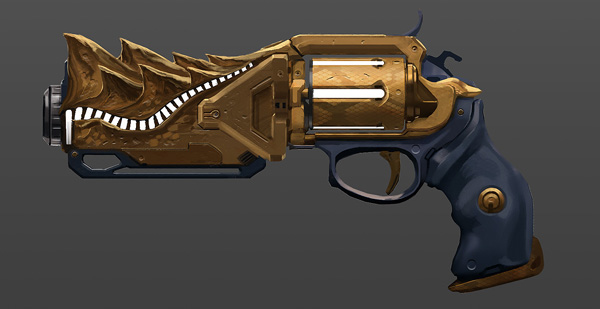 Fanart Highlights
Hedgem0ny always gathers great art and fanart from Bungie games in his Twitter feed. A couple of recent highlights came from DeviantArt in the form of "Titan" by TheBFG121 and "Destiny Fan Art" (okay... not the most creative name but a beautiful picture nonetheless) by lerms.
Happy New Year From DBO!
It's been an eventful year for DBO, from the exciting ramp up to the launch, with DBO TV, podcasts, conventions and conferences, and good ol' rampant speculation - to the actual release of the game this site is dedicated to!
Whether you've been delving into chests under Martian sands or Titan-smashing enemy teams into crumbling particles, we hope you've had a good one. And if it was so-so or crappy, well, there's another year right around the corner to start fresh!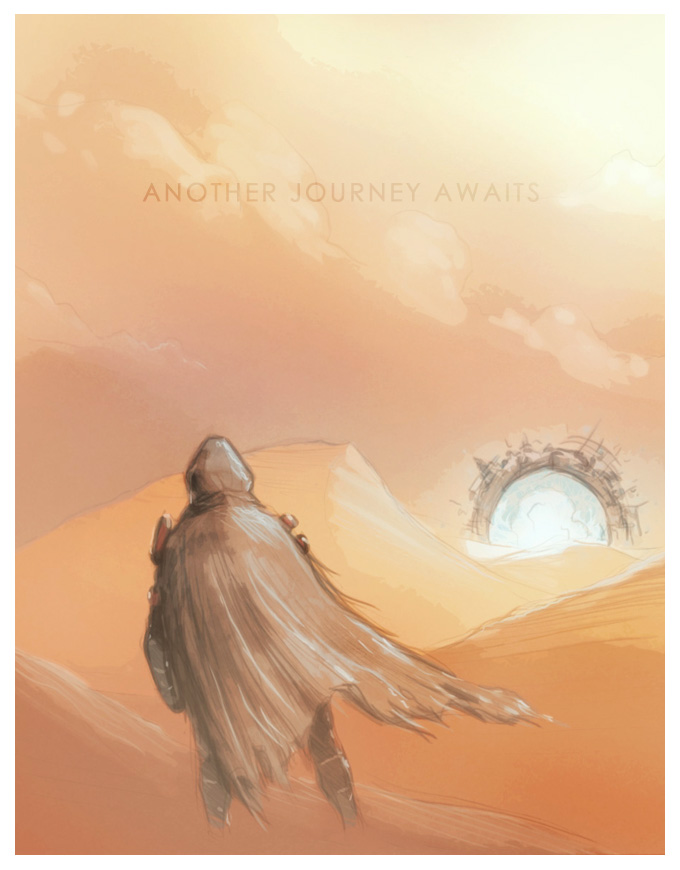 Fireteam Furry... Wait, Don't You Mean Fury?
Nope.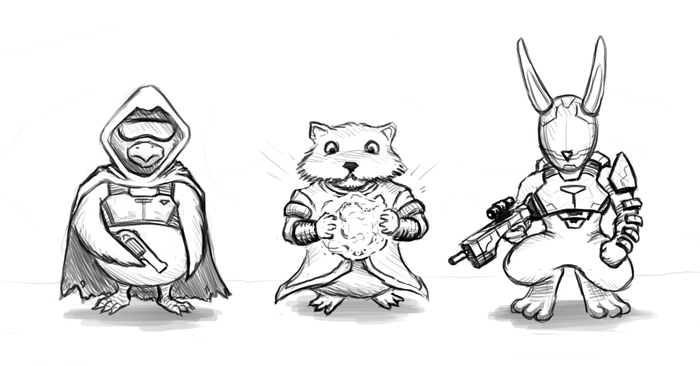 Slow news week - that means post strange things while the Claude isn't looking. More eventful news after Santa gets his butt back up the chimney!
Words and Pictures from Penny Arcade
SigbiasSilva let us know that Penny Arcade posted a lovely little comic featuring not just Destiny, but a great, touching story to boot. Seriously, go read it right now.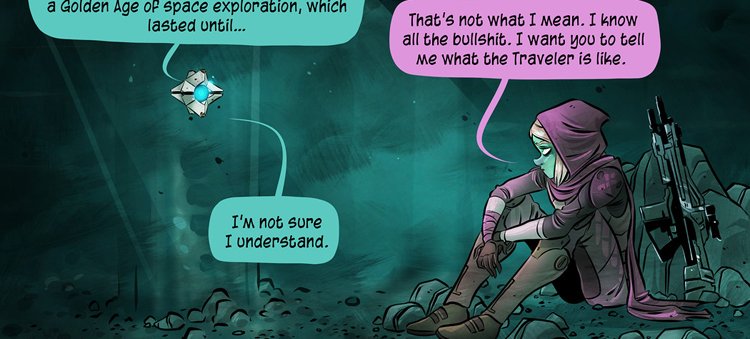 Fanart Roundup - Brought to You By Hedge
One of B.Org's Senior Field Correspondents, Hedgem0ny, Tweets a lot of great Destiny fanart made by a number of individuals from across the globe.. Here's a blatantly-shameful stalking of some of his recent aggregations: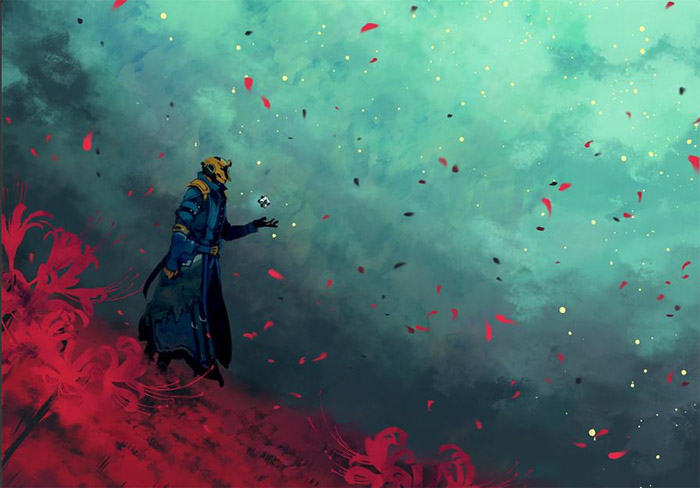 by Ayatori0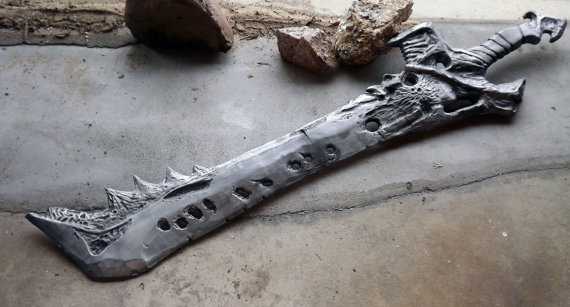 Sword of Crota replica by ProfessorCaTPardus and for sale on Etsy.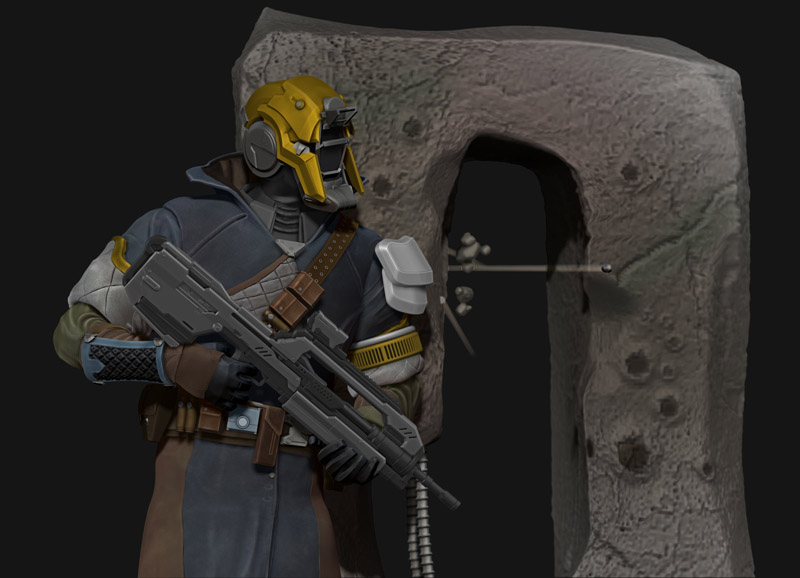 Warlock 3D model by martynball - more shots on his DeviantArt.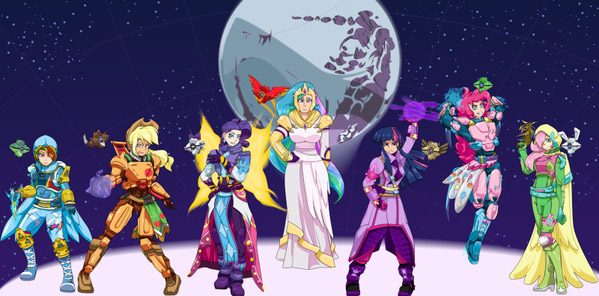 Last, but not least, DestiPonies by Arteses-Canvas!

Post-Turkey Catch-Up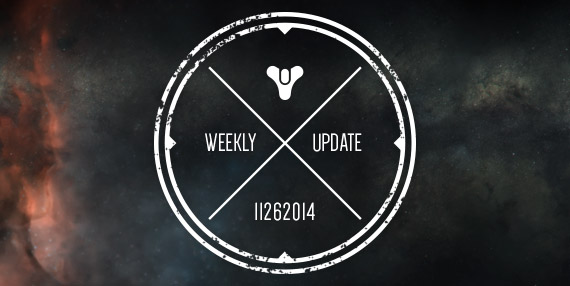 Still have yet another Thanksgiving tomorrow (not that free turkey is something to complain about), but here's some of the news we've missed:
The latest

Bungie Weekly Thursdate

was posted Wednesday (

what?

). Not too much to ignite your fire since the holiday was on approach, but hey, you're not doing anything, so go read it. The biggest thing to gleam is the Black Friday sale at the Bungie Store.

Xur is in town (our illustrated Xur post will return next weekend after the ham disappears). Go read ChaosSociety's

post

to see a few things he's willing to trade - I need to go get a Plan C, personally!




CruelLEGACEY

dropped off

some fanart he made - go look!



Fallen Archon Illustrated
A few Destiny-related pieces by DarkMechanic, from his DeviantArt gallery. Beautiful.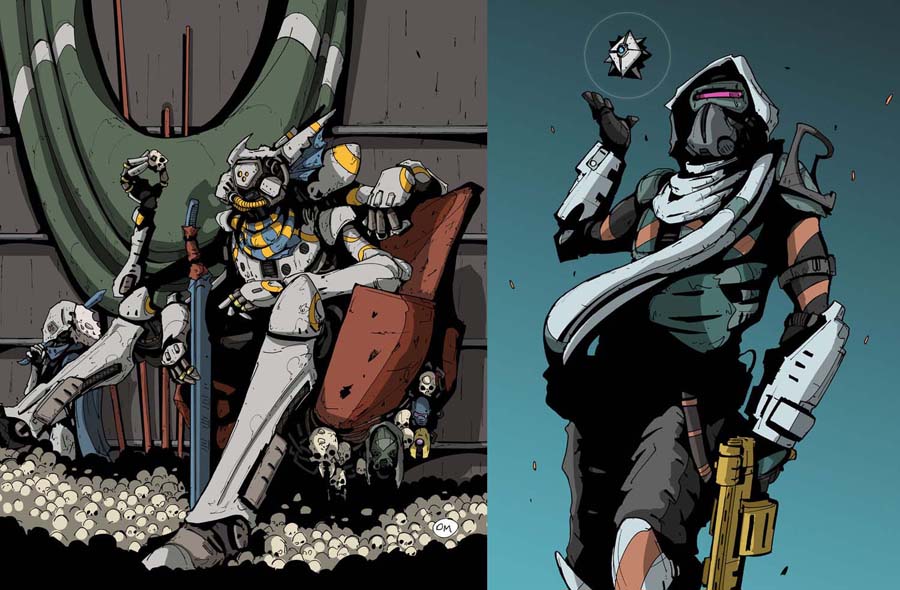 Found via Hedge.