Search results for tag '
Day

'

Showing results 1 - 25 of 41 matches
Happy 7th, Destiny!

Bungie just posted a very understated Happy Birthday message to their website celebrating 7 years of Destiny. Along with an anecdote about barely averting disaster in their first reveal, there is early concept art and writing that tells the story of how it all came together.
Check it out on their website.
Happy Bungie Day!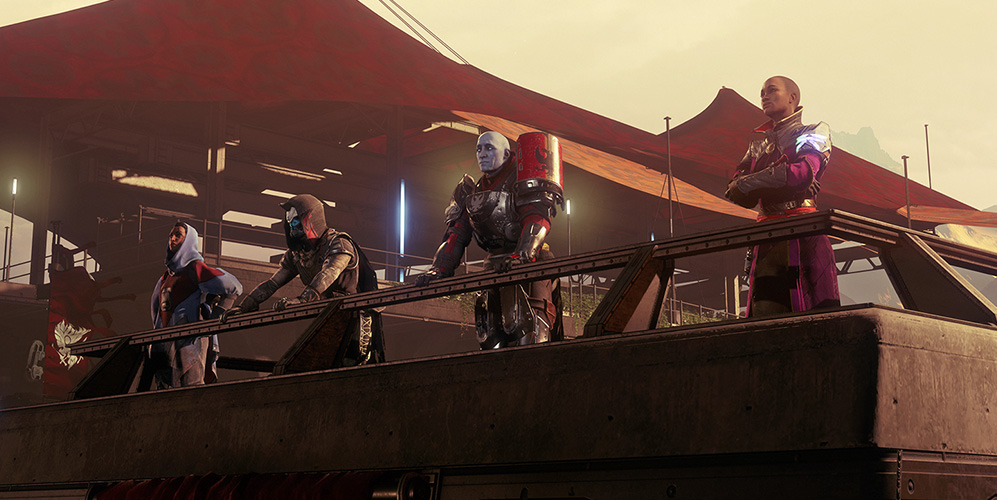 Bungie is celebrating Bungie Day with details about the upcoming Moments of Triumph, launching later this month. Lots of goodies, both in-game and out, are or will soon be available - go read for more details! The Bungie Store has special items available (history suggests you should buy soon if you're interested), and the post also contains some great-looking Forsaken-themed wallpapers. Happy Bungie Day!
MotS: A Poetic Adventure (Part 1)
OS_Epsilon stopped by with a pretty amazing fan creation, in celebration of Bungie Day - it might need a little explanation. When the Music of the Spheres was written, accompanying poetry was commissioned from poet Malcolm Guite. Because of the issues with the release of MoTS over the years, this poetry was never released... until now. With narration by My Name is Byf and Moonvald, and some very nice visuals, you can enjoy the first of these poems on YouTube (or above, embedded). Malcolm Guite wrote up his own thoughts of this release (and some more details about the poetry itself) on his website. There's a 17mb booklet that goes along with this release, containing the first poem (The Moon) - we've made a local copy available so that you don't have to navigate MediaFire.
Happy Bungie Day!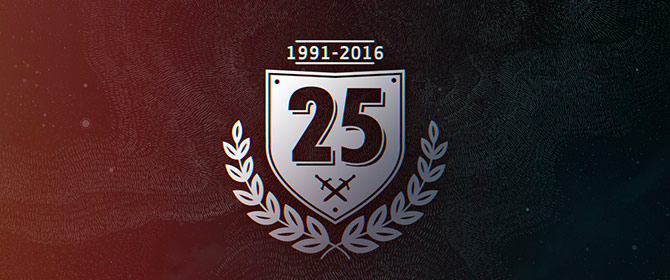 Swing by Bungie.net and read about the goodies on offer for Bungie Day! The Year 2 Moments of Triumph book is now available, and if you haven't finished the tasks within, you've got until September 20 to do so! New schwag is available in the Bungie Store, and buying it this week nets you a pretty cool in-game emblem. There's plenty more, so go and see! (We have a local copy as well, since this is the standard This Week At Bungie post this week, too.)
This One's for Xenos

Playing lots of Crimson Doubles and still haven't garnered yourself a new Ghost shell? Bungie's got you covered! According to a
new blog post on Bungie.net
, anyone who has played at least seven games of Crimson Doubles will find a 320 Ghost shell at the Postmaster after the event is over. If you have thoughts about this change in loot strategy, sound off in CruelLEGACEY's
forum thread
!
Crafting an Oryxmas Season!
CraftingGeek has made our front page in the past a number of times and she's done it again with Traveler-themed Christmas cards!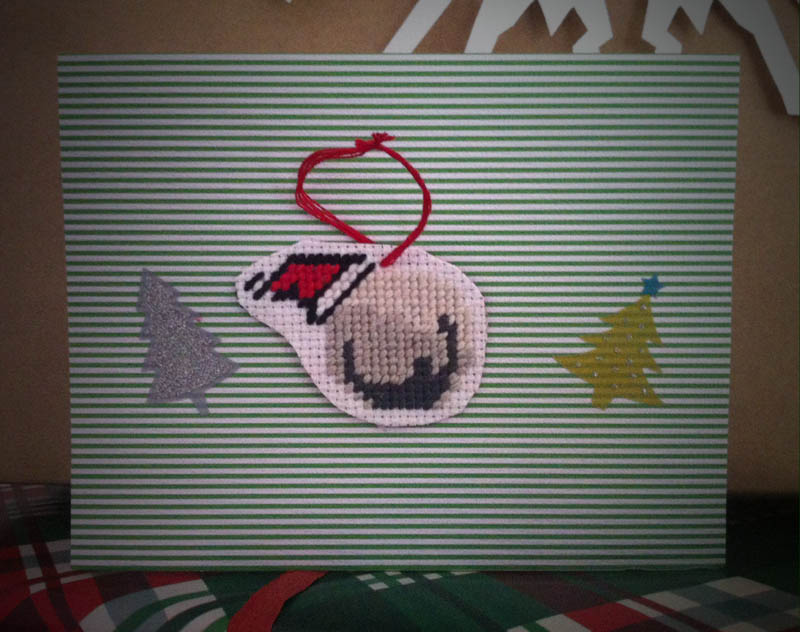 Additionally, we'd be amiss not to mention the Sparrow Racing League banners she's just translated into real life! How cool!
Taken King Launch Trailer
Last but not least, another trailer was released today for the Taken King, featuring more glimpses of cinematics, gameplay, and Led Zeppelin.
Happy Bungie Day!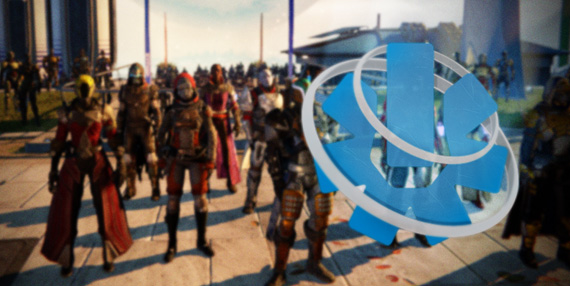 It's July 7th again, and Bungie is celebrating! For those that don't want to read the whole article:
There is an emblem you can earn by completing all of the major accomplishments from Year One of Destiny! (Thankfully making it to the Lighthouse is NOT on the list!)

A video celebrating the Community's contributions from Year One.

A Year One art contest with the chance to win a Collector's Edition of Destiny.

New website avatars for your Bungie.net profile.

A new section of Bungie.net and called the Armory showing all the gear and perks, as well as the sources where you can find them!
How did you celebrate Bungie Day?
A Mysterious Benefactor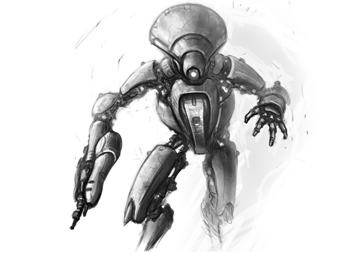 Bungie didn't forget about us during the holiday season. Head to your post office and check out the gift they've left for you! (It's a random legendary weapon) then go share what you got on the forum! Thanks to petetheduck for pointing it out!
Bungie's Holiday Engram
Bungie usually has neat, comically-illustrated holiday cards for their studio and this year is no different!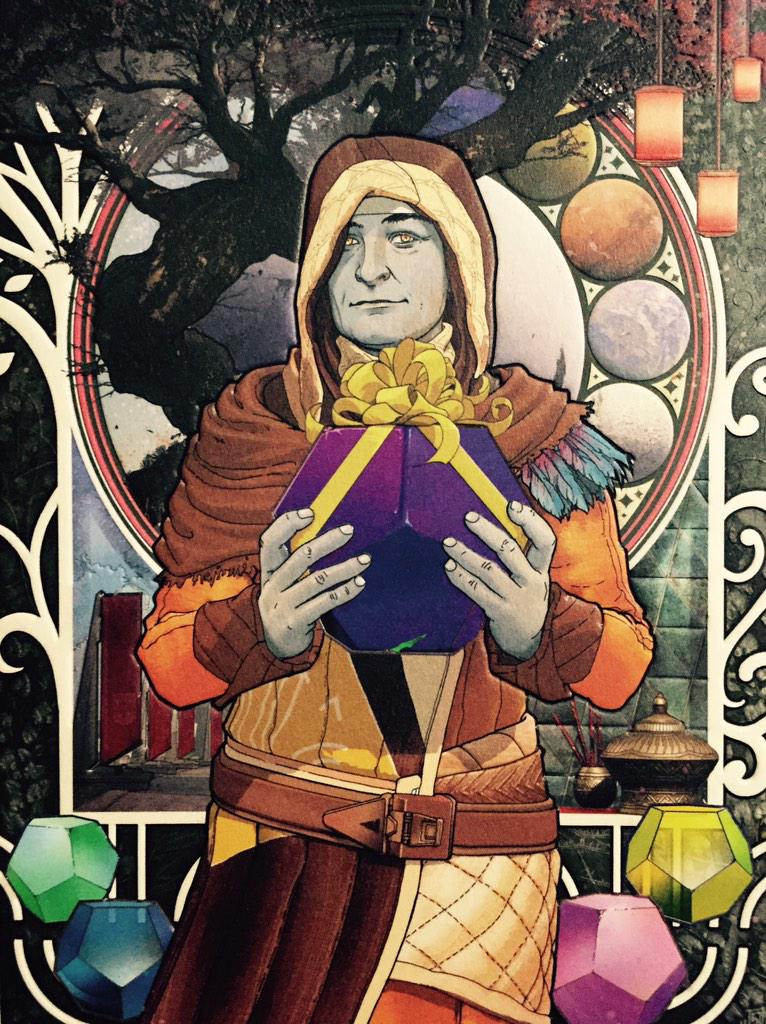 Urk Tweeted this beautifully teasing piece yesterday.
10 Seconds Till Launch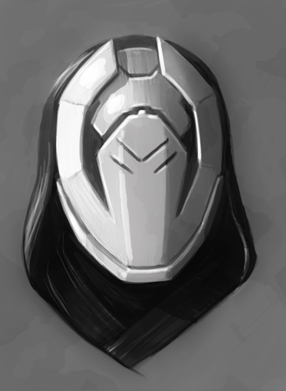 My copy has just arrived so it's time to sign off for a bit. Enjoy the start of your adventures, whether it was at a midnight launch or a visit from a lonely wandering mailman. It's been a long time coming - a couple of years for DBO and
four
since Bungie's last game, wow!
So while I disappear for a bit, here's a sketch of The Speaker to remember me by. Just imagine Bill Nighy saying something epic and you'll be primed to take back our planets, Bungie-style.
Global Launch Day Gallery

The Destiny Facebook page has a new gallery of some of the cosplay and other excitement that's appeared outside Bungie's studios at today's community event, including a huge Fallen Skiff that's been built on site. So, uh, who gets to take that home? UPDATE: The gallery has been updated with a few more photos and some guy named Claude Errera (I think I know that name from a club I went to once) dropped by a few more pics of the Skiff.
The Deep Breath Before the Plunge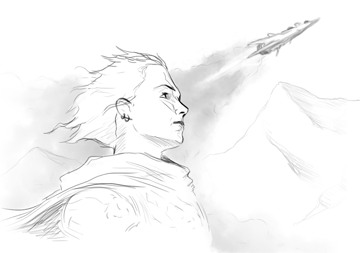 It's an exciting time. The servers are live and it's release day in some places of the world. In the West, Bungie's about to open their doors to folks waiting for a chance inside. And for the game itself, Bungie has released notes for a day-one 1.01 patch. GrimBrother IV's already begun a discussion on the changes in the forum. The pilgramige is almost at an end... See you starside.
Speculation Saturday: The Cabal

Ragashingo continues his series of thoughtful articles focusing on different aspects of Destiny's world. This time it's on the Cabal, who like the Vex, we probably know the least about... Well, at least for 48 hours!
Speculation Saturday... On a Tuesday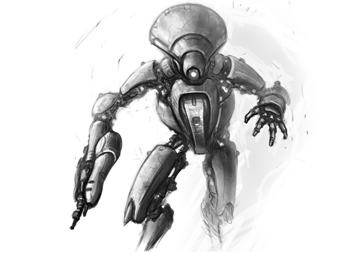 Last Saturday, Ragashingo continued his revival of the Speculation Saturday series of write-ups, this time focusing on the Vex. What do we know already? What can we infer from that? And what crazy, possible conclusions can we jump to? As always, good reads.
Dawww...
Oholiab
dropped by
the forums last week to show off some adorable, Destiny-themed birthday cards given to him by his kids. He also posted
an annotation
showing who's who. I hope to see more of their fan-art in the future!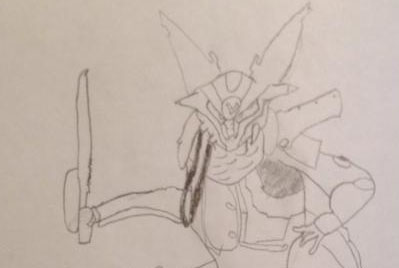 Speculation Saturday #7: The Hive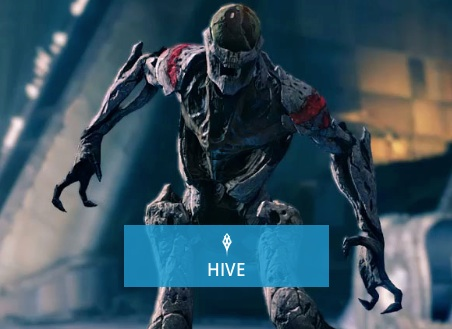 Ragashingo is at it again - pulling together yet another excellent compendium of knowledge on a specific facet of Destiny's lore. What is the focus of his conjecture this time? It's the Hive! Give his forum post a read, then be sure to add your own rampant speculation to the mix.
(Thanks, uh-- Ragashingo, I guess.)
Happy Bungie Day!
It's July 7, otherwise known as Bungie Day, and Bungie's got a boatload of info for you. Here's what's on tap:
There will be three separate Collectors' Editions of Destiny, come September (they're all available for all four release platforms):



The Limited Edition ($100) contains a SteelBook case and game disc, a leatherbound folio with background info (a field guide, stickers, and more), plus digital content including the Destiny Expansion Pass (2 new missions) and exclusive emblems/skins/etc.
The Ghost Edition ($150) contains everything in the Limited Edition, plus a Ghost replica and some extra paper content.
The Digital Guardian Edition ($90) contains all the non-physical contents of the Limited Edition.

You will also be able to buy the Expansion Pass separately for $35, or the individual missions for $20 each. IGN has an 'unboxing' video showing off the content for all three editions if you want specifics.


Bungie wishes you a Happy Bungie Day. This is just a short thank-you to fans who've inspired them to strive harder. (There is a surprising amount of pushback right now in our forum about this - there is a feeling by Xbox owners that it's not really a 'Bungie Day', but a 'PlayStation-owning Bungie Fan Day' - which really doesn't roll quite so smoothly off the tongue.)


There are finally details about the upcoming Beta. (This, too, is causing some consternation.) For Playstation owners, the Beta will be available for a maximum of 9 playable days. For Xbox owners, this total is 5 days. (Both numbers might be decreased by the realities of distribution - experience has taught us that 'Starts on X day' can mean 'by the time you get the thing downloaded, it's X+1 day'.) No matter what platform you play on, this article will help you plan out your options.
Linked in almost every single page mentioned above is the new Destiny Official Beta Trailer, which is more than 2 minutes long and chock-full of new tidbits to pore over. We've embedded it below, but you can, of course, find copies in our Official Video collection, for future use. Happy Bungie Day!
Speculation Saturday #6: What's New?

Yesterday, Ragashingo stopped in with a new Speculation Saturday - it's been more than 9 months since his last one! He's decided to look at the difference between what we knew then and what we know now... and it's a pretty interesting comparison! Give it a read, and then toss in your own two cents!

All I need is a glass of wine...
Also from Cody: a gorgeous video demonstrating the day/night cycle in the game. (This was already highlighted on our Twitter feed, but for those of our readers who frequent the front page, we wanted to show it off here.

Four Eyes A Jolly Good Fellow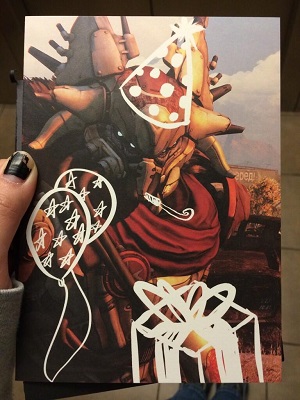 Looks like Bungie employees get a pretty cool birthday card, but something tells me we won't see any Fallen Captains being this festive in the final game. (Image from rawksaur's Twitter page. Happy Birthday, Dawn!)
Holiday Fun
A few days ago, DeviantARTist SilverSonic44 posted a Halo/Destiny-themed Christmas wish for everyone... go celebrate the season!


A Hunter Never Rests....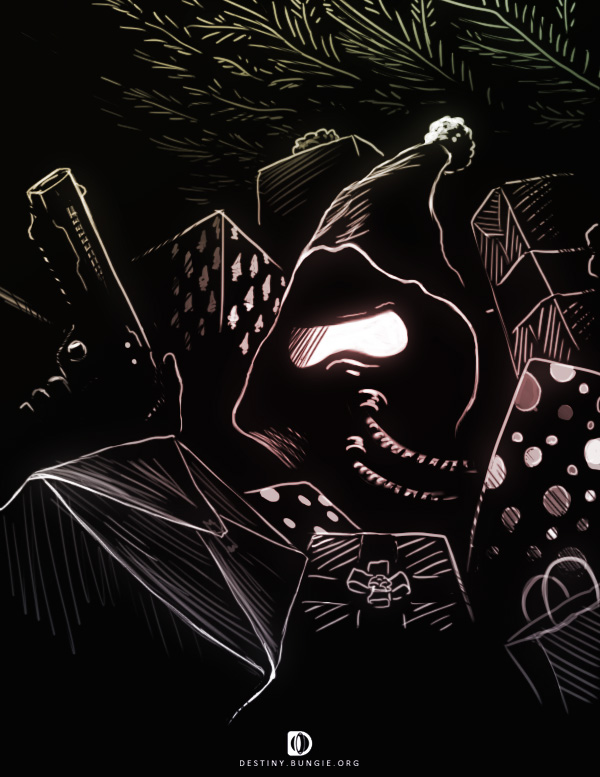 ... but we do! So kick your feet up and have a cheerful season and happy Christmas! If you do have time to kill, you can start perusing the results of the B.Org Secret Santa that's pouring in. Have a good one... or two... or a few!
We love you guys.
As the last year without Destiny comes to a close, we here at DBO would like to wish you all a very happy holiday season, and more specifically a merry Christmas tomorrow. Bungie's holiday card does a great job of summing up our excitement for the coming adventures!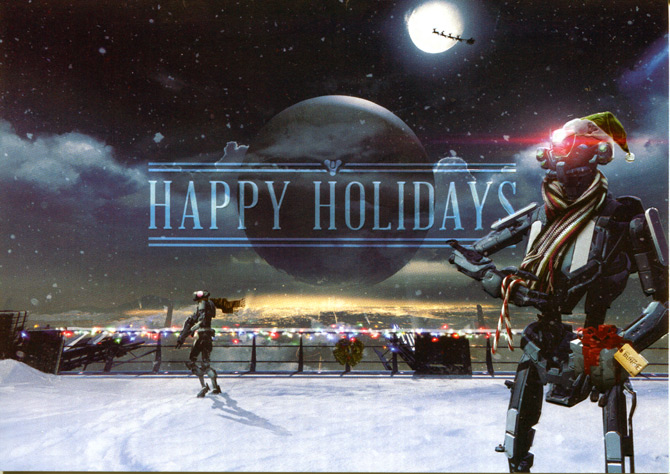 And to all, a good... something

It was a couple of days ago, but during this holiday season you owe it to yourself to enjoy fun game-related poetry. Duncan posted 'Happy Holidays, DBO' on our forum, and a reading will allow you to prepare for the upcoming year of release with the right attitude. Maybe have a spiked glass of eggnog by your side!