Search results for tag '
PoE

'

Showing results 1 - 6 of 6 matches
MotS: A Poetic Adventure (Part 1)
OS_Epsilon stopped by with a pretty amazing fan creation, in celebration of Bungie Day - it might need a little explanation. When the Music of the Spheres was written, accompanying poetry was commissioned from poet Malcolm Guite. Because of the issues with the release of MoTS over the years, this poetry was never released... until now. With narration by My Name is Byf and Moonvald, and some very nice visuals, you can enjoy the first of these poems on YouTube (or above, embedded). Malcolm Guite wrote up his own thoughts of this release (and some more details about the poetry itself) on his website. There's a 17mb booklet that goes along with this release, containing the first poem (The Moon) - we've made a local copy available so that you don't have to navigate MediaFire.
Claude Errera | Jul 7, 2018 05:52 am |
link
---
April Update Recaps and Interview
Did you miss the 2.2.0 Update Prison of Elders reveal? Watch the archived stream over on Twitch, or check out the April Update page over on Bnet for a glimpse of what's coming!
CyberKN also let us know about GameInformer's two-page interview with Lead Designer Ryan Paradis, and the accompanying Media Gallery with over a hundred new images of the revamped Prison!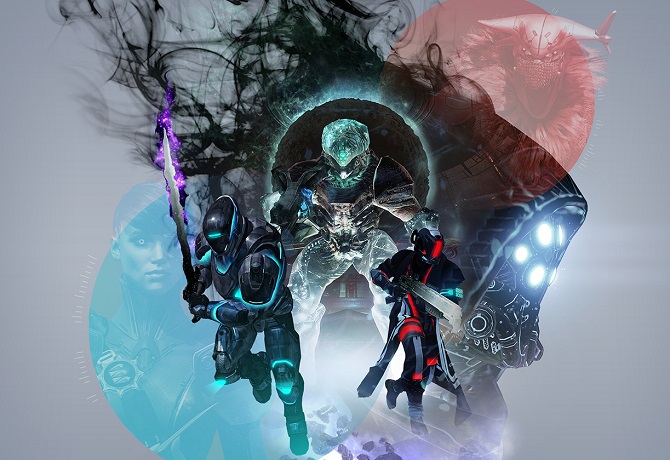 Korny | Mar 23, 2016 12:08 pm |
link
---
Beating Skolas Over the Head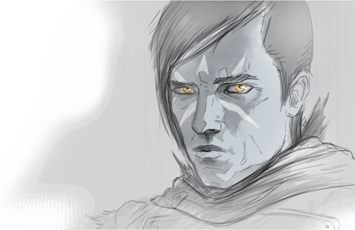 Oops, this one fell through the cracks, but thanks to Ragashingo for reminding us. CruelLEGACY posted an excellent strategy guide for taking on Skolas in the Prison of Elders a while back. But Skolas is still out there and breaking people's controllers so it's still relevant! Read this post - reference video included!
Leviathan | Jul 27, 2015 09:47 pm |
link
---
The Edgar Allen Prison of Elders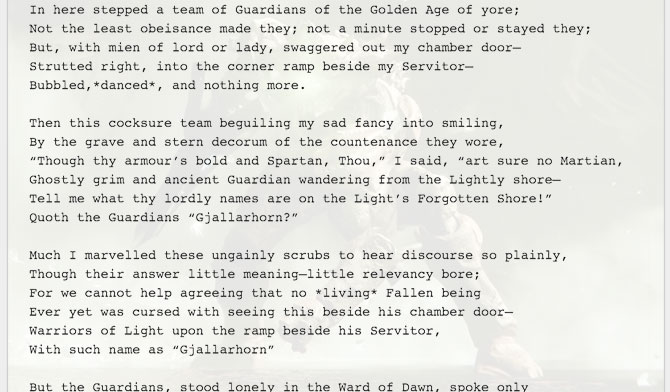 This
is pretty spectacular. Thanks to Pwnigiri for creating it, and to bluerunner for
noticing
.
Claude Errera | May 28, 2015 11:38 am |
link
---
And to all, a good... something

It was a couple of days ago, but during this holiday season you owe it to yourself to enjoy fun game-related poetry. Duncan posted 'Happy Holidays, DBO' on our forum, and a reading will allow you to prepare for the upcoming year of release with the right attitude. Maybe have a spiked glass of eggnog by your side!

Claude Errera | Dec 22, 2013 01:43 pm |
link
---
DBO Challenge, Week 3: Musical Concepts

ncsuDuncan wrapped-up Week 2 and kicked-off Week 3 of the DBO Challenge last night. This week's assignment: Choose a piece of Destiny concept art along with a selection of music, then write a short paragraph or poem to help combine the two. There's also a bonus raffle for two lucky participants this week! We already a number of submissions in the forum, and the deadline is next Tuesday at 6:00 pm EDT, so be sure to submit your selections!
Beorn | Mar 27, 2013 10:48 am |
link
---