Search results for tag '
twitter

'

Showing results 1 - 9 of 9 matches
ALERT! DISTRESS CALL INCOMING
Bungie social media accounts sent out a video of a portable radio receiving a weak transmission. The image shows the radio in front of (what appears to be) the entrance to a building on Europa. If you feel like wading through the dust and echoes, join the discussion on our forum.
Luke Smith Answers Questions From Twitter
Ever wonder what kind of music Ghaul listens to? Will Destiny 2 have a PTR? Will Fusion Rifles be nerfed before the game even comes out? These important questions and more get answered by none other than Bungie's own Game Director Luke Smith, in a video that is both entertaining and educational, so check it out! Thanks go out to INSANEdrive for the heads up!

Chris Gave Us The Bird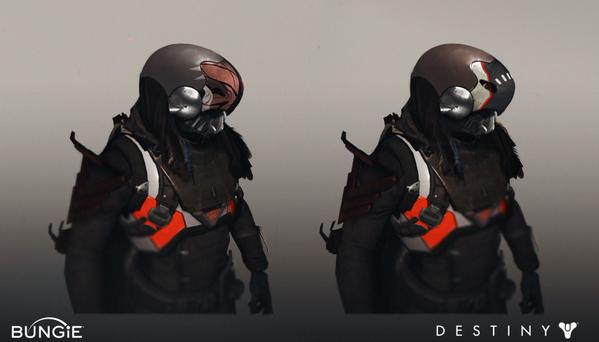 Chris Barrett shared this awesome concept art of the Celestial Nighthawk exotic helmet from House of Wolves on his Twitter account. Looks like House of Wolves is going to filled with a lot more than just wolves!
"There Be (Space) Dragons"
Well I'm not sure that exact phrase will be on it , but Bungie's confirmed some form of map in Destiny:

"Planning" could imply just a traditional use of a map, or it could mean interactivity, like customizable waypoints a la ODST. Perhaps more? Go
discuss/speculate in our forum
.
The More You Tweet
The @DestinyTheGame twitter feed has been providing interesting tidbits about the various in-game characters for the past week or so... check out some of the details below!
Bungie Tweeting Destiny Beta Codes
If you don't follow the Destiny Twitter account, this week might be a good time to start because they're handing out a few Beta codes every day this week. Today's codes have already been posted, and there's no knowing when tomorrow's codes will drop, so you'll have to be quick and lucky!


How many BungieDays are in a BungieWeek?

Everyone's favorite summer holiday is swiftly approaching: that cherished time of year when you can grab a nice, frosty beverage from cold storage, grill up a spectacular steak or two, and laugh maniacally as a giant slingshot hurls your enemies into the sun. Yes, I'm talking about Bungie Day - July 7th. IGN's Ryan McCaffrey certainly seems excited, and the official Bungie twitter account has been alluding to an entire week of celebration! If you're not Twitter-savvy (I'm looking at you, Claude), check out this thread on our forum for a quick compilation of details and rumors.
They asked for it...

It's a slow news day, but this seems amusing enough to post about. The Bungie Twitter account today asked:
We're curious: What's the one thing about #Destiny that you most want to know more about?
Maybe they're just polling, maybe they intend to give us a treat, or maybe they're just splashing about in the frenzied waters of Destiny speculation just to see what we do. In any case, it seems that now is a great time to "officially" ask some of those Destiny questions that are just too on-point for the weekly Mail Sack. Who knows, maybe they'll answer one or two!
DBO gets not one, but TWO Twitter feeds

I was convinced, after MUCH debate, to add a news-only Twitter feed to HBO a little while ago. Turns out, it's a pretty useful tool for folks with Twitter accounts who want to keep track of new content from their favorite fansite. (We ARE your favorite fansite, aren't we? AREN'T WE?) So the question of a Twitter account for DBO was never really about 'do we do it?' but 'how do we do it?'

The crew of DBO is much more socially integrated than the old guard at HBO - there was a lot of push for a fully interactive feed. You can tweet us Destiny news, we can tweet you DBO posts, and we can answer your questions. But what about people who really just want notifications of new newsposts at DBO? Should they be left out in the cold (or have their Twitter stream inundated with discussion they're not interested in) just because they don't feel like jumping to our front page every once in a while?
Our solution was simple: we've got TWO feeds. One is just newsposts - it's a mirror of the HBO Twitter feed. You get a headline, and a link to the full article if you want to read it. The other includes these posts, as well... but ALSO allows full interaction. A number of people will be monitoring the feed, and responding to tweets from you, the public. You get to choose how much DBO to put in your Twitter stream. Either way, you get a GORGEOUS new piece of artwork from Levi to look at - please do NOT miss it.