Search results for tag '
PAX

'

Showing results 1 - 16 of 16 matches
2017 PAX West-Prime DBO Meetup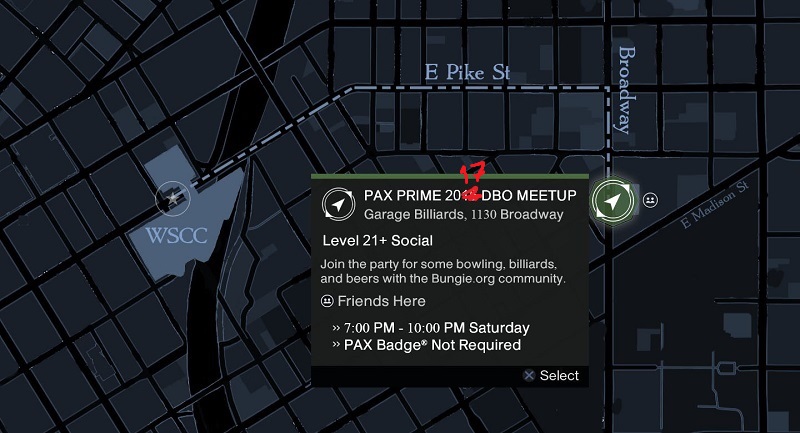 Once again, PAX has taken over downtown Seattle. Once again, I'm going to make the same exact plans for the DBO meetup so I can reuse the header image. If you're new to the tradition:
When:
7:00 PM - 10:00 PM on Saturday, September 2nd
Where:
Garage Billiards
1130 Broadway
Seattle, WA 98122
We'll be in the Star Lounge area next to the bowling lanes. If you have any questions, let us know in this forum thread. See you there!
Please note: This venue is 21+ only.

Luke Smith is Headlining at PAX West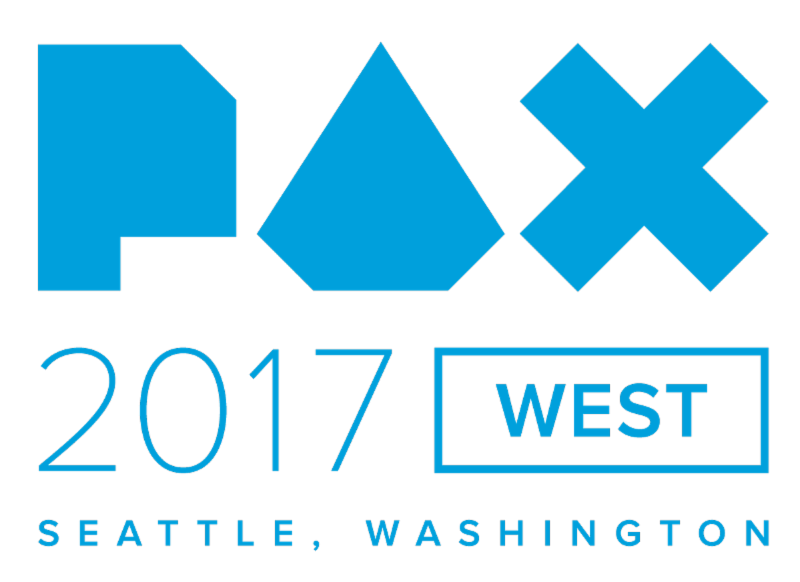 Stride PR sent word that Destiny 2's Game Director Luke Smith will be delivering the opening Keynote at
PAX West 2017
, early next month. From the PAX News page, Luke is "going to talk about his path coming up through the gaming industry and hopefully be able to drop some sweet Destiny 2 secrets in there as well." Should be a fantastic talk! If you're going to be there, the
Panel Schedule
went live today - a quick look showed only one Destiny-related discussion: on Sunday, at 11am, there's a talk called '
Destiny: A Community You Can Count On
'. It's predominantly Twitch streamers, but that might be the majority of the Destiny community these days, so it's definitely worth checking out!
PAX 2016 DBO Meetup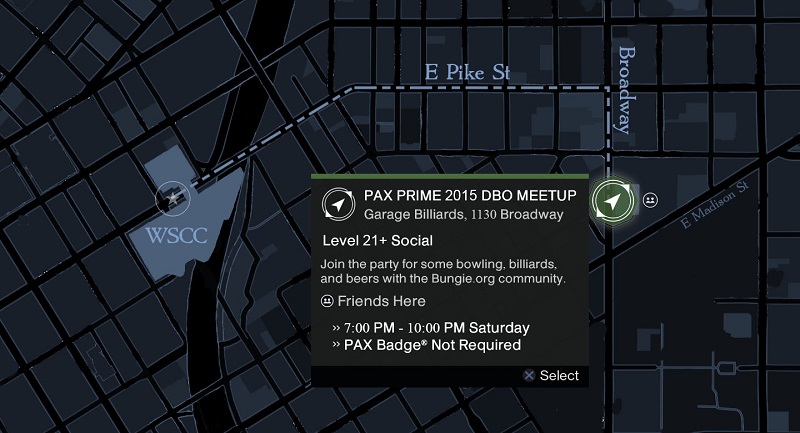 I'm phoning it in this year - literally typing this from the convention show floor on a 5" screen. If you're at PAX (or just in the Seattle area), come hang out with the DBO crew tonight at Garage Billiards (1130 Broadway). We'll be there starting at 7pm. More details (not really) in this forum thread.
DBO at PAX 2015: The Taken Kingpin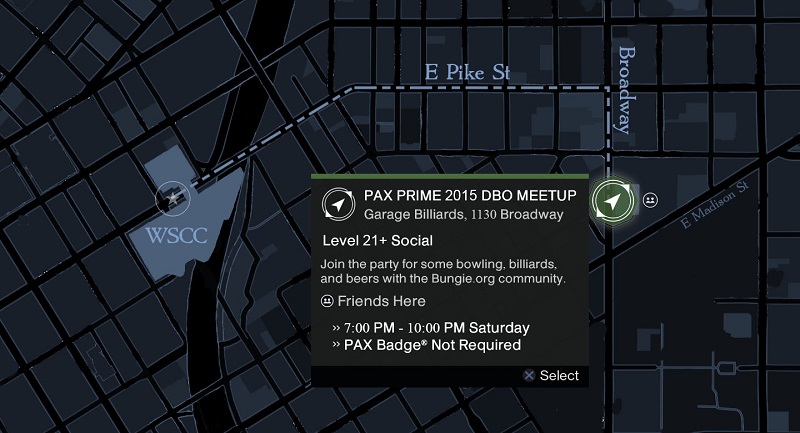 It's that time of year again, when eager fans from all over gather together to meet up with friends and celebrate their favorite games. Yes, football season is a very special time of year and I always enjoy the sense of community it brings. I suppose the Penny Arcade Expo is fun too.
If you happen to be in Seattle this weekend (for PAX or otherwise) and want to meet up with your fellow DBO members, make your way to Garage Billiards at 7:00 PM on Saturday, August 29th. There you can join us for an evening of bowling, billiards, beers, and burgers. Heck, we might even stop talking about football to discuss some other game. (More details in this forum post.)
Going to PAX? Let Your DBO Colors Show!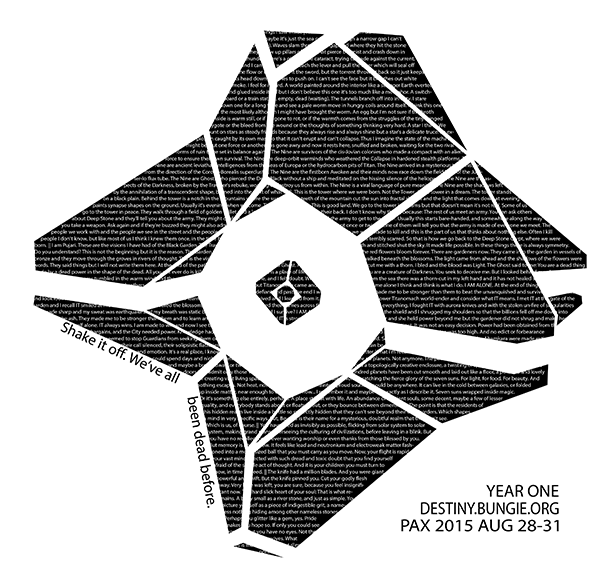 Planning on going to DBO this year? Or just want an awesome shirt? Kanbo has designed a shirt for you to show where your allegiance lies! The shirt comes in two different qualities along with several color combinations to choose from! Go read his post for all the details!
Watch the Bungie PAX Panel from you Couch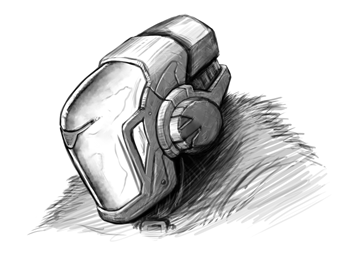 Bungie has a panel at PAX today at Noon PDT, and even if you're in Seattle you can still watch it! Just go to this Twitch stream to watch! (INSANEdrive pointed it out for us in the forums, thanks!)
DBO Bowling for Burgers at PAX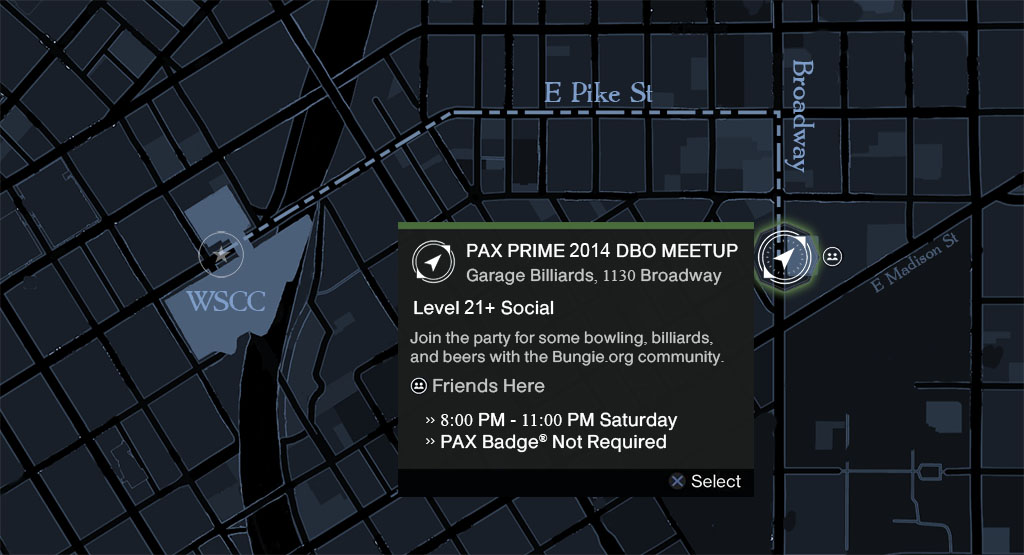 The Penny Arcade Expo has started, and I'm sitting here watching a User Research panel while grasping at every shred of internet connectivity I can find. If you're also in the Seattle area this weekend, join me and a few dozen of my friends for DBO's 2014 PAX Prime meetup at 8:00 PM on Saturday over at Garage Billiards. You can find more details on the bowling, billiards, and beers here on the forum. Hope to see some of you there!
PAX T-Shirts, On Sale Now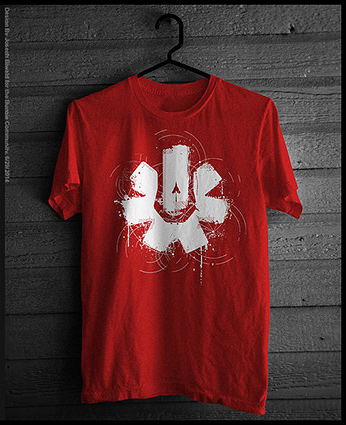 A few weeks ago, community artist Biwald dropped by our forums with a nifty t-shirt design for Bungie community members attending PAX Prime this year.
If you're headed to PAX and would like one of these shirts, they are now on sale at http://www.downpixel.com/shop/bungie-pax-2014/. These will be handed out on-site at the expo, so be sure to use coupon code PP2014 when checking out to waive the shipping fee, and Biwald will coordinate distribution.
Paddy Rocks at Writeups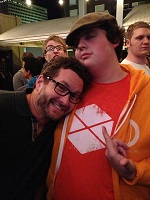 If you missed out on the PAX 2013 festivities last autumn, experience the highlights vicariously through the words, pictures, and videos of MrPadraig08. His writeup covers everything: the mysterious RukarBQue, the bustling PAX show floor, a secret Bungie party, our first official DBO meetup, karaoke with Kenny Loggins, burgers at Dick's, and one super-tacky shirt. What happens at PAX, stays online forever...
The PAX Memories Are Starting to Roll In
As DBO and HBO slowly returns to its usual livelihood, we'll start to see plenty of write-ups and photos of the always-fantastic experience that PAX is. Bungie has started an album on their Facebook page showing off some of the fans they rallied this weekend. The keen-sighted might recognize our own nscuDuncan in a few of them, as well as some of the Hunter cosplay we mentioned this weekend.
(Bungie also picked up an exclusive Mars Curiosity Hot Weels. Besides wanting one myself, I got to love whenever Bungie connects their own inspiring space exploration to the real thing.)
Hunters at PAX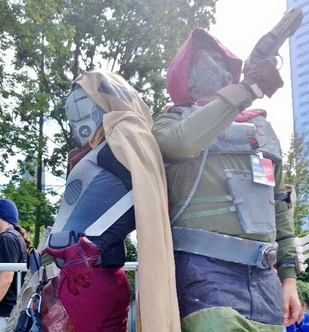 Not much in terms of Destiny news today, but Fo Man did
snap this shot
of two Hunters attending PAX (one of them being
Nicolle King
). It's pretty amazing that there are already people building Destiny costumes!
A Hunter in the Wild...
Nicolle King decided to craft her own legendary gear and head out to PAX as a Hunter this weekend. You can see a few more photos of the costume on her Facebook or Twitter.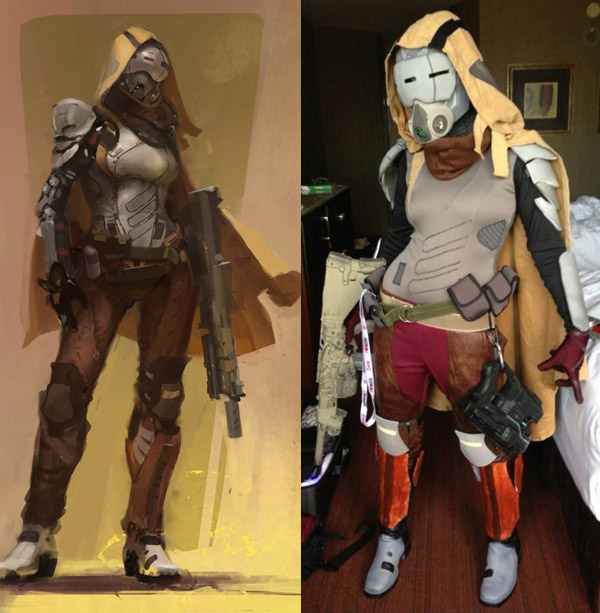 NcsuDuncan (one of our men in the field) also says he's got photos on the way with more cosplay in sight, so keep an eye out!
DBO/HBO Meetup at PAX: Saturday, 7:00 pm

PAX is only a week away - are you going? DBO's first official PAX dinner will be at Lunchbox Laboratory on Saturday, August 31st from 7:00pm to 11:00 pm. Check out this forum post for the full list of details, then head over to this thread to discuss the event. See you there!
Survey: DBO Meetups at PAX Prime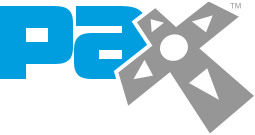 Will you be in the Seattle area during PAX Prime next month? Want to meet up with some of your fellow DBO community members? I've put together a short questionnaire to help us plan a Public Event or two, so check out the details in this thread, then follow this link to take the survey. See you soon!
Fit For A King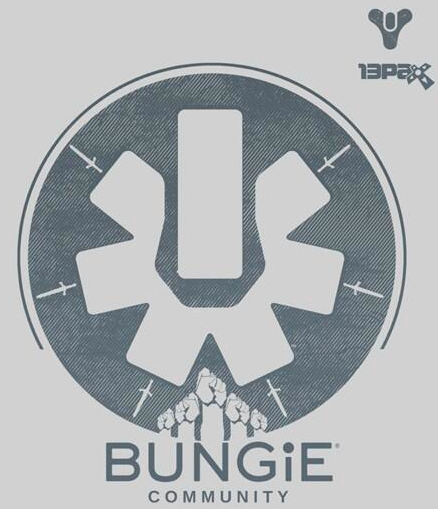 Jospeh Biwald finished up his
Bungie community shirt design
for PAX Prime 2013 - it's safe to say that the Bungie community will be the best dressed at this years PAX. Follow the
Bnet PAX group
for more details. Thanks to
Bungie Informer
for the heads up.
Seventh Column at PAX Prime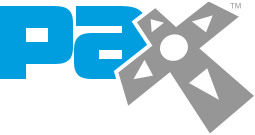 Plans for
PAX Prime
are starting to come together, even as a hush falls over the field of ruin and carnage that was yesterday's ticket acquisition process. The expo doesn't happen until the end of August, but that hasn't stopped proactive members of the Bungie community from making preparations!
For those of you lucky enough to snag a ticket, mastrbiggy started a thread in our own forum where folks are making plans to meet up and gather in the Emerald City. Bungie also tweeted today to let folks know that there's a Bungie.net group for PAX. If you're going, be sure to check these out and prepare to represent the Seventh Column en masse!