Search results for tag '
award

'

Showing results 1 - 14 of 14 matches
Video Game Awards - 2017

Destiny 2 garnered 6 nominations for last night's
Game Awards
:
Best Art Direction
Best Score/Music
Best Audio Design
Best Ongoing Game
Best Action Game
Best Multiplayer
Unfortunately, they didn't win any of those categories - but congrats to the team for the showing!
Hawt.

Game Critics have listed
their winners for E3 2017
... and Destiny 2 comes away with the Best PC Game. Nice work! Thanks, Genevieve, for
the heads-up
!
Rise of Iron wins 2017 ASCAP Screen Music Award
Congratulations to Michael Salvatori, Skye Lewin, and C. Paul Johnson, for their work on the Destiny: Rise of Iron score - it took home the 2017 Video Game Score of the Year last night at the 2017 ASCAP Screen Music Awards! (They shared this honor with Killer Instinct: Season 3, in a tie for 1st Place.)
The Taken King Nominated for 3 DICE Awards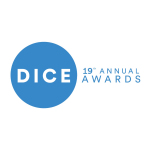 The DICE Award Nominees were announced yesterday, and Destiny: The Taken King was nominated for three awards: Action Game of the Year, Outstanding Achievement in Online Gameplay, and Outstanding Achievement in Sound Design. The winners will be announced on February 18th.
Achievement Hunter Grudgingly Names Taken King GOTY
This year Achievement Hunter used math to help them decide their Top 10 games, and they weren't very happy with the results, especially Destiny: The Taken King taking the #1 spot! Watch the video below:
Destiny UI wins 2015 Cased Award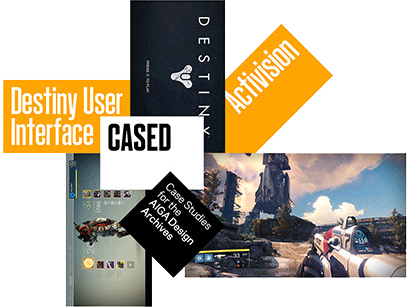 AIGA
, the professional association for design, hosted the 2015 Cased competition, and honored 15 design solutions that demonstrate the value of design.
Destiny's User Interface was one of these solutions
- congrats, Bungie! The writeup digs into how Bungie saw their challenges, and what they did to meet them; good reading! (There are also a bunch of links to articles that have been written along the way, in case you missed any of them.) Be sure to check out
the rest of the winners
, if you have interest in design - there are some spectacular entries in there!
SXSW is impressed

Last night, the second annual
SXSW Gaming Awards
were presented... and Destiny went home with the
Excellence in Technical Achievement award
! Well done, Bungie!
Destiny Wins Bafta for Best Game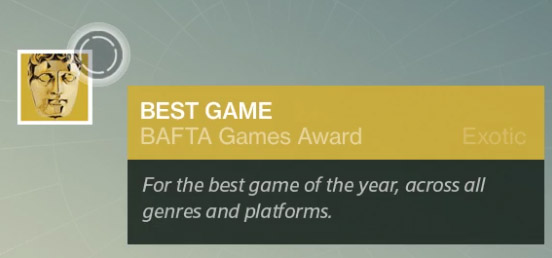 Bungie took home the award for Best Game at the 2015 BAFTA ceremony today! That's a high honor from a classy contest. Korny pointed it out on our forum, as well as a BBC article on the matter. You can discover all the winners and find out more on the official BAFTA site.
Game Informer: Best Shooter, Best Co-Op Multiplayer

Looks like Destiny takes the cake for two categories in Game Informer awards list published today! Destiny takes Best Shooter and Best Cooperative Multiplayer for 2014.
Destiny: PlayStation.Blog Game of the Year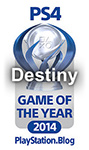 Destiny has won the community-voted PlayStation.Blog 2014 Game of the Year award! (Thanks to Kermit in the forums for the heads-up).
Destiny Beats RNG at Game Awards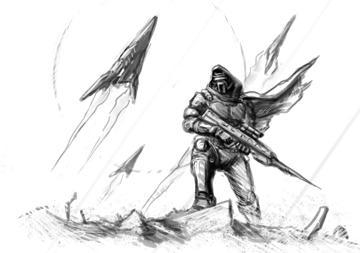 The Game Awards were held last night (with a familiar composer in charge of the music) and Destiny managed to win two awards, Best Online Experience and Best Soundtrack! You can watch a replay of the event, or just see who the rest of the winners were.
Destiny: The People's Champion
Destiny may not have won any awards from critics or official awards at Gamescom, but it DID win one prestigious award: The People's Choice Award on IGN. Looks like some people are hyped for September 9th!
Bungie takes 3 Awards at Gamescom

Destiny was
the big winner at Gamescom
- it took three awards, beating out Titanfall (which took 2) for most mentions. Congrats to the Bungie team for
Best Console Game: Playstation
,
Best Action Game
, and
Best Online Multiplayer Game
. And thanks to Hypertrooper, for
bringing us the news
!
Gametrailers - Best of E3 2013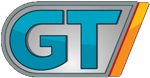 Gametrailers is running a 'Best of E3 2013' awards ceremony - Destiny was nominated in the following categories:
Unfortunately Destiny didn't win best new IP or best graphics, but the nominations are still pretty neat. Gametrailers will announce 'Best of Show' today at 4pm PST.