Search results for tag '
roi

'

Showing results 1 - 7 of 7 matches
Rise of Iron wins 2017 ASCAP Screen Music Award
Congratulations to Michael Salvatori, Skye Lewin, and C. Paul Johnson, for their work on the Destiny: Rise of Iron score - it took home the 2017 Video Game Score of the Year last night at the 2017 ASCAP Screen Music Awards! (They shared this honor with Killer Instinct: Season 3, in a tie for 1st Place.)
Claude Errera | May 17, 2017 08:25 am |
link
---
Bungie's Stream at Gamescom 2016
Bungie will be showing off some content from Rise of Iron at 10AM Pacific time on Tuesday, and reports say there may be some big stuff announced! Custom games maybe? Tune in to watch below or over at Bungie's Twitch page. It'll be archived as soon as possible afterwards as well! Bungie will also be streaming throughout Gamescom, though if you're in the US it may not be at the most convenient times. Check out the schedule over at Bungie.net.
Xenos | Aug 15, 2016 09:06 pm |
link
---
Game Informer kicks off their Rise of Iron Coverage
The cover story of September's Game Informer magazine is Rise of Iron, and they'll be teasing content all month in preparation. You can see the coverage trailer on their website now (thanks, CybrKN). Lots to talk about, even though it's only snippets now!
Claude Errera | Aug 2, 2016 01:36 pm |
link
---
Rise of Iron Cosmodrome Stream
Bungie will be showing off the changes coming to the Cosmodrome today on Twitch at 10AM PST. Watch the archived stream below, or head over to their Twitch channel.
Watch live video from Bungie on www.twitch.tv
Xenos | Jul 20, 2016 09:38 am |
link
---
IGN Fireteam Chat With DeeJ and Scott Taylor
For their E3 episode of Fireteam Chat IGN sat down with DeeJ and Scott Taylor to discuss Rise of Iron and answer some questions from fans. Good small bits of information in there, as well as the mindset behind some of the changes and updates. Watch below or on Youtube!
Xenos | Jun 17, 2016 08:12 am |
link
---
IGN Walkthrough: Destiny Companion App
IGN has posted the latest video in their month-long coverage of Destiny, which gives a look at the way the Destiny Companion App will enhance your Destiny experience. You'll be able to swap gear in real time, view stats and mission progress, thumb through the Grimoire, and more. (Thanks, Grim III.)
Jim Stitzel | Jul 14, 2014 10:03 am |
link
---
Android Preview (Today Only)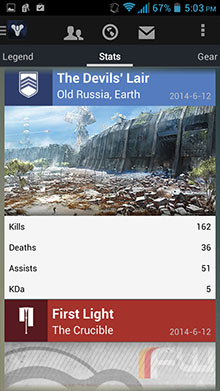 MrPadraig08
pointed out
a
tweet
that announced that if you participated in the Alpha, AND you have an Android phone, you can check out a preview of the Destiny Companion App, just for today. (Hurry!) If you are lacking in any of those three requirements (date, gameplay, phone), you can check out
some pictures of the app
, courtesy of
EffortlessFury
.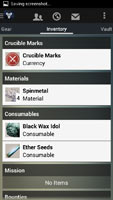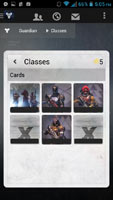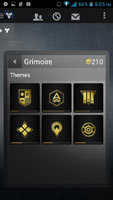 Claude Errera | Jun 16, 2014 06:42 pm |
link
---