Search results for tag '
sony

'

Showing results 1 - 8 of 8 matches
Bungie Joins Sony.

It seems Sony Interactive Entertainment has dropped some scrilla to acquire Bungie. "In SIE, we have found a partner who unconditionally supports us in all we are and who wants to accelerate our vision to create generation-spanning entertainment, all while preserving the creative independence that beats in Bungie's heart."
Overview of PlayStation Exclusives
I don't think we've posted it to the front page yet, so if you're still in the dark on PS exclusives for the Taken King, you can see a full overview of it all here. Thanks Car15 and Korny.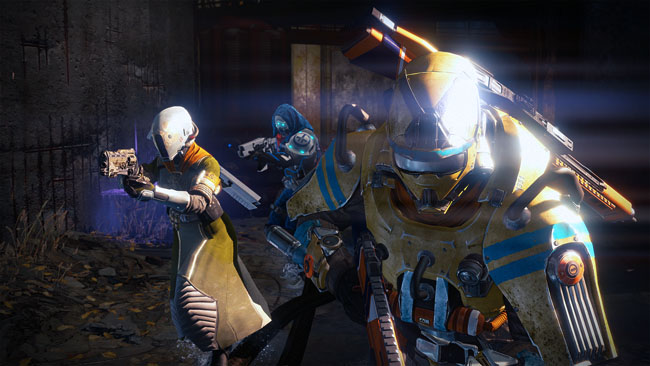 Destiny's Onstage at E3 (Again)
According to CVG
, Destiny will be onstage again at Sony's E3 media Briefing this coming Monday - it's unclear to what degree, but keep your eyes on that live feed! (At the bottom of the article is a list of Destiny destinations; at first glance, there isn't anything we haven't seen before, but maybe a more detailed examination will prove me wrong.) Go look!
PlayStation Interview with DeeJ
This one managed to slip through the cracks! Back on Tuesday, Bungie did an encore performance of the Destiny demo on the Sony stage at E3, followed by a PlayStation Blog interview with DeeJ. You can catch the whole presentation below, or you can skip straight to the interview at 15:12 (thanks, Xenos).
Gearing up for Sony's Press Conference

Sony's blog contains information on how/when to watch the livestreamed press conference this coming Monday - and for a very lucky few, how to get in to see the conference in person. Festivities start at 5:30 Pacific (earlier if you're trying to get in the door) - so go read and set yourself up! Destiny will be there! Thanks, Xenos.

The Ageless One speaks about Bungie's Destiny on the PS4
And here is what Bungie showed moments ago at the Sony PS4 reveal. Enjoy!
Destiny Confirmed for PlayStation
For those of you who haven't heard, Bungie just confirmed at the Sony PlayStation 4 reveal event moments ago that Destiny will be coming out for both the PS3 and PS4. No word yet on any release schedule, but they did confirm that there will be "exclusive playable content" for PlayStation users. We'll show what they showed as soon as we've got it!
Bungie Spotted at Playstation Meeting 2013
According to Polygon, Marty O'Donnell was spotted at the NYC Sony Playstation 2013 event venue last night. Perhaps Destiny will make an appearence at today's Playstation briefing. You can catch the stream here at 3pm PST. Thanks, stabbim.