Search results for tag '
destiny

'

Showing results 1 - 25 of 95 matches
Happy 7th, Destiny!

Bungie just posted a very understated Happy Birthday message to their website celebrating 7 years of Destiny. Along with an anecdote about barely averting disaster in their first reveal, there is early concept art and writing that tells the story of how it all came together.
Check it out on their website.
The Darkness Arrives
Last night we saw The Traveler wake up in response to the approaching darkness. Well, some of us got to see it. With wide spread server and connection issues, not everyone got to login to be a part of it. Paul Tassi at Forbes has a pretty good write up and timeline of the events that you can view here.
On our forum, cheapLEY streamed the event on Twitch. You can find it in his post
here.
EXOSCIENCE!
The Destiny 2 social media accounts released another cryptic video. This time showing what might be the Clovis Bray facilities and teasing some Exo creation history perhaps? We will soon find out.
RNGesus Just Lost a Little Bit of Power

Mashable posted an article with some good comments about weapons in Destiny 2. Random perks are gone! He clarifies a little bit and talks about potential changes as a result. Give it a read.
Playstation Lifestyle Interviews Luke Smith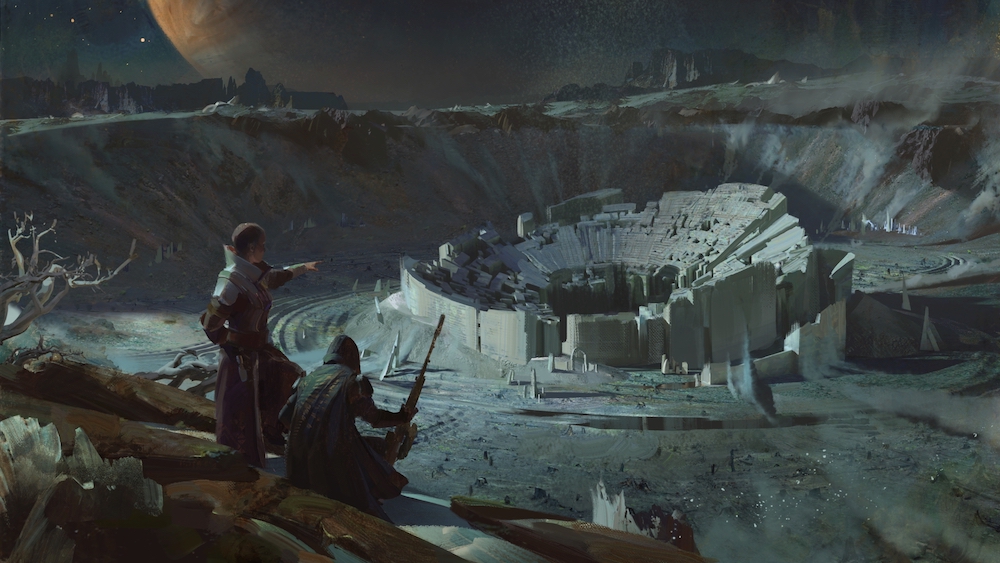 E3 may be over, but information continues to trickle in from news outlets. Playstation Lifestyle sat down with Luke Smith to discuss Destiny 2. Mostly covers things we already know, but has a few new tidbits and hints you might not have heard about! Go read it!
Full IGN Destiny 2 Interview
There were a few pieces of this interview in the IGN Fireteam Chat linked in the previous post, but the full 30+ minute interview is up now with quite a bit of information about framerates, some features at launch, and design decisions. See it embedded below:
Destiny 2 Interviews and Info
With a big event like the reveal from yesterday a lot of news sites got to try and tease some more information out of Bungie as well. Lots of details were confirmed, and here are some of the more interesting interviews and posts I found:
Playstation Access Interview with DeeJ
IGN Fireteam Chat (has a couple interviews with Mark Noseworthy and Luke Smith)

Gigz Interview with Tocom (Kevin Yanes)

Gaming Age Interview with Lars Bakken

There's a lot more out there too, if you have any news posts we should highlight let us know on the forum!
Destiny 2 Gameplay Reveal
Bungie has finally revealed Destiny 2 gameplay! They covered a lot of details about new features in the 1 hour long gameplay reveal, but if you don't have an hour go ahead and watch the short gameplay trailer! Both are embedded below:
WELCOME TO A WORLD WITHOUT LIGHT
Another little tease came down today about the direction of Destiny 2, as many popular Destiny Twitch streamers and YouTubers received boxes from Activision PR and were finally allowed to post about the contents this morning at 11am EST.
The boxes contained invitations to the Worldwide Gameplay Premiere of Destiny 2, to be held at the Jet Center in Los Angeles on May 18, 2017. It seems that the reveal will be done "press conference"-style, with "a couple hundred" people being invited reportedly.

The most interesting thing about the package is the card that says, "Welcome to a World Without Light" with an accompanying image of a dead Ghost.
Check out the images in this tweet by tripleWRECK:
Destiny 2 Trailer, PC Announcement
Bungie released the Destiny 2 trailer, "Rally the Troops" this morning. Check it out, then sound off in the forums!
A Teaser for a Trailer for Destiny 2
In reality the teaser is really cool, BUT it is teasing a trailer being released on Thursday at 10AM PDT. Check it out! (Thanks breitzen)
Destiny 2 Announced
Bungie's official Destiny The Game twitter account posted a Destiny 2 teaser image this morning. Not much more to go on, but The Last City looks like it's in bad shape. Conversation's already off to a start in the forum, so go join in!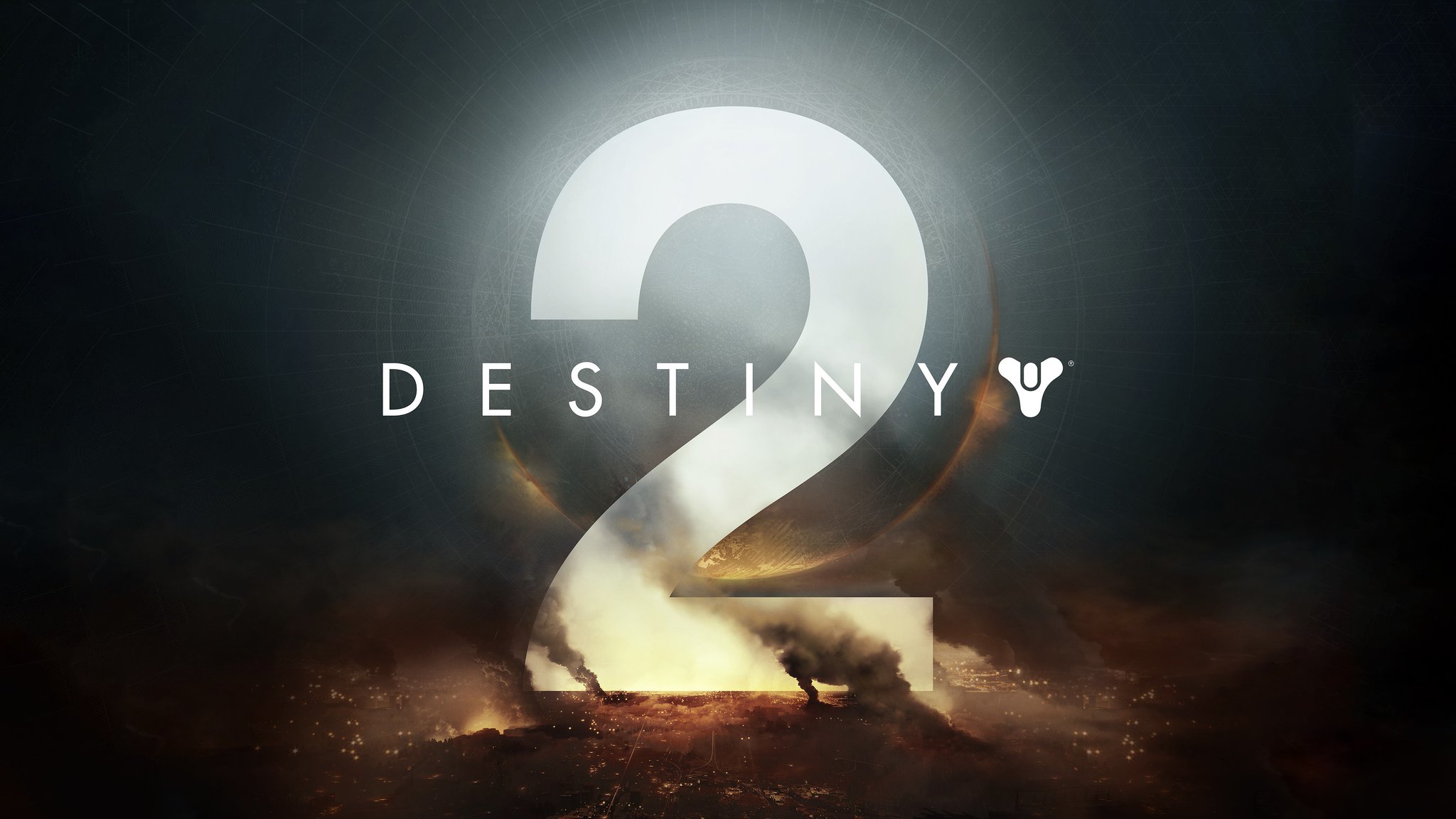 A Great Deal Arises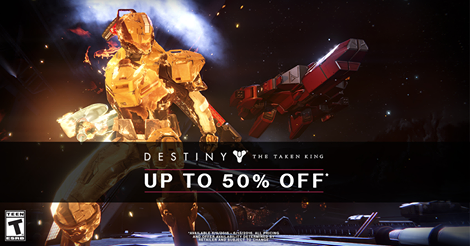 If you've been holding off on buying The Taken King, it's never been as good a time to jump in as right now;
Activision is offering the Legendary Edition for 50% off
, for the next few days. You get a digital version of the original game, plus all expansions (including The Taken King, of course) and a character boost that will start you out at level 25, for $30. Not too shabby! Thanks, Nevin, for the heads-up!
Rent-Controlled by Variks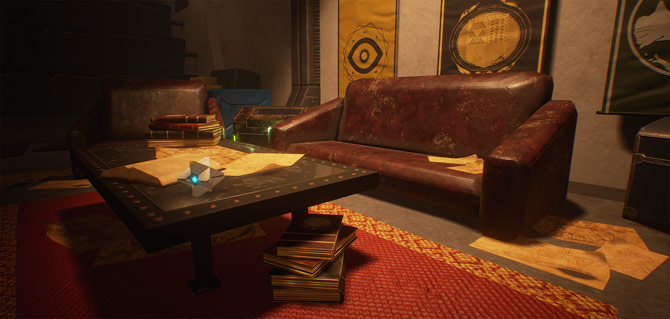 Danny Greenan is an Environment Art student who built a spaceship interior, based on the Destiny universe. Looks pretty darned comfortable to me!
Swing by ArtStation
to see the full variety of pics. Thanks,
Speedracer513
.
The Sounds of Destiny
If you missed the live Twitch stream discussing Destiny's sound design this morning, never fear, Bungie will have an archive up soon. Right now, though, you can watch their newest ViDoc - it's called 'The Sounds of Destiny', and it focuses on how the team built the soundscape that envelops you when you play the game. A fantastic watch!
The Smallest Guardian
ObsidianKitteh stopped in with a pretty cool announcement - he's gonna be a dad! And because both he and his wife are Destiny fanatics... well, the announcement is Destiny-themed, right down to the game box. Check out the images, and wish him luck! (My guess is, by June, his gaming time is gonna drop a little.)
Official House of Wolves Preview
Bungie has posted the official preview for House of Wolves which you can see below. Shows new weapons, new modes, and discusses a little bit about the story. Go watch and get excited!
1.1.2 - here tomorrow!
From Bungie's Twitter feed:
(Thanks, CyberKN!)
The Art of Destiny - and Some Goodies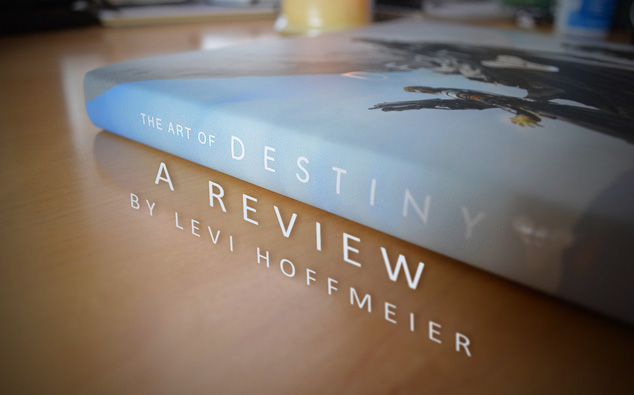 Our very own Levi wrote up a book report on The Art of Destiny, a hardcover collection of concept art and background information on Destiny. You can read it, in four parts, on our forum:
Part 1
|
Part 2
|
Part 3
|
Part 4
. Levi rocks. (I'd give him an A for this report.) If you like what you read, we have a special treat for you:
Insight Editions
, the publisher of the book, has provided us with several copies each of their
Destiny Poster Collection
and their hardcover
Destiny Journal
. (They did this independently of Levi's review - but the timing was spooky.) There's a press release covering all 3 products -
you can read about them here
. If you want to get in on this, just
drop your name in the hat
! (Insight is asking if they can contact people interested in their products - we told them we'd check with you, first. Your chances of winning are unchanged by your choice.) The contest is open until next Monday - good luck!
How To Make a Guardian With No Weapons
Petetheduck has started a "Destiny Quacks" video series. First up is a guide to making a character that will permanently have no weapons. Y'know, if you thought the Iron Banner was too easy.
Destiny, on sale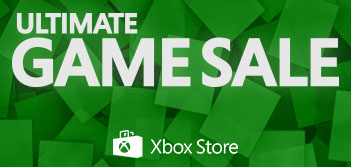 Still need a copy of Destiny? (Or maybe need another one for a second console?) The Xbox Store is currently having a sale - Destiny is available for $40.19 for
the Xbox One
or
360
, or bundled with the first two expansions as
the Destiny Digital Guardian Edition
, for $67.49. Not a bad deal!
Dads Versus Crota
The Bungie Bounty is on a mystical, satanic creature this week - Crota himself. The Dads of Destiny, alongside three Bungie representatives including Urk, will take a step into the darkness and see if they can emerge victorious at 8:30 PM Pacific. You can watch via Bungie's Live Stream. (Thanks Pete)
Guardian Radio Episode 97
It's been a little while since we mentioned the Guardians of Destiny (it was all the way back in November, actually), but we're doing it again - and not just because they had me on as a guest. Episode 97 was recorded last night, and topics of discussion included Destiny's place in the Bungie universe, Xur's randomness, and the underappreciated glory of Destiny's Grimoire. Go listen! (Thanks to Craig for the invite!)

Destiny Raider - Dedicated to Improving Your Raids
Community member CruelLEGACY has been working on a website (currently in beta) dedicated to thoroughly covering every nuance of Destiny's Raids. He just let the forum know that he has finished up a multi-part walkthrough of the Vault of Glass with text and videos (images and maps are inbound later).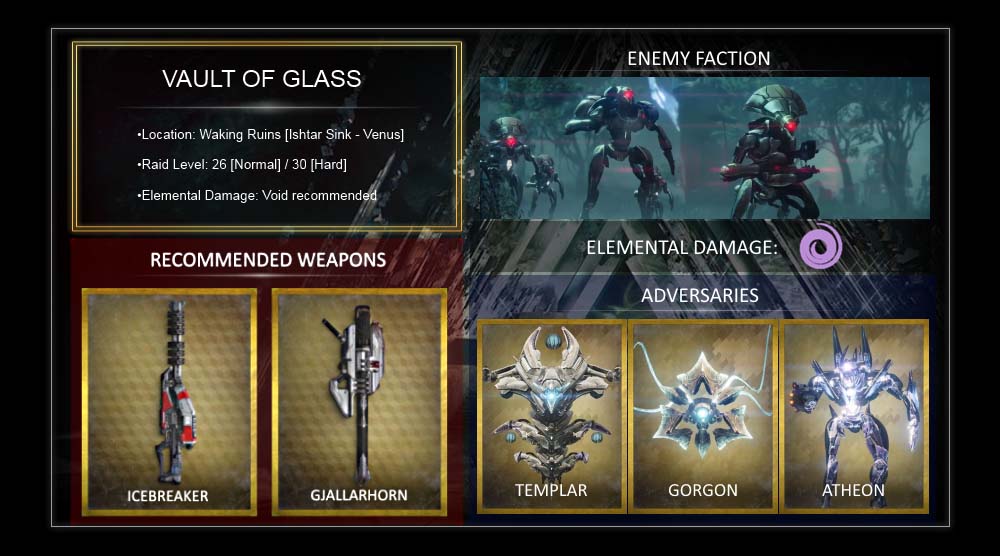 As well as feedback, he's looking for contributions. Little reference guides to specific tools found in the Raids, tips and tricks, or anything that could be of help to a newbie or experienced Raider. This site is meant to be cumulative in its ambition, so visit the submission page to help out if you have the wisdom!
Art of Destiny Un-Delayed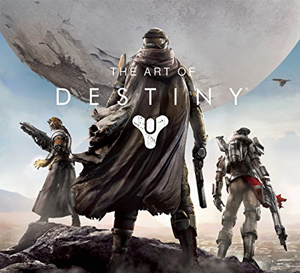 Okay, so we have mentioned the upcoming Art of Destiny hardcover and when it's coming out a couple of times, and last time it was regarding its delay until February... Well, Amazon now shows the book coming out tomorrow. There's also a couple of sample pages on the product page now, so it feels somewhat legitimate.
We'll continue to keep you informed of this exciting, high-speed-chase of a news story!