Search results for tag '
comic

'

Showing results 1 - 25 of 35 matches
The Week of Warmind, Part 1 (Comic)
It's been a pretty busy day for Bungie, but you need to follow their Twitter feed for full details, it seems! Let's go through stuff, one at a time. First up today: their Comics portal has been updated with a new title; Warmind, Episode 1 is online. Check out the story of Ana Bray, and her activities on Mars during the initial Solar System invasion of the Red Legion. Watch out for cliffhangers!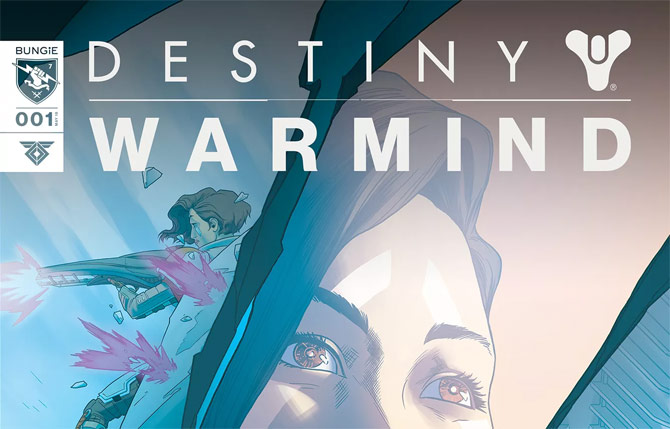 Destiny: Fall of Osiris 2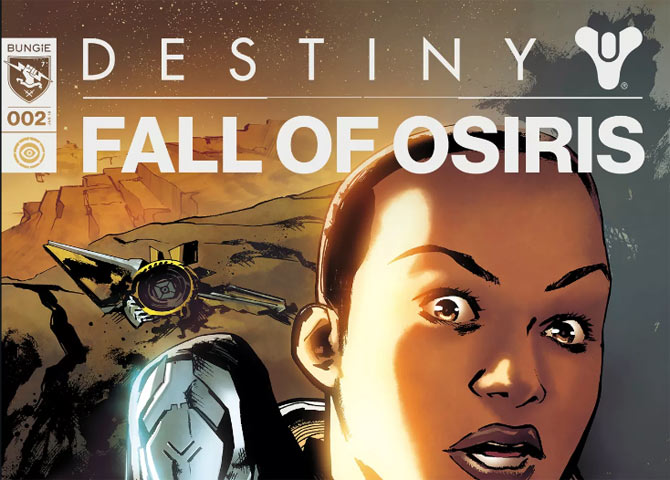 Bungie has published
the second issue of its tale of Osiris' banishment
on their Comic site - swing by and read it! I got a taste of a different sort of Speaker in this one. (If you missed the first one, last month, we talked about it
here
. It's also accessible from the Comic Reader the first link goes to.)
Destiny: Fall of Osiris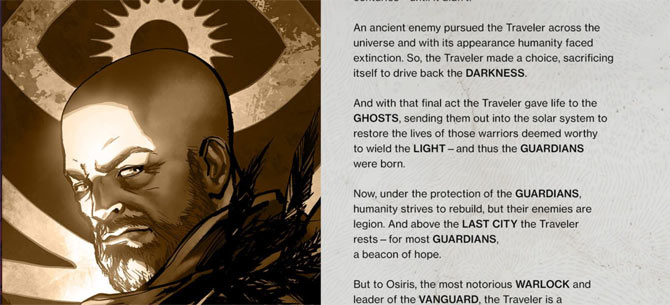 Bungie has released Fall of Osiris, their first webcomic from the world of Destiny. Swing by
comics.bungie.net
to read it! It's pretty great to get some visual backstory on the characters that have informed the world we've been playing in for years...
Betty Bets On an Engram
Destiny is showing up in the weirdest of places these days, as Luke Timmins of Bungie pointed out on Twitter.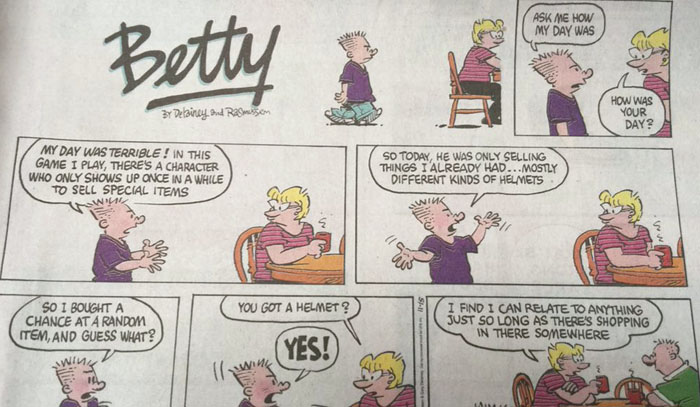 A Marathon of Staring At the Sun
CruelLEGACY continues his series of funny takes on Destiny life but this time he's giving us five cartoons for the price of one!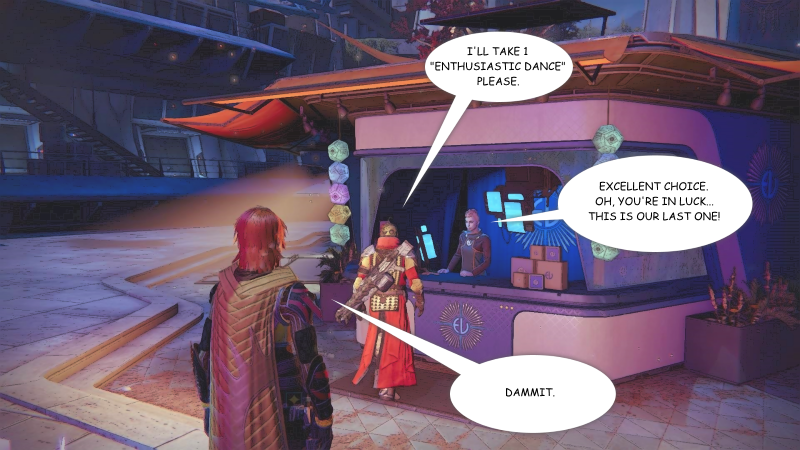 Go read his forum post to see the rest of them!
Staring at the Sun - Bragging Rights
CruelLegacy continues his comedy comics!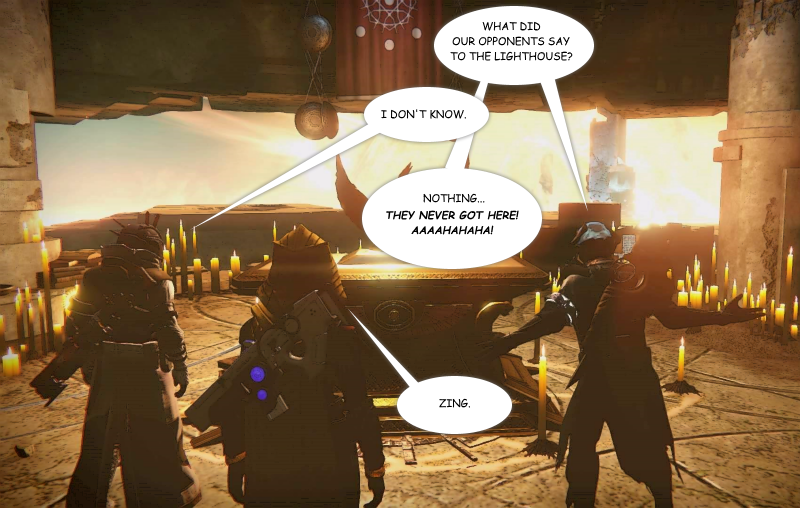 Vault of Farce: Festival of the Lost Edition
Stuntmutt asks, "What could be more appropriate than the sound of groaning?"
Penny Arcade - Showtime
Penny Arcade has had a number of their comic strips reference Destiny in the past, but this new one almost made me shed a tear of admiration for all the Fallen I've slaughtered! Thanks to SigbiasSilva for pointing it out in our forum.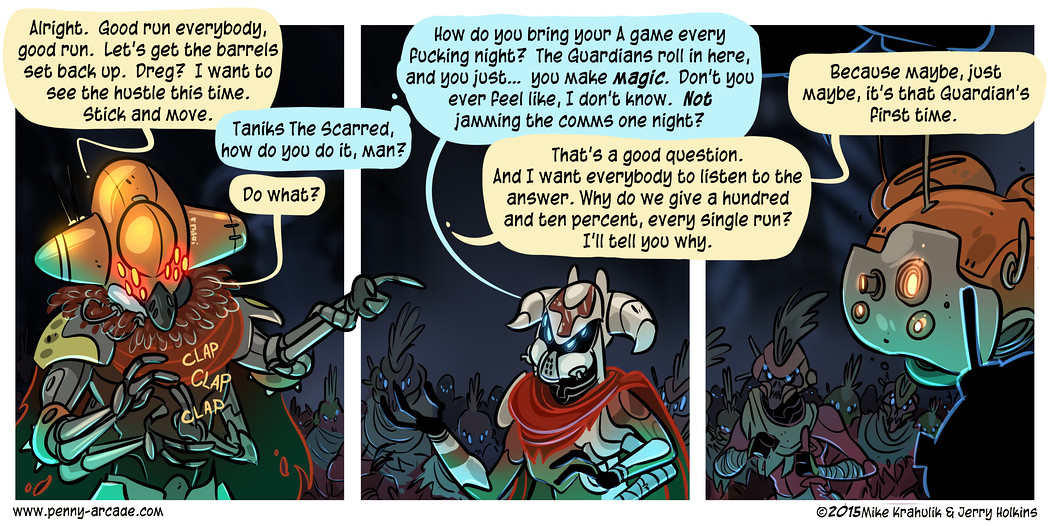 Staring At the Sun - Fanboys
Apparently there's a new Star Wars movie or something coming out, and CruelLEGACY had some fun combining a squadron of Destiny jumpships and the nostalgia of a classic. Biggs would have been proud!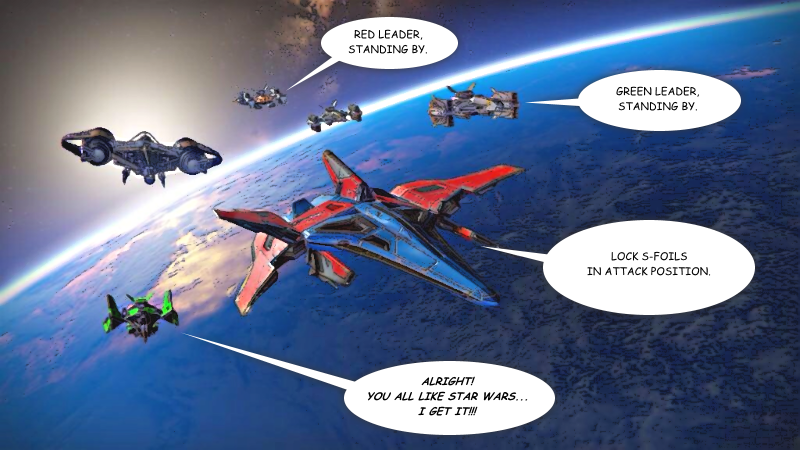 Staring at the Sun - Monday Update
CruelLEGACEY continues to post Staring at the Sun comics on our forum (and has even adopted Beorn's suggested title!) - two new ones went up this morning. Both made me chuckle.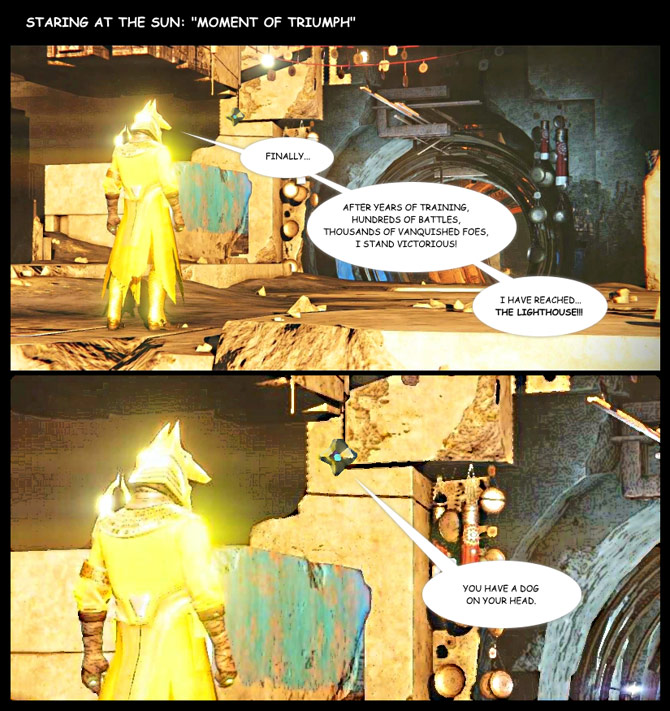 and
Be Brave: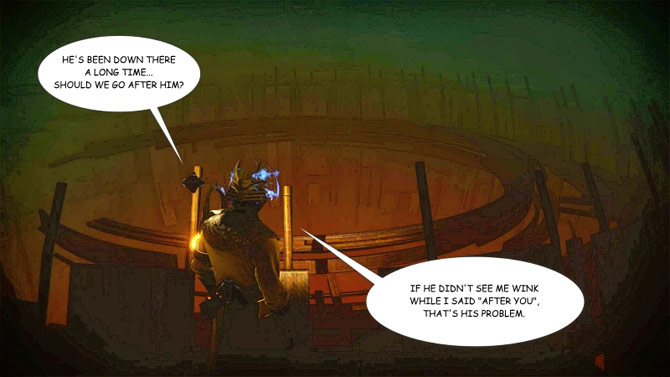 Good stuff!
Cross My Palms With Silver
It seems like Stuntmutt is looking forward to Tess's return next week:

SATS: The Speaker
He's on a roll! CruelLEGACEY stopped by with another entry for his unnamed comic that I've decided to call Staring at the Sun. Behold: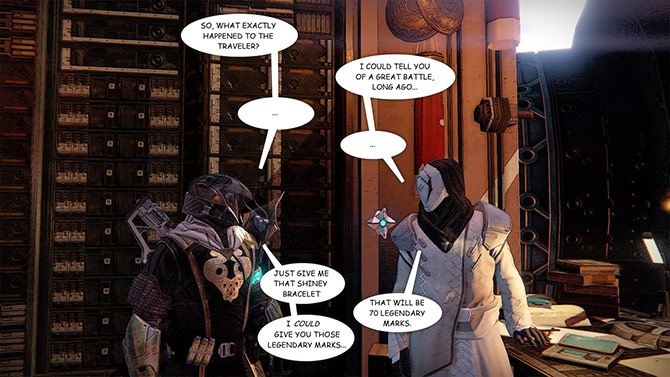 Priorities
CruelLEGACEY posted a new Lighthouse comic in the forum: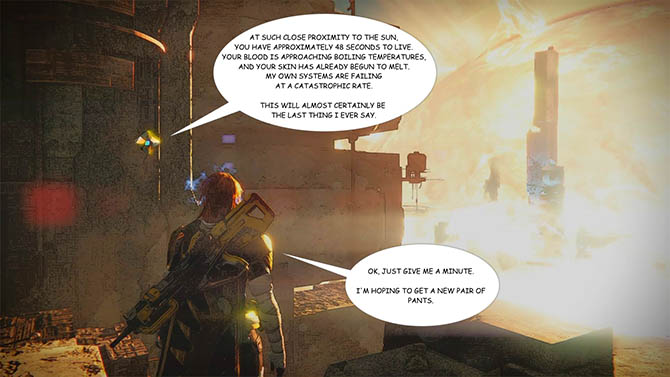 Staring at the Sun.
CruelLEGACEY has started putting together some amusing Lighthouse-themed comics. He hasn't given it a name yet, but I thought the title of the first worked pretty well, "Staring at the Sun."
Here are the first four: Staring at the Sun., Knock Knock, Relaxation, and LFG. Go check 'em out!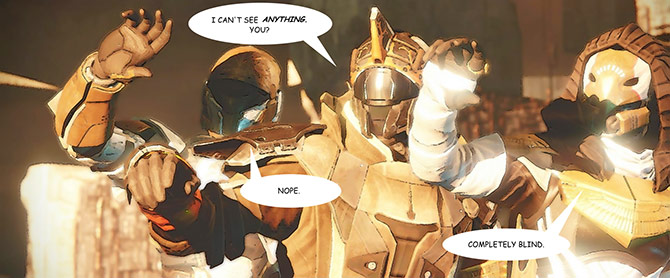 Catching Up With The Community
There's so many great sites and resources for fan creations that we don't get around to highlighting them as much as we did in Bungie.Org's past, but its time to talk of a few closer to home.
- Hedgem0ny of Samurai Fronk fame released the first issue of an impressive new Destiny comic entitled "Novum". A Titan and his Ghost walk into the Darkness of the Moon...
-INSANEdrive wrote an all-encompassing, short novella regarding his thoughts of the first year of Destiny on our forum.
-Leviathan drew a Pretra
If you're reading and finding yourself with some of your own fanart, whether it be visual, musical, and beyond, feel free drop us a line or post in the forum. We'd love to see more!
A Dance With Dragon's Breath
Stuntmutt's crossing the streams today. Happy Friday!

Exotic Watermelon Exo - Pages 3 and 4
We mentioned this beautifully-rendered digital comic a while back. Here's an update of the pages Jake has published since. Click the image to go to the full page. Great stuff!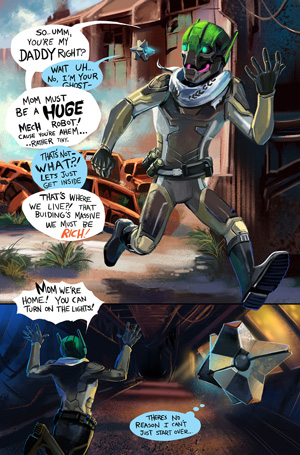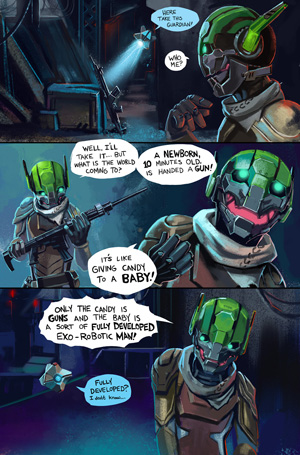 Exotic Watermelon Exo
Yes, it is just as amazing as that title suggests. Discovered through Hedge's Twitter curation, Exotic Watermelon Exo is both beautiful and hilarious, not to mention an excellent piece of fanart by artist Jake Myler (@Lazsummerstone). I hope there's many more!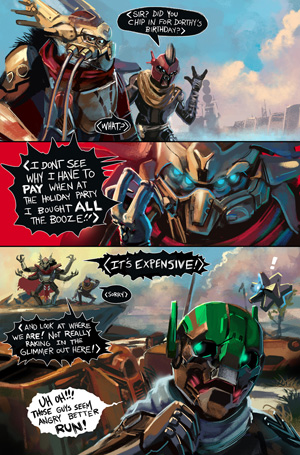 Drink To Win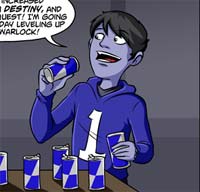 Last week, Ctrl+Alt+Del
took at look
at the Red Bull/Destiny situation... and I laughed. Sometimes, it's something you just didn't think of! Thanks,
Xenos
.
Ramifications
Stuntmutt drops by with another wild and wooly Vault of Farce:
Like a Ninja
Stuntmutt dazzles with another Vault of Farce!

Putting the *sigh* in Osiris
Who's looking forward to the Trials of Osiris? Stuntmutt is!

Friday Filth
Yeah, Stuntmutt HAD to go there..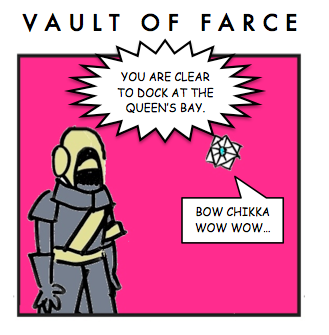 A Pack O' Laughs
Stuntmutt is looking forward to the House of Wolves:

Dungeons of the Mind
Stuntmutt turns an eye to the Cryptarch today - I'm getting flashbacks.