Search results for tag '
house

'

Showing results 1 - 15 of 15 matches
The Lighthouse and The Last Array: Same Composition!
Okay, we're way behind on news. I know, we're the worst... But hey, check this cool thing out!
Trials of Osiris - Flawless Victory
CruelLEGACY sent us a compilation vid he made. I'll just let him introduce it: "Week 5 features the Thieves' Den map. Being a relatively new map, a lot of players are still getting a feel for its specific ins and outs. Players looking to jump in to Trials this weekend might find this video helpful for learning their way around the map." Maybe someday I'll see that Lighthouse...
House of Wolves Launches Today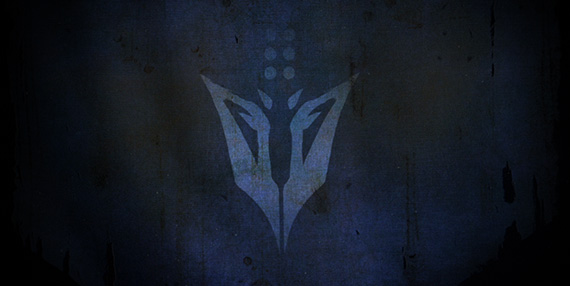 Destiny's second expansion, House of Wolves, launches today at 10 AM Pacific/1 PM Eastern. Players will gain access to new weapons and armor, a new social space in The Reef, new missions, a new Strike, the Trials of Osiris Crucible playlist (on weekends), and The Prison of Elders end-game arena combat. See you in The Reef!
Destiny Update 1.2.0
After a slight delay, Bungie has released Destiny Update 1.2.0 this morning. Here are the patch notes from Bungie.net (which also include preview notes for next week's hot fix to activate House of Wolves):
1.2.0 : The one to pre-load House of Wolves
Weapons
Fixed an issue in which Vex Mythoclast was not respawning with primary ammunition




Fixed an issue with the Hive Disruptor perk, which now appears in the Black Hammer perk set again




Fixed an issue in which the Phantom Gift and White Nail perks would become interrupted when non-precision damage occurred from other perks




Bonus damage from other perks (e.g., Explosive Rounds, Hive Disruptor) no longer interrupts the count

Three precision hits within the time window will trigger the intended refund bonus

Fixed an issue in which the Hive Disruptor perk did not work correctly with sustained damage events (auto rifles, pulse, etc.)




Oracle Disruptor perk now triggers more often

Hive Disruptor perk now triggers more often, but does less damage per event
PVP
Salvage: Moved the first Relic to more consistently appear in a centralized position on the map




Fixed an issue that caused players to wait an excessively long time to respawn
Tower
Faction reward packages will no longer produce Shards




The Speaker will now exchange Ascendant and Radiant Materials for Glimmer and Motes of Light




Xûr will now exchange Strange Coins for Motes of Light




Commendations are no longer required to purchase gear




Commendations can now be converted to receive +250 gains in Vanguard, Crucible, or Faction reputation




Note: Etheric Light will not be made available for ascending gear until the release of House of Wolves
User Interface
Vendor Interaction Panel has been updated to support Quest chains




Vendor Interaction Panel now has better animations and fewer popping issues




Number of buffs that can be displayed on the Character screen has been increased




Inventory item stacks that have reached their highest possible count will now display gold numbers along with an alert in the tooltip that maximum quantities have been acquired
Audio
Companion
Fixed an issue in which the Mercury Grimoire card was not being awarded




Retroactively awarded the Mercury Grimoire card to players who have found the "Mercury Memory Fragment" Dead Ghost




Vendor items, damage types, and perks will now be visible on Bungie.net and the Mobile App



Technical
Addressed a crash on Xbox One that was induced when too many explosions/projectiles were generated




Fixed an issue that affected the network quality user interface




Indicators will no longer display persistently bad ("red") quality after a user's connection recovers from a temporary quality issue

The quality indicators should now always correctly reflect a user's live connection quality
*Addendum
We have discovered that Legendary Engrams will drop in 1.2.0 that the Cryptarchs will not recognize



Hold on to all newly-acquired purple Engrams until May 19th to benefit from their upgraded decryption skillset

---
Destiny Hot Fix - 05/19/2015
1.2.0.1 : The one with House of Wolves
Along with the release of Destiny Expansion II, we are delivering some new investment and upgrade paths. The following are changes that will have an impact on every player of Destiny.
PVP
General
Added a new Daily Reward package upon completion of the first game in the Daily Featured Crucible playlist




Added Passage Coins to reward streams across all playlists, including the Daily reward package




Increased Crucible Mark drop rate across all playlists by 100%




Increased Crucible Reputation earnings across all playlists by 100%




Increased Rare Weapons and Gear drop chance for completing games across all playlists by 100%




Added Legendary Weapon drops into the Crucible reward stream across all playlists




Added Dark Below maps into all Crucible playlists for all players to enjoy (Pantheon, The Cauldron, Skyshock)



Iron Banner
Adjusted the power curve for Iron Banner playlists to accommodate the competitive range of power in House of Wolves




Across one Iron Banner event, players competing in Iron Banner with more than one character on the same account will receive a reputation boost for the lower-ranked characters to reach parity with the higher-ranked character more quickly




Six additional Iron Banner bounties have been added to the bounty rotation




Removed an errant buff from Iron Banner Control playlist




Etheric Light will now be available at Ranks 3 and 5 in Iron Banner



Tower
The Cryptarch will no longer convert newly acquired Legendary Engrams to Shards (possibilities include gear/weapons or exotics)




Daily Heroics will produce Motes of Light in lieu of Shards




Ascending: Year 1 Legendary and Exotic gear can be upgraded to the highest power levels available in Year 1



User Interface
Technical
1.2.0 Patch Delayed
(Thanks, CougRon)

New Prison Of Elders Page
Bungie.Net now has a page dedicated to the Prison of Elders reveal. There's some new screenshots, some intel, and some glimpses of the gear to be awarded!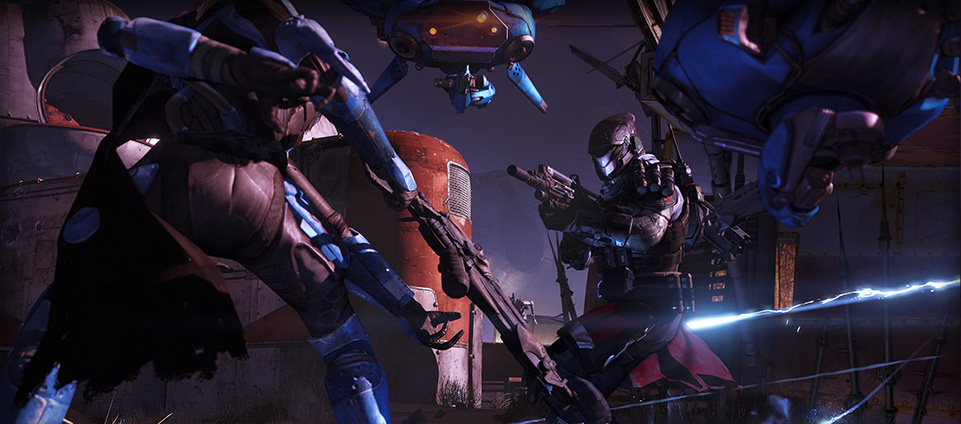 Prison of Elders Stream and Forum Commentary
If you're reading this in the present, you can watch the stream as it's happening below. UPDATE: Archived version now available below:
If you'd rather just read about the new info and some commentary on the reveal, you can follow the thread in our forum. Look for Xenos comments for a lot of the juicy details!
Prison of Elders Teaser
Bungie released a short teaser for the Prison of Elders. For the full reveal be sure to tune into the Bungie Twitch channel tomorrow at 11am PST. I wonder what awaits us! Thanks, CyberKN. (Local, too.)
Crucible Changes, Free TDB Maps Coming Soon?
IGN has a couple new stories up today. The first discusses some interesting changes coming to the Crucible, including increased Crucible Mark drops and experience gains. The second reports that The Dark Below Crucible maps will be free for all players when House of Wolves arrives in a few weeks. (Thanks, bluerunner!)
Reef Social Space Reveal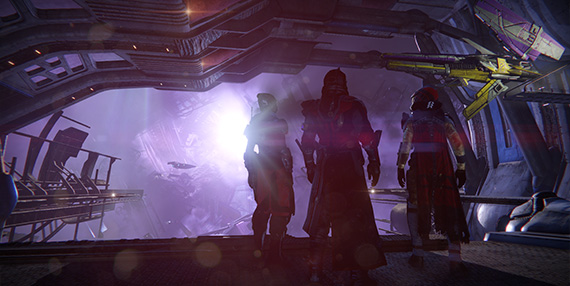 Did you miss the Twitch Stream from Bungie earlier today? Luckily our forum has you covered. Go check out the second by second summary of the stream, and then go give us your thoughts on what was shown! And make sure you check the expansion's official site to see some newly revealed images (Thanks CyberKN!). (You can also watch the recorded stream on Twitch!)
Live from the Reef
The folks from Bungie are currently touring The Reef, the all new social space included in the House of Wolves expansion. Go watch!
House of Wolves Reveal Teaser
Bungie has posted a teaser for the House of Wolves Twitch stream happening tomorrow at 11 am PDT:
There's also a shot-by-shot breakdown over at Planet Destiny with some interesting analysis. We're going to find out a lot more tomorrow, though! (Thanks, CyberKN) [Edit: Beorn doesn't like to check, but we have a local copy, as well, if you need it.]
Schedule for HoW Info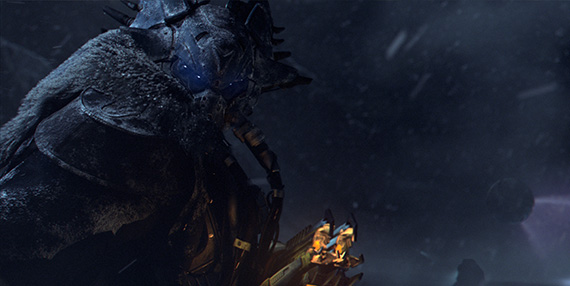 Bungie.net
has posted an article
explaining how information about the next Destiny Expansion will be disseminated - expect dumps on Wednesday, starting next week. Go read the article for all the details! (Overview: there will be no raid with HoW, your existing gear will have upgrade paths, and both 'Trials of Osiris' and 'Prison of Elders' will be explained.) Have something to add to the discussion?
Jump in to our forum!
House of Wolves - live May 19!
Activision and Bungie announced today that House of Wolves, the second Destiny expansion, will be available on May 19 - full details on what's included are not yet available (the teaser page on destinythegame.com shows unlocks coming over the next few weeks), but you can watch the official trailer here. (petetheduck pointed it out on our forum - he found it on Polygon.) It's local, as well.
Today: Developer Open House at Bungie.net
Bungie.net will be hosting a Developer Open House Q/A session today (2/27) from 2:00–4:00pm Pacific. If you have questions for the Crucible and Sandbox Designers, drop by the Bungie.net #Feedback forum and create a new topic with your question!