Search results for tag '
live

'

Showing results 1 - 18 of 18 matches
Witch Queen Reveal and More!
Bungie hosted their live stream Witch Queen reveal event and, boy howdy, did they reveal some things. You can watch the full reveal HERE. You can also find everything on the Bungie website.

Polygon has a pretty good itemized list of articles that cover each announcement regarding the game, features, release schedules, etc.
Conversation in our forum will continue to grow as more information is learned.

Destiny 2- Official Live Action Trailer
No Zeppelin, but the new live-action trailer for Destiny 2 should still make you want to get the lead out. A couple of folks let us know, but electricpirate's gotten the discussion started on the forum. And remember, you're doing it for the puppies.

Evil's Most Wanted: Live-Action Led Zeppelin!
In a similar style to the Become Legend trailer back at launch, we're gotten another live-action, rocking, ad! Take a gander below or go discuss with CougRon in our forums.
Destiny Year Two Twitch Reveal: Watch Here
Bungie is going to be revealing details about Destiny Year Two on Twitch today at 2PM EDT/11AM EDT. Watch on
Reef Social Space Reveal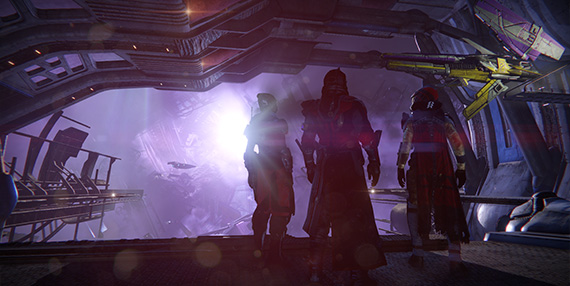 Did you miss the Twitch Stream from Bungie earlier today? Luckily our forum has you covered. Go check out the second by second summary of the stream, and then go give us your thoughts on what was shown! And make sure you check the expansion's official site to see some newly revealed images (Thanks CyberKN!). (You can also watch the recorded stream on Twitch!)
Live from the Reef
The folks from Bungie are currently touring The Reef, the all new social space included in the House of Wolves expansion. Go watch!
Valhalla, I Am Coming!
Bungie just posted a new live action trailer! Go watch a fireteam tear across the frontier with their guns and space magic! (GrimBrother IV pointed it out on the forums also)
Video Games Live(stream)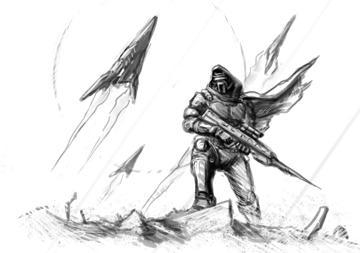 Joystiq reports that this Saturday's Video Games Live concert will be live-streamed by Twitch! According to the schedule, Destiny should be making an appearance around 7:30 PM Pacific. (Thanks, EffortlessFury!)
Ready Up Live's Destiny News
Greenskull put together a Destiny E3 recap video - if you need to catch up on Destiny news then this is worth checking out.
IGN Rewind Theater - Destiny Live Action Trailer
IGN's Destin Legarie and Ryan McCaffrey sit down to dissect the Destiny live-action trailer.
Ready Up Live's Destiny News 5.23.13
Greenskull posted a Destiny news video that covers the recent live action trailer as well as the latest mailsack. He also takes a moment to talk about Destiny on Xbox One. Check it out! (Thanks to Chewbaccawakka for letting us know.)
Doing It Live
The Destiny twitter feed announced that a live action/CG trailer for Destiny will be aired this Thursday - exciting! The tweet includes a mysterious picture with the words "Law of the Jungle", I wonder what it means. Thanks, Chewbaccawakka.


Old Sacks
Ready Up Live's Greenskull posted a recap of the last two mail sacks and shares his thoughts on the May 21st Xbox Reveal.
Destiny at GDC 2013

Bungie's GDC presentation, Brave New World: New Bungie IP, will be available for viewing live on Gamespot today at 4:00 p.m. Pacific. Delivered by Christopher Barrett and Joseph Staten, the hour-long presentation will give an insight into the process of designing and building the worlds of Destiny, from concept to production. While the talk is certainly focused toward game developers, many in the community will be interested to peek behind the curtain and catch some new perspectives on Destiny to tease our imaginations and fuel our collective speculation.
The livestream page currently has a countdown, but should automatically update once the session starts. And if you missed it previously, the official bulletin can be found on the GDC session page. Thanks to rliebherr for the Gamespot link reminder in the forum!
RUL's Destiny News - March 15 Mail Sack
Ready Up Live's Greenskull digs into the latest Bungie mail sack - go watch!
RUL's Destiny News - March 8th Mail Sack
Ready Up Live's Greenskull gives the rundown on the latest Bungie mail sack - there are a lot of great Destiny snippets to digest.
RUL's Destiny News - The March of the Mail Sack
Read Up Live's Greenskull covers the community questions featured in Bungie's latest mail sack. Go watch!

Ready Up Live's Destiny News Show
Greenskull let us know that he is starting up a Destiny news show on Ready Up Live's Youtube channel. He released the very first episode today and gives the breakdown on all the recent Destiny news. Go watch!