Search results for tag '
iron

'

Showing results 1 - 18 of 18 matches
Rise of Iron Soundtrack, Available Now
Been digging the new tunes when you boot up Destiny? Want to feel like an Iron Lord whenever you put on your headphones? Then prepare yourself for great news: the Rise of Iron soundtrack is
now available for purchase
! But that's not all; order now, and you'll get an exclusive in-game emblem to let others know that your love of Destiny music is serious. Want to try before you buy? Bungie has uploaded the entire soundtrack to
Youtube
for your listening pleasure.
The Bungie Store has also received a refreshed stock of loot that was available at PAX, so get while the getting's good!

Destiny: The Collection Exclusives Trailer
Wondering what new content is coming to a PS4 near you with the launch of Rise of Iron? Sony has released a trailer for the Playstation exclusives included in the upcoming expansion (as well as the Collection bundle). The Mercury aesthetics never get old, and Icarus sure looks... Sublime. Only three days left, Guardians!
OWL Sector ARG
Bungie appears to have launched an ARG this afternoon to get the community buzzing in preparation for Rise of Iron.
There is too much information to post all of it here, but if you want to jump down the rabbit hole with the rest of us, you'll probably want to start with owlsector.bungie.net (the official website), one of the two threads that have popped up [so far] right here on DBO, or if you're really desperate you could head over to the Destiny Subreddit Megathread.
Have fun contracting infections!!
Rise Of Iron Launch Trailer
Saladin has an axe to grind when an old foe returns. Take a break from Private Matches to check out the launch trailer for Rise of Iron, which drops in less than a week!
Trials Is Back In Black (Shield)
After a short, bug-induced absence, Trials of Osiris returns to Destiny! Bungie will be monitoring the matchmaking performance, and assuming that all goes well, Iron Banner may also make a return on Tuesday (June 28th, 10AM PST), so keep your fingers crossed!
For a full rundown of the Trials and Iron Banner info, check out the article over on Bnet.
Geoff Keighley Interviews Chris Barrett
Despite Rise of Iron not being on the show floor at E3 this year, some Bungie folks still made the pilgrimage to Los Angeles for the week and are doing interviews. Geoff Keighley sat down with Chris Barrett and chatted a bit about the expansion:
This Week's Iron Banner Gear Previewed
Bungie posted previews of the gear Lord Saladin will be selling this week on their Twitter and FaceBook accounts yesterday.
The weapons on offer are the Finnala's Peril hand cannon and the Bretomart's Stand heavy machine gun.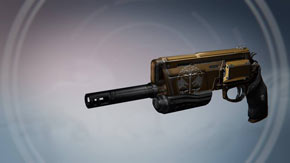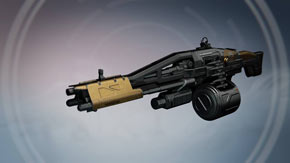 The armor offerings will be the arms and chest pieces for each class.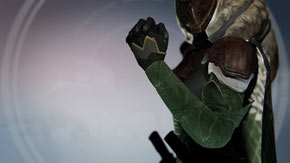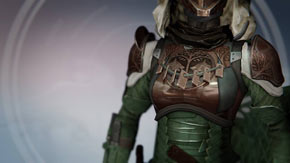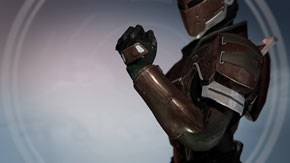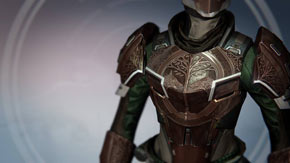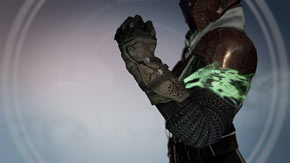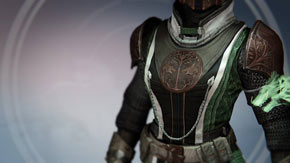 Bungie said we can expect Iron Banner to open up in connection with Update 2.0.2, which should go live at approximately 10:00 am PST - so keep an eye out for those patch notes this morning as well!
BWU - November 12, 2015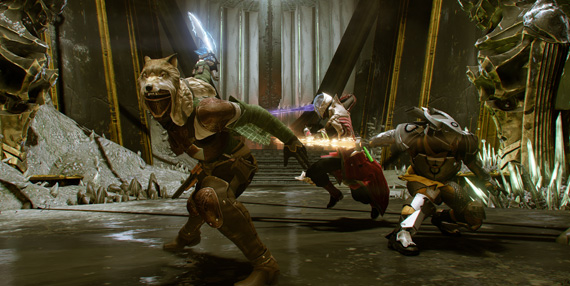 Deej is still on vacation, but Cozmo stepped up to make sure we don't go a Thursday without a
Bungie Weekly Update
! The rundown is that we will be getting the "November" update sometime next week, which will bring weapon parts for sale from Banshee, additional items such as legendary swords for sale from Shaxx, some changes to crucible bounties, and finally a true fix to the Nightstalker's Quiver glitch. Also, prepare yourselves for Iron Banner which will be returning on Tuesday, this time with 100% less Control zones!
As always, a local copy is available to read here as well.
The Iron Banner's Power
Deej bought in Senior Designer Derek Carroll to illuminate the changes to power differences in the new Iron Banner (which launches today). There's a fancy new chart showing the changes between all the Iron Banner updates since launch - the newest version sounding even more rigorous than ever!
The Puzzle Pieces That Make Up Destiny
Our ol' pal Hedge pointed out that Sid Moye, environment artist at Bungie, has updated his ArtStation portfolio with his work on Cabal environments, with a great shot of the foundational materials used to build much of the Cabal interiors as seen below: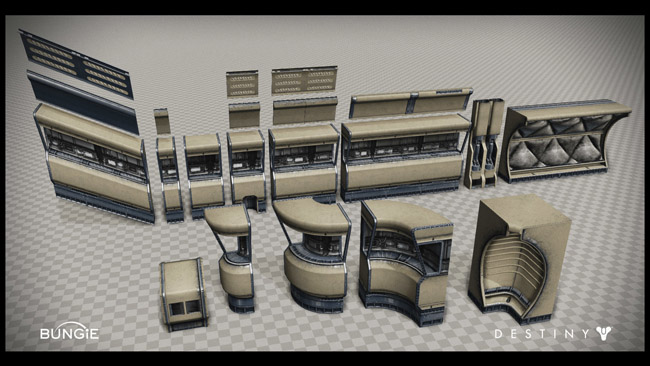 There's also some intriguing views of his work on the Moon!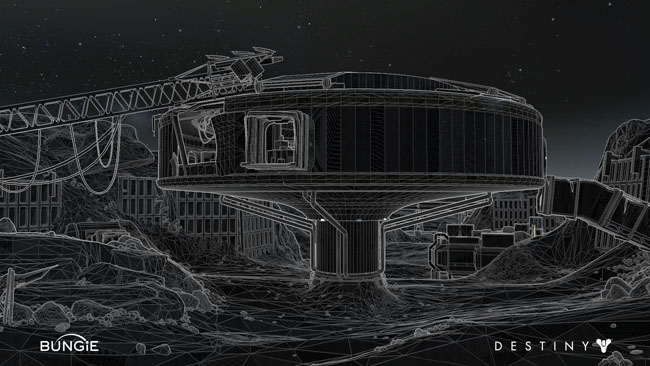 Iron Banner Resources, for the Worthy (and not-so-worthy)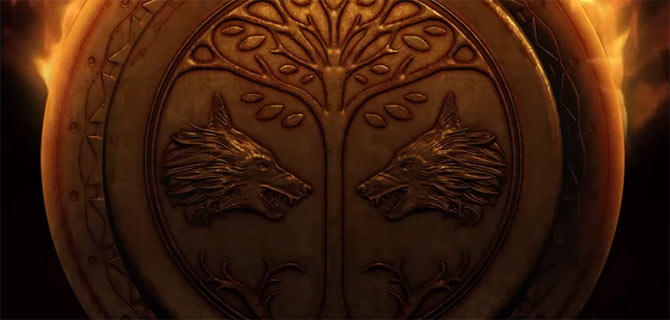 The latest
Iron Banner
went live yesterday... and the competition is fierce! (The prizes, whether bought directly from Lord Saladin through dint of long play or gained through random drops in-game, are substantial.) Are you ready? Here are some resources if you're looking to maximize your advancement, courtesy of the hardcore stats folks at
reddit
:
The weapons you use matter in Iron Banner far more than they do in standard Crucible - weapons damage is NOT normalized, so picking your best gear (and making sure it's fully upgraded) is critical. A spreadsheet put together by exxtrooper can help you sort out the weapons that play to your personal strengths. (Thanks, Kahzgul.)
A more in-depth look at Exotics, put together by maniacgreek using that spreadsheet as a starting point, can narrow things down even further. Thanks, iconicbanana.
Have limited time, but really want to buy something that's not sold until you're Rank 4 (or 5)? Check out this post from GenericDreadHead - it breaks down exactly how fast you'll earn rep, based on what you're wearing, when you play and how you win. It's an invaluable post if you have a specific goal and limited time to reach it.
Use these tools - and your friends (going into IB with a team is FAR easier than going in alone) - to make the most of this week! (Don't have enough friends to form a real wrecking crew? Ask on our forum - there are folks playing all the time!) And just for fun... mindlessframe created some posters you can use as wallpaper, to get in the mood.
Highlights from an Iron Lord
CruelLEGACEY dropped off a fun highlight reel of action collected from this week's Iron Banner. Makes me wish I had more free time!
He also posted some neat fanart of his Warlock.
Iron Banner Is Live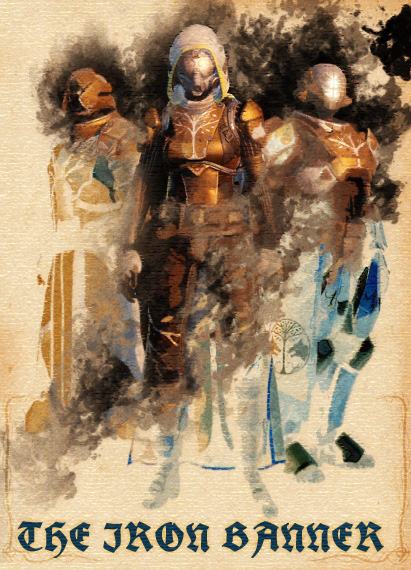 Just a little reminder that the Iron Banner is back on again at the Tower (I had completely forgot it was happening), so if you're in need of some +36 light armor, now's your chance. More details at Bungie.Net here, and a DBO forum thread here.
Iron Banner Unfurled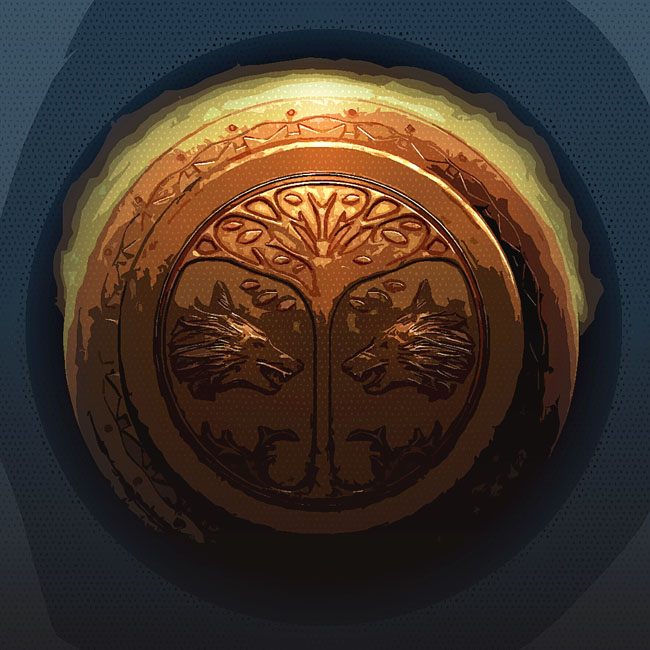 Go see Bungie.Net's post for the details, then jump onto Destiny and start destroying your poor innocent opponents. Or be destroyed by them, like me!. You can earn level 31 gear now.
The Iron Banner Rises Again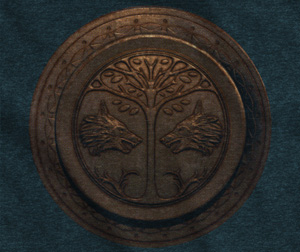 Bungie is back with a revised Iron Banner. You can read the gist at Bungie.Net, which will guide you through what numbers count in Saladin's playdate and what rewards are possible. Beorn pointed out on our forum that the Tempered buff activates immediately when you purchase it - it isn't an item you choose to activate.
Bungie's also streaming their gameplay starting at 11:00 AM Pacific, so go watch that if you can't partake just yet.
Forget Lord Shaax, Bow to Lord Saladin
Iron Banner is here until October 14th!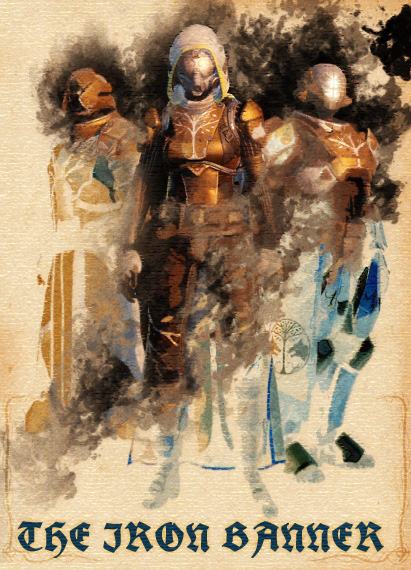 Take your levels and gear for all their worth into the battlefield and win some rewards from the noble Iron Lords (before they go back to Gondor & Winterfell).
The Iron Banner Is Back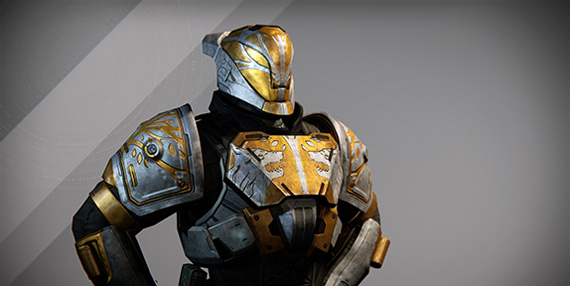 One more quick note: The Iron Banner event is
happening again this week
- there are three sessions today (the first has already begun!) and three tomorrow. Test yourself!
Iron Banner Continues on Sunday
If you didn't get a chance to experience the Iron Banner event which took place this afternoon at 2pm PDT, never fear - there are other options! It'll be running tomorrow (Sunday), at 2pm and 7pm, according to this Tweet - so gear up! (Thanks, petetheduck.)