Search results for tag '
the

'

Showing results 1 - 25 of 43 matches
State of the Game - August 2023

Bungie posted a State of the Game article on their website. There are some big changes coming that will effect Ritual Challenges, Crucible, Gambit, armor and more. Plus some discussion about plans and goals for the upcoming year in Destiny 2.
Go check it out!
TWAB 5-4-23
This Week's TWAB At Bungie is tease-a-rific. I mean look at the main image! It's ripe for speculation. But anyway, topics include the new Guardian Games, a lot of Season of the Deep game updates....like...a lot. There's a new shader that will make you look like Goldar from Mighty Morphin Power Rangers. There's a lot. I'm still scrolling down. GO READ IT!

Stories of the Hunt

Over the past few days, Bungie has been releasing stories leading up to Season of the Hunt. Tales of Osiris and The Crow (so far). cheapLEY has started a thread on the forum with links to each story. Grab a coffee or beverage of choice and enjoy the reading.

Destiny Dev Team Details Variable Weather on Europa

Here's a cool tidbit: Destiny 2 Beyond Light is getting some cool new weather systems to help Europa feel more dangerous and atmospheric. Weather conditions are now scriptable, and can affect things like fog, wind, and snow. They can also increase otherwise dormant environmental noises like buildings groaning under the weight of ice buildup. To read more, head on over to Bungie's
100% Chance of Snow article
.
It'll be interesting to see if this scriptable weather comes to existing locations like the EDZ, or to the newly revived Cosmodrome that we're getting with Beyond Light.
The Nine & Rasputin?

Recently, Pyromancy
posted
a
couple
of interesting observations about Rasputin's bunkers and a possible entanglement with The Nine and the Unknown Space that The Reckoning takes place in. Are we looking at re-skinned geometry or a more intriguing mystery? If you notice any other weird similarities elsewhere in Destiny, let us know!
P.S. Bleep Bloop.
Revisiting an old plea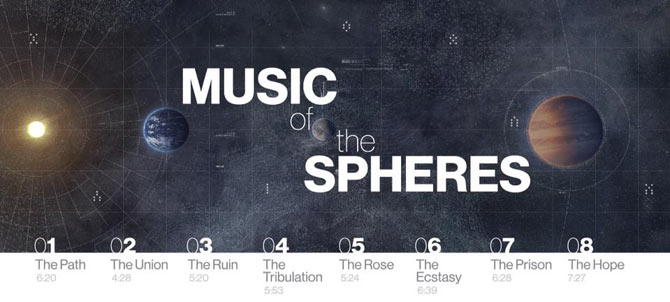 Music of the Spheres is a symphonic suite that we first heard about when Bungie announced Destiny, back in early 2013. (We didn't mention it by name here until June of that year - but Marty O'Donnell and Mike Salvatori talked about it during the initial Destiny press conference in February.) It's one of the things that got lost in the ether when Marty O'Donnell was fired from Bungie in 2014 - while parts of it (maybe all of it) found life in the game, the suite, as a whole, remains unreleased. Yesterday, a fan decided to see if he could help change that - Timothy Nyce started a petition on Change.org to try and convince Bungie to release the music after all. In its first day, it garnered over 1,000 signatures; what number would change minds and put this in the hands of the fans? Sign it and see!

Festival of the Lost - Starting tomorrow!
Bungie is bringing back the Festival of the Lost, with new decorations, new activities, and new goodies to collect. You can find more details on their Festival Landing Page, but the bottom line is this: starting tomorrow, October 25, and running for a couple of weeks, there'll be lots of silly things to see and do! They've even updated the Bungie Store to give you real-world goodies to buy (thanks, unoudid). Enjoy!
Crazy Info Dump - Lazy Summer Edition
So it's summer, and we're busy. Or maybe we're hanging out at the beach. Or just in the back yard, with margaritas. Or whatever. The point is, we're getting less reported than maybe we should. So let's summarize a few of the cool things that have happened over the past week:
Bungie's Luke Smith raided with TheMavShow as part of a charity event for StackUp.org, and agreed to tell fun stories about the development of the Vault of Glass Raid for each $100 donated. There's a Twitch archive of the full 2.5+ hour event, but if you're just in it for the stories, Datto did a nice job of splicing together many (most?) of the stories.
The Playstation Blog detailed the Playstation exclusives coming with Rise of Iron - a new map, a new quest, and a new ship. Go read about all of it! Those of us who play on Xbox One will see this stuff in a year. Thanks to CyberKN for the heads-up.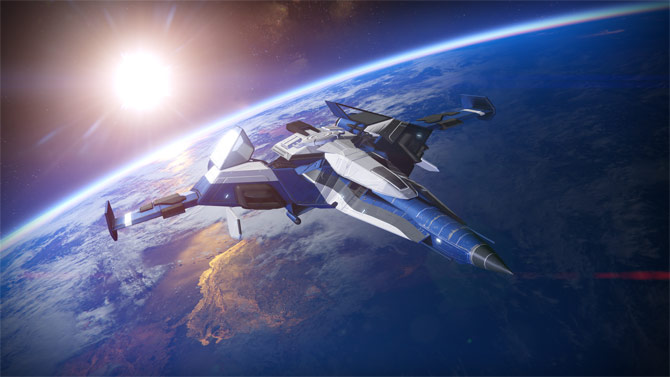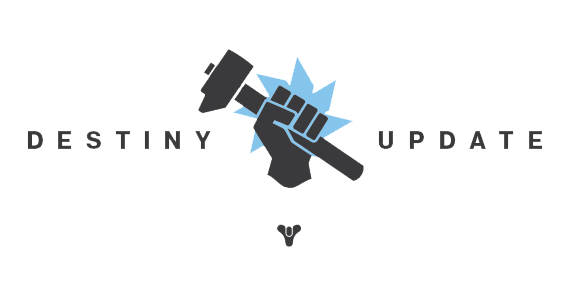 Yesterday, a new update launched, which marked the end simultaneous progress on different generations of the same platform. Your character on the Xbox 360 is no longer linked to your character on the Xbox One, and your character on the PS3 is no longer linked to the PS4. Full details can be found at Bungie.net, or in our Patch Note Archive.
Yesterday, Bungie revealed a boatload of information about Rise of Iron in a Livestream from Gamescom. The big reveal was the existence of Private Matchmaking (more details at Bungie.net, natch), but it's an hour-long stream, and full of all sorts of goodies. You can watch an embedded archive below, or visit our forum for conversation with fans.
At the same time as the Livestream, Bungie released their latest ViDoc - this one is called 'Forged In Fire', and can be viewed on YouTube. (We've added it to our official video archive, as well.) There's quite a bit of discussion about this, too - very spirited! Many fans are unhappy at the reveal of information about the upcoming raid in Rise of Iron - while there are no MAJOR spoilers in the ViDoc, if you're intent on going into the raid completely blind, you should probably skip this one for the time being.
Last, but DEFINITELY not least, longtime fan TDSpiral stopped in with some new fanart - he's tried to visualize The Last Great Ahamkara, and whether or not he's created something that Bungie would agree belongs in their universe, it's fantastic. A tiny teaser has been included below, but visit his Artstation page to see the full image, plus some behind-the-scenes stuff. I love this!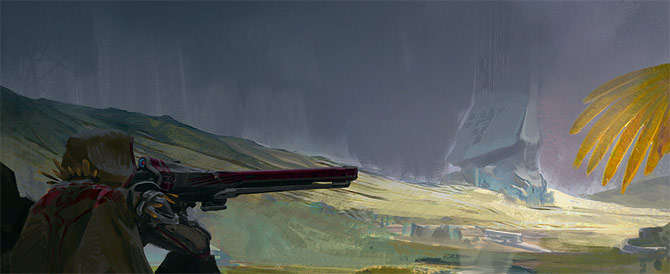 Okay - I feel like I've gotten SOME of the important stuff off our collective plate. I need to wrap this up - there's a margarita with my name on it just a few short steps away.
The Smallest Guardian
ObsidianKitteh stopped in with a pretty cool announcement - he's gonna be a dad! And because both he and his wife are Destiny fanatics... well, the announcement is Destiny-themed, right down to the game box. Check out the images, and wish him luck! (My guess is, by June, his gaming time is gonna drop a little.)
A Marathon of Staring At the Sun
CruelLEGACY continues his series of funny takes on Destiny life but this time he's giving us five cartoons for the price of one!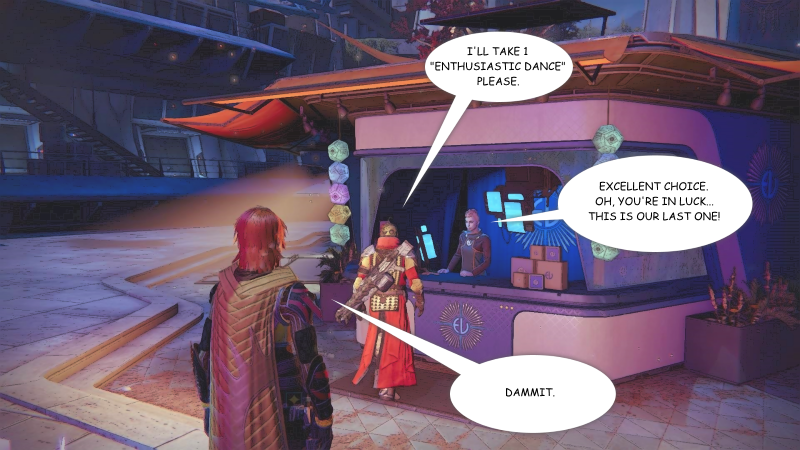 Go read his forum post to see the rest of them!
Staring at the Sun - Bragging Rights
CruelLegacy continues his comedy comics!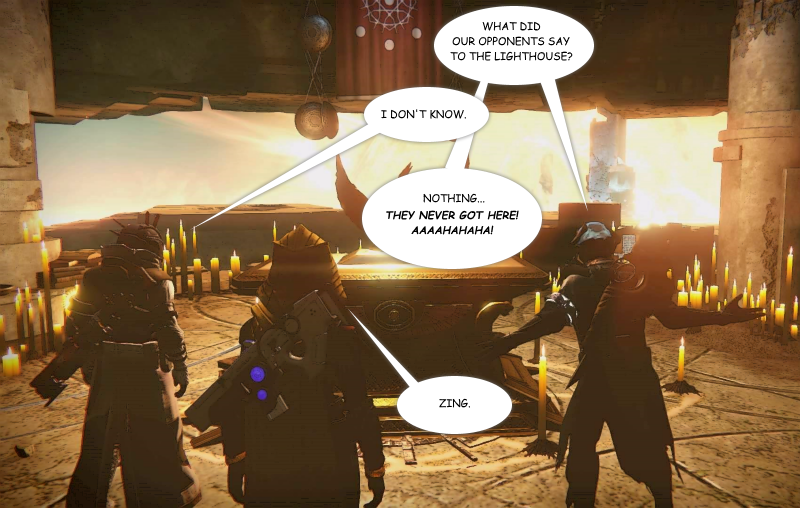 Festival of the Lost!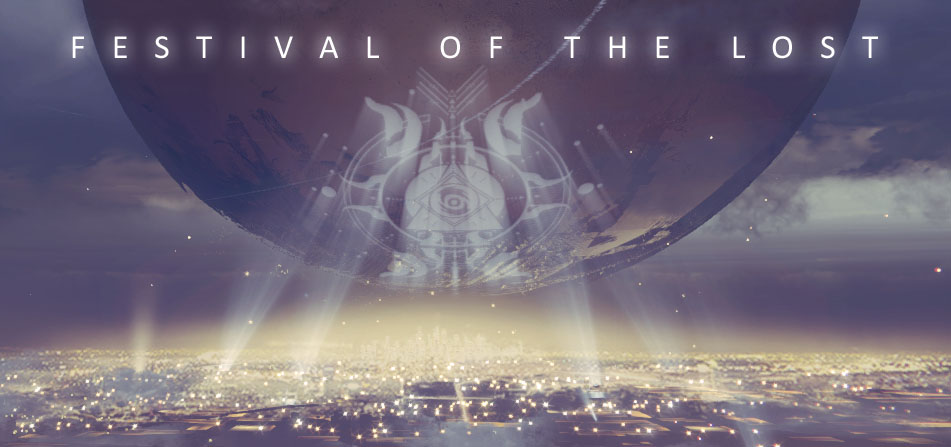 Halloween is in full swing at the Tower! Log in to Destiny, grab a mask, get a candy bag and get questing! While there's a few new cosmetic microtransactions if you're interested, there's still plenty to do and see for free! Check out Beorn's post in the forum for more screenshots and videos and read some tips on the best ways to enjoy this fun little event.
Staring At the Sun - Fanboys
Apparently there's a new Star Wars movie or something coming out, and CruelLEGACY had some fun combining a squadron of Destiny jumpships and the nostalgia of a classic. Biggs would have been proud!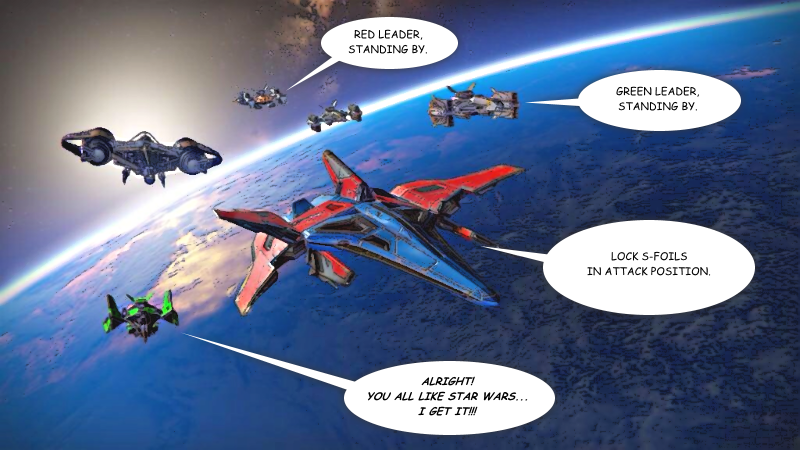 Is the Tower Haunted?
Ragashingo experienced an ectoplasmic event the other day and lived to tell DBO about it! In the Hall of Vanguards he caught sight of a "ghost bird" and was able to record it. It's a little hard to see, but you can probably find it after a couple of viewings. If you ARE having trouble seeing it, Beorn's pointed it out for you!
Staring at the Sun - Monday Update
CruelLEGACEY continues to post Staring at the Sun comics on our forum (and has even adopted Beorn's suggested title!) - two new ones went up this morning. Both made me chuckle.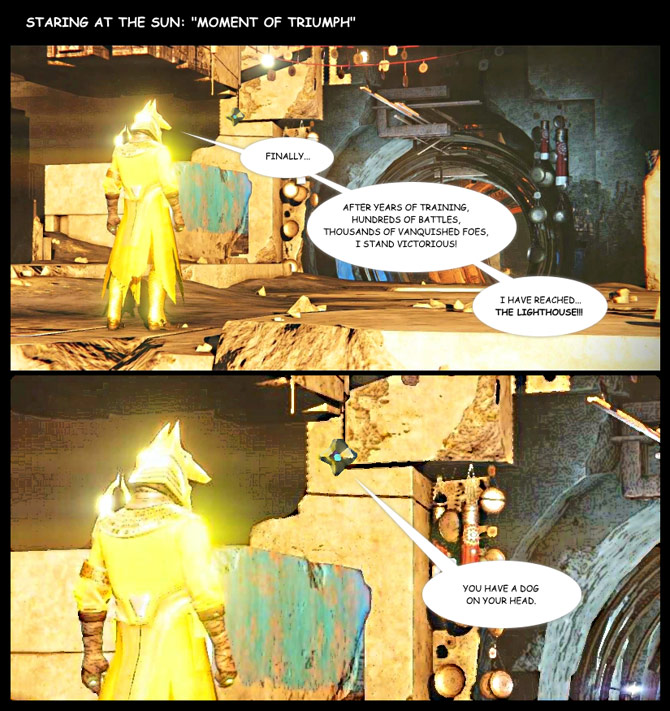 and
Be Brave: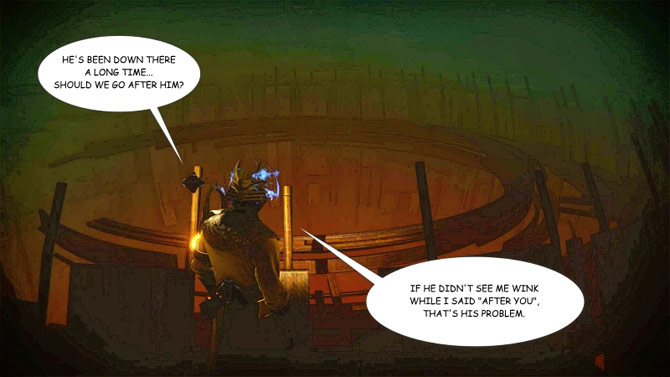 Good stuff!
SATS: The Speaker
He's on a roll! CruelLEGACEY stopped by with another entry for his unnamed comic that I've decided to call Staring at the Sun. Behold: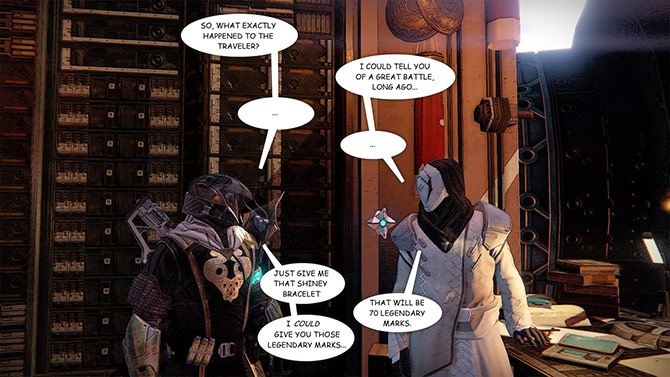 Priorities
CruelLEGACEY posted a new Lighthouse comic in the forum: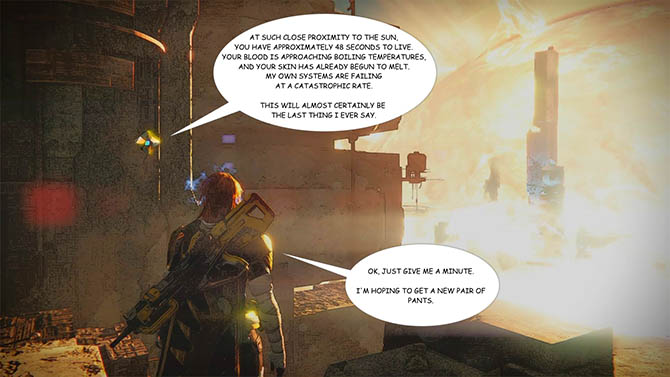 Staring at the Sun.
CruelLEGACEY has started putting together some amusing Lighthouse-themed comics. He hasn't given it a name yet, but I thought the title of the first worked pretty well, "Staring at the Sun."
Here are the first four: Staring at the Sun., Knock Knock, Relaxation, and LFG. Go check 'em out!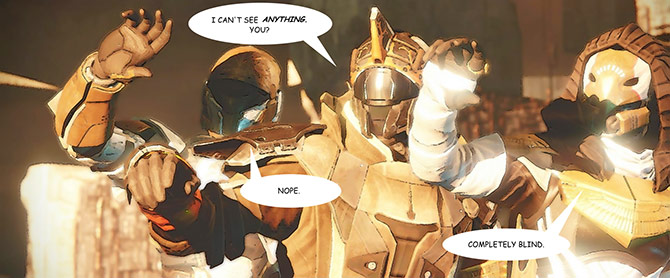 Crucible Changes, Free TDB Maps Coming Soon?
IGN has a couple new stories up today. The first discusses some interesting changes coming to the Crucible, including increased Crucible Mark drops and experience gains. The second reports that The Dark Below Crucible maps will be free for all players when House of Wolves arrives in a few weeks. (Thanks, bluerunner!)
The Puzzle Pieces That Make Up Destiny
Our ol' pal Hedge pointed out that Sid Moye, environment artist at Bungie, has updated his ArtStation portfolio with his work on Cabal environments, with a great shot of the foundational materials used to build much of the Cabal interiors as seen below: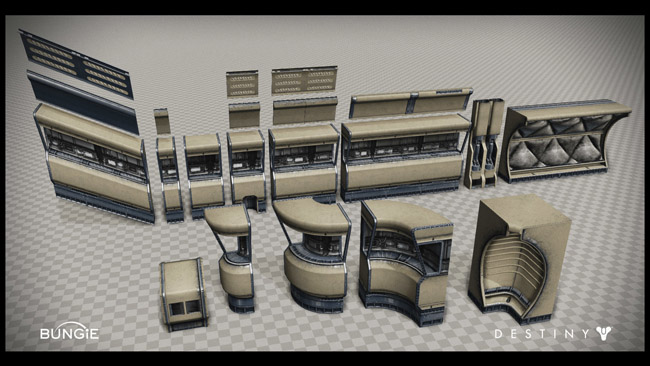 There's also some intriguing views of his work on the Moon!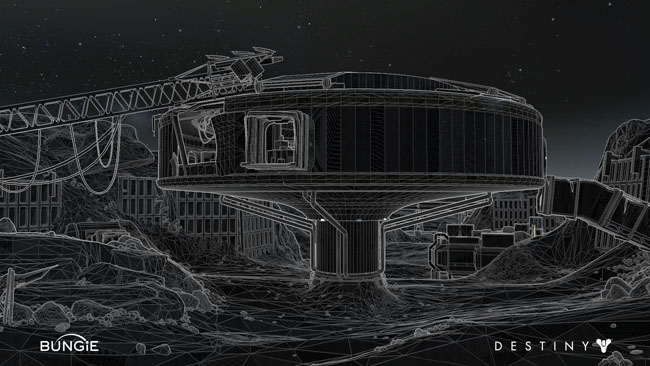 Bungie Ride-Alongs - learn more today!
Last week's Ride Along with the Dads of Destiny didn't get any front-page lovin' when it happened - but if you're a Destiny fan, you should defintely watch it. Lots and lots of behind-the-scenes tidbits on the making of the game and the development of the Cosmodrome from Lead World Artist Rob Adams. If you like this sort of thing, they published another one just a week earlier, with MoreConsole and World Artist Blake Low, focusing on Venus. If this schedule keeps up, there'll be a new one this Friday. They're streamed live on Twitch, so you can watch in real time - or you can enjoy them after the fact, on your own schedule (the Venus one is here, the Earth one is here). Spectacular!

You should cease asking scary questions.
Wow. I'm pretty sure I'd pay for Samuel L. Jackson as the Ghost, if it sounded anything like this:

(Thanks, Schedonnardus.)

Rampancy Takes Down Atheon
We've got TWO episodes of Rampancy's Let's Play series in the queue -both dealing with the final battles of Destiny's first raid. Enjoy!
In Episode #29, Narcogen and crew reach the inner chamber of the Vault of Glass and are attacked from all sides:
In Episode #30, Atheon strands the Fireteam in the past and future as it attempts to integrate the Vex into the fundament of our spacetime.
Paul McCartney of 'Wings' Talks Destiny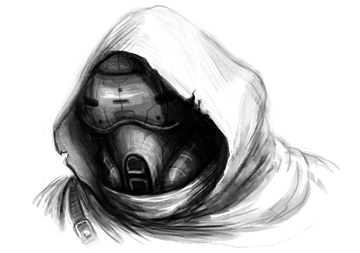 ... He's known for a few other bands, too, I hear. You can go see the legend talk Destiny and how terrible he is at games on the Daily Show with Jon Stewart. Thanks, General Vagueness!
TTL Party Chat With Deej & Luke Smith
Tied The Leader Gunslinger's latest podcast has the crew sitting down with Community Manager Deej and Raid Architect Luke Smith, so expect a ton of behind the scenes talk regarding Vault of Glass and Crota's End, as well as Destiny as a whole! Thanks Pete.