Search results for tag '
warlock

'

Showing results 1 - 14 of 14 matches
Warlocks Continue To Confound Destiny's Raid Bosses
While they can take away our Self-rez, Bungie just can't stop Warlocks from circumventing the Raid boss mechanics. Case in point, Reddit user
GladdHeAteHer182
and his crew of Warlocks drop the Leviathan Raid's only boss, Calus, using Arc Souls, and
only
Arc Souls to damage him.
Gladd explains how it's possible to pull off this crazy feat
in his reddit post
, so give it a read, since there are a couple of neat details that apply just to this encounter. Either way, it's just a fun challenge and video all around. Warlocks!
Thanks to
Schedonnardus
for the heads up on our forum.
Wondering about Warlock grenade overcharges?
I've seen comments about the ability of Void Warlocks to overcharge their grenade, but it wasn't until I saw Fallout's tutorial that I understood what was actually going on, and what the limits were. (Thanks, Korny, for the heads-up!) Watch this short video for a summary of how the perk works, what you can (and can't) do with it, and what it will cost you. Very cool!
IGN Looks at Crucible in Destiny 2
IGN dropped it's article for today, and it's a doozy! Four new videos showing off Control, a new map called Endless Vale, Sentinel Titan, and Voidwalker Warlock. You can go to their site to check them out there, or I've embedded the videos below.
Esoterickk Solos Harder-Mode Crota's End
Esoterickk (
remember him
?) returns with yet another mind-blowing solo run, this time beating the updated Crota's End in its entirety. What's even more astonishing than the fact that the updated raid launched just
yesterday afternoon
, is the fact that a number of mechanics were added specifically to make it all but impossible to solo. How he gets around these mechanics (hint: he's a Warlock) is half the fun of watching the run, so check it out! Thanks,
Schedonnardus!
Destiny Machinima: A Nightfall at the Movies
It's not often that fan videos get highlighted on the front page, but it's not often that folks are willing to put the extra work required to make a Destiny machinima, either. The fine folks over at Creators of Valhalla are clearly up to the task, however, and have put together a fine tribute tale of horror about the spookiest of all enemies, Stormcallers... Check it out!


Final Raid Boss Defeated With No Shots Fired.
As if you needed another reason to get the Praise The Light emote, a fireteam of Sunsingers (consisting of Buz Lightbeeer, TheGreatNike, Gladd, rowan, Snerv, and ITI) has defeated the final Wrath of the Machine encounter without firing a single shot (other than the required Cannon shots).
Gladd has a detailed guide on his Reddit post, but I think I'll settle with watching their incredible footage of the event.


3A Shows Off Warlock and Hunter Figures
Remember those awesome Titan figures by 3A? Well they are officially showing off the Warlock and Hunter figures, which go on sale this week and the 21st respectively! Like before there will be three different versions depending on where you purchase it from (my favorite is the Bungie Store Edition shown below). Go check out their posts about them to see more pictures and to drop $200 for one!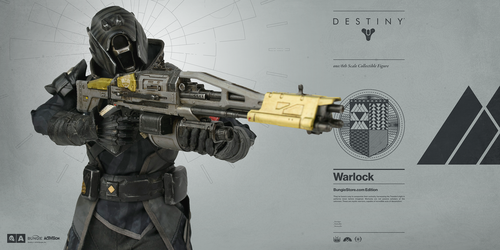 A Warlock's Guide To Soloing Hard-mode Oryx
Sometimes it can be difficult to get a Fireteam together to tackle Oryx on the harder difficulty setting. Fortunately, Esoterickk has put up a handy guide to help you become a kingslayer all on your own... Provided that you can repeatedly recover from four bombs detonating at once, of course.
Loving the Fabric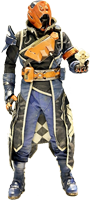 Worldof3A, always good for an impressive action figure or two, has revealed a new Destiny Warlock figure at Toy Soul 2015. No details on purchase price or availability yet, but it's looking pretty fantastic! Thanks to
Charlie INTEL
, who found it
on Toyark's Twitter feed
. (Click for a larger version.)
A Portrait of a Warlock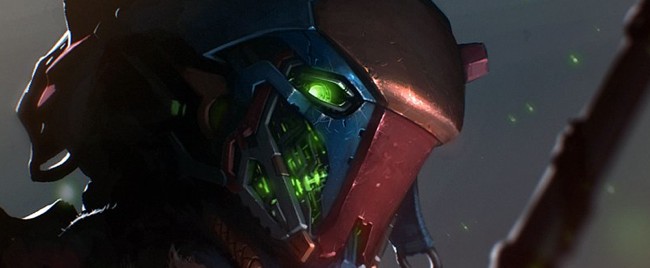 Painted by Mozhart and posted on his DeviantArt, and found through a little site called Reddit. Impressive!
Warlocked in 3D
Another in this impromptu 'Wednesday Art Round Up' from our dear Hedgem0ny. This here's a 3D model created by OnyxGiant and posted on his CGHub page. It's an original design inspired by Destiny's Warlock class, with loot, Ghosts, and guns: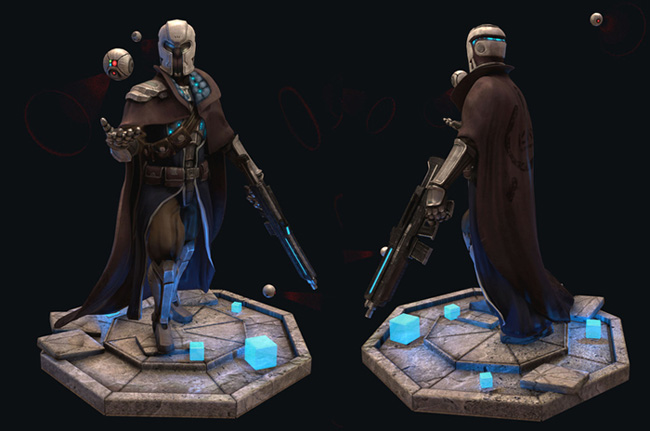 Fashion Trends of the Space Wizard
We missed this when it was first posted a few weeks ago, but I wanted to highlight this excellent piece of Warlock fan art created by Zukai, a talented artist from the Art & Stuff group (and the subject of a recent Community Focus). You can see the full image in this thread over on Bungie.net. Nice robes!
Huh... they still know about Bruce Lee?
Cold created an awesome pen-and-ink Warlock for the Bungie.net Art and Stuff contest... and was kind enough to
share it on our forum
. Love it!

Sculpting the Warlock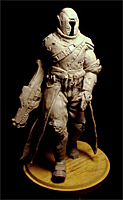 calcarlson has created some amazing Destiny-inspired sculptures so far - we mentioned his Fallen sculpt two weeks ago, and his Space Zombie a few days later. He's back, with a new writeup in Bungie's Blog today - this time, his focus is a Warlock. If you love this work as much as I do, you might want to join his new group on Bungie.net - it's called Art and Stuff, and it's for artists and art enthusiasts alike! Awesome stuff.