Search results for tag '
titan

'

Showing results 1 - 13 of 13 matches
Peaks Into The Future

The last two This Week At Bungie articles over at Bungie.net have been notably forthcoming about upcoming changes to various Destiny features and activities.
In their April 23rd update, Bungie talked about creating a more rewarding Trials of Osiris and delved relatively deeply into some of Destiny 2's current and upcoming safeguards against cheaters. Although Bungie can't share all their anti-cheat details, it was interesting to learn that they are partnering with other high profile companies like Valve to combat certain forms of cheating.
This week, Bungie first put a spotlight as to the reasons why Titans have been fairing so well in the Guardian Games. Turns out Titans are just trying harder than the other classes. Bungie then spent some time talking about their plans to keep more seasonal activities around for newer players even as the game continues to move forward. Having hand picked seasonal weapons show up in normal activities like Strikes and the Crucible seemed like a nice win.
Really, the last two weekly updates have been pretty packed with useful info beyond just the aforementioned updates. Bungie's charitable efforts to assist with the ongoing coronavirus pandemic are a nice read, for instance. You can check both updates out at the links above, or head on over to our highly searchable Bungie Weekly Updates Archive.
Titan Games
This morning, Bungie announced a new series of bounties and challenges in which Titans can compete to prove, once and for all, that they, and not so much Hunters and Warlocks, are the wall against which The Darkness breaks.
But don't worry non-Titans, all classes get access to new ships, sparrows, weapons, and cool class themed Ghosts. The Titan Games kick off April 21st and runs through May 11th after which Titan banners will, surely, decorate The Tower for the rest of the year. Oh, and there's a cool looking physical reward for players to earn, as well!


For more info, check out Bungie's Titan Games page, or watch the announcement video below.

IGN Looks at Crucible in Destiny 2
IGN dropped it's article for today, and it's a doozy! Four new videos showing off Control, a new map called Endless Vale, Sentinel Titan, and Voidwalker Warlock. You can go to their site to check them out there, or I've embedded the videos below.
A Preview of Titan-ic Changes.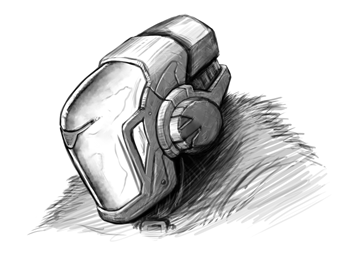 Sage, Sandbox Extraordinaire at Bungie, has written up a preview of the patch coming next week focusing on the changes being made to Titan subclasses, most of which are concentrated on the Sunbreaker class. There's data, charts and more to back up Bungie's direction - go read!
A Titanic Halloween
Meggon Woods let us know that she'd created this costume for Jaxx - first one she ever made! The helmet and the ghost are handmade. Fantastic!
Action Figure Inbound!
Although my wallet's been dreading it, my heart's been waiting impatiently for it! Hedge retweeted an announcement by 3A concerning a highly-articulated (and steeply-priced) Titan action figure. It looks beautiful - I can't wait to see more high quality licensed stuff like this for Destiny. More photos and info here.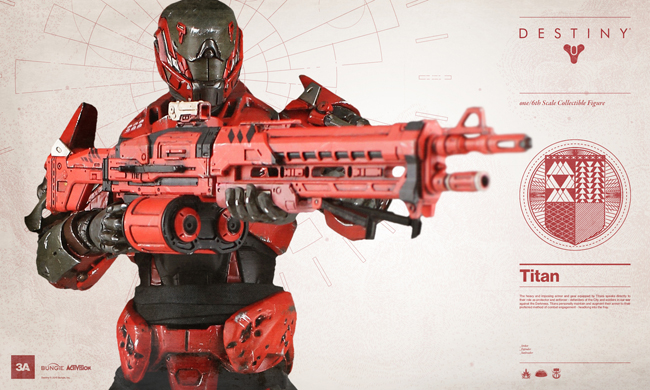 Bubbles? Bubbles?
As time goes on, players find new and entertaining ways of using the tools Bungie made for us to do things that are... simply unexpected. In recent days, we've seen Titan Defender Bubbles used to
1) Dominate in the Crucible (thanks, GeneralVagueness)
2) Defeat Crota, on Hard Mode, with just a single sword (thanks, Cody Miller)
3) Defeat the entire Crota's End Raid without firing a shot (thanks, INSANEdrive)
(This is in 3 parts; I've embedded only the first one. The rest of the links can be found in the original reddit post.)
Is there anything the bubble CAN'T do? Titans forever!
Fanart Highlights
Hedgem0ny always gathers great art and fanart from Bungie games in his Twitter feed. A couple of recent highlights came from DeviantArt in the form of "Titan" by TheBFG121 and "Destiny Fan Art" (okay... not the most creative name but a beautiful picture nonetheless) by lerms.
Titan Unmasked
Hedgem0ny unearthed (via his Twittter) a nice piece of fanart by Dexter Orszagh. Move your eyes slightly lower to see it.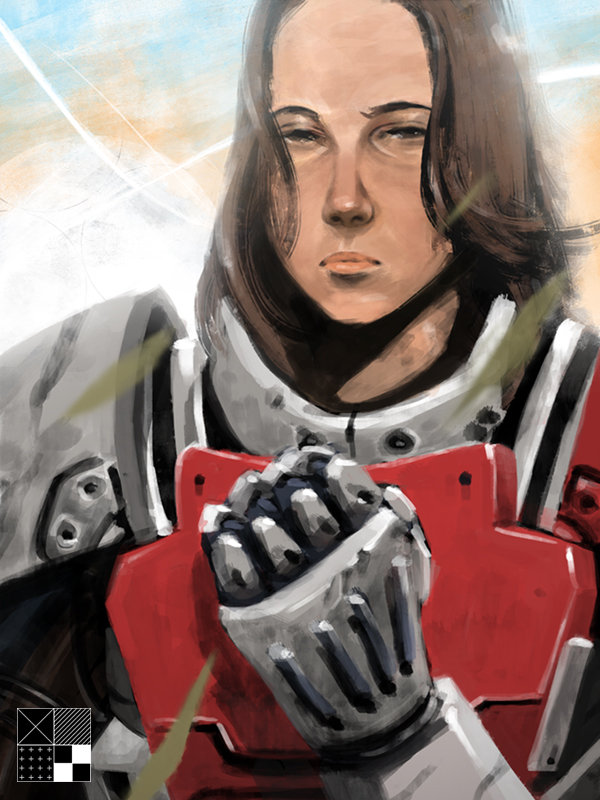 Bungie Day Exo Titan

Dezarath
whipped up
an Exo Titan for Bungie Day - go check it out!
Defining next-gen shooters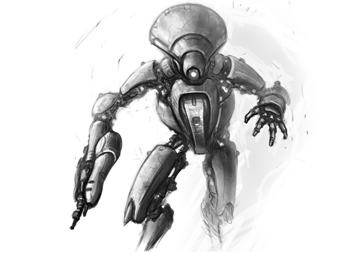 A+E Interactive has posted a short article comparing the vision behind two next-gen shooters that feature integrated singleplayer and multiplayer components: Destiny and Titanfall. It's a quick read that raises some interesting questions about the future of console shooters, so check it out!
Guardian Lamb's Last Stand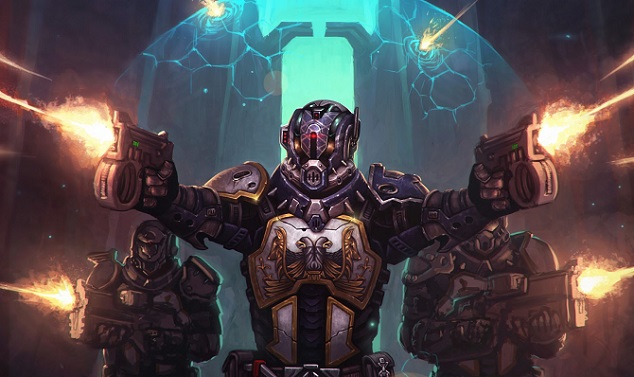 Bungie.net user Beau Lamb created this amazing piece of Destiny-inspired fan art that depicts the Dredd-like deadliness of a dual-wielding Titan. Head over to his blog to see the full image and a get a glimpse at how this idea started with just a rough initial sketch.
Fan Character Design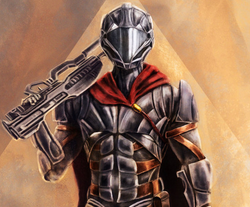 Biwald
shared his
Titan character design
with us - he based his design on Greek armor and Destiny concepts. The result speaks for itself. Check it out!