Search results for tag '
ragashingo

'

Showing results 1 - 20 of 20 matches
Bite-Sized Backstory - The Awakening

While we're playing catch-up, we should point out that Ragashingo has been quite busy over the past month and a half or so, focusing primarily on the origins of the Awoken. (The earliest episode we didn't mention here was Episode 36, which focused on The Fallen Houses... but everything since then has been pulled from The Book of Marasenna, which tells the story of Mara Sov, and her origins.) Here are some links to his forum posts, but remember; these are all archived in our Bite-Sized Backstory Archive (here's a direct link to all of the recent posts).
Writing like nobody's watching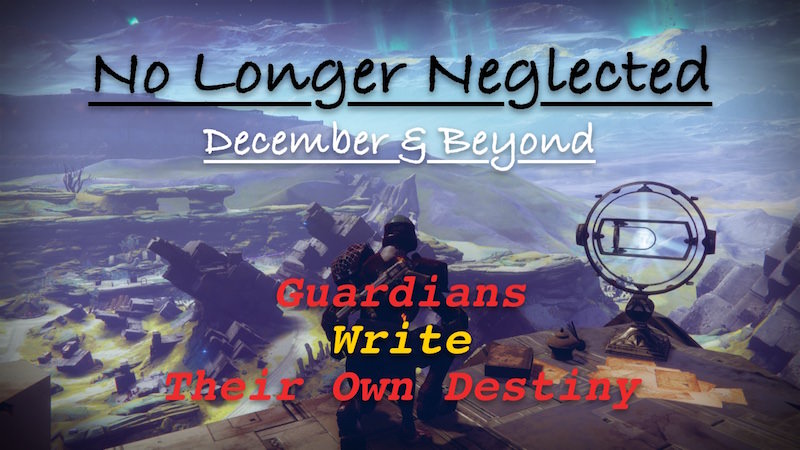 Not too long ago, I lamented the fact that the DBO Fan Fiction section was somewhat neglected. Ragashingo took this comment pretty seriously, and did two things: he submitted a new story called 'The Red War' for you to read, and he announced a new writing challenge he calls 'No Longer Neglected'. Twice a month he'll issue a writing prompt; submissions will be added to the Fan Fiction Archive here. Winners will receive loot directly from Raga. Sounds like a win all the way around! The first prompt went live this morning - you can find it on our forum. Join in! (While we're talking about Raga's writing, you might want to also swing by the Bite-Sized Backstory section - I've been remiss about mentioning recent entries, and you can find 6 new - well, not-front-paged - entries in the archive!)
Bite-sized Backstory 28: Facts and puzzling things about...

Ragashingo has posted another installment of his Bite-sized Backstory series - this one focuses on little-known facts about the Fallen. (Check out the video that bluerunner found for some details you might not have noticed for yourself, these past 3 years...) We've added this latest article to the BSB Archives here at DBO.
Bite-sized Backstory 27: Whirlwind & Rain

Ragashingo is back with a new Bite-sized Backstory installment - this one introduces us to the Fallen. You've fought them for years - now see how much you actually KNOW about them! Go read the newest chapter in our BSB archives:
You can, of course, also leave him feedback on our forum.
Bite-Sized Backstory - Oryx's End

The pattern we've followed to this point with Ragashingo's Bite-Sized Backstory episodes has been to provide a front-page newspost for every three installments. However, with Number 26, Raga has come to the end of Oryx's story, so we're posting just the two most recent:
These are also both available in our BSB Archive, if you'd rather read them there. While he's finished Oryx's story, he's not done with his series; next up is the Fallen! Keep your eyes peeled.
Bite-sized Backstory - Batch 7 (plus a new home)

Ragashingo's posted another three installments of his 'Bite-Sized Backstory'; follow along as Oryx punishes one offspring and receives gifts from another, fights with a Vex mind, and discovers a long-sought prize.
We've finally set up a local place to read these; if you're starting from scratch, just visit the Bite-sized Backstory page itself, but if you'd just like to read these latest three, in order, you can do that at this link.
Bite-Sized Backstory - Batch 7

Ragashingo's posted another three installments of his 'Bite-Sized Backstory'; follow along as Oryx dreams, is betrayed by his sisters, has children, and discovers the Vex! Good stuff in here.
If you're starting from scratch, here are some older links: Batch 1 | Batch 2 | Batch 3/4 | Batch 5 | Batch 6
Bite-Sized Backstory - Batch 6

Well, we hope your end-of-year celebrations were epic. (And we hope they're not the last ones ever, but that's another story.) Ragashingo finished up another three installments of his 'Bite-Sized Backstory' series, and we're here to bring them to you. These focus on the more recent conquests of Oryx - and maybe some tie-ins with previous Bungie games. Go give 'em a read!
If you're starting from scratch, here are some older links: Batch 1 | Batch 2 | Batch 3/4 | Batch 5
Bite-Sized Backstory - Batch 5

Three more chapters in Ragashingo's Bite-Sized Backstory series have been posted, so it's time to remind you about them again. The battle is joined; Oryx (Auryx/Aurash) and his sisters take on the Ecumene. What does this all mean? Go read 'em!
(The first batch is here, if you haven't started at the beginning yet, and the second batch is here.)
Bite-sized Backstory - Batch 3 (and 4?)

When Ragashingo started posting his 'Bite-sized Backstory' essays, I promised to keep you informed as new ones came out. I've been lax. (To be fair, I was out of state - and mostly off the internet - when 7, 8, and 9 came out... but still.) If you haven't read any of these, you should start at the beginning: Raga's been telling the backstory of Destiny in a way that the average person, who might not have time to go through ALL the Grimoire cards (and figure out their order), can understand. He's also been doing a nice job of keeping track of updates himself, so once you start reading them on our forum, you can easily step through to the end. However, I'm STILL going to link to the last 6 he's posted... because I want all of the pieces linked in our database as well.
Catch up, read 'em all... they're fantastic!
Bite-sized Backstory - Batch 2

A couple of weeks ago, we mentioned Ragashingo's Bite-sized Backstory series, a novel approach to the Destiny Grimoire. There was a promise of periodic reminders, as the series continued. Looks like the period is 3 episodes, because last night he posted Episode 6, and today we're gathering the new ones. Again - this is a way of understanding the backstory of Destiny, as presented in the Grimoire cards, without trying to figure out the proper order, and sometimes without having to interpret. A fantastic reference!

Try 'em out - and keep coming back, it's a fascinating story!
Bite-sized Backstory - Grimoire for those with less time

Ragashingo is doing his best to make the backstory of Destiny, as presented in the Grimoire cards, more accessible to the rest of us. A few days ago, he started a series on our forum called 'Bite-sized Backstory' - and it contains easily-digestible chunks of the Destiny universe, with sources (if you want to check up on his facts). Fantastic reading! So far, there are 3 segments:
Give these a read, then check back for updates! (We'll remind you periodically.)
DBO Bounty Cashed In
The DBO Admin Team challenged the Destiny Community last night in the Crucible, and despite DeeJ's best efforts, we managed to deny most fireteams of the exclusive loot. One fireteam who did manage to secure the bounty though was from our very own forums! Beorn has posted the match on Youtube:
And Ragashingo has his own... interesting... take on the match:
"Last night a top flight fireteam from the website Destiny.Bungie.Org (not to be confused with Bungie.net, the official website of Bungie Inc. the company that created classic games like Marathon, Myth, Oni, and Halo) gathered on the aging Xbox 360 platform and hunted for what is known as the Bungie Bounty. In said bounty, a team needed to be randomly matched up with the designated bounty team and beat them in a round of Destiny's (Bungie's newest game) multiplayer mode known as The Crucible.
Defending the bounty (and representing the forces of The Darkness (THE DARKNESS! THE DARKNESS!) were Louis Wu (AKA: Claude, looooong time head honcho at Bungie.org (which should still not be confused with Bungie.net), Beorn (a webdesigner best known for DungeonGrid.com (that could be true!)), XenosKB (the fastest news gather in the north, south, east, west, and middle!), Gwath Gil (aka: Leviathan, perhaps best known for his new and ongoing indie comic Mayflower(www.mayflowercomic.com)), and Malagate (the guy not sporting a Bungie related emblem...). Also with them was DeeJ, Bungie's (.net's not .org's) esteemed community manager.
Representing the forces of The Light were: Up North 65, Speedracer513, BeardFade, ChaosSociety, iconicbanana, and the every popular, beloved, fantastic storyteller and all around great guy Ragashingo.
The battle between these two diametrically opposed forces was a tense one with the lead shifting back and forth multiple times. Fortunately, for all concerned, The Light, a team consisting entirely of Hunters as they were hunting for the Bungie Bounty, prevailed and banished The Darkness (THE DARKNESS! THE DARKNESS!) back to the shadows. Notable moments were where multiple members of The Darkness (THE DARKNESS! THE DARKNESS!) flung themselves off the play area realizing that it was the better way to go, and Beorn's especially bad aim with rockets that let at least three members of The Light live to fight on.
While things started out bleak for The Light, they eventually managed to rally in the third half of the match with their hero, Ragashingo, delivering the last kill of the game against cheating Mythoclast user Beorn with his trusty modified Tex Mechanica hand cannon "The Last Word."
It truly was the last word, at least for the forces of The Light who graciously stepped out of matchmaking giving those who sided with The Darkness (THE DARKNESS! THE DARKNESS!) a much needed, easy, soothing win."
Say goodbye, Ragashingo.
Wordsmithy Goodness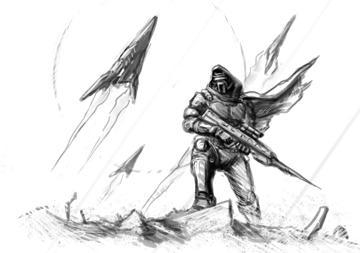 Ragashingo's been hard at work crafting new stories for us to read. He submitted four new installments last week that introduce us to new characters and begin to build a latticework of connections to others we've already met.
Speculate This!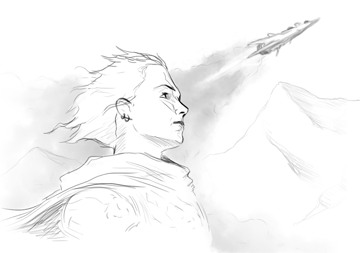 Ragashingo took a closer look at the beginning of the E3 Experience Trailer and posted a write-up in the forum. Go check it out and add your two cents!
Speculation Saturday #5: The Gameplay

Saturday? Sunday? Same thing, right? Ragashingo ends the first run of Speculation Saturday (until there's more to dissect in the future) by shifting gears and throwing the spotlight on Destiny's actual gameplay: Combat, A.I., Fireteams, and all that jazz. Go tell him how wrong or right you think he is!
Speculation Saturday #4: The City

... Or "Speculation Sunday" for some! Ragashingo
shows us
the lay of the land with an eye on the Last City of humanity, our last bastion of hope! Even if you don't feel like contributing to the discussion, this is still a great way to catch up on the subject and get some brain-candy for your Destiny daydreams.
Speculation Saturday #3: The Fallen

Ragashingo is back again with his series, this time examining the enemy of the Guardians we know most about: The Fallen. Go dive into the thread he's started and add your own theories!
Speculation Saturday #2: The Fall

Ragashingo continues his weekly tradition (cereal, cartoons, AND wild speculation - how could Saturdays get better?) with a new focus: the why and wherefores of the Solar System's infamous fall after the Golden Age (which was last week's focus). Go read his posts to get caught up on the facts and some of his own interpretations and then jump in on the fun yourself!
Speculation Saturday #1: The Golden Age
Destiny is a universe filled with mysteries for us to uncover, but why wait for the game to release to start unraveling the unknown? Ragashingo put together a speculation thread that takes a closer look at our mysterious past - grab your deerstalker hat and join in on the conversation!