Search results for tag '
king

'

Showing results 1 - 25 of 61 matches
Shared World Shooter - Now Viewable
A couple of years ago, we mentioned a GDC talk given by Bungie's Justin Truman about the network architecture in Destiny, and how it tied together the spatial structure of the game. The GDC Vault has now posted that talk for public viewing - if reading the PDF didn't do it for you then, you can watch Justin give it in video form now! Thanks, INSANEdrive.
Riding to a Fall
Yesterday, Bungie hosted another Ride-Along - this time around, DeeJ, Designer Brendan Thorne and Writer Jill Scharr comment on a King's Fall Raid run, as played by 6 other devs. (A sad goodbye to nearly the entire team; their job was to complete the raid without dying, on penalty of job loss for failure... and with the exception of Chase Christian (and Brandon Bjarnason, technically, since his death occurred after Oryx's death), all of them died at least once, with Cozmo_BNG adding a mind-boggling 4 casualties to the total.) If you're not a big Raider, this is a really useful demonstration of techniques and routes... and even if you DO raid a lot, you'll likely see things that make you reconsider your preferred practices, and you'll learn things you didn't know about the lore behind the encounters. It will be available on YouTube eventually, but you can watch the archived stream on Twitch right now. Check this out - a fun watch!

Update: Looks like it's already up!
Evil's Most Wanted: Live-Action Led Zeppelin!
In a similar style to the Become Legend trailer back at launch, we're gotten another live-action, rocking, ad! Take a gander below or go discuss with CougRon in our forums.
Taken King Launch Trailer
Last but not least, another trailer was released today for the Taken King, featuring more glimpses of cinematics, gameplay, and Led Zeppelin.
Catching Up!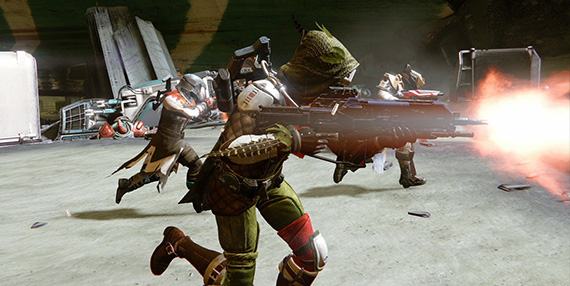 So we missed posting the Bungie Weekly Update last week. It's actually been sitting in our BWU archive but we didn't tell you about it. I'm going to blame all of our admin that was having fun at PAX this weekend and not me, sitting at home not really doing anything but crying.
The update reiterates on the Dreadnaught Strike reveal from earlier last week, the upcoming Edge magazine's cover story, and most importantly (and divisively) reveals changes to Nighfall and Heroic Strikes coming in 2.0.
Lars Takes Us Through the New Crucible Changes
Design Lead Lars Bakken sat down and talked to Game Informer about all the major changes that The Taken King will bring to the Crucible, whether that's new modes like Rift and Mayhem, or sandbox tweaks to Thorn and Blink. Great video! Electricpirate was first on our forum.
Video Teasers of Taken King's Eight Crucible Maps

Game Informer has put up video previews of every new Crucible map (teasers that include the intro views and a couple of shots of gameplay) on one handy page. They take place in varied arenas across the system - click the link if you want to know exactly where! There's also a ship in one that looks familiar...
We Are Guardians Trailer
Both a recap of year one of Destiny as well as a look at year two, this "We Are Guardians" trailer has the excitement dial turned up to 11. If you're wanting to stay completely unspoiled, you may want to skip for now as there are a number of shots of Taken King gameplay and a lot of glimpses of epic cinematics in the coming expansion. And when I say 'epic', it is not exaggeration!
UnrealCh13f was first in our forum.

Legendary Weapons Not Going Forward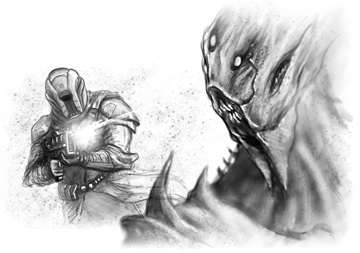 Kidtsunami was first in our forum with the Game Informer article revealing that Year One Legendary weapons will not be able to ascend to Year Two standards. Start saying your goodbyes - but also start preparing for some "genuinely novel shooting experiences".
Dinklage Is Out; Nolan Is In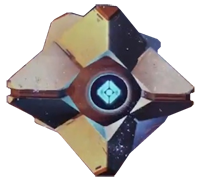 When The Taken King launches, you won't be hearing Peter Dinklage as your Ghost anymore - even if you start the game over. Nolan North (who Bungie fans will remember as Romeo from ODST) is not only recording the dialogue for your Ghost for the forseen future, but also re-recording all of the previous lines by Dinklage as well. (CougRon was first on our forum in reporting this huge news from Game Informer.)
Destiny Levels Up... Differently This Time!
Destiny's Year One is about to leave behind levels associated with your gear. Game Informer says it well:
Players earn XP by killing monsters, completing missions, and turning in bounties, as has always been the case, but that experience now feeds directly into your level progression all the way from 1 to the new level cap of 40."
The article also touches on a revision to the loot-drop system: it will now check your existing gear so you won't keep seeing repeats and more. (Thanks Speed.)
Taken King Takes Game Informer
Destiny's new expansion will be this month's cover article for Game Informer. They'll be teasing out all the tidbits they learned from Bungie as time goes on at this hub page. We'll hit the highlights here in a moment, but just from their cover-reveal article once can gleam a number of things (as Speedracer513 points out), like new in-game cutscenes!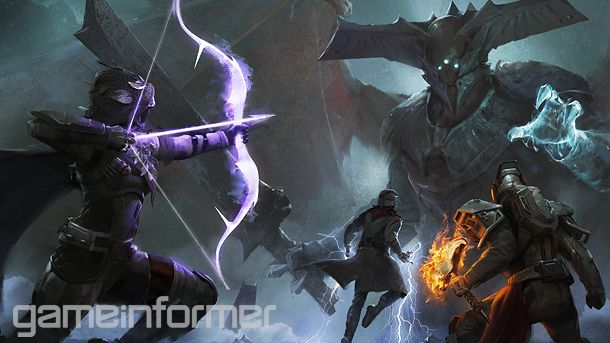 The Taken King Editions Chart
There are several editions of Destiny: The Taken King available for pre-order, and each has its own features and price point. It's easy to get them mixed up, but Black Six has our backs! He put together a nice, easy-to-digest chart of the various Taken King editions, complete with pricing and feature breakdown. If you or anyone you know is confused about which version to order, we've got your answers right here!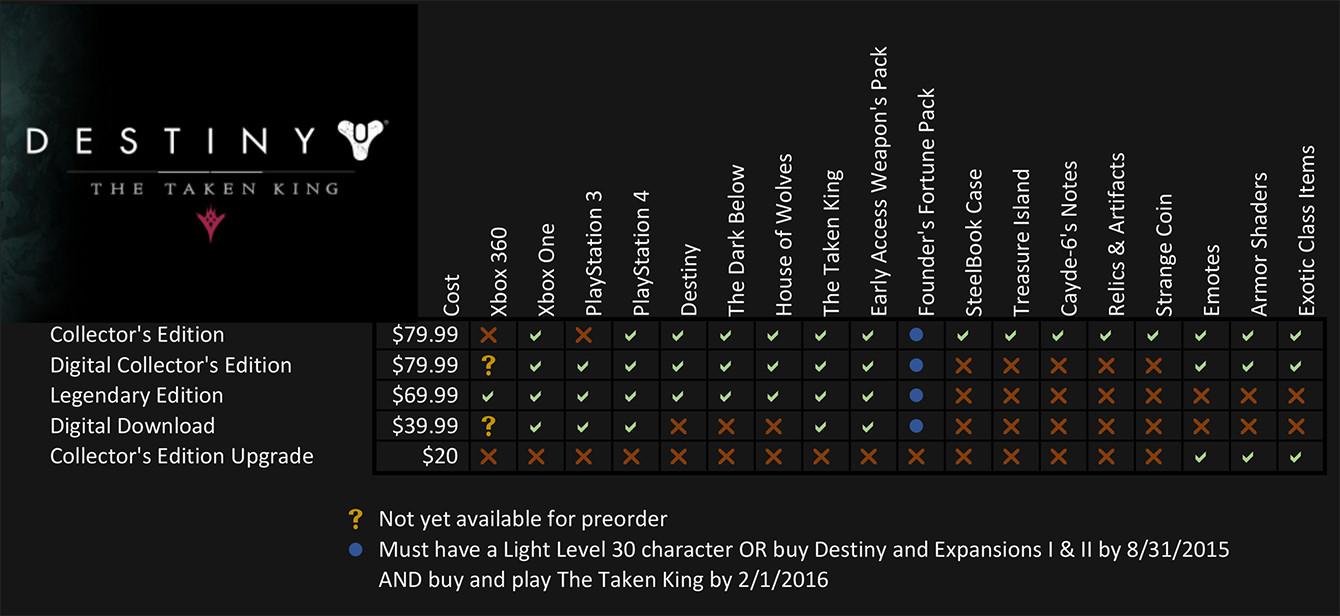 Overview of PlayStation Exclusives
I don't think we've posted it to the front page yet, so if you're still in the dark on PS exclusives for the Taken King, you can see a full overview of it all here. Thanks Car15 and Korny.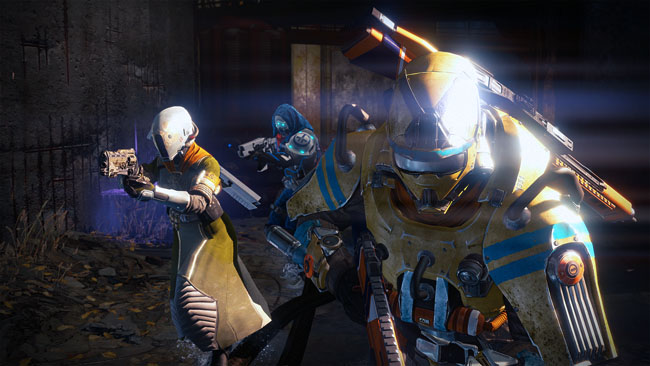 When every enemy is broken...
Taken King Mobile Wallpapers
If you haven't already seen them, Bungie has released some nifty mobile wallpapers featuring the new Taken King subclasses on their Facebook. Grab 'em!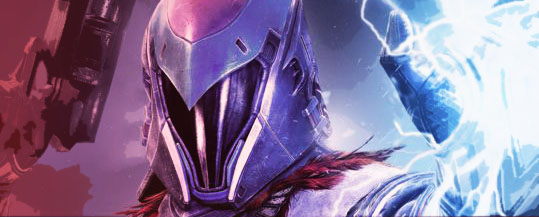 Taken King Information at E3
Many sites have videos and/or articles about Destiny: The Taken King, and I've been doing my best to keep up! Here are a few of my favorites so far:
IGN - Multiplayer footage of Rift, Destiny's new Objective based multiplayer mode (look at all those new weapons!), along with DeeJ discussing the game with Destin from IGN. Also revealed Playstation exclusives will be available for Xbox, and the fact that you can skip cutscenes when Taken King drops. (Thanks iconicbanana)
Kotaku - Information about the first campaign mission that press got to play behind closed doors. (Thanks INSANEdrive)
Reddit - SonOfSeath on Reddit put together graphics of what the new upgrade trees for each subclass looks like (right now).
There's a lot of other interviews out there, pretty much go check any video game news site and you'll find someone talking to a Bungie employee!
Taken King Vidoc - No Legend is Safe
Bungie has posted a Vidoc about The Taken King on Youtube, go watch it!
Interview With Luke Smith and Eric Osborne + New Footage
Youtube's E3 Experience has been going on all day, and after the Playstation press conference Geoff Keighley interviewed Urk and Luke Smith, along with the interview they sprinkled in some new clips from Destiny! SoMxStation on Youtube managed to grab it for us, watch it below!
Taken King Page and Special Edition Details on Bungie.Net
Bungie tweeted about their new page dishing out some info on the freshly-announced The Taken King expansion and the Legendary Edition (think Game of the Year compilation), not to mention a special Collector's Edition including lots of physical goodies as seen below. Avateur started a thread on it in our forum.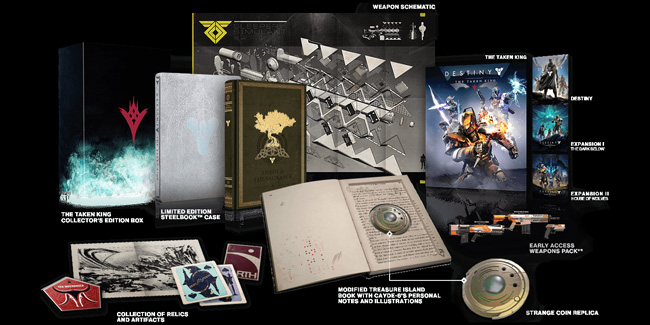 Taken King Trailer
In case you didn't realize, E3 is this week. And at Sony's press conference they showed us the Destiny Trailer. See it below to see all the new little details you can find!
Finding your own friends

Forbes posted an opinion piece about Bungie's choice of non-matchmaking in Destiny's endgame activities - how do you feel about the need to bring your own teammates into these events? CruelLEGACEY has opinions about this stuff - go throw in your own two cents!

Destiny's Networked Mission Architecture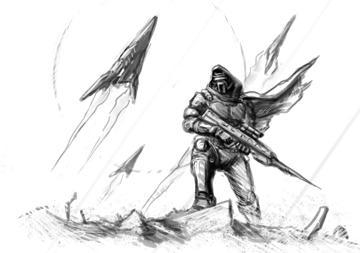 GDC recently posted Justin Truman's talk from GDC 2015 on their website in PDF form (with transcription included). This one is titled: Shared World Shooter: Destiny's Networked Mission Architecture and covers how Bungie handled the complicated networking to handle matchmaking as seamlessly as possible. Go give it a read!
Destiny: Six Years in the Making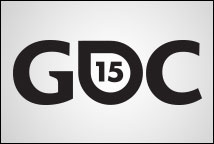 Gamespot has posted the recording of Chris Butcher's talk at GDC this year titled "Destiny: Six Years in the Making." You can watch it over on their site or on their Youtube channel, and here is Bungie's own description of the talk:
At Bungie, we built games based on the Halo engine for ten years. However, by 2008 it was beginning to show its age and there were many core systems that were ill-suited to a modern game development environment. For our new game, Destiny, we sought to develop an engine that would last us just as long as the Halo engine had. This talk will cover the six-year development arc of the Destiny engine, from inception to ship.

(Thanks to uberfoop for posting about it on the forum, even if I didn't notice until after the fact!)
Are Raids for You?

There's been some debates on our forums lately about Raids lacking matchmaking. Brenna Hillier over at VG247 wrote an interesting article about why Raiding in Destiny is not for everyone. Obviously won't end any debates, but she makes some interesting points.