Search results for tag '
ASE

'

Showing results 1 - 25 of 25 matches
A Teaser for a Trailer for Destiny 2
In reality the teaser is really cool, BUT it is teasing a trailer being released on Thursday at 10AM PDT. Check it out! (Thanks breitzen)
Court of Oryx Twitch Reveal Teaser
Bungie has posted the teaser for the latest Twitch Reveal. This one will focus on patrol mode on the Dreadnaught as well as the new public events called Court of Oryx. Watch below, and then come back tomorrow to watch the twitch stream (11am PDT/2PM EDT):
Get Ready For The Shield Bros
Bungie has revealed the teaser trailer for tomorrows Twitch stream, which will show off a new strike from The Taken King. You can get a little taste of the story behind the strike, and even hear Nolan North's take on Ghost! Watch it below:
Tomorrow's Twitch Teaser
Bungie has posted a short teaser on Youtube for the Destiny Year Two reveal that will be on Twitch tomorrow at 2PM EDT/11AM PDT. For coming in at under a minute there is a surprising number of things to see. Take a look:
Prison of Elders Teaser
Bungie released a short teaser for the Prison of Elders. For the full reveal be sure to tune into the Bungie Twitch channel tomorrow at 11am PST. I wonder what awaits us! Thanks, CyberKN. (Local, too.)
Let's Play Destiny Co-Op: The Summoning Pits
Narcogen and Blackstar posted the eleventh in their "Let's Play Destiny Co-Op" series, this one covering The Summoning Pits Strike on the Moon. Go check it out, then sound off in the forums!
Playable Early? Sort-of.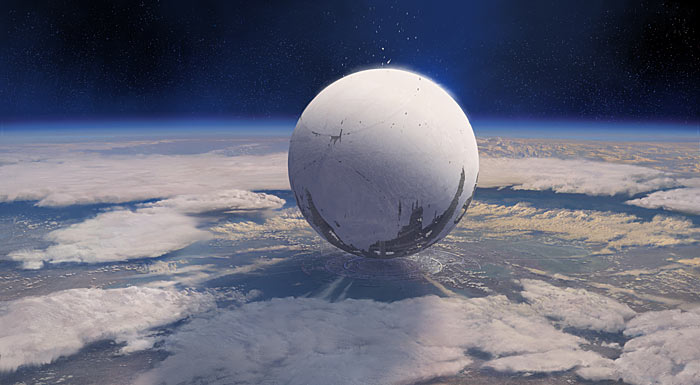 The Inquisitor points out the fact that since Bungie announced that the Destiny servers are going live on September 9th on the International Date Line, the game could technically be played before the official US release...if you somehow already have a copy.
(Note: DBO Health and Safety does not advocate breaking street dates.)
Destiny Co-Op: Devil's Lair Strike
narcogen and friends ran through the Devil's Lair Strike in the Beta as the last installment of the special Anger, Sadness, Envy series on the Destiny Beta; you can watch their shenanigans on YouTube.

Jump In. The Water's Fine.
Bungie themselves posted a short (but pretty sweet) teaser for the Beta - if you need your whistle whet, this is just the clip to do it!
The Goodies Start Monday
IGN posted a trailer teasing the coverage they'll have of Destiny starting this Monday, July 7. Pretty exciting stuff! Thanks, SigbiasSilva.

Setting the stage for future stories
TechRadar has a fun piece in which Eric Osborne reassures fans worried about a low level cap in Destiny that there will be more than enough to keep them entertained:
"We've named a raid, but that's just one of the examples of the kind of stuff we want to give player," he said. "Once they reach what they believe is the peak in the game, then we really just want to blow their minds with a whole bunch of crazy, like, 'Now go try that!'"
Not too much longer to wait until we get to experience that for ourselves! Thanks, bluerunner.
Anger, Sadness, and Envy Destiny Special: Strike
The last segment of the Anger, Sadness, and Envy Special Look at the Destiny Alpha went live today - narcogen let us know that Rampancy.net's coverage of the Alpha Strike is up. Check it!

Anger, Sadness, and Envy Destiny Special: Multiplayer
Narcogen, Blackstar, and Cody Miller continue their look at the Destiny Alpha with Anger, Sadness and Envy Special: Destiny Alpha Part 5, focusing on The Crucible. Discussion revolves around how the various features of Destiny's multiplayer affect your actual gameplay experience. Go watch!
Anger, Sadness, and Envy Special: Destiny Alpha
Over at Rampancy.net, the latest episode of Anger, Sadness, and Envy focuses on the Destiny Alpha; Cody Miller describes what he experienced, and answers questions for Narcogen and Blackstar. It's pretty interesting how much trouble he has getting his point across sometimes... it really does seem like it's hard to grok what Destiny brings to the table without actually playing it.

Beautiful Images
Check this out - posted on the DestinyTheGame instagram feed. Thanks, GrimBrother III.
Color Me Intrigued...
From Bungie's Twitter:
This Hunter can claim his prey without firing a shot. Care to know more? We'll sketch it out for you later this week."
Xenos may have also posed about it in our forums, but I totally saw it first.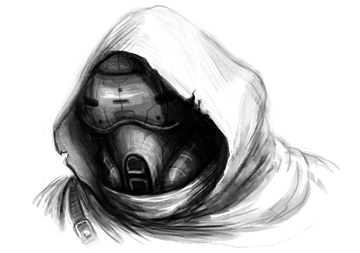 ASE Ep 62: Destiny's The Moon trailer
Narcogen and Blackstar take a close look at the Moon trailer for the latest episode of the Anger, Sadness, Envy podcast at Rampancy.net - and they take some time for other recent Destiny news. Pretty interesting discussion! Go watch. Be sure to tell them what you think - either on our forum, or on their own site!

Destiny Release Window: Spring 2014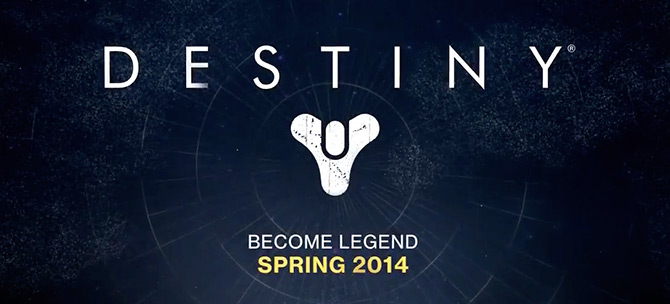 An updated Destiny release window was announced quietly at the end of the Moon trailer from this morning. Previously just "2014", the new release window is now "Spring 2014".
If the Destiny Beta has a similar lead time to the Halo 3 and Reach Betas, then we can probably expect the Beta in early Winter and a final release in mid-to-late Spring. Does anyone have a cryo chamber I can borrow for 3–4 months?
Blue (and green) Steel
invsmchn put together some slick looking special edition Destiny steel cases - there's a Playstation 4 and Xbox One version. Check them out!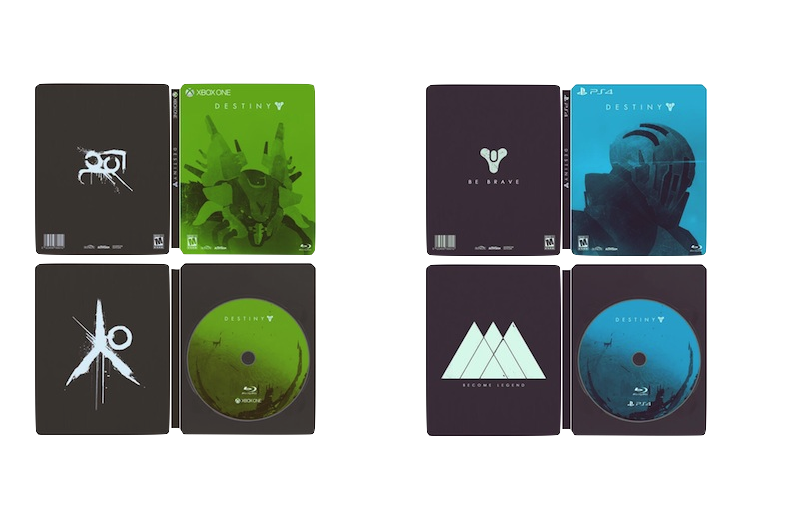 They've been spelling it out all along...

Looking back, the connection should have been obvious - but it took Ragashingo to put it together for us.
Swing by his forum post
to connect the dots between Bungie's Alpha Lupi mini-ARG (which
concluded
on the day Destiny was revealed) and the upcoming Music of the Spheres symphonic release. Very, very cool stuff!
Don't believe everything you read.
If you preordered Destiny at Amazon, you likely received an email today that included some information about a release date. (marmot 1333 posted the relevant portion on our forum this morning.) Before you get too excited... you should double-check the actual page at Amazon - in includes this tidbit, as well:


So... yeah. Take that June 30 date for what it is - an acknowledgement that it will be out in 2014. Sometime.
The Calm Before E3 - Fan Made Trailer
UncookedMoa edited together a Destiny E3 teaser trailer - check it out!
Destiny Fan Made Teaser Trailer
In preparation for June 10th, MathChief11 created a Destiny teaser trailer to help get the adrenaline pumping.
Grab Your Dance Card
Matt Soell, ex-Bungie Community Guy extraordinaire, drops his 2 cents about Bungie's tantalizing Destiny reveal and the resulting outcry from the video game press about wanting more information from the announcement. It's a good read from someone who knows Bungie better than most.
Activision Press Release for Destiny
Because it's good to have a record of these things, we've put up a copy of the Activision Press Release for Destiny - but you can find it on Activision's investor site, as well. (We'd put up Bungie's version, but I couldn't find one.) It's mostly stuff you've seen elsewhere - but there was one line worth pointing out:

Activision reiterated that although Bungie's amazing new world was revealed today, Activision has not included the launch in its 2013 outlook and there should be no speculation or expectation of a different result.
Wonga. (Amazon's got December 31, 2013 as a release date - clearly, that's just a placeholder.) Thanks to JDQuackers for the heads-up.