Search results for tag '
In

'

Showing results 1 - 25 of 399 matches
Happy 7th, Destiny!

Bungie just posted a very understated Happy Birthday message to their website celebrating 7 years of Destiny. Along with an anecdote about barely averting disaster in their first reveal, there is early concept art and writing that tells the story of how it all came together.
Check it out on their website.
The Darkness Arrives
Last night we saw The Traveler wake up in response to the approaching darkness. Well, some of us got to see it. With wide spread server and connection issues, not everyone got to login to be a part of it. Paul Tassi at Forbes has a pretty good write up and timeline of the events that you can view here.
On our forum, cheapLEY streamed the event on Twitch. You can find it in his post
here.
EXOSCIENCE!
The Destiny 2 social media accounts released another cryptic video. This time showing what might be the Clovis Bray facilities and teasing some Exo creation history perhaps? We will soon find out.
Favorite Environment?
INSANEdrive in our forums asked an interesting question this morning: What is your Favorite Destiny Environment? We've been to so many cool places over the past few years. What makes yours, yours? Color? Mood? Skybox? Challenge? Secrets? Go give an answer over in
INSANEdrive's thread!
A Bunker Built For Two

It's pretty rare that we direct and detailed looks at the making of Destiny's spaces. We're lucky to get a Ride Along or two each year, so the article that Bungie posted detailing Senior Concept Artist Dima Goryainov's contributions to the Rasputin bunkers we've been visiting this whole season was quite a treat. Pop on over to the
"A Bunker Built For Two" article on Bungie.net
for a look at the inspirations that went into these relics of the Golden Age.
From Sketch To Ship
Martin O'Donnell, who did some music for some games you may have heard of including Halo, Destiny, and Golem, stopped by our forum to drop off a cool talk about composing music for video games. There's great insights and a bunch of fun stories included within. Definitely interesting stuff!
Peaks Into The Future

The last two This Week At Bungie articles over at Bungie.net have been notably forthcoming about upcoming changes to various Destiny features and activities.
In their April 23rd update, Bungie talked about creating a more rewarding Trials of Osiris and delved relatively deeply into some of Destiny 2's current and upcoming safeguards against cheaters. Although Bungie can't share all their anti-cheat details, it was interesting to learn that they are partnering with other high profile companies like Valve to combat certain forms of cheating.
This week, Bungie first put a spotlight as to the reasons why Titans have been fairing so well in the Guardian Games. Turns out Titans are just trying harder than the other classes. Bungie then spent some time talking about their plans to keep more seasonal activities around for newer players even as the game continues to move forward. Having hand picked seasonal weapons show up in normal activities like Strikes and the Crucible seemed like a nice win.
Really, the last two weekly updates have been pretty packed with useful info beyond just the aforementioned updates. Bungie's charitable efforts to assist with the ongoing coronavirus pandemic are a nice read, for instance. You can check both updates out at the links above, or head on over to our highly searchable Bungie Weekly Updates Archive.
The Nine & Rasputin?

Recently, Pyromancy
posted
a
couple
of interesting observations about Rasputin's bunkers and a possible entanglement with The Nine and the Unknown Space that The Reckoning takes place in. Are we looking at re-skinned geometry or a more intriguing mystery? If you notice any other weird similarities elsewhere in Destiny, let us know!
P.S. Bleep Bloop.
Bite-Sized Backstory - The Awakening

While we're playing catch-up, we should point out that Ragashingo has been quite busy over the past month and a half or so, focusing primarily on the origins of the Awoken. (The earliest episode we didn't mention here was Episode 36, which focused on The Fallen Houses... but everything since then has been pulled from The Book of Marasenna, which tells the story of Mara Sov, and her origins.) Here are some links to his forum posts, but remember; these are all archived in our Bite-Sized Backstory Archive (here's a direct link to all of the recent posts).
Destiny 2: Warmind Launch Trailer
Curious about what awaits you in tomorrow's Warmind expansion for Destiny 2? Bungie's released a trailer to fill you in on what you'll find as you revisit Mars (there are scarier things than Cabal and Vex this time). Looks like fun!
The Week of Warmind, Part 5 (Developer Warmind Insights)
The Week of Warmind continues with some details about the campaign and PvE activities in Warmind and what their design ideas were. There are some really interesting tidbits in there, including some information about who the Big Bad is going to be (quite literally)! Watch it below!
The Week of Warmind, Part 2 (Sweet Business)
Bungie is continuing to showcase new changes to existing Exotic weapons - and today's entry is mouthwatering! Sweet Business seems to have nearly doubled its ammo reserves... and with armor that helps with reloading (like, say, Lunafaction Boots), it might be the weapon you need when you hate to stop firing!
The Week of Warmind, Part 1 (Comic)
It's been a pretty busy day for Bungie, but you need to follow their Twitter feed for full details, it seems! Let's go through stuff, one at a time. First up today: their Comics portal has been updated with a new title; Warmind, Episode 1 is online. Check out the story of Ana Bray, and her activities on Mars during the initial Solar System invasion of the Red Legion. Watch out for cliffhangers!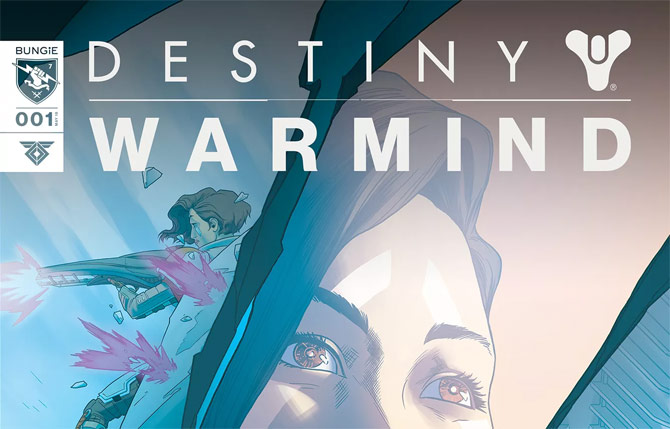 This Week at Bungie - 04/26/2018

Big update this week, with a lot of new info! Read the update to find out how Exotic Masterworks are going to work, exotic weapon updates coming for Tractor Cannon, Hard Light, and Borealis, all the details on the new Crucible ranking systems, and even more! Read it over on
Bungie.net
or
locally
!
Warmind Stream and Prologue Cinematic
Bungie had a stream yesterday to show off some of the stuff to expect in the Warmind expansion and the 1.2.0 update. They showed off more exotic weapon changes, some awesome new weapons, and a new horde-style mode in the public space on Mars! And if you don't mind seeing it before the game is released, they showed off the prologue cinematic for the Warmind campaign!
Writing like nobody's watching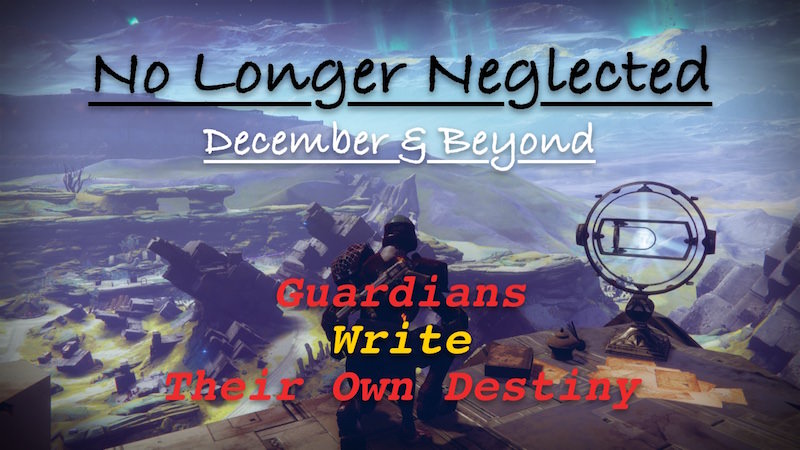 Not too long ago, I lamented the fact that the DBO Fan Fiction section was somewhat neglected. Ragashingo took this comment pretty seriously, and did two things: he submitted a new story called 'The Red War' for you to read, and he announced a new writing challenge he calls 'No Longer Neglected'. Twice a month he'll issue a writing prompt; submissions will be added to the Fan Fiction Archive here. Winners will receive loot directly from Raga. Sounds like a win all the way around! The first prompt went live this morning - you can find it on our forum. Join in! (While we're talking about Raga's writing, you might want to also swing by the Bite-Sized Backstory section - I've been remiss about mentioning recent entries, and you can find 6 new - well, not-front-paged - entries in the archive!)
Shared World Shooter - Now Viewable
A couple of years ago, we mentioned a GDC talk given by Bungie's Justin Truman about the network architecture in Destiny, and how it tied together the spatial structure of the game. The GDC Vault has now posted that talk for public viewing - if reading the PDF didn't do it for you then, you can watch Justin give it in video form now! Thanks, INSANEdrive.
Bite-sized Backstory 28: Facts and puzzling things about...

Ragashingo has posted another installment of his Bite-sized Backstory series - this one focuses on little-known facts about the Fallen. (Check out the video that bluerunner found for some details you might not have noticed for yourself, these past 3 years...) We've added this latest article to the BSB Archives here at DBO.
Destiny 2: Now With Less Crunch!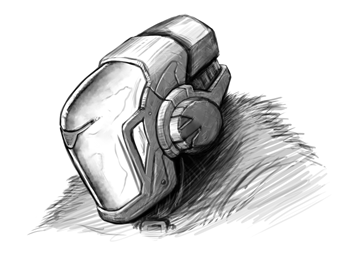 We've all heard about the hellscape that was Halo 2's pre-launch crunch, but have you wondered what Bungie has been doing to prevent unhealthy crunch for later games? At Casual Connect USA (a game industry conference) Luke Timmins discussed how Bungie has eliminated mandatory studio-wide crunch in its development process, and gameindustry.biz has the details of his presentation!
Bite-sized Backstory 27: Whirlwind & Rain

Ragashingo is back with a new Bite-sized Backstory installment - this one introduces us to the Fallen. You've fought them for years - now see how much you actually KNOW about them! Go read the newest chapter in our BSB archives:
You can, of course, also leave him feedback on our forum.
More Sound Effects By David Samuel
Today for IGN's First content Claude Jerome and David Samuel discuss the design principles behind the Sentinel Titan for Destiny 2. Come for the information, stay for the sweet, sweet improvised sound effects. Watch below:
IGN Looks at Crucible in Destiny 2
IGN dropped it's article for today, and it's a doozy! Four new videos showing off Control, a new map called Endless Vale, Sentinel Titan, and Voidwalker Warlock. You can go to their site to check them out there, or I've embedded the videos below.
RNGesus Just Lost a Little Bit of Power

Mashable posted an article with some good comments about weapons in Destiny 2. Random perks are gone! He clarifies a little bit and talks about potential changes as a result. Give it a read.
Playstation Lifestyle Interviews Luke Smith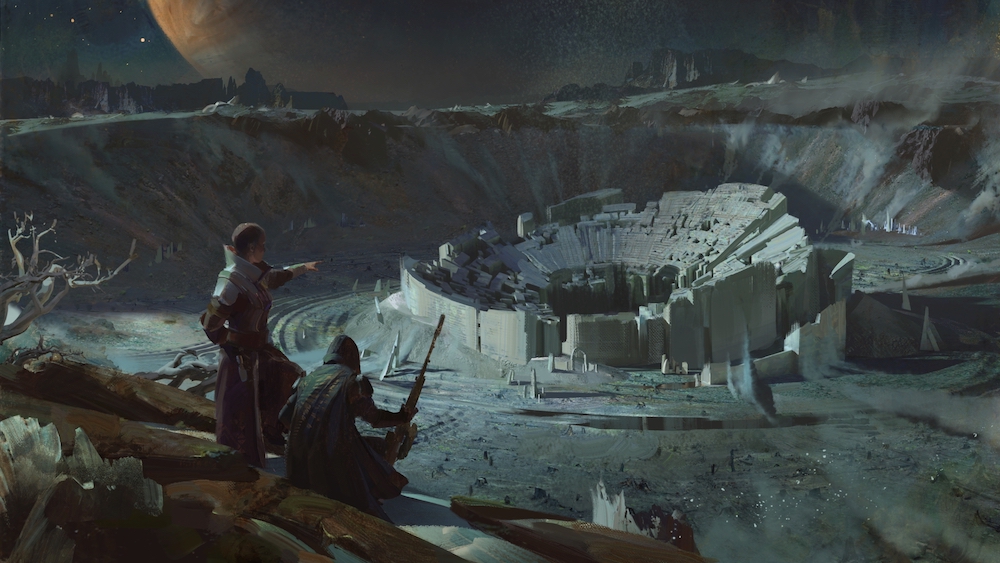 E3 may be over, but information continues to trickle in from news outlets. Playstation Lifestyle sat down with Luke Smith to discuss Destiny 2. Mostly covers things we already know, but has a few new tidbits and hints you might not have heard about! Go read it!
PC Gamer Interviews Luke Smith
The folks over at PC Gamer had an in-depth interview with Bungie's own Luke Smith; answering a series of burning questions that covered not only the PC version of Destiny 2, but also shed some light on a number of details that fans across all platforms may have been wondering about. Check it out, and thanks to Ragashingo for the heads up!