Search results for tag '
on

'

Showing results 1 - 25 of 399 matches
BUNGIE PREPARES FOR FUTURE GROWTH IN 2021
Bungie sent out a major press release today discussing their future plans and it looks pretty exciting. "Bungie Prepares for Future Growth in 2021 with Studio Expansion, Key Talent Investments, and New Board Members" All the details can be found on their website, and the speculation and conversation can be found on our forum.
#Game2Give

Today begins the second annual #Game2Give charity event in support of the Bungie Foundation and Children's Miracle Network Hospitals. They are kicking things off with a streaming marathon so stop by and help them reach their donation goals. You can see the streaming schedule, milestone rewards and donation incentives. CHECK IT OUT.
UPDATE: Bungie has reached their first milestone of $250K and released concept art for the Dawning Titan Universal Armor Ornament. The $500K milestone was also met, which gave us the Warlock Ornament.
UPDATE: The 750K milestone was reached so the Hunter armor was released.

UPDATE: The 1M milestone was reached and Bungie showed us an upcoming fusion rifle.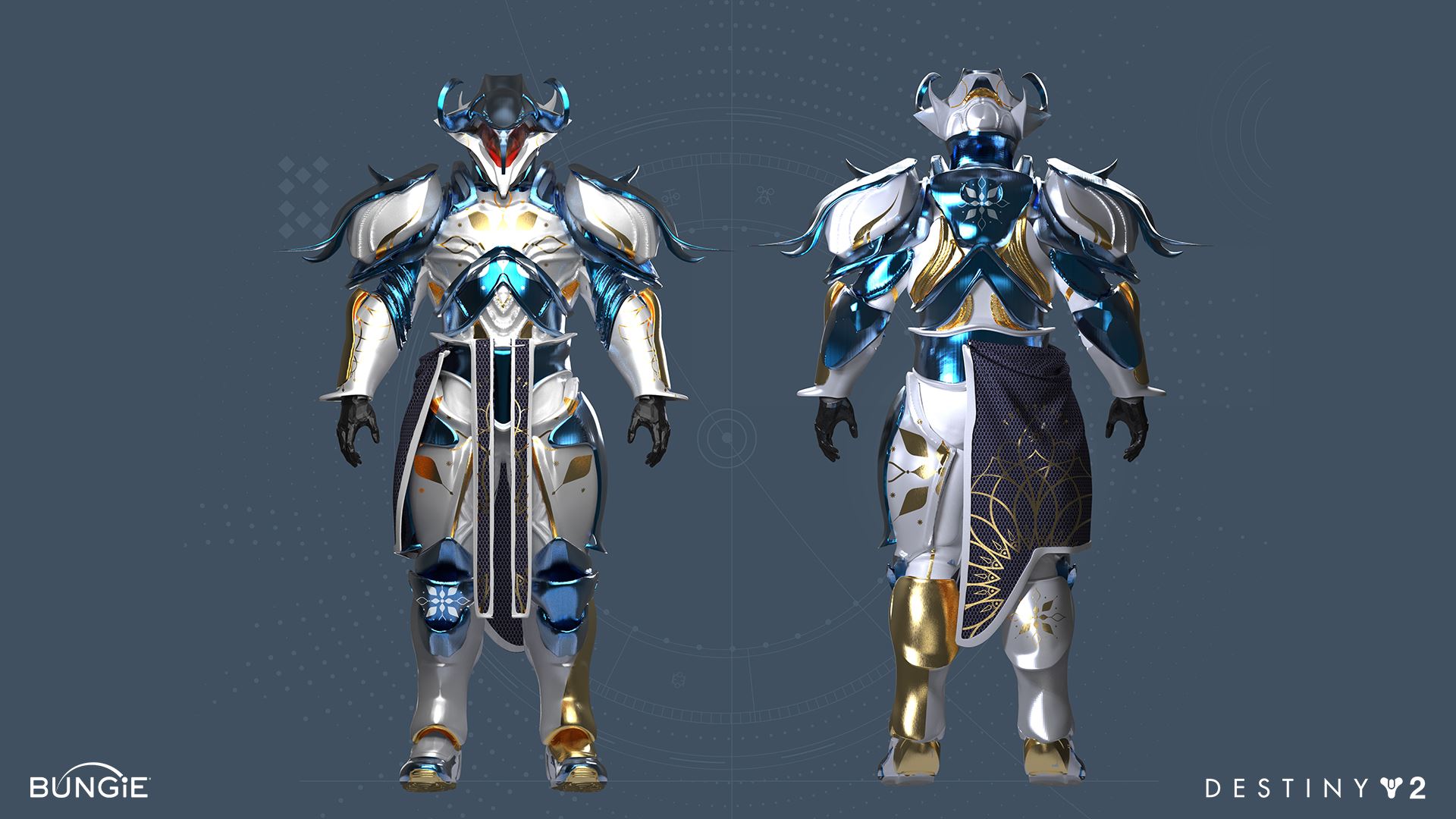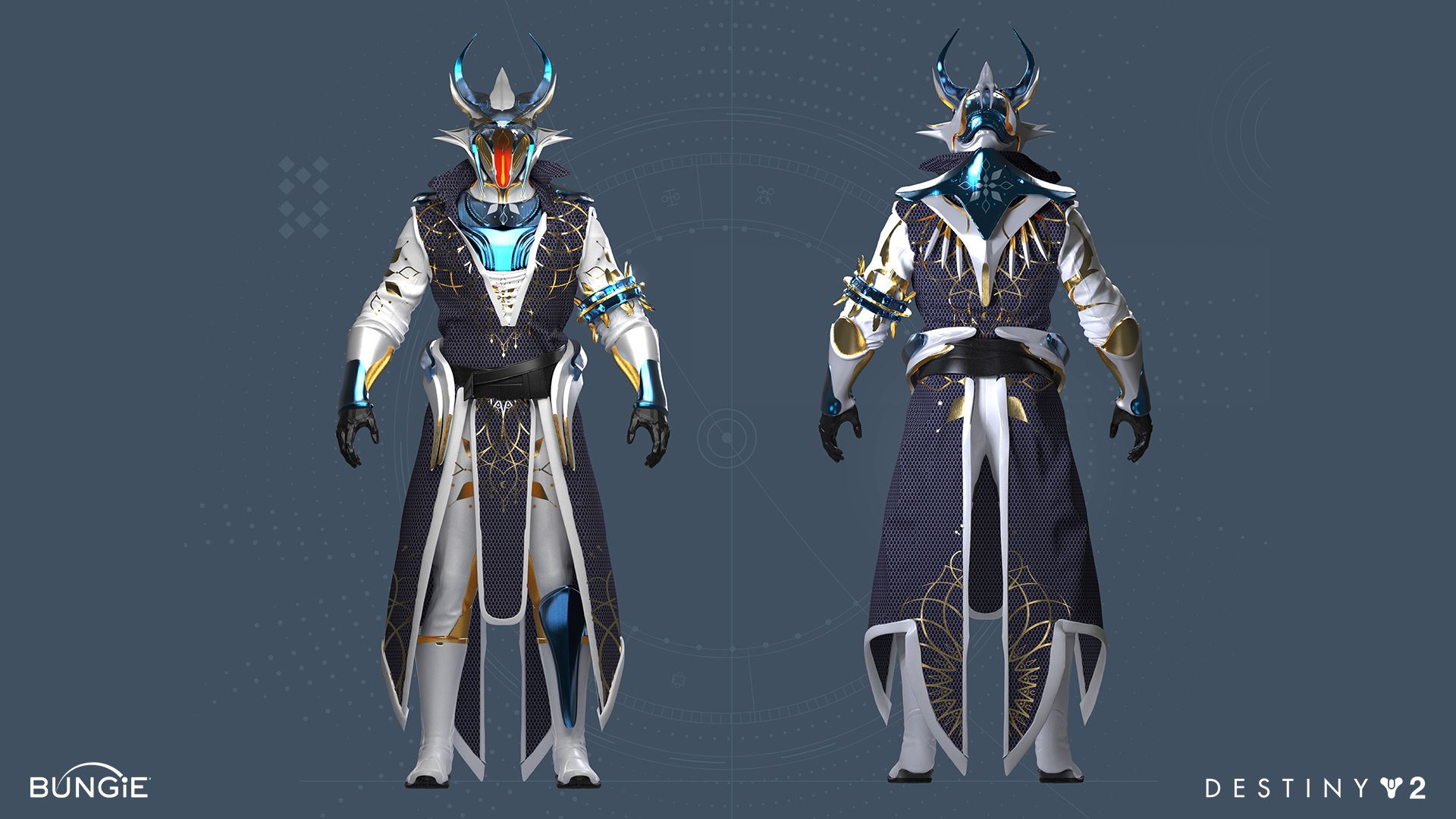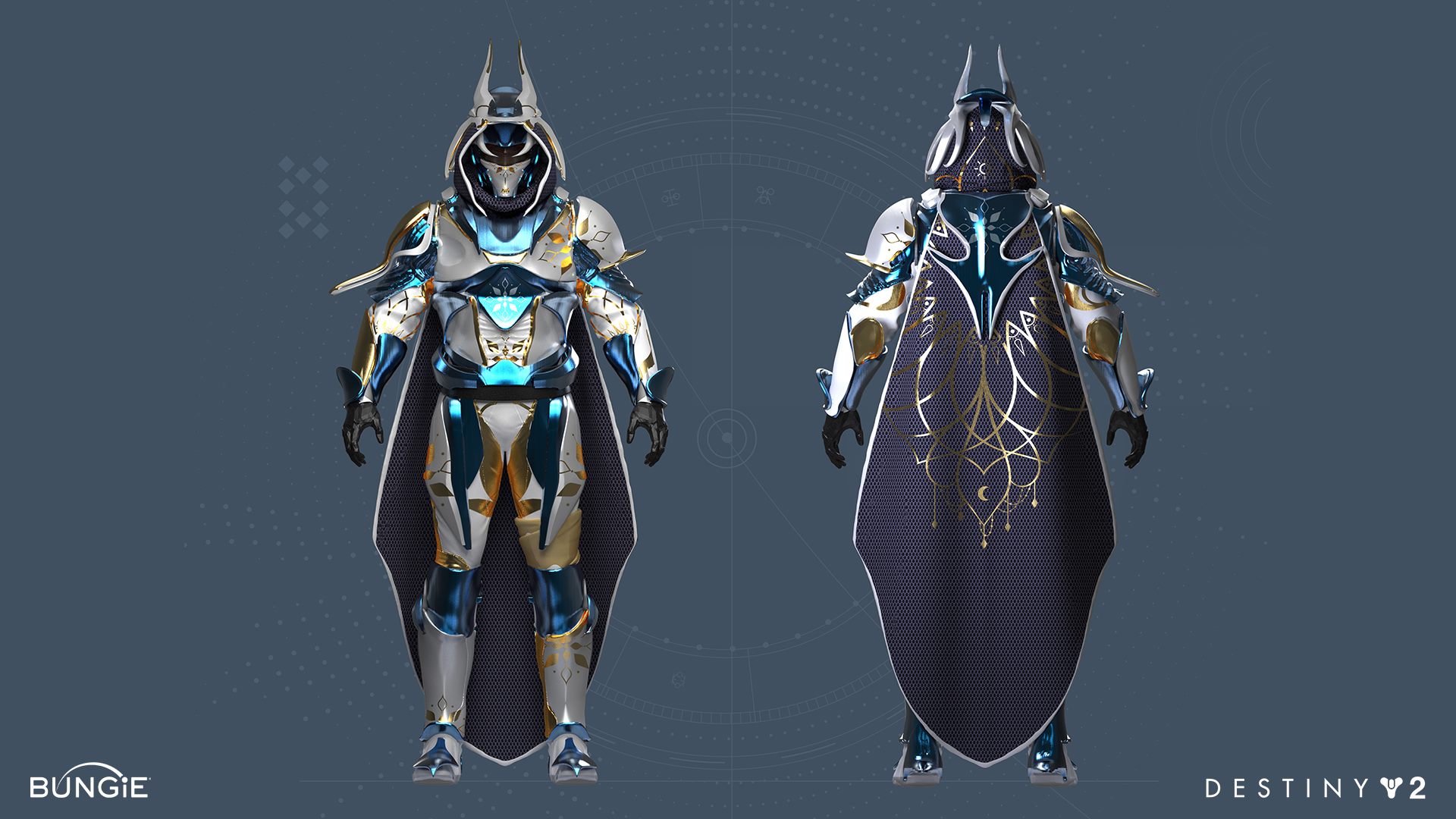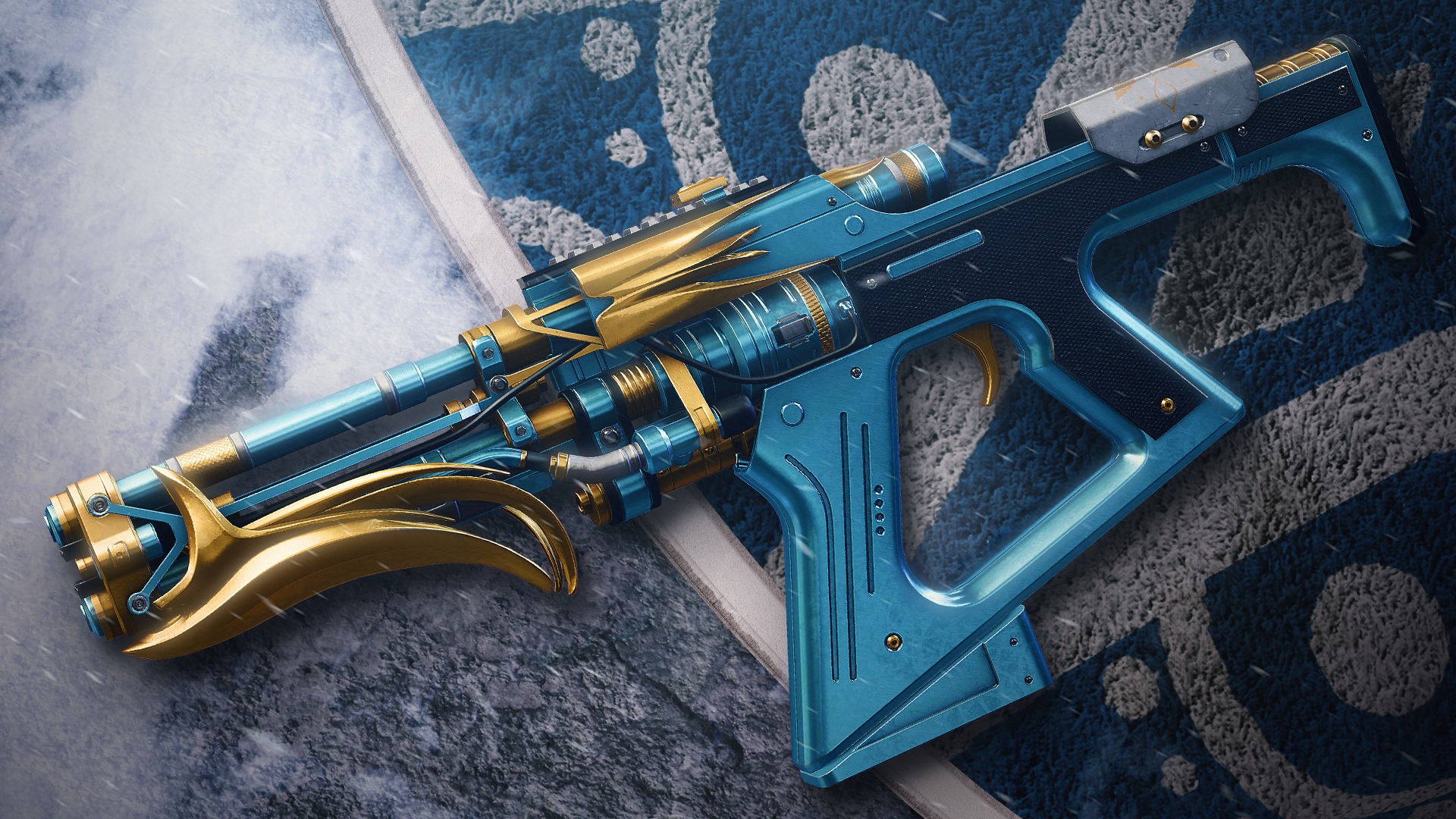 Stories of the Hunt

Over the past few days, Bungie has been releasing stories leading up to Season of the Hunt. Tales of Osiris and The Crow (so far). cheapLEY has started a thread on the forum with links to each story. Grab a coffee or beverage of choice and enjoy the reading.

The Darkness Arrives
Last night we saw The Traveler wake up in response to the approaching darkness. Well, some of us got to see it. With wide spread server and connection issues, not everyone got to login to be a part of it. Paul Tassi at Forbes has a pretty good write up and timeline of the events that you can view here.
On our forum, cheapLEY streamed the event on Twitch. You can find it in his post
here.
ALERT! DISTRESS CALL INCOMING
Bungie social media accounts sent out a video of a portable radio receiving a weak transmission. The image shows the radio in front of (what appears to be) the entrance to a building on Europa. If you feel like wading through the dust and echoes, join the discussion on our forum.
Bungie ViDoc - Forged In The Storm
Wait, is the Season of Arrivals over already? Time sure flies, doesn't it?
Fortunately, Bungie has release a rather... "cool" look into the new ice abilities and content coming with their Beyond Light expansion. Tread carefully if you wish to avoid story spoilers and reveals, however, as this ViDoc will surely be on thin ice for those who prefer to stay dark for that kind of stuff. Oh, and speaking of Darkness, this ViDoc also contains insight into the Season of the Hunt, and the type of story exploration (and horde-style event) that we can expect from that.

Take a look, then feel free to discuss what makes Darkness dark on our forum!


Holding Aces... For a Good Cause.
Today, Bungie in partnerships with the Gaming Community Expo raised more that $800,000 dollars for St. Jude Hospital during a four hour streaming block. As donation goals were reached, sketches were drawn, lore was read by some well known Destiny voices, and we got a few little previews of things to come... including a reveal that a memorable, luck-reliant exotic hand cannon that we all quickly obtained back in Destiny 1 is returning. ;)

From Sketch To Ship
Martin O'Donnell, who did some music for some games you may have heard of including Halo, Destiny, and Golem, stopped by our forum to drop off a cool talk about composing music for video games. There's great insights and a bunch of fun stories included within. Definitely interesting stuff!
An Unbroken Montage
Why have a front page on a Destiny fan site if we can't show off the creative achievements of our members? This time, it's CruelLEGACEY with a fun, goofy montage video with some outstanding gameplay, some great beats, and, from one Titan to another, one of the best throwing hammer placements of all time. Watch the video below, and congratulate him on reaching Unbroken over on
our forums
!
PSA: Looks like IB Tokens WILL Carry Over
I've had a number of discussions with players about whether Iron Banner Tokens will carry over across the Season boundary next week; the general consensus has been that you should spend them, because they'll disappear when Season 3 begins. This has been bolstered, in part, by the Iron Banner Guide page on Bungie.net:
Players should ensure that they turn in any remaining Iron Banner Tokens before Lord Saladin departs from the Tower Courtyard following the weekly reset.
However, the question was directly asked in a Twitter thread a couple of weeks ago, and the answer, by Bungie's Jeremiah Pieschl, was pretty clear:
The Week of Warmind, Part 5 (Developer Warmind Insights)
The Week of Warmind continues with some details about the campaign and PvE activities in Warmind and what their design ideas were. There are some really interesting tidbits in there, including some information about who the Big Bad is going to be (quite literally)! Watch it below!
The Week of Warmind, Part 4 (Developer Crucible Insights)
Okay, so this dropped yesterday, and it's also included in the Season 3 page referenced earlier today... but it's a great watch, and everyone should see it. Josh Hamrick and Kevin Yanes discuss some of the ways that Exotics are getting deadlier, and what that means for Season 3 Crucible play. Check it out!
The Week of Warmind, Part 3 (Season 3 vs DLC)

Bungie's separated the goodies that ALL players will have access to when Season 3 kicks off on Tuesday from the goodies that those who purchase the Warmind DLC will see that same day. It's a helpful pair of pages!
Destiny 2 - Development Update 1-11-18
Destiny Mega Construx Commercial
cheapLEY
let us know about a recent stop-motion commercial for the Destiny line of Mega Construx toys. They sure managed to pack a lot of charm into those tiny figurines, so give it a watch to brighten your day!
No Longer Neglected, Round 1 - Entries Due Soon!
Just a gentle reminder that the deadline for the first round of Ragashingo's awesome Fan Fiction project, No Longer Neglected, is coming up on Friday. We'd love to hear some stories, and there are some really great prizes to be won, so get in there and let us hear about your Guardian's origin story!
Jason Jones on Lessons Learned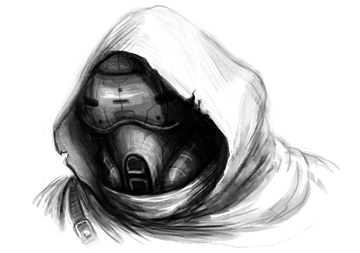 BBC has a great interview with Jason Jones about what they learned from Destiny and the mistakes made along the way. And sounds like Bungie may even be starting to plan on what to do after they finish making the Destiny series! Thanks for Ragashingo for bringing it to my attention!
Destiny 2- Official Live Action Trailer
No Zeppelin, but the new live-action trailer for Destiny 2 should still make you want to get the lead out. A couple of folks let us know, but electricpirate's gotten the discussion started on the forum. And remember, you're doing it for the puppies.

Help The Harvey Disaster Relief Effort, Get Exclusive Gear!
Wondering how you can help the relief efforts in Texas?
The Bungie Foundation's got an option for you
, and you get a neat
pin and exclusive emblem
for your generosity. Be sure to double-check your shipping options, and be sure to hurry, as there are only a limited number available. Thanks,
unoudid
, for letting us know on our forum, and thanks to all those of you choose to help!
The Cryptarch Can Say 'Blue' in 11 Different Languages
The Beta may be going on, but IGN isn't taking the day off. Today's IGN First feature is a video about the localization of Destiny 2. They sit down to discuss the process and challenges with Steven Reinhart, the Localization Manager at Bungie. Watch the video below:
IGN Looks at Crucible in Destiny 2
IGN dropped it's article for today, and it's a doozy! Four new videos showing off Control, a new map called Endless Vale, Sentinel Titan, and Voidwalker Warlock. You can go to their site to check them out there, or I've embedded the videos below.
Bungie's Vision for Destiny 2
Luke Smith and Mark Noseworthy sat down with IGN to talk about what drove them when building a sequel for Destiny - it's an interesting pair of discussions, and should help people who weren't sure whether Destiny 2 was going to be more of the same, or a course change. Thanks to kidtsunami for pointing it out!
Destiny 2 - Playstation Exclusives Trailer
Today, Bungie not only gave us a better look at Ghaul, but for those on the Playstation side wondering what "greatness awaits" when the game launches on September 6th, a trailer featuring the first wave of exclusive content also dropped. Check it out!
You watched the trailer...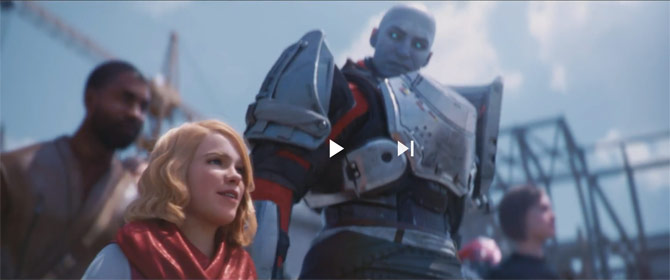 ...but how much of it did you SEE? Ragashingo
has started a thread
on our forum in which he points out quite a number of interesting tidbits (in addition to the OP, check out
this post
, and
this one
, and
this one
) - he's speculating, but he's probably right about most of them, and they really make me impressed with the level of Bungie's storytelling this time around.
Making A Memory

Mankitten
stopped in last week
(everyone seems to stop in when I'm gone!) with a cool piece of art - it's all of his Destiny characters, showing off together. If you don't like orange and black color schemes, you're gonna hate this. Otherwise, it rocks.